WiseID complete automated scanning and capture of data from Medical Insurance ID Cards, Driver Licenses, Passports and other IDs using Mobile Devices
SAN FRANCISCO, CALIF. (January 26, 2021) – WiseTREND, experts in data capture and document solutions powered by advanced integrations of ABBYY Optical Character Recognition (OCR) technologies, today make mobile-based ID processing tools and SDK available for easy, fast and inexpensive integrations.
WiseTREND WiseID and its Mobile Data Capture real-time recognition technology is designed to be plugged into other mobile apps, mobile websites, as well as mobile-oriented enterprise applications.  Text recognition is available in 64 languages.  Pre-configured document types include driver licenses from all states, passports, visas, medical ID insurance cards, immigration documents, and more.  Document capture is available for nearly every country of the world.  Built-in advanced image quality detection and image pre-processing tools guarantee that mobile images and data are captured correctly and optimally with the first try.  Native support is available for Android and iOS, as well as  Cross-Platform Techno­logies Cordova, Xamarin, React Native, Ionic.
Make your organization and its data more efficient than ever before in this Coronavirus outbreak with WiseTREND's advanced document automation, image pre-processing and advanced data capture.  With the ability to integrate with ABBYY FlexiCapture, WiseTREND DataCapture Cloud, and ABBYY FlexiCapture Cloud for further enhanced processing of data on backend servers (optional), Mobile Data Capture SDK adds another option for gathering users' documents right on their mobile devices.  ID processing can also be a great black-box pre-configured skill to be added to your own RPA process with applications like BluePrism and UIPath.  This live video demonstrates some of WiseID Mobile Capture functionality: https://youtu.be/5FVtjg-fYww
WiseTREND Advanced OCR & Data Capture, Inc. provides automated and human-assisted document and form processing solutions and services powered by cutting-edge developments in artificial intelligence (API), machine learning, machine training, robotic process automation (RPA), process intelligence and digital transformation, powered by the greatest ABBYY™ technologies.  Our Managed Services operations are HIPAA and SOC-2 certified to provide distributed around-the-world services and solutions in multiple languages even during the most critical times. 
About WiseTrend: WiseTREND Advanced OCR & Data Capture, Inc. software and services suite consists of experts and solutions in data capture and document recognition technologies.  The company helps to solve business challenges through state-of-the-art document processing technologies, efficiency, and innovation.  For additional company or product information, please visit www.wisetrend.com
Posted in: Business,Computers & Software,Technology,Telecom,Transportation & Logistics
Keeping New York City Connected
In early March, the COVID-19 pandemic swept into the Tri-State region, closing doors to businesses, restaurants, and schools while hospitals were overwhelmed with sick patients. On March 27th, New York Governor Andrew Cuomo suspended all "Non-Essential" construction in New York State; however telecommunications & data centers were included on the State's essential infrastructure list.
Several Local #3 IBEW contractors worked around the clock keeping the region connected 7 days a week the past 5 months, including Hugh O'Kane Electric Co. They had over 100 electricians working in New York City during the peak of the pandemic, responding to telecommunications emergencies and continuing network infrastructure and wireless buildouts. As entire industries began working remotely, schools shifted to online learning, and telehealth up ticked, the telecommunications networks that New York relies on became more essential than ever.
Hugh O'Kane Electric Company was a telecommunications first responder to the '93 World Trade Center Bombing, the 9/11 Terrorist Attacks, and Superstorm Sandy. "As the COVID-19 pandemic rapidly spread across the Tri-State area, we knew our telecom crews would be relied upon to maintain and build the complex telecommunications networks that keep New York City connected. The same brave men and women that worked around the clock following terrorist attacks and natural disasters are the same brave Hugh O'Kane Electric employees that continue to work through this pandemic," says Executive Vice President John O'Kane.
While Hugh O'Kane Electric has always invested in best-in-class safety equipment for their personnel, they worked with an external safety consultant to immediately put a COVID-19 Safety Plan in place, staggering working crew's start times and sanitizing trucks and equipment daily. "We worked tirelessly to keep our employees safe, but it was still their choice if they felt comfortable working through the pandemic. Thanks to our employees, Hugh O'Kane Electric was able to continue servicing our nearly dozen telecommunications customers in the Tri-State area 7 days a week these last 5 months."
The Hugh O'Kane Electric Company is comprised of a traditional fiber optic infrastructure division and a mobile wireless division. With over 30 years of experience in wireline fiber construction and maintenance, HOK's telecom infrastructure division employs over 85 technicians who place, splice, and test fiber optic cable for wireless and enterprise networks throughout the Metro Area. With approximately 25 technicians, HOK's wireless division services wireless, 5G, and small cell construction for several Mobile Telecom Franchises and directly to multiple Mobile Network Operators. Working together, the telecom infrastructure division and the wireless division are a true turn-key solution for the current and future needs of the industry.
The demand for wireless and 5G deployment has only been amplified by COVID-19. "Connectivity is more critical than ever and at Hugh O'Kane Electric we are proud to be a part of the near and long-term network solutions" say John O'Kane. "As our Company did during 9/11 and other major events over the past 30 years, we have worked alongside our customers during this pandemic and will continue to safely service their needs this year and for years to come."
To learn more about Hugh O'Kane Electric, visit http://www.hokane.com/.
###
About Hugh O'Kane Electric
Hugh O'Kane Electric Company, Inc. (HOK) has been a leading provider of electrical construction and maintenance services to businesses in the Greater New York metropolitan area since 1946. HOK is licensed to provide Electrical services throughout New York City and Long Island. The company has installed power, lighting, fire alarm, security, data systems, specialty infrastructure systems, and specialty network systems for a wide range of industries and institutions.
The HOK Telecommunications division provides leading-edge design, construction, installation and maintenance of state-of-the-art telecom networks for wireline, fiber optic, and wireless networks. With its staff of electricians and technicians available for immediate response, HOK specializes in high-quality, fast track jobs. The company's reputation is built upon attention to detail while meeting clients' time frames and budgets.
For more information, please visit http://www.hokane.com.
Posted in: Electronics & Semiconductors,News & Current Affairs,Telecom,U.S
Women in CyberSecurity (WiCyS) partners with Google to provide Security Training Scholarships for members
Women in CyberSecurity (WiCyS) has partnered with Google to create the Security Training Scholarship for women wanting to move forward in cybersecurity.
"Google is proud to partner with WiCyS and SANS to provide scholarships to WiCyS community members for premier security trainings. Google believes one of the ways we help grow representative talent pools is to deepen our partnerships with organizations such as WiCyS that serve underrepresented communities. By supporting efforts to provide greater access to free learning, Google is committed to bringing more diversity and inclusivity to the security community," said Sarah Morales, Google Outreach Program Manager for Security.
This new opportunity will offer 100 WiCyS members the chance to launch and/or advance their careers in cybersecurity within the next 1.5 years through a skills development training program. Even for those who have no previous cybersecurity experience, they will have the opportunity to progress through four stages.
First, participants will engage in CyberStart Game, where they will be introduced to topics such as Linux, web attacks, programming and forensics. They will build technical skills and creative thinking. Stage 2 will see technical aptitude for cybersecurity learning and fundamental skills tested in the SANS CyberTalent Assessment. In Stage 3, the top 12 performers will embark in online interactive hands-on learning with 48 modules of foundational material. After this stage, participants will receive a certificate of completion from SANS. Throughout the final stage, students will continue advanced SANS training courses along with career mentorship and soft skills guidance with an opportunity to take the Global Information Assurance Certification (GIAC) exam. Once all stages are complete, participants will be ready for careers in cybersecurity.
"Google and WiCyS are leading the way in providing opportunities for underrepresented groups to discover their cybersecurity talent. With their support, 100 women will learn and practice hands-on cybersecurity skills in a fun, safe online environment with top performers before taking fundamental training and earning industry certifications," said Alan Paller, founder of SANS Institute. "This program is an outstanding example of innovative organizations creating new opportunities to increase diversity in cybersecurity and bringing new talent into the field."
WiCyS is a national nonprofit dedicated to bringing women together in cybersecurity from academia, research and industry to share knowledge, experience, networking and mentoring. This is yet another opportunity that is helping advance women in the male-dominated field of cybersecurity.
"This initiative was very important for WiCyS to launch and facilitate," said Lynn Dohm, executive director of WiCyS. "It opens doors for positive professional development experiences to our community during these tiring COVID-19 pandemic times."
The deadline to apply is Aug. 2. Fill out the application here: https://www.wicys.org/sans-security-training-scholarship
About WiCyS:
Women in CyberSecurity (WiCyS) is the premier nonprofit organization with international reach dedicated to bringing together women in cybersecurity. Founded by Dr. Ambareen Siraj from Tennessee Tech University through a National Science Foundation grant in 2013, WiCyS offers opportunities and resources for its members and collaboration benefits for its sponsors and partners. The organization's founding partners are Cisco, Facebook and Palo Alto Networks. WiCyS' strategic partners include Amazon Web Services, Bloomberg, Cisco, Facebook, Federal Reserve Bank of New York, Google, HERE Technologies, IBM, Lockheed Martin, Nike, Optum, Palo Alto Networks, SANS Institute, SpearTip, Target, University of California San Diego, and Verizon. To partner with WiCyS, visit https://www.wicys.org/become-a-partner
Posted in: Computers & Software,News & Current Affairs,Telecom,U.S,Website & Blog
OTTC Completes Fiber to the Home Build in Phelps, Clifton Springs, Trumansburg, Interlaken, Romulus and Ovid NY
Ontario Trumansburg Telephone Companies (OTTC) is proud to announce that it has completed its 600-mile Fiber to the Home (FTTH) build in Phelps, Clifton Springs, Trumansburg, Romulus, Interlaken and Ovid, NY. OTTC is also the first independent telephone company in Upstate New York to implement the new FlexNAP™ system from Corning, a leading innovator in materials science, into their FTTH build. This system allows for faster, more reliable fiber installation to both homes and businesses. As a result of its innovative fiber build, OTTC was awarded the FTTXcellence Award during the 2019 Fiber Connect conference.
OTTC's new OTTC Blast router is being deployed to FTTH customers to provide them with the ultimate whole home wi-fi solution. This router gives the customer complete control of their network with the OTTC Smart Home app. This allows the customer to setup guest wi-fi, utilize parental controls, run speed tests, and manage their home network.
Paul Griswold, President and CEO of OTTC says, "We're on the cutting edge of fiber technology, and our new OTTC Blast Router will provide customers with the most reliable whole home wi-fi solution."
"Corning is excited to support OTTC's most recent FTTH build, and proud that our pre-terminated solutions continue to deliver value in deployments across America," noted Clark Kinlin, SVP of Corning Optical Communications. "OTTC's willingness to innovate makes them the ideal partner for deploying next-generation solutions like FlexNAP. We're looking forward to the countless benefits fiber connectivity will bring to the Ontario-Trumansburg community."
OTTC has been owned and operated by the Griswold family since 1920, and now has 5 generations operating the company. Known for its innovative communication solutions, our 5 generations of family, have prided ourselves in keeping up with the technological times, the company has undergone many evolutions over its 100 years of operations. This has allowed its current generation the ability to provide customers with the latest high-quality and technically advanced communication services.
To meet the advancing needs of customers, Paul Griswold founded Finger Lakes Technologies Group (FLTG) in 1995. In 1999 the company became one of the earliest Cisco partners, and by the year 2000 the company had become a premier Cisco partner with over 100 Cisco Certifications. FLTG's 3,000-mile fiber network serviced over 75 cities in Upstate NY, and in 2014 FLTG received the New York State Broadband Award for Fiber Innovation. FLTG was also the recipient of Top Work Place Awards for New York State in 2015, 2016, and 2017. In 2017, FLTG was sold to FirstLight. Now known as OTTC, the company continues to provide the largest privately-owned fiber network in Upstate NY.
To stay up to date for promotions and everything fiber to the home related, like OTTC on Facebook at http://www.facebook.com/OTTelephone.
# # #
The Ontario & Trumansburg Telephone Companies (OTTC) and their subsidiaries form the largest independently-owned telephone Company in New York State, providing phone and internet services to more than 8,000 residential and business customers. Founded in 1920, OTTC is a five generation, family-led business that keeps innovation at its core with nearly 100 years of experience. OTTC offers services in Phelps, Clifton Springs, Trumansburg, Interlaken, Ovid and Romulus. If you would like more information about this topic, please contact Ashley Gustafson at 585-313-9794 or email at ashleyg@ottctel.com .
Posted in: Business,News & Current Affairs,Technology,Telecom,U.S
Allerio Mobile Hub Now Certified by Multiple Cellular Carriers to Enable Telemedicine for First Responders and Healthcare Systems
At Allerio we have chosen to do things differently. At Allerio we solved an important problem with connectivity for telemedicine and remote communications. We knew it had to be portable, it had to be reliable, it had to be secure, it had to be simple, and that it just has to work.
We are proud to announce that Allerio has passed all FCC and carrier certification requirements to operate on three U.S. nationwide networks simultaneously for its Allerio Mobile Hub platform. Allerio is a portable connectivity platform that optimizes cellular connectivity, enabling first responders in the field to reliably record, share, and transmit critical patient and other broadband data for telemedicine at the point of care and in transit.
Allerio CEO TJ Kennedy said, "At Allerio we are passionate about empowering first responders with life-saving technology. When creating Allerio, we looked at what was available for telemedicine at the patient's location and found that more was needed, so we went to work to solve that problem. We came up with something completely different that optimizes coverage of three nationwide carrier LTE networks in one device that is lightweight, portable and is extremely easy to operate."
Allerio Corporate Development Officer Jason Karp added, "The Allerio solution is a true step forward in connectivity options, which has been validated by public safety in the field, facilitating telemedicine for faster patient interventions and enabling true community paramedicine."
The Allerio Mobile Hub platform, which includes all network connectivity, is now available for one low monthly fee. To learn more about Allerio, visit http://www.allerio.com.
About Allerio
Allerio's smart connectivity solution for first responders and other public safety personnel provides a reliable communication platform that facilitates the exchange of critical information and data from the field. Through an easy to use, one-button interface, Allerio offers an efficient and secure "Mobile Hub" to connect devices and transmit rich data in real-time, whether at the incident or in transit in an emergency vehicle. Allerio is headquartered in Duluth, Minnesota with satellite offices spanning the U.S., including production facilities in Madison Heights, Michigan. For more information, visit http://www.allerio.com and follow us on social media.
Posted in: News & Current Affairs,Technology,Telecom,U.S
Utility Concierge Integration Launches in New Lone Wolf Marketplace
Utility Concierge®, the original concierge service for connecting home services, is thrilled to announce a collaboration with Lone Wolf Technologies ("Lone Wolf"). Utility Concierge will be featured in the Lone Wolf Marketplace, a library of curated digital tools for real estate agents and brokerages to plug and play into their national transaction management member benefit, zipForm® Plus, or their local/state member benefit, TransactionDesk. Marketplace puts the industry's most innovative tools like the Utility Concierge service, in the hands of real estate agents and brokerages to provide the first end-to-end transaction experience of its kind.
"Marketplace is where real estate professionals can go to find everything they need for their real estate experience," said Jason Cheverton, VP of Strategic Channels at Lone Wolf. "At Lone Wolf, we often compare Marketplace to Netflix. Netflix brought an entirely new way for people to access multiple forms of entertainment that were previously only available in separate locations. Like Netflix, Marketplace brings all of these various real estate tools together, whether they're Lone Wolf solutions or not, and makes it possible for agents and brokerages to find and use them all in a single place—their transaction management solution. And the best part? Unlike Netflix, every agent in the country has a free login to Marketplace through their national transaction member benefit and can start using these tools in their transactions today."
Marketplace makes it easier than ever for real estate professionals to add Utility Concierge to their process. With just a click, agents and brokers can add the built-in Utility Concierge integration to their transaction management solution.
"Lone Wolf Marketplace is an amazing platform and partner for Utility Concierge," said Gabe Abshire, founder and CEO of Utility Concierge. "Just like we focus on making things easier for homebuyers, Lone Wolf is focused on making things easier for agents. We're excited to make adding a personal concierge to every team on Marketplace simple and easy."
About Utility Concierge
Utility Concierge is a revolutionary service for connecting utilities and home services like TV, internet phone, home automation and security. The company's no-cost, white-glove service provides clients with a personal concierge to customize a whole-home connection plan, place orders and schedule installations for each service—all with a single point of contact. Since its founding in 2009, the company has been dedicated to surpassing great customer service, setting the bar at providing a mind-blowing client experience. Utility Concierge is one of the fastest growing companies in the U.S., making the Inc 5000 list in 2018 as #3091, in 2019 as #1810 and #110 on the inaugural Inc 5000 Series Texas list in 2020.
About Lone Wolf Technologies
Lone Wolf Technologies, a Vista Equity Partners portfolio company, is the North American leader in residential real estate software, serving over 1.4 million real estate professionals across Canada and the U.S. The company offers an ecosystem of technology products designed to simplify the entire transaction process, including software for back office and transaction management. Each element of this ecosystem enables brokerages, agents, MLSs, and associations to operate more efficiently, reduce costs, and increase opportunities for profitability. Lone Wolf's head office is located in Cambridge, ON, with additional offices in Dallas, TX, London, ON, and Fraser, MI.
Posted in: Marketing & Sales,Professional Services,Services,Telecom,U.S
Cisive and PreCheck Named in HR Tech Outlook's Top 10 Pre-Employment Screening Companies List
Cisive, a global provider of compliance-driven human capital management and risk management solutions, recently announced the company and its healthcare-focused background screening division, PreCheck, were both named by HR Tech Outlook magazine as part of the Top 10 Pre-Employment Screening Consulting/Services Companies 2020. A distinguished panel comprising of CEOs, CIOs, CHROs, and analysts, along with HR Tech Outlook's editorial board assessed several background screening services companies and shortlisted the ones that are distinctively prominent in the field.
"It is an honor for Cisive and PreCheck to be recognized as two of the top 10 pre-employment screening companies by HR Tech Outlook magazine, a testament to our commitment to quality and efficiency throughout the years," said James Owens, President and CEO at Cisive. "In order to effectively partner with our clients as they face hiring challenges exacerbated by the pandemic, Cisive is prepared to continue serving the business community during these unprecedented times. More than ever, we are focused on delivering innovative technological solutions that provide the HR community with the key information to meet their hiring goals and critical business needs."
"PreCheck's inclusion in HR Tech Outlook's list of the top 10 pre-employment screening companies recognizes the ingenuity and spirit of innovation possessed by our technologists, product managers and leadership team," said Zach Daigle, President of PreCheck. "During these challenging times, PreCheck is more committed than ever to partnering with our healthcare clients to support their rapidly evolving critical business goals."
In addition to being named as one of the Top 10 Pre-Employment Screening Companies by HR Tech Outlook, both Cisive and PreCheck have also been honored by CIO Bulletin as one of 30 Admired Companies to Watch in 2020. For more information about Cisive's suite of solutions, visit http://www.Cisive.com. For more information about PreCheck's suite of solutions, visit http://www.PreCheck.com.
About Cisive
Cisive is a global leader in compliance-driven human capital and risk management solutions, providing onboarding and pre-employment background screening solutions to address the complex challenges and needs of large enterprises with dedicated, in-country account management teams committed to customer satisfaction. Cisive is accredited by the Professional Background Screeners Association (PBSA) and was named for the third consecutive year by HRO Today to the 2019 Baker's Dozen Customer Satisfaction rankings of Top Pre-Employment Screening Providers, in addition to being named Company of the Year by CIO Review. The company and its brands serve clients in financial services, transportation, telecom/media, healthcare, utilities and the home services end-markets, among others. For additional information, please visit http://www.cisive.com.
About PreCheck
Founded in 1983, PreCheck has focused exclusively on serving the healthcare industry's background screening and employment qualification needs since 1993. PreCheck serves over 5,000 hospitals, long-term care facilities, clinics, educational institutions, and other ancillary healthcare organizations, across the U.S. PreCheck has evolved over time from a background screening provider into a turnkey outsourcing solutions provider, offering a full suite of background screening, compliance monitoring, and credentialing solutions all designed to help its clients adhere to the extensive regulations governing the healthcare industry. Based in Houston, PreCheck has been recognized as an Inc. 5000 company from 2013-2018 and has achieved Background Screening Credentialing Council Accreditation by the National Association of Professional Background Screeners (NAPBS). Please visit http://www.precheck.com for more information.
Posted in: Business,Health & Medicine,Telecom,Transportation & Logistics,U.S
TD Madison Leads Successful Executive Recruitment Search for Midco Vice President of Technology
TD Madison, executive recruitment provider to the cable and broadband industry, congratulates Eyabane Patasse on his new position as Vice President of Technology at Midco, the Midwest's leading provider of network and technology services.
"It is a great honor to join the prestigious Midco team. The culture of excellence and commitment to client success played a key role in my decision," said Patasse. "TD Madison's experience and industry knowledge made this match possible. From first contact through on-boarding, the communication and support from both TD Madison and Midco have exceeded my expectations!"
TD Madison led the executive search and recruitment program, identifying Patasse as the standout candidate amidst intense competition for a leadership role that will influence the future of cable and broadband in five states. Midco serves more than 385,000 residences and businesses in urban and rural locations across Kansas, Minnesota, North Dakota, South Dakota and Wisconsin.
"We're excited to welcome Eyabane to Midco, bringing his enthusiasm, breadth of knowledge and experience to our technology team," said Jonathan Pederson, CTO for Midco. "Eyabane will play a key role in the planning and execution of our progressive 10G strategy and home networking initiatives and will enable the rapid and thoughtful adoption of new technology-based products that will be essential to connect our customers to the future. TD Madison & Associates was instrumental in the search and recruitment of Midco's VP of Technology and the alignment of candidate capabilities and characteristics to our goals and culture. As Midco moves forward and continues to build our talented team, we hope to be able to call upon our great experience with Dean Madison."
As Vice President of Technology, Eyabane Patasse joins Midco's Executive Leadership Team. In collaboration with the senior leadership team, product teams and IT leadership, Eyabane Patasse will develop and implement Midco's new and emerging technology strategy, with responsibility for the integration and adoption of technologies that further the company's strategic, organizational, financial and customer service aims.
"We're thrilled to have connected Midco with a candidate of Eyabane Patasse's caliber and to offer Eyabane our congratulations as he begins his new role. He brings immense experience in leadership and innovation in fields that span wired and wireless networking, IoT and the smart city, and solution development for enterprise and municipal organizations," said Dean Madison, CEO of TD Madison.
Before joining Midco, Patasse was the Director of Wireless Innovation at Spectrum Mobile where he led OSS/BSS architecture and integration efforts for legacy and emerging platforms, conducted wireless technology strategic solutions trials and built a partner ecosystem focused on strategic business models and vertical specifications. Before becoming Director of Wireless, Patasse held other leadership roles at Spectrum, including Director of Enterprise Product Development, building on his earlier experience in engineering and management roles at iCore Networks and Genband (now part of Cisco).
TD Madison is a life-cycle executive recruitment agency working with clients in the cable and broadband industry. With its unique seven-step recruitment process, TD Madison has placed senior executives in leadership roles across the U.S. with a focus on the strategic recruitment of executives with unmatched technical expertise and leadership excellence. TD Madison's combination of industry knowledge and evidence-based assessments helps clients like Midco to identify and recruit the ideal candidate for C-suite, VP, and Director-level positions.
About TD Madison
TD Madison and Associates works with clients across the cable and broadband industry, providing executive recruitment, training, and staff augmentation to businesses ranging from emerging growth firms to Fortune 500 companies. With over three decades of experience, TD Madison finds exceptional leaders for exceptional companies. To learn more, visit: http://www.tdmadison.com
Posted in: Business,Technology,Telecom,U.S
XOP Networks Offers Conference System Lease Program to Assist Companies Coping with Employees Working from Home Challenge
In response to unprecedented need for employees to work from home, XOP Networks, a developer of Audio Conference and Web Collaboration bridges announces a conference bridge lease program.
As part of this program, XOP Networks will:
Will load latest conferencing software on a customer owned physical or virtual server.
Enable conference bridges that scale from 24 ports to 1000 ports
Lease software in 3-month increments
Allow 90% of the amount spent on lease towards an equipment purchase if the customer desires to do so at a later date
Our latest software release offers following advanced features for further facilitating work from home:

Join the Audio Conference using computer audio or dial in via PSTN
Share webcams for Video Conferencing
Share desktop or specific application (Word, Excel etc.)
Share a whiteboard for brain-storming etc.
Use webinar for training, product demonstrations
Optimize bandwidth utilization
Bulk provision Moderator accounts and conferences quickly using our REST API
"We are pleased that we are able to help companies meet their employees' needs for being able to work from home. We can have our conference bridge installed and working on a customer's server in an hour or less", said Sudhir Gupta, CEO of XOP Networks.
To take advantage of this offer call us at 972-590-0201 or email us at sales@xopnetworks.com.
About XOP Networks
Headquartered in Dallas, Texas, XOP Networks was founded in January 2003 and is backed by a seasoned management team. Deployed at multiple Cellular Operators, Fortune 100 companies, CLEC/IOC customers, Government organizations, DOD networks (Air Force, Army and Navy) XOP Networks' products allow customers to boost employee productivity, increase business efficiency and enhance emergency communications. Having both TDM and VoIP interfaces, XOP products allow customers to seamlessly transition their Value-Added Services from legacy circuit switched networks to VoIP based packet switched networks.
For more information about XOP Networks, visit its website at http://www.xopnetworks.com.
Posted in: Technology,Telecom,U.S
Global Banking & Finance Review® Accepting Entries for Their Prestigious 10th Annual Awards
Over three million people read Global Banking & Finance Review annually, counting on us for our well-respected news, views, and analysis. This stretches across quite diverse areas touching on everything of solid importance in the extended international banking and financial spaces. A major highlight the platform delivers every year is the Global Banking & Finance Awards
In exciting news, we have recently announced that we are accepting entries for 2020's awards and encourage interested parties to fill out a submission form on the platform's official website. Entering is quick, easy, and completely free. By nominating, you stand to boost your company's awareness, reputation, and leadership. Winning is universally considered a sign of quality for companies in the banking and financial world and is highly sought after.
"We are always excited for this time of year and getting to see who enters our Award competition," Wanda Rich, Editor from Global Banking & Finance Review. "Every year more companies enter, and the competition becomes more and more competitive. Determining the top choices is something we take very seriously."
The Awards reflect the innovation, achievement, strategy, progressive and inspirational changes taking place within the Global Financial community. The awards were created to recognize companies of all sizes which are prominent in particular areas of expertise and excellence within the financial world.
The entire Awards process from start to finish is free of charge. This includes nomination, selection and announcement of the winners on the website https://www.globalbankingandfinance.com and on the print magazine.
The 2020 Awards are likely to be the most competitive yet, along with carrying the largest amount of recognition for winners.
For more information be sure to visit www.globalbankingandfinance.com.
Posted in: Business,Finance,Media & Communications,Technology,Telecom
Remcom Announces Advanced Phased Array Design Capabilities In XFdtd EM Simulation Software Including Superposition Simulation And Array Optimization
Remcom announces superposition simulation and array optimization in the latest release of XFdtd® 3D EM Simulation Software, further expanding the software's capabilities for high-frequency 5G device design and beam steering analysis.
Antenna arrays are essential for maximizing the performance of complex 5G-enabled devices, facilitating the use of beam steering, spatial diversity, and other techniques to improve throughput. Determining the numerous beam states for a new design can be tedious due to the hundreds or thousands of port phase combinations. XFdtd enables users to leverage the electromagnetic principle of superposition to reveal these combinations with a single simulation. By combining steady-state results from the simulation, XFdtd efficiently determines the port phases that maximize the far zone coverage in each direction.
Sam Seidel, XFdtd project manager, said, "Remcom continues to develop XFdtd to keep pace with the growing complexity of 5G design requirements and the advanced technologies that our customers are utilizing to meet them. Superposition and array optimization enable highly sophisticated array analysis and beam steering while removing slowdowns that impede the design workflow."
For more information on the latest release of XFdtd, please visit Remcom's website. XFdtd users without an active Remcom Professional Support contract can upgrade to the latest version by contacting sales.
About Remcom:
Remcom provides innovative electromagnetic simulation and wireless propagation software for users in the commercial wireless industry and government sectors. Remcom's products are designed to work together to provide complete and accurate results when modeling propagation with real-world devices in real-world scenarios. Remcom is committed to its customers' unique needs, offering flexible licensing options for installations of all sizes as well as custom engineered solutions.
Posted in: Computers & Software,Technology,Telecom,U.S
MOU signing - Joint Venture FinTeix and ENIND form a New Partnership
"Electricity and hot water should never be seen as an amenity only a few privileged people can enjoy, but rather as a basic human necessity. This why we are committed to installing our new Solar Energy System into every Brazilian household, including those in the most remote areas of the Country" says Dr. Michael Lee - Founder & Chairman at Finteix Pte. Ltd.
"Climate Change is a daunting menace to our existence. Energy decarbonization is the only escape route and solar generation is a compass which every individual or enterprise should deploy to demonstrate our commitment to future generations" says Evandro Idalgo, CEO at Enind Energia Ltd.
The benefits of the MOU and new JV partnership will be the cornerstone introduction of ground-breaking Solar Energy technology into the Brazilian market - a solar cell system that combines thermal and electrical production of energy. (CHP – combined heat and power).
The innovative technology envisages greatly improving efficiency and greatly reducing costs into all segments of the Solar Energy Industry in Brazil, utilizing cells that address both thermal and electrical generation.
This MOU and JV, offers FinTeix the opportunity to enter into one of the largest world markets, along with acting socially responsible by providing our Solar Energy technology to all communities regardless of their social status or wealth.
About Finteix Pte: FinTeix is founded on the vision of pioneering positive change and disruptive innovation to the essential industries of telecom, energy, finance and healthcare, We pursue collaboration with like-minded companies seeking to help restore equality and integrity to these industries.
About ENIND: Enind Engineering is a 27-year, Brazilian construction and engineering company, which undertook the challenge to transmit electricity under BOT concessions with the government and build solar generation assets.
Our founder Dr. Lee, along with top Executives Tony Tsau VP R&D and Osvaldo Coelho Regional CEO LATAM/Africa will be in Singapore from 8/1-12/2019. All press interest enquires wishing to meet with FinTeix executives in Singapore, please make arrangements through our PR team. Media contact: pr@finteix.co
Posted in: Computers & Software,Energy & Environment,Technology,Telecom,World
Million Dollar Resumes
Million Dollar Resumes (www.milliondollarresumes.com) is the new source of resumes, cover letters, and other job search documents for Senior Executives
Jan 2019, USA: Million Dollar Resumes provides top-level executive resumes and cover letters services with proven and assured results. Million Dollar Resumes is one of the prominent resume writing services in the industry.
Million Dollar Resumes' cover letter and resume writing services empowers executives and corporate officers around the world with winning career-changing interviews. Their resumes and cover letters consistently produce superior results for their clients.
At Million Dollar Resumes, Greg Faherty, a top 10 certified professional resume writer (CPRW) with more than 19 years of experience, writes your executive resume, cover letter, CV, federal resume, and any other documents you need for your job search.
Million Dollar Resumes helps executives achieve success by facilitating more interviews and decreasing the employment search process by providing superior, professionally written resumes and cover letters that stand out from the competition. Owner and writer Greg Faherty is among the top certified professional resume writers in the country, with more than 9,000 resumes to his credit. He specializes in creating top-performing job search documents that propel his clients to the next level of their careers.
In addition to resumes and cover letters, Million Dollar Resumes also offers LinkedIn profiles, executive biographies, and any other job search document today's discerning executives need to outdo the competition.
For more information, a free resume analysis, or to see executive resume samples, visit https://milliondollarresumes.com/. You can also call them at 845-942-1198 or email them at info@milliondollarresumes.com
About the company
Million Dollar Resumes is dedicated to providing exceptional results for executives and corporate officers around the world. Greg Faherty, owner and Certified Professional Resume Writer, has extensive experience writing resumes for executives and corporate officers in various industries, including the technology, security, sales, operations, finance, non-profit, and academic sectors. At Million Dollar Resumes, all your resumes, cover letters, CVs, federal resumes, and any other documents you need for your job search are individually prepared.
Contact Details:
City – Garnerville
State – NY
Country – USA
Zip code – 10923
Phone Number – 845-942-1198
Website: https://www.milliondollarresumes.com/
Company Email ID – info@milliondollarresumes.com
Posted in: Employment,Finance Market,Marketing & Sales,Technology,Telecom
Ultimate Call Blocker - The Next Generation of Call Blocking Just Arrived!
Protecting your landline is a real necessity nowadays. According to the Federal Trade Commission's (www.ftc.gov) published stats, there has been a 650% increase in consumer complaints in the last 6 years. In 2016, 8.4 million complaints were filed by consumers. This means that at least six per cent (6%) of the households in the US or 1 in 20 households are victims of some scam every year in the United States alone. This is why it is important to protect your phone line (at home or business) with a call blocking device. The Ultimate Call blocker (UBlocker) is a new product/service that contains several unique features among the other call blockers in the market: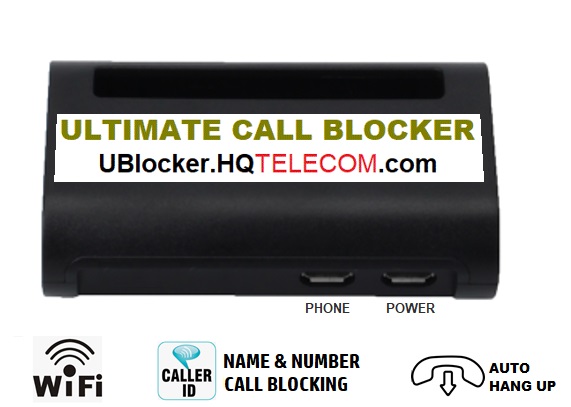 Dual Blacklists - The UBlocker features 2 blacklists; a global blacklist and a user blacklist. The global blacklist is fully automated (e.g. calls from these numbers are automatically blocked without having to answer calls or press any buttons), and actively managed by HQTelecom (currently with 162,000 blocked numbers worldwide). The user's Blacklist has an UNLIMITED capacity to block calls using phone numbers, names, or area codes via a user-friendly website. Another new feature is the WHITELIST MODE – When turned ON, it blocks all calls except those in your WHITELIST. The Whitelist-Mode feature can offer users complete privacy.
"We receive several requests daily from homeowners (mostly the elderly) seeking for a way to stop the annoying phone calls they receive constantly," says Alfredo Purrinos, former NASA scientist and creator of the UBlocker. "Some complain about getting robbed by scam artists impersonating government agencies and/or relatives in distress", even though they registered their phone numbers with the government-sponsored "Do Not Call' list".
Illegal telemarketing operations and scam artists (which represent more than 90% of the calls people get) use automated dialling services (e.g.robocalls) to detect humans. These services use several phone numbers, including a common something referred as 'neighborhood spoofing' which consist in using the same area code and prefix of the numbers being called. This is why it's important to have fought back with an intelligent and capable call blocking system that helps reduce the number of these calls. The key difference among the UBlocker and other call blockers in the market is the ability to help consumers in a proactive way. With the UBlocker, there is little or no need for detective work since most of the unsolicited calls will be blocked BEFORE the users answer the calls.
The Ultimate Call Blocker is manufactured in the US by Hi Q Telecom Inc. (https://www.hqtelecom.com/), and can also be available in online stores such as Amazon, and soon in eBay, Walmart, and NewEgg.The UBlocker requires the caller id service to be active on the phone line in order to work properly. It also uses the Internet to check the global blacklist in real-time and block numbers automatically.
About the Company:
Hi Q Telecom Inc. (HQTelecom.com) is a BBB A+ rated corporation specializing in telephone security and speciality products. Our main office is located in Miami Lakes, Florida. For more information about incoming call blocker devices or the company visit hqtelecom.com or contact us.
Posted in: Business,Media & Communications,Technology,Telecom
China Customer Relations Centers Announces Plans to Go Private and Return to A-share Market in China
Chinese government has implemented policies to encourage companies to return to A-share market. With the fast growth of China's economy, China concept stock's privatization is increasing in 2018 after a number of companies including WuXi AppTec, Mindray and Cheetah mobile went private to China's A-share market.
On November 11, China Customer Relations Centers, Inc. (CCRC) has announced plans to go private to A-share market in China.
CCRC's announcement has led to more discussions by the capital market on privatization. Earlier this year, General Office of the State Council of China quoted China Securities Regulatory Commission's (CSRC) policy during National People's Congress and Chinese People's Political Consultative Conference that based on China's law and market policy, they encouraged innovative companies to issue stocks in China, especially industries with new technologies and strategies such as biotech, cloud computing, AI and high-tech manufacturing.
On October 19, 2018, CSRC announced during its press conference that they have taken steps to help restructure work including making reasonable prices to protect small and medium sized investors; actively supporting quality overseas listed companies to list in A-share market and treating overseas companies the same as domestic entities as well as eliminating barriers to entry.
Sources say, call centers and third-party providers of e commerce customer services are industries supported by Chinese government. This industry is labor-intensive with light assets and high tech. CCRC has advantages in this field.
Based on Chinese internet research data, the total market size of Chinese domestic call center is about 630 billion RMB or 91.1 billion dollars in 2017. Because of the large industry size and the market stability, its annual growth rate is about 8.4% and after 2020, it is estimated to be 5.5%. Currently, call center system is transitioning from local servers to cloud servers. Cloud call centers has become the majority of this growing market.
Many industry experts consider CCRC an absolute pioneer in China's call center and e commerce service third party provider industry, especially during this era that Chinese government encourages domestic listing of quality overseas companies. The business model will be easier to be recognized by investors in the A-share market than Nasdaq. It will also provide more growth in value in the future.
Links
http://m.nasdaq.com/symbol/ccrc
https://finance.yahoo.com/news/china-customer-relations-centers-inc-134300033.html?.tsrc=applewf&from=singlemessage&isappinstalled=0
Posted in: Business,Finance,Finance Market,Telecom,U.S
UK Cards and Payments Market Share and Growth Forecast to 2022
MarketDataForecast's 'UK Cards and Payments Market' report provides the insight into various payment cards market trends and growth opportunities in the UK along with the complete information about different types cards in the market. It also offers an epitomized assessment about the competitors in the market, influential marketing strategies, customer purchase patterns, adopted payment methods in the e-commerce industry and significant government regulations associated with the UK cards and payments market. Our report unfolds many existing opportunities with reliable information about the different types of cash transactions, volumes of cardholders, market share, current accounts, growth in the number of cards, credit cards outstanding balances, transactional values, details of the issuers along with available banking schemes and futuristic analysis of overall cards and payment market in the UK.
Mobile payments inhibit the cards and payments industry in the UK
The banking industry in the United Kingdom is undergoing a rapid shift from regular branch services to digital services in the recent times. According to British Banker's Association, the mobile payments accounted around 340 million in 2015, which is a 55% increase compared to 120 million in 2014. Likewise, the internet payments have witnessed tremendous growth in the same year.
Debit cards dominate the payment card market in the UK
The number of debit cards is estimated to cross 104 million by 2021 from the current value close to 100 million. Many basic bank accounts were opened in the previous years with the aid of prominent banks like Barclays, Lloyds Banking Group, Nationwide, Royal Bank of Scotland, Clydesdale and Yorkshire Bank, Co-operative Bank, HSBC, TSB, and Santander, offering a free charge accounts.
Prepaid Cards Market is growing steadily
The UK prepaid market is growing steadily and estimated to cross GBP 40 billion by 2020 with a compound annual growth rate more than 5%. The main factors driving the market are the incorporation of these cards by both the government and corporate organizations.
Gift card market is predicted to grow rapidly by 2020 as they are used in many business organizations to reward their employees. The UK government also encourages the use of prepaid cards to distribute pensions, child benefits, job seekers' allowances and so on.
Visa and MasterCard focus on contactless technology in the UK
Card providers like Visa and MasterCard are also concentrating more on the technology of contactless card payments. Visa, however, is also extending this technology to the mobile devices and wearables. On the other hand, MasterCard is completely focusing on the contactless debit cards to enhance its market presence. Retailers in the UK are gradually shifting to contactless POS terminals. According to the United Kingdom Cards Association, as of February 2017, there were more than 478,000 bank-owned contactless POS terminals in the market. The growth rate was comparatively higher than the earlier year by around 44% and predicted to occupy entire POS terminals market in the UK by 2020.
Moreover, the investments in the card setup and the increasing adoption of contactless payments are expected to propel the card payments market in the US amid tough competition. Some of the dominating companies in the market: Lloyds Bank, HSBC, Royal Bank of Scotland, Halifax, Ulster Bank, Barclays, First Direct, Santander UK, Bank of Scotland, M & S Bank
The Scope of the Report:
• The functioning of the UK cards and payments market and complete analysis of the market drivers
• It provides conventional and contemporary information about payment cards of the UK and market predictions till 2022
• It details the emerging payment solutions and their economic, regional and business impact on the cards and payments industry of UK
• Detailed information about existing market leaders, their strategies and government policies driving the payment cards market
Key Questions Answered by the Report:
• What is the adoption rate of UK Cards and Payments market and different types of cards in circulation?
• Who are the leading card issuers, scheme providers, and third-party providers influencing the US payment cards market?
• What are the growth opportunities provided by the alternative payment options in the UK market?
• How are the emerging technologies and new product launches affecting the local cards and payments market of the country?
Reasons to Purchase the Report:
• Enhance the decision-making with the comprehensive information about trends, conventional statistics, and forecast for next five years
• Understand the competitive landscape in the UK cards and payments industry and their marketing strategies
• Unfold hidden growth opportunities with the use of data about emerging transitions in the market and customer transactional behaviors
• Broaden the insight about regulatory policies and frameworks that impact UK cards and payments market
Inquire before buying @ https://www.marketdataforecast.com/market-reports/UK-Cards-and-Payments-Market-6847/inquire
About Market Data Forecast:
Market Data Forecast is a firm working in the areas of market research, business intelligence and consulting. We have rich experience in research and consulting for various business domains to cater to the needs of both individual and corporate clients. A few key business areas that we handle with excellence include business process improvement, corporate financing and decision making based on market research, assisting in developing appropriate strategy and providing consultancy based on extensive research.
Contact Us:
Abhishek Shukla
Sales Manager Market
Data Forecast Direct Line: +1-888-702-9626
Mobile: +91 998 555 0206
Mail: abhishek@marketdataforecast.com
Posted in: Europe,Finance,Finance Market,Technology,Telecom
Broadcom to Nominate Slate of 11 Independent, Highly Qualified Directors for Election at Qualcomm's 2018 Annual Meeting
Broadcom intends to file with the Securities and Exchange Commission a proxy statement, accompanied by a BLUE proxy card, in connection with Qualcomm's 2018 Annual Meeting. Qualcomm has announced that its 2018 Annual Meeting will be held on March 6, 2018.
On November 6, 2017, Broadcom proposed to acquire all of the outstanding shares of Qualcomm for per share consideration of .00 in cash and stock, consisting of .00 in cash and .00 in Broadcom shares. Broadcom's offer represents a 28% premium over the closing price of Qualcomm's common stock on November 2, 2017, the last unaffected trading day prior to media speculation regarding a potential transaction, and a premium of 33% to Qualcomm's unaffected 30-day volume-weighted average price. The Broadcom proposal stands whether Qualcomm's pending acquisition of NXP Semiconductors N.V. ("NXP") is consummated on the currently disclosed terms of 0 per NXP share or is terminated.
Hock Tan, President and Chief Executive Officer of Broadcom, stated, "We have heard from many Qualcomm stockholders who have expressed their desire for Qualcomm to engage with us. We also continue to receive positive feedback from customers and, having had initial meetings with certain relevant antitrust authorities, remain confident that any regulatory requirements necessary to complete a combination will be met in a timely manner. Although we are taking this step, it remains our strong preference to engage in a constructive dialogue with Qualcomm. We have repeatedly attempted to engage with Qualcomm, and despite stockholder and customer support for the transaction, Qualcomm has ignored those opportunities. The nominations give Qualcomm stockholders an opportunity to voice their disappointment with Qualcomm's directors and their refusal to engage in discussions with us. In light of the significant value our proposal provides for Qualcomm stockholders, we believe Qualcomm stockholders would be better served by new independent, highly qualified nominees who are committed to maximizing value and acting in the best interests of Qualcomm stockholders."
To ensure continuity, Broadcom would support a decision by the 11 new directors, upon their election, to increase the size of the Board and reappoint Mark D. McLaughlin, Anthony J. "Tony" Vinciquerra and Jeffrey W. Henderson as directors.
Broadcom's nominees for the Qualcomm Board are:
Samih Elhage, former President of the Mobile Networks Business Group of Nokia Corporation. Previously held the role of Chief Financial and Operating Officer of Nokia Siemens Networks and Nokia Networks, subsidiaries of Nokia. Also served on the Boards of Alcatel-Lucent Corporation, Alcatel Shanghai Bell, and Quickplay Media Inc.
Raul J. Fernandez, Vice Chairman of Monumental Sports & Entertainment and former Chairman and CEO of ObjectVideo, Inc. Also served as CEO of Dimension Data North America and as Chairman, CEO and President of Proxicom, Inc. Serves on the Boards of AtSite, Inc. and Perfect Sense, Inc., and previously served as a Director of Kate Spade & Company.
Michael S. Geltzeiler, consultant for Temasek Holdings. Previously served as Senior Vice President and CFO of ADT Corporation and before that, CFO and Group Executive Vice President at NYSE Euronext.
Stephen J. Girsky, Managing Partner of VectoIQ, an independent advisory firm. Previously served in a number of capacities at General Motors, including Vice Chairman. Serves on the Boards of United States Steel Corporation, Brookfield Business Partners, Drive.ai, and Valens Semiconductor Ltd. Previously served as a Director of GM following its emergence from bankruptcy and as Lead Independent Director of Dana Holdings Corp.
David G. Golden, Managing Partner at Revolution Ventures. Previously spent 18 years at J.P. Morgan, including five years as Vice Chairman and Director of technology, media and telecommunications investment banking. Serves on the Boards of Barnes & Noble Education, Inc. and Blackbaud, Inc. Previously served as a Director of Everyday Health, Inc. and Barnes & Noble, Inc.
Veronica M. Hagen, retired President and CEO of Polymer Group, Inc. (later renamed AVINTIV Specialty Materials Inc). Also served as President and CEO of Sappi Fine Paper and held multiple positions at Alcoa, including Vice President and Chief Customer Officer and business unit president of Alcoa Engineered Products. Serves on the Boards of Newmont Mining Corporation, the Southern Company, and American Water Works Company, Inc. Previously served as a Director of AVINTIV, Jacuzzi Brands, Inc., and Covanta.
Julie A. Hill, owner of The Hill Company. Serves on the Board of Anthem, Inc. and was a Director of WellPoint Health Networks Inc. prior to its merger with Anthem. Has been a trustee of the Lord Abbett Family of Mutual Funds since 2004 and previously served as a Director of Lend Lease, Ltd., Resources Connection, Inc., and Holcim US.
John H. Kispert, Managing Partner of Black Diamond Ventures. Previously served as President and CEO and a Director of Spansion, Inc. through its merger with Cypress Semiconductor Corporation. Serves on the Boards of Gigamon Inc. and Barracuda Networks, Inc. Previously served as a Director of Cypress, TriNet Group, Inc., and Extreme Networks, Inc., where he was Chairman.
Gregorio Reyes, former Director and Chairman of the Boards of Dialog Semiconductor plc and LSI Corporation, and former Director of Seagate Technologies Public Limited Company. Previously was a co-founder and Chairman of Sunward Technologies Inc., Chairman and CEO of American Semiconductor Equipment Technologies, and President and CEO of National Micronetics. Held positions at National Semiconductor, Motorola, Fairchild Semiconductor, and Eaton.
Thomas S. Volpe, Managing Member of Volpe Investments LLC. Previously CEO of Dubai Group LLC, a diversified investment firm based in the United Arab Emirates, and before that, served as Chairman of Prudential Volpe Technology Group. Served on the Boards of Linear Technology Corporation and EFG-Hermes Holding Company.
Harry L. You, President, CFO and Director of GTY Technology Holdings Inc. Previously served as Executive Vice President in the Office of the Chairman of EMC Corporation. Served as CEO of BearingPoint Inc., Executive Vice President and CFO of Oracle Corporation and CFO of Accenture Ltd. Previously served as a Director of Korn/Ferry International.
Moelis & Company LLC, Citi, Deutsche Bank, J.P. Morgan, BofA Merrill Lynch, Morgan Stanley and Wells Fargo Securities are acting as financial advisors to Broadcom. Wachtell, Lipton, Rosen & Katz and Latham & Watkins LLP are acting as legal counsel.
More information regarding Broadcom's proposal for Qualcomm and nominees can be found by visiting www.AVGO-QCOM.com.
About Broadcom Limited
Broadcom Limited (NASDAQ: AVGO) is a leading designer, developer and global supplier of a broad range of digital and analog semiconductor connectivity solutions. Broadcom Limited's extensive product portfolio serves four primary end markets: wired infrastructure, wireless communications, enterprise storage and industrial & other. Applications for our products in these end markets include: data center networking, home connectivity, set-top box, broadband access, telecommunications equipment, smartphones and base stations, data center servers and storage, factory automation, power generation and alternative energy systems, and electronic displays.
Forward-Looking Statements
This communication contains forward-looking statements (including within the meaning of Section 21E of the United States Securities Exchange Act of 1934, as amended, and Section 27A of the United States Securities Act of 1933, as amended) concerning Broadcom and Qualcomm. These statements include, but are not limited to, statements that address Broadcom's expected future business and financial performance and statements about (i) the proposed transaction involving Broadcom and Qualcomm and the expected benefits of the proposed transaction, (ii) the expected benefits of other acquisitions, (iii) Broadcom's plans, objectives and intentions with respect to future operations and products, (iv) Broadcom's competitive position and opportunities, (v) the impact of acquisitions on the market for Broadcom's products, and (vi) other statements identified by words such as "will", "expect", "believe", "anticipate", "estimate", "should", "intend", "plan", "potential", "predict", "project", "aim", and similar words, phrases or expressions. These forward-looking statements are based on current expectations and beliefs of the management of Broadcom, as well as assumptions made by, and information currently available to, such management, current market trends and market conditions and involve risks and uncertainties, many of which are outside Broadcom's and management's control, and which may cause actual results to differ materially from those contained in forward-looking statements. Accordingly, you should not place undue reliance on such statements.
Such risks, uncertainties and assumptions include: the ultimate outcome of any possible transaction between Broadcom and Qualcomm; uncertainties as to whether Qualcomm will cooperate with Broadcom regarding the proposed transaction; the effect of the announcement of the proposed transaction on the ability of Broadcom and Qualcomm to retain customers, to retain and hire key personnel and to maintain favorable relationships with suppliers or customers; the timing of the proposed transaction; the ability to obtain regulatory approvals and satisfy other closing conditions to the completion of the proposed transaction (including shareholder approvals); and other risks related to the completion of the proposed transaction and actions related thereto. Other risks, uncertainties and assumptions that could materially affect future results include: any risks associated with loss of Broadcom's significant customers and fluctuations in the timing and volume of significant customer demand; Broadcom's dependence on contract manufacturers and outsourced supply chain; any acquisitions Broadcom may make, as well as delays, challenges and expenses associated with receiving governmental and regulatory approvals and satisfying other closing conditions, and with integrating acquired companies with Broadcom's existing businesses and Broadcom's ability to achieve the benefits, growth prospects and synergies expected from such acquisitions, including Broadcom's acquisition of Brocade Communications Systems, Inc. and Broadcom's proposed acquisition of Qualcomm; the ability of Broadcom to integrate Qualcomm's business and make changes to its business model, and to resolve legal proceedings, governmental investigations and customer disputes relating to Qualcomm's licensing practices; Broadcom's ability to accurately estimate customers' demand and adjust Broadcom's manufacturing and supply chain accordingly; Broadcom's significant indebtedness, including the substantial indebtedness Broadcom expects to incur in connection with Broadcom's proposed acquisition of Qualcomm, and the need to generate sufficient cash flows to service and repay such debt; dependence on and risks associated with distributors of Broadcom's products; Broadcom's ability to improve its manufacturing efficiency and quality; increased dependence on a small number of markets; quarterly and annual fluctuations in operating results; cyclicality in the semiconductor industry or in Broadcom's target markets; global economic conditions and concerns; Broadcom's competitive performance and ability to continue achieving design wins with its customers, as well as the timing of those design wins; rates of growth in Broadcom's target markets; prolonged disruptions of Broadcom's or its contract manufacturers' manufacturing facilities or other significant operations; Broadcom's dependence on outsourced service providers for certain key business services and their ability to execute to its requirements; Broadcom's ability to maintain or improve gross margin; Broadcom's ability to maintain tax concessions in certain jurisdictions; Broadcom's ability to protect its intellectual property and the unpredictability of any associated litigation expenses; any expenses or reputational damage associated with resolving customer product and warranty and indemnification claims; Broadcom's ability to sell to new types of customers and to keep pace with technological advances; market acceptance of the end products into which Broadcom's products are designed; and other events and trends on a national, regional and global scale, including those of a political, economic, business, competitive and regulatory nature.
Broadcom's filings with the Securities and Exchange Commission ("SEC"), which you may obtain for free at the SEC's website at http://www.sec.gov, discuss some of the important risk factors that may affect Broadcom's business, results of operations and financial condition. Broadcom undertakes no intent or obligation to publicly update or revise any of these forward looking statements, whether as a result of new information, future events or otherwise, except as required by law.
Additional Information
This communication does not constitute an offer to buy or solicitation of an offer to sell any securities. This communication relates to a proposal which Broadcom has made for an acquisition of Qualcomm and Broadcom's intention to solicit proxies for the election of Broadcom nominees to the Qualcomm Board and certain other proposals at Qualcomm's 2018 annual meeting of stockholders. In furtherance of this proposal and subject to future developments, Broadcom (and, if a negotiated transaction is agreed, Qualcomm) may file one or more registration statements, proxy statements, tender offer statements or other documents with the SEC. This communication is not a substitute for any proxy statement, registration statement, tender offer statement, prospectus or other document Broadcom and/or Qualcomm may file with the SEC in connection with the proposed transaction.
Investors and security holders of Broadcom and Qualcomm are urged to read the proxy statement(s), registration statement, tender offer statement, prospectus and/or other documents filed with the SEC carefully in their entirety if and when they become available as they will contain important information about the proposed transaction. Any definitive proxy statement(s) or prospectus(es) (if and when available) will be mailed to stockholders of Broadcom and/or Qualcomm, as applicable. Investors and security holders will be able to obtain free copies of these documents (if and when available) and other documents filed with the SEC by Broadcom through the web site maintained by the SEC at http://www.sec.gov.
This document shall not constitute an offer to sell or the solicitation of an offer to buy any securities, nor shall there be any sale of securities in any jurisdiction in which such offer, solicitation or sale would be unlawful prior to registration or qualification under the securities laws of any such jurisdiction. No offering of securities shall be made except by means of a prospectus meeting the requirements of Section 10 of the U.S. Securities Act of 1933, as amended.
Participants in Solicitation
Broadcom, certain of its subsidiaries, its directors and executive officers, other members of management and employees and the nominees described above may be deemed to be participants in the solicitation of proxies in respect of the proposed transaction, including with respect to Qualcomm's 2018 annual meeting of stockholders. You can find information about Broadcom's executive officers and directors in Broadcom's definitive proxy statement filed with the SEC on February 17, 2017. Information about the Broadcom nominees will be included in the proxy statement Broadcom intends to file with the SEC. Additional information regarding the interests of such potential participants will be included in one or more registration statements, proxy statements, tender offer statements or other documents filed with the SEC if and when they become available. These documents (if and when available) may be obtained free of charge from the SEC's website http://www.sec.gov.
Posted in: Business,Marketing & Sales,Media & Communications,Professional Services,Telecom