New Partnership Makes Farmland Rental & Management More Efficient
An online platform for renting farmland in the United States is announcing its partnership with a reliable payment integration. Tillable, the first online marketplace for farmland owners and growers to rent and manage farmland, is partnering with Dwolla, Inc., a financial technology software company, to enable payment functionality within its marketplace.
In one platform, the Tillable marketplace provides price discovery, unprecedented access to new land and information surrounding the management of the land to all parties. Tillable provides data transparency to the farmland market and makes it more efficient to rent farmland.
In need of a payment integration that could facilitate the movement of funds through its marketplace and affordably send funds, Tillable integrated with Dwolla's ACH API to access the Automated Clearing House (ACH) Network.
"The concept of digital payments for farm leases is new to our market, and it's a critical part of the Tillable solution for landowners," says Corbett Kull, CEO of Tillable. "It introduces an element of reliability, consistency and ease that was missing before. We needed a partner who could provide a payments solution that would work seamlessly as part of the total experience we provide to our users, and Dwolla was able to deliver."
Dwolla, Inc. is a financial technology company that offers businesses an onramp to the ACH Network, an electronic network of financial institutions that moves trillion dollars annually.
Partnering with Dwolla allows Tillable to keep its brand at the forefront of the payment integration, providing a better experience for its users while also streamlining user onboarding. Providing users a simple way to easily link their bank accounts and receive status updates around transaction activity is something Tillable believes will help them grow.
#DWOLLApowers Tillable
About Tillable
Tillable is the first true online marketplace for farmland rental. Through its robust digital platform, the company provides the process, technology and tools for landowners to determine if rent is in line with local market conditions. In addition, Tillable helps landowners connect with suitable farmers, track and share data around the farm's performance, and administer leases and payments. Tillable empowers landowners to make the best decisions to optimize their farmland investments and help farmers to find land to expand their operations. For more information, call 833.845.5225 or visit https://tillable.com.
About Dwolla
Dwolla, Inc. is a financial technology company that is changing the way businesses send and receive funds. The company offers a seamless, white label API platform to connect to the ACH Network to initiate payments.
Since 2008, when Dwolla began creating the ideal platform to move money, the company has helped move billions of dollars for millions of end-users annually for businesses of all shapes and sizes; in addition, Dwolla has been mentioned in Inc., Forbes and the Wall Street Journal. Businesses that need to efficiently send or receive money and are ready for the future either use Dwolla—or they should. Learn more at http://www.dwolla.com/.
Posted in: Computers & Software,News & Current Affairs,Technology
MedaDoc Launches mMJSuite™, a Medical Marijuana Patient Management and Intake System Easily Integrated With Any EHR and Any State's Medical Marijuana Registry
MedaDoc, a rising technology company involved in conversion and integration of EHR system data announces the launch of mMJSuite™, a medical marijuana patient management and intake system that takes advantage of the company's proprietary data moving technology.
Successfully undertaking the most challenging EHR conversions, integrations and interoperability bottlenecks in the medical industry over the last five years, MedaDoc has developed a proprietary technology that allows it to extract, import and move data between any EHR systems. "We've done a lot of typical EHR conversions over the years, but one of our biggest strengths lies in our ability to extract, move and integrate clinical and administrative data in the most challenging environments," says CEO Ilya Aronovich. "And that is our value add in the Medical Marijuana industry," He continues, "Whereas there are a number MMJ patient management systems on the market, what distinguishes us is our ability to integrate our mMJSuite™ with both the provider's EHR and a particular state's Medical Marijuana Registry Database."
MedaDoc explains that there are a great deal of physicians with existing practices that are entering the medical marijuana space, but their EHRs are not designed to manage medical Marijuana-based patient encounters, and, most importantly, the EHRs don't have the ability to share or integrate data with a particular state's Medical Marijuana registry. "As a result, medical practices must engage in double entry of patient information -- once in the state's MMJ Registry and once again in the practice's EHR," says CTO Dov Davidovics. "Our mMJSuite™ obviates the need for double entry by lettings medical providers enter MMJ patient data once in either system, and have it appear in all systems -- that is, in mMJSuite™, the Medical Marijuana Registry and the EHR -- in real time," he continues.
MedaDoc has piloted mMJSuite™ with several practices, and is now making it available to any practice interested in recommending its patients for Medical Marijuana use as per their state's permissible guidelines.
About MedaDoc
MedaDoc in a NY and FL-based medical technology company focused on the successful and HIPAA-compliant migration and integration of EHR records using its proprietary technology.
Posted in: Health & Medicine,Pharmaceuticals & Biotech,Technology
The Wall Street Technology Association (WSTA) to Hold "Workplace of the Future: Driving Hyper Productivity" Panel Discussion in NYC for the Financial Industry
The Wall Street Technology Association (WSTA®), a not-for-profit organization that provides financial IT professionals a forum to learn from and connect with each other, will host a panel discussion on "Workplace of the Future: Driving Hyper Productivity" on February 20, 2019 in NYC. Panel Sponsors include: MediaPlatform, Slack, and Zoom Video Communications and Breakfast Sponsor: LoopUp. Johna Till Johnson, CEO & Founder, Nemertes Research will provide industry perspectives and moderate the discussion. For more information, please visit: https://www.wsta.org/events/event/workplace-of-the-future-driving-hyper-productivity/
"Both the nature of work, and the tools we're using to do it, are changing dramatically," says Johna Till Johnson, CEO of Nemertes Research and WSTA content committee chair. "Next-generation collaboration tools are removing the barrier of distance, and cloud-based collaboration is an if, not a when, for most financial services firms. But to leverage these tools effectively, enterprise technologists need to think strategically."
Panel Discussion Overview
Next-generation messaging. Videoconferencing. Application and information-sharing. Office spaces designed to be as smart and virtual as your increasingly millennial workforce. This panel session features industry experts focusing on the way we work today, and tomorrow.
We'll cover emerging technologies in communications and collaboration. We'll take a look at processes for supporting remote employees and smart buildings. And we'll discuss the "softer" aspects as well: How financial firms can recruit, retain, and grow an increasingly virtual, multitalented workforce. How education and training need to evolve to help employees cope with increasing demands for technical expertise and business acumen.
You'll walk away with actionable next steps for energizing and enabling your workforce of the future.
About the Wall Street Technology Association
The WSTA facilitates educational and networking events where members meet and exchange ideas and best practices that assist them in effectively capitalizing on technology advances in areas such as Cybersecurity, Analytics, Internet of Things (IoT), Artificial Intelligence (AI), Machine Learning (ML), Data Management, Cloud, Blockchain, Digital, Architecture, etc. and dealing with financial industry business challenges. Founded in 1967, the WSTA is a not-for-profit association with a long history of evolving to meet the needs of its members.
The WSTA hosts seminars, roundtables, panel discussions, and social events. These events offer many opportunities to stay on top of leading technologies, as well as network and share information with industry colleagues. The WSTA's educational Digital News provides additional content and information about the WSTA and industry-related activities. The website is a dynamic resource for keeping on top of the latest information and offers access to additional resources including webinars, white papers, blogs, videos, and information about other industry events.
Nemertes Research is a global research-based advisory and consulting firm that analyzes the business value of emerging technologies. Since 2002, we have provided strategic recommendations based on data-driven operational and business metrics to help organizations deliver successful technology transformation to employees and customers. Simply put: Nemertes' better data helps clients make better decisions. http://www.nemertes.com
Posted in: Business,Professional Services,Technology
L-com Introduces New RJ45 Termination Block for Field Termination and Repair Applications
L-com, a preferred manufacturer of wired and wireless connectivity products, announced today that it has launched a new RJ45 termination board.
The RJ45FTJ is a slim, low profile breakout board that features an RJ45 (8x8) jack and screw terminals. The breakout board brings out all eight signal pins and the shield to screw down terminal blocks for easy termination or field wiring. This allows for quick and easy connections for prototypes, field wiring or even permanent installations.
Angled brackets provide an easy way to panel mount the block if desired, and holes drilled into the PCB provide a convenient way to anchor the unit and/or tie-wrap wires to the edge of the PCB. The block's compact design takes up minimal space, allowing for multiple connections in a small area.
"Our new RJ45 termination block is a very versatile solution to address many different connectivity applications. It can be used for field repair, prototyping new designs, or it can be used as a standard component in new product designs," said Dustin Guttadauro, Product Manager.
L-com's new RJ45 termination block is in stock and available for immediate shipment.
About L-com:
L-com, a leading manufacturer of wired and wireless connectivity products, offers a wide range of solutions and unrivaled customer service for the electronics and data communications industries. The company's product portfolio includes cable assemblies, connectors, adapters, antennas, enclosures, surge protectors and more. L-com is headquartered in North Andover, Mass., is ISO 9001: 2008 certified and many of its products are UL® recognized. L-com is an Infinite Electronics brand.
About Infinite Electronics:
Infinite Electronics is a leading global supplier of electronic components serving the urgent needs of engineers through a family of highly recognized and trusted brands. Our portfolio brands are specialists within their respective product set, offering broad inventories of engineering-grade product, paired with expert technical support and same day shipping. Over 100,000 customers across a diverse set of markets rely upon Infinite Electronics to stock and reliably ship urgently needed products every day.
Posted in: Electronics & Semiconductors,Manufacturing & Industry,Technology
Employee Channel Joins Rochester Data Science Consortium
EmployeeChannel, Inc., today, announced the company has joined the Rochester Data Science Consortium as part of its continuing commitment to leverage the latest in technology innovations in its leadership communications solutions. EmployeeChannel's participation in the Rochester Data Science Consortium follows the company's opening of a software development center in Rochester, NY in May 2018.
"We are delighted to welcome EmployeeChannel to the Rochester Data Science Consortium," said Walt Johnson, executive director of the Rochester Data Science Consortium.
"EmployeeChannel's decision to open an office in Rochester is recognition of the data science and artificial intelligence (AI) talent we have in the region. We look forward to collaborating with them on many innovative and exciting projects that will help continue to grow their business here in Greater Rochester."
"As noted when we launched our development center, the ability to attract talented folks from the Rochester talent pool is key to our growth strategy," stated Steve L. Adams, CEO of EmployeeChannel. "Joining the Rochester Data Science Consortium is another strategic opportunity for us to partner locally with the University of Rochester and Rochester Institute of Technology."
"With the Consortium's world-class research capacity and leading technology innovators, such as the Harris Corporation, we can work jointly to bring the practical application of data science to real-world business problems. Specifically, the communication challenges faced by leadership and managers who are tasked with engaging a modern workforce."
EmployeeChannel's leadership communications platform currently uses AI and Data Science technologies to provide:
-Digital coaching for the development of compelling content by leaders and managers at all skill levels.
-Continuous listening for employee feedback, providing insights into organizational health and employee sentiment.
-Communication impact and effectiveness, including the performance of communication programs and campaigns, individual publications, publishers, and digital touch points.
About EmployeeChannel
EmployeeChannel is a leading provider of leadership communication solutions. Our platform enables leaders and managers to deepen employees' connection to business purpose, to boost the impact and effectiveness of their communications, and to transform the communication experience for employees. Communication strategy and planning software make it easy to plan, execute, and measure communications. Communication coaching and publishing software make it easy for leaders and managers to develop relevant and compelling information and to reach the right audience with the right message. EmployeeChannel's mobile app makes it easy to keep employees engaged and to make them feel part of achieving the organization's goals. To learn more about EmployeeChannel's end-to-end solution for employer-to-employee communications, please visit http://www.employeechannelinc.com.
About Rochester Data Science Consortium
The Rochester Data Science Consortium was founded in 2017 by the University of Rochester and Harris Corporation, with funding from New York State and Governor Andrew M. Cuomo. Its membership now includes the some of the largest employers in the Finger Lakes region, such as Wegmans and RIT, in addition to new and growing startup companies. Located at NextCorps in the heart of the Rochester Downtown Innovation Zone, the Rochester Data Science Consortium gives businesses and organizations a competitive edge with access to the data science expertise, partners and technologies needed for rapid development and deployment of data-driven solutions. To learn more, please visit http://www.rocdatascience.com.
Posted in: Computers & Software,News & Current Affairs,Technology
Share your Cybersecurity Innovations with National CyberWatch Center
Innovators are encouraged to share their advancements and unique ideas in the National CyberWatch Center's third annual Innovations in Cybersecurity Education Awards and Recognition Program.
Educators who work in cybersecurity are able to share how their innovations help teach or expand cybersecurity, accelerate the adoption of new ideas throughout the academic community and receive recognition for their work. Select submissions will be included in the Cybersecurity Skills Journal: Practice and Research.
Last year, National CyberWatch received over 60 submissions. The five winners were Community Initiative Center of Excellence for Secure Software- Employer-led Secure Software Development Dual Model Apprenticeship Partnering with Community Colleges; Industrial Control Systems Security Curriculum Resource Kit; Have My Smart Lightbulbs Been Weaponized: Introducing Computer Security Issues Related to IoT Devices; Guiding Girl Scouts Through a Computer Science Journey; and Comic-Bee: Branching, Interactive Web Comics for Cybersecurity Education and Assessment for Learners of All Ages and Levels.
This year, the top selections will be awarded in the following categories: Evidence-based Strategies, Instruction, Practice, and Program Development.
"This is the third year for our Innovations in Cybersecurity Education program. Building on the solid expansion of the program and strong participation by all National CyberWatch stakeholders, we are creating one, new significant bridge to two other successful National CyberWatch programs this year. We have made slight adjustments to the category titles and are now aligned to the thematic categories of both the Cybersecurity Skills: Practice and Research as well as the popular Community College Cyber Summit (3CS). This will allow Innovations submissions to flow seamlessly into the editorial calendar of the Journal, as well as the 3CS presentation tracks," said Casey W. O'Brien, executive director of National CyberWatch Center. "I encourage all our member institutions and supporting stakeholders to participate again this year and broaden the knowledge pool of innovations that can be shared across the National CyberWatch Center programs while continuing the march toward a stronger cybersecurity workforce."
Award winners will be acknowledged at the Community College Cyber Summit at Bossier Parrish Community College in Louisiana, July 30-Aug. 1. Submissions should be currently in use or have been used in cybersecurity education. They will be accepted through May 3. For more information, visit nationalcyberwatch.org/innovations/
Posted in: News & Current Affairs,Technology
Mobile Technologies Inc. (MTI) and GBS Corp. Deliver Tablet Mobility Solutions That Increase Patient Engagement
Mobile Technologies Inc. (MTI), a global leader in tablet mobility solutions for healthcare, and GBS Corp., a leading information solutions provider, today announced a partnership that offers a simplified technology approach for collecting patient signatures, photos, and scanned ID cards. By utilizing MTI's Enterprise Tablet Pro™ Tablet Kiosk and GBS's EasySIGN software, healthcare providers can quickly process patients and ensure that forms and consents are electronically signed and stored in the EHR for safekeeping. "Companies like GBS are changing the way information is captured, tracked, and stored," said Matt Haroldson, VP International Sales and Marketing for MTI. "Healthcare providers and facilities are moving fast to adopt tablet mobility technologies in areas of patient registration, consent form tracking, and post care instructions. MTI is on the leading edge for tablet kiosk innovations that helps bring all the technologies together."
In today's world of hospital - patient relationships, there is much to track, report, and validate for even just a single appointment or visit. With each engagement comes the opportunity to delight or disappoint a patient as well as expose the hospital to increased liability and low satisfaction or compliance scores. "Traditional methods of lengthy forms, confusing pre-visit consent and sign offs result in increased errors, rescheduled appointments, increased costs, and a poor experience for patients," said Enoch Seward, Senior Account Executive for GBS. "For the best news, our results are impressive and immediate! As an example, a hospital in Tennessee saw an increase in Compliance Scores to 100% within the first 30 days of using the GBS Corp. EasySIGN® solution, which was deployed on the ArmorActive Enterprise Tablet Pro™ Kiosk and RapidDoc™ Kiosk hardware. These hardware devices withstand the rugged healthcare environment by providing a high level of security, tablet detachability, and multiple accessory integration points, including payment processing."
Attending HIMSS 2019 February 12-14th in Orlando, FL?
Visit MTI / ArmorActive Booth # 4375
https://himss19.mapyourshow.com/7_0/exhibitor/exhibitor-details.cfm?ExhID=22544
About MTI / ArmorActive
Mobile Technologies Inc. (MTI) / ArmorActive, specializes in multi-purpose hardware solutions that allow tablet deployments for business. They manufacture equipment that increases the security, accessibility, mobility, and engagement level of tablets for every major business application.
For more information, please visit: https://mtigs.com/tablet-mobility/
Follow MTI / ArmorActive on LinkedIn: https://www.linkedin.com/company/mti_2
About GBS Corp.
Since 1971, GBS Corp. has specialized in providing healthcare organizations maximum practice efficiency by integrating and automating all phases of clinical, financial, and administrative operations both in the Acute and Ambulatory locations. GBS currently services over 30,000 healthcare professionals nationwide through more than 2,500 software installations. GBS offers numerous solutions, some of which include the following core offerings:
Revenue Cycle Management
Patient ID with Electronic Signature
Patient Experience – Smartphone Surveys
Patient Engagement/Reporting
Consumables (labels and wristbands)
Electronic Health Records
Population Health
Consulting Services
Hardware, Infrastructure
Security Risk Assessments
For more information, please visit:
Posted in: Health & Medicine,Lifestyle,Technology
Bonomi's New Remote Valve Timer Switch Provides Easy Control Of Valve Operations in Hard-To-Reach Places
The new VT Series valve timer from Bonomi gives users advanced multi-function control of critical valve operations and solves potentially dangerous, time-consuming access problems. For example, automated valves 20 feet up a feeder assembly or near the floor behind a boiler can be quickly, easily and accurately controlled without risk of injury.
Available in AC or DC models, the VT timer switch can be installed in virtually any convenient location and connected directly to an electrically actuated valve, or a solenoid on a pneumatic actuated valve. Wired remote operations are secure and easy to set up.
The VT Series has capabilities beyond those of built-in actuator timers, with up to 18 functions to support a wide range of applications, including:
Irrigation system
Filtration systems
Boiler blowdown
Industrial plant operations
Features include a wide time setting range, from 0.1 seconds to 999 hours, with a 3-digit LCD display for Set Time and Run Time. A 24-hour clock function is also available.
VT Series valve timers are CE approved and UL Listed for use in the US and Canada. The polycarbonate enclosure is constructed for NEMA 4X - IP65 level protection. Dependability is built in with an extended cycle life. The operating temperature range is -10?C ~ +55?C (+14?F ~ +131?F).
For more information on Bonomi VT Series valve timers or other Bonomi products, contact Bonomi North America at (704) 412-9031 or visit online at http://www.bonominorthamerica.com.
About Bonomi
Bonomi North America has served the U.S. and Canada since 2003 and is part of the Bonomi Group of Lumezzane, Italy. Bonomi Group brands include Rubinetterie Bresciane Bonomi (RB) brass ball valves and check valves; Valpres carbon and stainless steel ball valves; and Valbia pneumatic and electric industrial actuators. Bonomi North America maintains an extensive distribution network for these products from its headquarters in Charlotte, N.C. and a facility in Oakville, Ontario, Canada.
Posted in: Electronics & Semiconductors,News & Current Affairs,Technology
L-com Releases New Cat5e Double-Shielded Outdoor High-Flex PoE Industrial Ethernet Cables
L-com, a preferred manufacturer of wired and wireless connectivity products, announced today that it has launched a new series of double-shielded, Cat5e, outdoor, high-flex, PoE, industrial Ethernet cables that are ideal for PoE 802.3af or 802.3at, industrial, automation, manufacturing and outdoor use applications.
L-com's new line of Cat5e, high-flex, PoE, industrial Ethernet cables consists of 20 models that are made with an outdoor-rated, flame-retardant thermoplastic elastomer (FR-TPE) jacket that is resistant to oil, UV, cut and weld-splatter while maintaining a UL-CMX flame rating. These cables have a flex rating of 1 million cycles at 3.01" and 10 million cycles at 6.02" without performance loss. They also feature a foil + braid shield (SF/UTP) along with fully shielded RJ45 connectors that reduce and eliminate EMI/RFI interference. These unique 24 AWG stranded 600V cables can be run with power cables without the concern of voltage jumps.
"These new ultra-flexible, Cat5e cables are designed for outdoor environments where ordinary patch cables fail. They are double-shielded and PoE 802.3af compliant to 80 meters, allowing them to provide full PoE power over distance and making them an excellent alternative to rigid, stiff, standard PoE cables," said Dustin Guttadauro, Product Manager.
These new 600V PoE industrial Ethernet cables are available in teal and black colors, and in 1, 3, 5, 10, 15, 25, 50, 75, 100, 150, 175, 200 and 250-foot lengths. Custom lengths and labels are also available upon request.
L-com's new Cat5e, high-flex, PoE, industrial Ethernet cables are in stock and available for immediate shipment.
About L-com:
L-com, a leading manufacturer of wired and wireless connectivity products, offers a wide range of solutions and unrivaled customer service for the electronics and data communications industries. The company's product portfolio includes cable assemblies, connectors, adapters, antennas, enclosures, surge protectors and more. L-com is headquartered in North Andover, Mass., is ISO 9001: 2008 certified and many of its products are UL® recognized. L-com is an Infinite Electronics brand.
About Infinite Electronics:
Infinite Electronics is a leading global supplier of electronic components serving the urgent needs of engineers through a family of highly recognized and trusted brands. Our portfolio brands are specialists within their respective product set, offering broad inventories of engineering-grade product, paired with expert technical support and same day shipping. Over 100,000 customers across a diverse set of markets rely upon Infinite Electronics to stock and reliably ship urgently needed products every day.
Posted in: Media & Communications,Technology
Lindberg/MPH Ships Treet-All Box Furnace to the Technology Industry
Lindberg/MPH announced the shipment of one (1) Treet-All™ Box Furnace to the technology industry. The Treet-All™ Light Industrial Box Furnace is suited for multiple applications, including annealing, ashing, austempering, brazing, preheating, and solution treating.
The maximum temperature rating of this light industrial box furnace is 2050°F and has work chamber dimensions of 12" wide x 24" deep x 12" high. The Treet-All™ box furnace is a part of Lindberg's modular, stackable, and space-saving line of box furnaces. The furnace meets and exceeds industry standards for heat-up rates and outer shell temperatures. The ideal use for the Treet-All™ box furnace is for tool room, plant maintenance, and production applications that require maximum heat-treating, hardening, and tempering capabilities in a minimum amount of space.
"Lindberg/MPH's light industrial box furnaces are designed to minimize heat loss and save space, making them the ideal for any workspace." - Kelley Shreve, Applications Engineer
The Treet-All™ box furnace also offers quick, consistent heat up rates, full access to the work chamber, minimum heating of the outer skin, product load protection, and precise control with a long life and reliability.
More unique features of this Treet-All™ box furnace include:
Lightweight Moldatherm insulation
Side-mounted controls
Alloy retort
Manually adjustable nitrogen flowmeter
Double shell
Side-mounted double-hinged plug door
Digital temperature controller
Separate excess temperature control system
Power circuit breakers
SSR power module
About Lindberg/MPH
Lindberg/MPH is a leading manufacturer of standard and custom industrial heat treat furnaces, including pit, box, IQ, and belt type for the ferrous and non-ferrous markets. Lindberg/MPH customers cover a wide range of industries including aerospace/military, automotive, commercial heat treating, energy/oil, electronics and the forging markets. Founded in 1912, the company has more than 75,000 industrial furnace installations worldwide and their equipment is backed by a full range of customer support services and the most extensive replacement parts inventory in the industry. Lindberg/MPH is a proven leader in the thermal processing industry, with a long track record of proven policies and management practices.
Lindberg/MPH is owned by Thermal Product Solutions ("TPS"), a leading American manufacturer of custom industrial ovens used for heat treating, finishing, drying, curing, manufacturing automation and process control. TPS is a global leader in thermal processing products and test solutions with brands including Baker Furnace, Blue M, Gruenberg, Lindberg, Lunaire, MPH, Tenney, and Wisconsin Oven. For more information on equipment solutions from TPS visit the website at http://www.thermalproductsolutions.com.
Posted in: Manufacturing & Industry,Technology
Don't Miss These Special Events at SAE International's Hybrid and Electric Vehicle Technologies Symposium
SAE International's SAE 2019 Hybrid and Electric Vehicle Technologies Symposium has some exciting special events planned at Delta Hotels by Marriott Anaheim Garden Grove in California on Feb. 19-21, 2019. In addition to a robust technical program and packed exhibit floor, there are plenty of professional development and opportunities for attendees.
SAE recognizes the importance of person-to-person networking and has built in several networking breaks into each day's programming to compliment networking on the exhibit floor. These networking breaks allow attendees to chat and exchange information, as well as ask questions or begin discussions based on the earlier sessions that day.
On Tuesday, Feb. 19, - the opening night of the event – Toyota will sponsor a Casino Networking Reception at 6:15 p.m. held on the Santa Rosa patio. Join us for drinks, appetizers and casino games.
On Wednesday, Feb. 20, - Participate in a panel discussion featuring experts from GM, Nissan, Ford, Toyota, and Honda at 5:00 p.m.
On Thursday, Feb. 21, - the morning of the last day of the event – Ford will sponsor Breakfast Roundtable Chats at 7:00 a.m. in the Catalina Ballroom. Join us to chat with experts in an intimate setting on a variety of topics. Advanced signup required.
Now in its 16th consecutive year, this event provides vehicle design engineers and management with a forum to share and discuss the latest technology, applications, and overall development challenges for electric and hybrid-electric vehicles through lively discussions and ample networking opportunities. To learn more about the SAE Hybrid and Electric Vehicle Technologies Symposium or to register, visit https://www.sae.org/attend/hybrid.
For information on exhibit or sponsorship opportunities, please contact Linda Wagner at linda.wagner@sae.org or 1-724-772.4062.
To request media credentials, email pr@sae.org or call 1-724-772-8522.
SAE International is a global association committed to being the ultimate knowledge source for the engineering profession. By uniting over 127,000 engineers and technical experts, we drive knowledge and expertise across a broad spectrum of industries. We act on two priorities: encouraging a lifetime of learning for mobility engineering professionals and setting the standards for industry engineering. We strive for a better world through the work of our charitable arm, the SAE Foundation, which helps fund programs like A World in Motion® and the Collegiate Design Series™.
Posted in: News & Current Affairs,Technology
L-com Releases Aerial and Outdoor Bulk Cable for use in Demanding OSP Networks
L-com Global Connectivity, a preferred manufacturer of wired and wireless connectivity products, announced today that it has unveiled a new series of outdoor-rated direct burial and aerial messenger bulk cable designed for use in outside plant (OSP) applications.
L-com's new Cat5e direct burial cable features outdoor-rated jackets which protect against moisture and UV (sunlight) damage. Additionally, the cable is EIA568 color-coded for compatibility with standard installations and features solid conductors for termination into standard IDC connectors and for use with PoE applications.
The new outdoor aerial messenger bulk cable is offered in Cat5e and Cat6 ratings and features a figure 8 design to ensure maximum stability even under high wind load. Both UTP and F/UTP shielded and unshielded cable types are offered in 1,000 foot lengths.
"Our new direct burial and aerial messenger cable addresses our customers' needs for OSP applications that require high performance, rugged cable runs that will stand up to environmental extremes. This new bulk cable line can be used in a wide variety of applications across myriad industries," said Dustin Guttadauro, Product Manager.
L-com's new direct burial and aerial messenger bulk cable is in stock and available for immediate shipment.
About L-com Global Connectivity:
L-com Global Connectivity, a leading manufacturer of wired and wireless connectivity products, offers a wide range of solutions and unrivaled customer service for the electronics and data communications industries. The company's product portfolio includes cable assemblies, connectors, adapters, antennas, enclosures, surge protectors and more. L-com is headquartered in North Andover, Mass., is ISO 9001: 2008 certified and many of its products are UL® recognized. L-com is an Infinite Electronics brand.
About Infinite Electronics:
Infinite Electronics is a leading global supplier of electronic components serving the urgent needs of engineers through a family of highly recognized and trusted brands. Our portfolio brands are specialists within their respective product set, offering broad inventories of engineering-grade product, paired with expert technical support and same day shipping. Over 100,000 customers across a diverse set of markets rely upon Infinite Electronics to stock and reliably ship urgently needed products every day.
Posted in: Electronics & Semiconductors,Manufacturing & Industry,Technology
After Delivering Numerous Tableau Training Classes Exist Management LLC (ExistBI), Prestigious Aerospace Client Returns for Tableau Consulting Project
An award winning avionic and information technology service company contracted ExistBI to train teams on Tableau Desktop capabilities. One of ExistBIs certified Tableau trainers delivered their popular three-day Tableau Desktop Bootcamp on-site, on-time and within budget. This unique three-day Tableau Bootcamp combines the Tableau Fundamentals and Intermediate curriculum. The custom training program provides materials and extensive hands-on exercises to re-enforce the skills and knowledge attained.

The trainer then returned to the company with more custom training and workshops to develop Tableau dashboards for the senior management team to help with their current merger. These additional training days were requested by the company's directors and were designed to be fit for purpose to meet the client's needs. The customer was so pleased with the quality of the training received that they appointed ExistBI for their complex Tableau consultancy project that followed. The Tableau consulting services was delivered remotely, as and when the management team required further development and support.

'We pride ourselves on providing experience, skilled and professional trainers and consultants. We frequently have returning customers, as clients like to continue the relationship they have built with our data specialists.' Max Russ, Senior Director, ExistBI

Alongside this recent training and consulting project, ExistBI have recently provided enterprise reporting and business intelligence training to a variety of industry sectors. From finance, government, technology, healthcare, wholesale, academia, media and much more. Some recent ExistBI clients include: Barclays, US Bank, Justice Department, US Veteran Affairs, DOJ, Dropbox, Cox Communication, Costco, HealthNet, Integra, USC just to name a few. This is an indicator of how all industry sectors highly value the need for self-service analytics and data consulting services. To find out more about ExistBI's Tableau training schedules, visit their website.

About ExistBI
ExistBI solves our client's toughest challenges by providing unmatched solutions and services in data strategy, big data consulting, business intelligence implementation, technical support and training. With offices in the US, UK and Europe, they partner with fast growing start-ups, medium to large Companies and government organizations, driving innovation through intelligent data led initiatives. They have experience across most industries and all business functions to deliver transformational outcomes for a demanding new digital world.

Learn more at ExistBI http://www.existbi.com
Posted in: Business,Computers & Software,Technology
Ambrose Solar Is Selling and Installing Sun Power Panels in Solano County
The overarching objective at Ambrose Solar is to help generate clean and consistent power hassle-freely and cost-effectively. The Vacaville based solar company sells, designs, and installs solar systems for residential and commercial setups across Solano County and environs. The client's unique needs and budget are factored in and solar systems are accordingly tailored for amps, volts, weights, frame sizes, and wattage. Ambrose Solar maintains a vast inventory of solar panels sourced from the top brands, including Sun Power for maximum efficiency, long term value, and project suitability. The installation part is well catered to through trained workforce.

The spokesperson at Ambrose Solar recently stated, "With depleting ecology and escalating power costs, it makes perfect sense to go solar. At Ambrose Solar, we have the resources to make the transition seamless and rewarding for Solano County, Dixon, Fairfield, Napa, and beyond. To this end, we provide end-to-end solutions, free estimates upfront, competitive prices across the board, and convenient finance options. Each project is handled by professionals from start to finish, allowing the client to breathe easy. Our professional team custom designs the system for maximum power generation and does all the paperwork entailed."

Ambrose Solar's end to end solutions entail main processes, such as Computer Aided Design (CAD) Plans, and local building, electrical & zoning permits, along with utility interconnection. The solar company is there to handle HOA review and approval, and state and local rebate applications for a trouble-free transition. No part of the job is outsourced, as is the norm, to ensure the highest quality standards throughout. Ambrose Solar is known to bring timeliness into the solar installation with each project completed within 2 to 3 days depending on the system size.

On Sun Power panels, the spokesperson further stated, "Sun Power is the leading solar panel brand currently on the market revered for its efficient, reliable and durable products. The products can endure rain, hail, snow, and heat, and feature a state-of-the-art monitoring system to track the system's performance. The brand is particular about its dealerships, choosing each dealer only after detailed trials and testing. At Ambrose Solar, we take pride in being an Elite Sun Power dealer with a pedigree and adequate skills. Being a dealer helps us back each Sun Power panel purchase with genuine prices and comprehensive product warranties."

As the leading name in the solar power business, Ambrose Solar can build photovoltaic systems through CAD at considerably low Sunpower panel cost. The solar company keeps ex-stock a variety of popular Sun Power models for swift supplies. It also has installations down to a science, handling everything from small rooftop installation to huge ground mounts with efficiency and commitment. The crews have commendable experience in roofing and electric, which serves as a guarantee for the best solar installation possible.

About Ambrose Solar
Ambrose Solar is a top-rated solar company serving Solano County and surrounding environs since the year 2013. The solar company makes the most of its resources to provide customized standalone systems, partial installation, on-grid solutions, and off-the-grid systems at low costs to homes and offices. Recently, Ambrose Solar has emerged as the leading Solar Napa company.
Posted in: Electronics & Semiconductors,Manufacturing & Industry,Technology
MicaSense Closes Profitable 2018, Eyes Global Expansion in 2019
Founded in 2014, MicaSense is an American sensor company made up of engineering, optics, and agricultural experts who are passionate about precision farming and eager to contribute to its worldwide adoption. Today, the company reports its third consecutive year of 70% RedEdge sales growth and announces plans to increase its presence overseas and continue high levels of investment in research and development.
Successful Products, Strong Partnerships
Designed to be highly adaptable for integration with a variety of drones, MicaSense sensors are used by researchers, drone service providers and growers in the agriculture industry. As a member of the Parrot Group, a leading European drone group comprised of industry leaders (Pix4D, senseFly, etc.), MicaSense is positioned well as a major player in the agricultural drone sensor market. RedEdge, the company's leading sensor, is in its fourth iteration (RedEdge-MX) with thousands of units sold. In addition to providing growers and service providers with valuable insights into their crops, data from RedEdge cameras has also been featured in over 100 research publications, establishing RedEdge as a trusted name in the industry.
MicaSense has also seen success with its newest sensor, Altum, released this past October. Benefiting from four years of ongoing development, Altum is the first of its kind in the industry. Among other patented technology, it features revolutionary synchronized capture of thermal and high-resolution multispectral imagery. This enables analytics that seamlessly combine multispectral and thermal data, enabling customers to monitor chlorophyll content and crop health while simultaneously providing insights into irrigation and water stress. In November and December, Altum sales accounted for over 35% of MicaSense sales revenue, pointing towards a strong adoption of this next-generation sensor.
"Altum was created specifically to solve pain points for our customers and to empower them to push the envelope of what already exists in agriculture. Whether it is a researcher devising a new way to monitor drought or a grower spotting pests before they've spread to an entire field, our vision is to build tools that offer unlimited opportunities for innovation."
Justin McAllister, CTO and Co-Founder
Since its founding, MicaSense has committed to ensuring its products stand up to use in the field, allocating increased budget to research and development each year. All MicaSense's products are manufactured in Seattle, Washington, allowing for high levels of quality control. This commitment to quality has helped MicaSense forge partnerships with leading drone integrators and manufacturers, such as Wingtra, Delair-Tech, PrecisionHawk, and BirdsEyeView Aerobotics, providing growers and drone service providers a wide variety of compatible drone platform options. Recently, the company announced its participation in the DJI Payload SDK program, a program allowing for seamless integration between DJI aircraft and sensors. Both RedEdge-MX and Altum are now fully integrated with the DJI M200, DJI's leading professional drone, completing a fleet of professional multi-rotor and fixed wing drones for precision farming.
Increased International Distribution and Investment in R&D
Building on another year of strong growth, the company plans to expand international sales channels and dedicate additional sales and marketing resources to Asia and Europe in an effort to better serve a rapidly expanding customer base.
"Growth in Asia-Pacific and Europe exceeded our expectations last year and we anticipate even higher demand in 2019. Customers there appreciate the usability and accuracy of RedEdge and have responded incredibly well to our new sensor designs. We've placed a high priority on getting more of our sensors to these areas this upcoming year.
Eric Waters, General Manager
MicaSense also plans on continuing high levels of investment in research and development. Making use of partnerships with prominent agricultural research institutions, the company intends to focus on data driven tools that support growers and bring the future of analytics to agriculture. For example, vineyard producers with access to analytics from thermal and multispectral imagery could identify not only which vines need water, but at what time during the day they need it the most. For growers in drought prone areas, this information may become vital as water becomes more scarce.
"Our research and development does not begin or end with sensor hardware. We are constantly looking at ways to streamline the data collection, processing and analytics workflow so better operational decisions can be made at the field's edge, by growers themselves."
Justin McAllister, CTO and Co-Founder
About MicaSense
MicaSense is at the forefront of drone sensor development for precision agriculture. Passionate about producing the right tools for their customers, MicaSense solutions enable growers, agronomists and researchers to make the right calls at the right time. All MicaSense products are designed and manufactured in the USA.
Posted in: Manufacturing & Industry,Technology
By 2021, Cyber Security Market to Reach USD 180.77 Billion, Globally: Zion Market Research
According to the research report published by Zion Market Research, global cyber security market was valued at USD 105.45 billion in 2015, is expected to reach USD 181.77 billion by 2021 and is anticipated to grow at a CAGR of 9.5% between 2016 and 2021.
Cyber crime is not new but it seems it is getting worse with the rapid advances in the use of information technology. Higher the rate of cyber attacks, higher is the cost of damage control and security for businesses. Here comes the cyber security in picture. Nowadays, the online world is more active as compared to the offline one, which also means that the information is online and available to everyone. The misuse of the facilities results in abrasion of public confidence and major financial loss. Cyber security is the protection of information systems from theft or damage to the hardware, the software, and to the information on them, as well as from disruption or misdirection of the services they provide. Earlier, office automation was the focussed area and was of the most concern. Presently, this definition has changed to enhancing the customer experience, obtaining a competitive advantage, and providing customers a completely new dimension in which they can experience the product or service.
The cyber security market is one of the highest growing markets in the information technology domain and it yields large economic opportunities. Growing risks such as computer hacking, software piracy, and virus deployment are increasing the demand for cyber securities services. The governments of various countries are increasing their investment in cyber security owing to development in computer interconnectivity and remarkable growth in computing power of government networks.
Request a Free Sample Report: https://www.zionmarketresearch.com/sample/cyber-security-market
The data from security firm BTB Security show that there is a drastic and considerable change in the number of breaches and identity thefts in 2015 as compared to 2005. Such security breaches cause serious financial damage. However, as there is no standard model for estimating the cost of an incident, the only data available are that which are made public by the organizations involved.
Some of the key players involved in global cyber security market include Symantec, IBM, McAfee, Northrop Grumman, and Booz Allen Hamilton, CSC among others.
The vulnerability of enterprises on information technology and stored sensitive digitally data have provided ample opportunities to cyber-attackers with financial gain being the primary motive. Solution providers' major focus is in research and development to develop next-generation security solutions to provide higher security. For example, The Department of Homeland Security is publicizing eight new cyber security technologies developed under federal grants that are looking for private businesses to turn them into commercial products. Science Applications International Corporation (SAIC) developed an innovative cyber security technology which helps the government to protect critical data, mitigate risks, and establish a comprehensive defence against cyber-attacks.
Download for Free Report PDF Brochure: https://www.zionmarketresearch.com/requestbrochure/cyber-security-market
There is also a greater focus on the intelligence-led security as conventional security technologies including web, content management and network security are unable to deliver the tracking of security incidents. The cyber security market is anticipated to witness high demand for cloud-based applications as government organizations are going for the cloud platform for data sharing.
The cyber security market is segmented based on security types, solution, and vertical and by regions. On the basic of security types market is divided into network security, cloud security, wireless security and others. Cyber solution segment includes identity and access management (IAM), encryption, risk and compliance management, data loss prevention, antivirus and antimalware, firewall and others. By vertical, market is segmented into aerospace, government, financial services, telecommunication, healthcare, and others.
In 2015, North America dominated the cyber security market owing to the increasing cyber crime and strict government rules against it. Asia Pacific is a fastest growing regional market for cyber security market due to increasing number of internet users in China and India.
More Information: https://www.zionmarketresearch.com/report/cyber-security-market
About Us:
Zion Market Research is an obligated company. We create futuristic, cutting edge, informative reports ranging from industry reports, company reports to country reports. We provide our clients not only with market statistics unveiled by avowed private publishers and public organizations but also with vogue and newest industry reports along with pre-eminent and niche company profiles. Our database of market research reports comprises a wide variety of reports from cardinal industries. Our database is been updated constantly in order to fulfill our clients with prompt and direct online access to our database. Keeping in mind the client's needs, we have included expert insights on global industries, products, and market trends in this database. Last but not the least, we make it our duty to ensure the success of clients connected to us—after all—if you do well, a little of the light shines on us.
Posted in: Business,News & Current Affairs,Technology
Million Dollar Resumes
Million Dollar Resumes (www.milliondollarresumes.com) is the new source of resumes, cover letters, and other job search documents for Senior Executives
Jan 2019, USA: Million Dollar Resumes provides top-level executive resumes and cover letters services with proven and assured results. Million Dollar Resumes is one of the prominent resume writing services in the industry.
Million Dollar Resumes' cover letter and resume writing services empowers executives and corporate officers around the world with winning career-changing interviews. Their resumes and cover letters consistently produce superior results for their clients.
At Million Dollar Resumes, Greg Faherty, a top 10 certified professional resume writer (CPRW) with more than 19 years of experience, writes your executive resume, cover letter, CV, federal resume, and any other documents you need for your job search.
Million Dollar Resumes helps executives achieve success by facilitating more interviews and decreasing the employment search process by providing superior, professionally written resumes and cover letters that stand out from the competition. Owner and writer Greg Faherty is among the top certified professional resume writers in the country, with more than 9,000 resumes to his credit. He specializes in creating top-performing job search documents that propel his clients to the next level of their careers.
In addition to resumes and cover letters, Million Dollar Resumes also offers LinkedIn profiles, executive biographies, and any other job search document today's discerning executives need to outdo the competition.
For more information, a free resume analysis, or to see executive resume samples, visit https://milliondollarresumes.com/. You can also call them at 845-942-1198 or email them at info@milliondollarresumes.com
About the company
Million Dollar Resumes is dedicated to providing exceptional results for executives and corporate officers around the world. Greg Faherty, owner and Certified Professional Resume Writer, has extensive experience writing resumes for executives and corporate officers in various industries, including the technology, security, sales, operations, finance, non-profit, and academic sectors. At Million Dollar Resumes, all your resumes, cover letters, CVs, federal resumes, and any other documents you need for your job search are individually prepared.
Contact Details:
City – Garnerville
State – NY
Country – USA
Zip code – 10923
Phone Number – 845-942-1198
Website: https://www.milliondollarresumes.com/
Company Email ID – info@milliondollarresumes.com
Posted in: Employment,Finance Market,Marketing & Sales,Technology,Telecom
Metrofuser Adds HP M607, M608 M609 Printer Fusers and Maintenance Kits to Lineup
Laser printer parts manufacturer Metrofuser (http://www.metrofuser.com) has introduced printer fusers and maintenance kits for HP LaserJet Enterprise M607, M608 M609 printers. The availability of these fusers will help reduce costs and increase profitability for the company's nationwide customer base.
Metrofuser provides two options to acquire these printer fusers - by economical repair and return or by convenient advance exchange service. Metrofuser stocks the M607 series printer fusers, part number RM1-1256, L0H24A L0H24-67901. They are ready for same day shipping.
Metrofuser's fusers and maintenance kits for HP Printers offer brilliant crisp black and white output and guaranteed against all image defects.
"Reliable parts solutions are in high demand with the advent of more feature-rich printers in the marketplace," stated Eric Katz, Co-President, "Our customers require the most precise imaging technology in this demanding market and our R&D team has devised a solution for the M607 series fuser," adding that, "Our printer fusers hold up to the most demanding conditions offering unequaled durability - these fusers work flawlessly with OEM and compatible toners."
The introduction of these HP fusers to Metrofuser's product line represents a continued commitment to invest in R&D. Katz reiterates "Metrofuser's priority is to develop best-in-class repair and remanufacturing procedures along with rigid performance testing that enables us to deliver replacement parts that are unequaled in reliability and quality."
Metrofuser is a leading global innovator, manufacturer of printer parts, equipment, diagnostics, repair information and systems solutions for professional users performing critical tasks. Products and services include HP printer parts, printers and printer repair training. Parts include HP printer parts such as printer fusers, printer maintenance kits and other printer replacement parts. The company's, customers include office equipment dealerships, online retailers, repair centers and MPS service providers nationwide. Metrofuser has been named to Inc. Magazine's fastest growing companies five consecutive years.
Posted in: Manufacturing & Industry,Services,Technology
NASA CLASS Announced Collaboration with Actress Sheyene Gerardi to Address Technological Literacy
Sheyene Gerardi, a well-known Venezuelan soap opera star and model, has been appointed a member of NASA's Center for Lunar and Asteroid Surface Science (CLASS) as the Lead for Robotics Outreach. This world-class institution of planetary scientists and space technologists invited Sheyene to join them because of her visionary work fusing space robotics technology development with humanitarian development on Earth.
Sheyene's program addresses technological literacy in under-developed regions, creation of jobs in robotics, and advancement of technologies needed off-Earth. The program addresses a much larger concern, too, one that few have even considered: robotic industry on the Moon and Mars has such great potential for rapid scale-up that it could widen the gap between privileged and under-privileged to the point of causing great harm. Sheyene's team is working to broaden the ownership of in-space industry as it develops, which will help solve all these problems.
Sheyene founded and operates a school to serve at-risk youth in an under-developed region of Venezuela. There, she has found systemic problems due to inadequate community support for education. Sheyene realized innovative methods are needed to motivate her students when she found out most of the children have very little hope for advancement in jobs or careers, and they do not see how education will change that.
In 2017, she met with the University of Central Florida. Sheyene recognized the space industry has great potential to improve life on Earth, but there is a strong chance the plight of people in underdeveloped regions will grow worse instead of better.
The concern is that once a supply chain is established through robots mining and manufacturing on the Moon or asteroids, it is outside the social and economic controls we have evolved for civilization on Earth. Within a few decades, advances in machine intelligence will make the robotics more autonomous, reducing the cost of labor to control the robots from Earth. According to a 2012 NASA study, it takes about this same amount of time for industry on the Moon or Mars to become an adequately self-sufficient supply chain to enable affordable scale-up, reducing the mass of materials that must be launched from Earth. The marginalization of labor from economic production is already a concern for terrestrial industry, but in space the isolation from normal economic and social restraints makes it much worse. Robotic space industry has potential to grow according to its "metabolism", its throughput of matter and energy, without the usual economic and social controls. This can rapidly widen the gap between capital and labor, or between privileged and under-privileged following the lines of those who can participate in space and those cannot. Studies suggest this can occur as early as the middle of the century.
"As the economic revolution proceeds and production begins shifting first to robots on Earth and then to robots off-Earth, workers who don't share ownership of the robots will be reduced to political powerlessness far worse than their conditions today. We have the opportunity to solve this problem during the bootstrapping period while human labor is still needed for space industry," Sheyene says. Sheyene has added to this vision the theme of entertainment, to connect the creative community with scientists and thus educate the public to support science. "I also came to believe I can have the greatest impact for change by focusing on my area of expertise: what entertainment contributes to solving these problems: a lot, as it turns out, we have the ability to show people what they can do to address these problems widely and efficiently. I have been working with my production and marketing team to develop an 'educational entertainment production for social change.' My team sees fantastic opportunities to produce content in and around the program we have started," she added.
Sheyene's concern for the plight of the economically disadvantaged grew out of her unique life story. She started as an actress and became internationally-known for her roles in Spanish telenovelas until she was struck by serious personal tragedy. A year after losing her family in an automobile crash, she was diagnosed with a Stage 4 lymphoma that had spread to 85% of her body. She survived after three years of difficult chemotherapy to become the only know survivor of a rare form of the disease. These experiences convinced her to focus the rest of her life on helping people in need. She founded and now operates two non-profit philanthropic foundations including Sheyene School, which began in Venezuela and has now expanded into multiple countries to expand technological literacy and to create a pipeline to jobs and economic participation in underdeveloped regions. Sheyene recently started a socially-conscious business to broaden the ownership of space industry as one of its major goals. The business plans to accelerate human expansion into space by advancing the robotic technologies, doing so in a way that conveys equity to all the participants.
Shashi Jain, from TiE young entrepreneurs, said of Sheyene's work, "As a Senior Technical Marketing Engineer for over 18 years, I am deeply impressed by the value of the work that Sheyene is doing through her non-profit. She understands how to inspire people to not just love the subject matter, but to see the possibility of contributing to it in themselves through a few simple steps. This is a rare skill; you often get two of these at the same time, not all three."
Sheyene's work advancing robotics education globally resulted in her invitation to join the planetary scientists of NASA's CLASS. The CLASS team consists of leading planetary scientists, geologists, geochemists, dynamicists, engineers, physicists and other researchers from across the world, and is headed by Prof. Daniel T. Britt at the University of Central Florida. The CLASS network incorporates domestic institutions across the USA and international partner institutions in different countries. An integral part of the CLASS mission is to give back to the wider community.
"I have been following with great interest Sheyene's activities in organizing world-wide robotics competitions. Her vision for expanding the scope and the impact of space science and engineering outreach dovetails strongly with the objectives of the Center for Lunar and Asteroid Surface Science. We are looking forward to working with Sheyene and are excited about the possibilities of the robotic competitions," Prof. Daniel Britt said.
"People, in general, are unaware of the danger they are in, that with no way to personally go into space, no need for their labor in the face of robotic artificial intelligence, and no way to gain an ownership share in the industry, they will be left behind both economically and politically, creating a vastly deeper rift between the 'Haves' and the 'Have-nots'. While the rift is already big today, it is seriously nothing compared to what it will be when industry is started in space and grows to massive proportions, unless steps are taken during the startup period," Sheyene says. "Many solutions require an understanding of local pain points to solve economic and standard of living challenges every country is trying to solve to provide a better quality of life. I am glad and appreciative that with this synergy we can turn this initiative into a win for everyone. I feel the time is right," she added.
Sheyene is advancing her plan to support both technological literacy and direct participation in space, through a robotics curriculum, which will be made freely available through her non-profit school. The team is also creating a series of robotics competitions, including secondary, college, and post-college events, with the goal of replicating it on a global scale. The technological progress achieved through the robotics competitions will be funneled back to NASA missions through her position in CLASS. Her participation with the SSERVI/CLASS network will facilitate her access to its cutting-edge scientific advances, enhancing the existing partnership she has with the Florida Space Institute, enabling her program to reach more people with the excitement of NASA space exploration to make a tangible difference their lives.
Posted in: Science,Technology
Mako Medical Sets a Blistering Growth Pace and Tops the Fast 50 Three Years in a Row
Business Journal recognized the fastest growing private companies in the region. The Research Triangle is a highly competitive market for Life Science and Technology companies. The Triangle is also home to many investment funds and incubators for start-ups. This competitive environment makes it hard to stand out when so many companies are performing well. The Fast 50 winners were selected and ranked based on a formula that counts revenue and profitability in the preceding three years. The numbers are crunched and analyzed by PricewaterhouseCoopers. "Beyond bolstering the top-line performance and a nose for profitability, this list of companies represents the dynamic economic fabric of the Triangle," says Jason Christie, publisher of the TBJ. "We have a mixture of private firms that have made this list for years, and we have companies m?aking this list for the first time. Collectively, they reflect the best of the best."
History was made again -- when it was announced that Mako Medical had won the top spot for the 3rd year in a row. A feat that has never happened anywhere in the country before. This is the second time Mako Medical has broken the record by being ranked #1 -- making them the only company in America to achieve this in the history of the awards. Mako Medical Laboratories has experienced explosive growth in the last few years and has quickly become a national favorite for over 50,000 medical providers around the country. Last year, Mako Medical became the first company ever to win Life Science Awards two years in a row. That same year, Mako Medical was also ranked as a Best Place to Work and announced a massive expansion with a new testing facility.
When asked about how Mako was achieving such growth Chad Price, President of Mako Medical answered with one word, "impact." Chad went on to explain that the entire purpose behind the creation of Mako Medical was to create funding for local nonprofits/charities, to employ military veterans, and to support Christan missionaries around the world. "It is why we do what we do. Some companies are focused on shareholder value. Others are focused on returns for their investors. We are focused on making an impact in others peoples' lives. The more we grow, the more people we can help. The more revenue we have -- the more funding we have to work with," says Chad. Today, Mako Medical supports over 472 different charities around the country, employs hundreds of military veterans, and supports over 80 Christian missionaries from Syria to Nigeria.
Mako Medical Laboratories is an award-winning laboratory with operations in over 12 states. Mako utilizes automation and robotics to complete some of the most difficult and rare diagnostic tests. Mako is known for its extensive community service, supporting over 400 local nonprofits and charities, hiring hundreds of military veterans and supporting over 80 international missionaries.
Posted in: Business,Computers & Software,Technology
Ultimate Call Blocker - The Next Generation of Call Blocking Just Arrived!
Protecting your landline is a real necessity nowadays. According to the Federal Trade Commission's (www.ftc.gov) published stats, there has been a 650% increase in consumer complaints in the last 6 years. In 2016, 8.4 million complaints were filed by consumers. This means that at least six per cent (6%) of the households in the US or 1 in 20 households are victims of some scam every year in the United States alone. This is why it is important to protect your phone line (at home or business) with a call blocking device. The Ultimate Call blocker (UBlocker) is a new product/service that contains several unique features among the other call blockers in the market: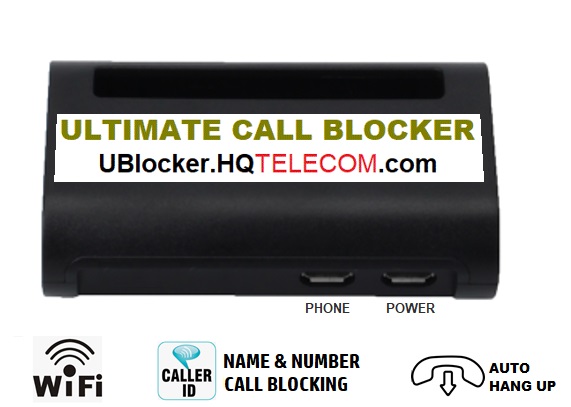 Dual Blacklists - The UBlocker features 2 blacklists; a global blacklist and a user blacklist. The global blacklist is fully automated (e.g. calls from these numbers are automatically blocked without having to answer calls or press any buttons), and actively managed by HQTelecom (currently with 162,000 blocked numbers worldwide). The user's Blacklist has an UNLIMITED capacity to block calls using phone numbers, names, or area codes via a user-friendly website. Another new feature is the WHITELIST MODE – When turned ON, it blocks all calls except those in your WHITELIST. The Whitelist-Mode feature can offer users complete privacy.
"We receive several requests daily from homeowners (mostly the elderly) seeking for a way to stop the annoying phone calls they receive constantly," says Alfredo Purrinos, former NASA scientist and creator of the UBlocker. "Some complain about getting robbed by scam artists impersonating government agencies and/or relatives in distress", even though they registered their phone numbers with the government-sponsored "Do Not Call' list".
Illegal telemarketing operations and scam artists (which represent more than 90% of the calls people get) use automated dialling services (e.g.robocalls) to detect humans. These services use several phone numbers, including a common something referred as 'neighborhood spoofing' which consist in using the same area code and prefix of the numbers being called. This is why it's important to have fought back with an intelligent and capable call blocking system that helps reduce the number of these calls. The key difference among the UBlocker and other call blockers in the market is the ability to help consumers in a proactive way. With the UBlocker, there is little or no need for detective work since most of the unsolicited calls will be blocked BEFORE the users answer the calls.
The Ultimate Call Blocker is manufactured in the US by Hi Q Telecom Inc. (https://www.hqtelecom.com/), and can also be available in online stores such as Amazon, and soon in eBay, Walmart, and NewEgg.The UBlocker requires the caller id service to be active on the phone line in order to work properly. It also uses the Internet to check the global blacklist in real-time and block numbers automatically.
About the Company:
Hi Q Telecom Inc. (HQTelecom.com) is a BBB A+ rated corporation specializing in telephone security and speciality products. Our main office is located in Miami Lakes, Florida. For more information about incoming call blocker devices or the company visit hqtelecom.com or contact us.
Posted in: Business,Media & Communications,Technology,Telecom
InnerVoice Receives AI for Accessibility Grant from Microsoft
InnerVoice has been awarded an AI for Accessibility grant from Microsoft to help further our efforts in improving the quality of life for people who struggle with communication challenges by utilizing the familiar technology of mobile devices in combination with power of artificial intelligence (AI).
This new grant will provide InnerVoice with powerful tools, such as, Cognitive Services, Vision, Speech, Language, Knowledge and Machine Learning to create unique features to accelerate our work on providing a complete communication system for people with autism, and most anyone else. InnerVoice will use AI for Accessibility grant to implement powerful technology that will alleviate three major struggles for anyone who relies on augmentative communication software; increase fluency of computer generated speech, support cognition and stimulate expressive spoken language.
"InnerVoice started as a futuristic far-fetched idea that Lois and I had a few years back. This AI for Accessibility grant will give us wings to ensure effective communication for all, worldwide." Matthew Guggemos, speech pathologist, co-creator of InnerVoice
AI for Accessibility is Microsoft's million 5-year program aimed at harnessing the power of AI to amplify human capability for the more than one billion people around the world with disabilities. It's a call to action for developers, NGO's, academics, researchers and inventors to accelerate their work for people with disabilities, focusing on three challenges: Employment, Daily Life and Communication and Connection. Through grants, technology, and AI expertise, the program aims to accelerate the development of accessible and intelligent AI solutions and build on recent advancements in Microsoft Cognitive Services to help developers create intelligent apps that can see, hear, speak, understand and interpret people's needs.
Please visit the AI for Accessibility website and InnerVoice for more information.
Posted in: Technology
Award-Winning Software/App Closing Commander™ Now Compatible With All Major Email Providers
HarkinsHill, LLC., the developer behind the automated sales closing app/system, Closing Commander™, has expanded the app's email compatibility to include Gsuite, Gmail, Outlook, Yahoo, and other major email providers. That's good news for service business owners and their teams, who rely on, not just a new system's effectiveness and time-saving abilities, but also its ability to seamlessly fit with their current business systems.
The app/system is designed to save service business owners and their teams time and effort by automatically sending follow-up emails to customers once an initial bid, quote, or estimate is provided. The app relies on tested timing and the marketing Rule of Seven to ensure effectiveness, although timing between emails and email body content can be customized to fit the company's needs and brand. Some companies using the app have seen six-figure revenue increases within just a few short months.
Caleb Martinez, a contractor in the Chicago area describes his experience using the app/system, "Closing Commander has been an excellent tool for our company. It's a big time-saver, and customers appreciate the communication. We are winning a lot of jobs after three or four emails have been sent, and the stats in the app definitely prove its value every month."
Closing Commander won the "Best New Product Innovation Award" from The Pete Luter Foundation in 2018 and the "Top Four Innovation Showcase Award" at this year's Service World Expo in Las Vegas. Business owners interested in learning more about the app, scheduling a demo, or signing up for a free trial are encouraged to visit closingcommander.com.
HarkinsHill,LLC is the parent company of Closing Commander and Spark Marketer, a Nashville-based digital marketing company that primarily serves blue collar businesses. While the Closing Commander app certainly has uses in other industries, the company's passion and mission remains to strengthen blue collar businesses around the globe.
Posted in: Computers & Software,Professional Services,Services,Technology
Remcom Announces 5G Antenna Array Design Features In XFdtd Electromagnetic Simulation Software
Remcom announces 5G antenna array design features in the latest release of XFdtd® 3D EM Simulation Software, including workflow enhancements for modeling complex devices at millimeter wave frequencies.
The advanced antenna systems in modern devices leverage beam steering and multiple data stream transmission to meet 5G throughput requirements. XFdtd provides performance metrics for 5G beam steering applications by simulating the radiation pattern for different array or subarray phasing conditions that are used to steer a beam. By considering the optimal gain levels of the various beam steering scenarios, XFdtd plots the cumulative distribution function (CDF) of the effective isotropic radiated power (EIRP) of the array as a whole. The EIRP is an important indicator of the array's quality of coverage and is particularly valuable for analyzing 5G-capable devices that support multi-user MIMO (MU-MIMO) use cases.
Rodney Korte, product manager for XFdtd, said, "The CDF of EIRP metric is growing in importance as carriers require devices to meet strict quality thresholds. Our customers designing mobile devices need to measure the gain of many signals propagating in different directions, and Remcom is at the forefront of this emerging technology. The new CDF of EIRP plot is a way to help design engineers prepare their devices for the challenging demands of 5G networks."
The matching network design workflow has also been enhanced via XFdtd's integration with Optenni Lab™ matching circuit optimization software. Optenni's optimized matching topology data can now be imported directly into XFdtd, providing users with immediate feedback on how the circuit will behave and eliminating the need to run another simulation. Results such as S-parameters, efficiency, and dissipated power are readily available for analysis of system performance, greatly simplifying the matching process for intricate devices with many frequency bands.
The release also introduces modeling options that improve simulation accuracy for the higher frequencies typical of the antennas in modern devices, including a new feed specifically designed for exciting microstrips, surface current measurement, and a user-defined input for surface roughness of conductors.
For more information on the latest release of XFdtd, please visit Remcom's website. XFdtd users without an active Remcom Professional Support contract can upgrade to the latest version by contacting sales.
About Remcom: Remcom provides innovative electromagnetic simulation and wireless propagation software for users in the commercial wireless industry and government sectors. Remcom's products are designed to work together to provide complete and accurate results when modeling propagation with real-world devices in real-world scenarios. Remcom is committed to its customers' unique needs, offering flexible licensing options for installations of all sizes as well as custom engineered solutions.
Posted in: Computers & Software,Technology
Ascert Releases Visa-Confirmed Driver
For companies that want to do pre-certification testing for Visa transactions, Ascert has released the latest version of its Visa Test Driver.
The VersaTest Visa Driver is now listed by Visa as a validated ADVT Online Host simulator and has been tested to ensure that it conforms to the most recent set of Visa specifications. This can be an extreme time saver in pre-certification or ongoing system testing.
"We are very pleased that Visa has officially confirmed the capabilities of our latest Visa driver," said Mike Wainwright, Business Development Director, Ascert UK. "This provides additional certainty for our customers when simulating and testing Visa transactions that their systems are operating accurately."
Companies using the Visa Driver have their choice of an on-premise solution, or a subscription to the popular cloud-based testing system, Ascertified (http://www.Ascertified.com). A growing number of companies have created a hybrid of both test options, thereby increasing flexibility for both internal users and external partners.
Ascert's VersaTest family of testing and certification products?can assist any organization looking to add increased value to their operations. All of Ascert's test drivers work with industry standard tools such as Jenkins, Quality Center, Docker and others. To find out more about Ascert products and standard test interfaces visit the Ascert web site or contact a local Ascert office.
About Ascert:?
Ascert is recognized as a leading provider of premier testing software solutions. Ascert was founded in 1992 to provide automated software testing solutions that help companies measure the performance, reliability and scalability of their mission-critical back-end servers and applications. With over 100 clients worldwide, Ascert's products and services are used at some of the world's most successful companies.
Off-the-shelf simulators for Ascert's VersaTest product include solutions for EFT testing, POS testing, stress testing, ATM testing, Fraud testing, IFX testing, EMV/chip card testing, ISO8583 testing and 3270 & 6530 terminal testing. Ascert's custom simulators have been used for testing air traffic control systems and biometric payment systems. Ascert delivers flexible solutions that are either customer site installed or accessed via Ascert's Remote Testing Services. Ascert's products assist testing professionals across industry segments to better manage their testing processes and environments through an end-to-end tool set.
Posted in: Business,Finance Market,Services,Technology
SameDay Security Created Virtual Caregiver Enters Clinical Trials With G60 Trauma
Virtual Caregiving is set to enter both the healthcare industry and patient home settings. In January 2019, G60 Trauma (G60Trauma.org) will begin testing Addison Care, the world's first, comprehensive virtual caregiving system to provide real time, 24/7 patient monitoring and care.
Addison Care provides exciting new components to an interactive voice platform to demonstrate an interactive, augmented reality feature tied to visual sensing and connected home devices. Now, not only can you have a two-way conversation with an Electronic Caregiver, but the technology comes alive with an expertly designed augmented reality character named Addison, developed on AWS Sumerian. Addison provides a breakthrough user interface.
What can Addison do? In a clinical setting, Addison can greet a patient, recognized through facial recognition, conduct a verbal health examination, collect vitals, and even direct a comprehensive gait and balance session to determine the probability of a ground level fall in a particular patient. In the residential environment, Addison provides medication reminders, verifies medication consumption, provides medical test reminders, monitors vitals, demonstrates rehabilitation exercises, assesses a patient's progress, mood, fall risk and responses to escalating conditions and emergencies including contacting responders or caregivers in time of patient need.
How does Addison work? A network of wireless visual sensors, local AI (artificial intelligence)-based processors, interactive tablets, Bluetooth biometric devices and emergency monitoring devices will be setup in a residence. Addison Care will be marketed and supported by a network of nationwide private duty home care providers that will serve as both live caregivers and Addison Care representatives. CEO of SDS, Anthony Dohrmann said, "Our goal is to expand affordable population health care to the masses, while lightening the burden on providers and payers. We are delivering an exciting new form of technology to patients and the active aging to improve their quality of life and health outcomes." Addison will be making its debut at the Las Vegas Consumer Electronics Show January 8-11, 2019, Booth: Sands Convention Center Halls A-D – 42142.
Why partner with G60 Trauma Organization? Dr. Alicia Mangram, founder of G60 Trauma in Phoenix, Arizona, is a surgeon and acclaimed trauma specialist who has devoted her career to improving trauma care through advocacy, surgical and critical care research, education and community services. G60 Trauma is a specialized care program designed for trauma patients over the age of 60, with the goal of optimizing their recovery and safely discharging them back to their homes. This partnership will allow us to study hundreds of patients who have had a ground level fall and provide us with the data and information we need to continue producing products and services geared toward prevention and superior outcomes.
With an expert research team of professionals behind hundreds of successful research publications and processes, G60 Trauma team will be conducting an expansive study involving over 500 patients to document the effectiveness of Addison Care and Electronic Caregiver on improving patient outcomes, increasing patient and family satisfaction, reducing hospital readmission and reducing mortalities. Also, improving treatment adherence with the hope of validating a more effective, outcome based, continuum of care capable of reducing the long-term pressures and costs associated with long-term care and chronic disease management.
"The costs of treatment non-adherence have been reported to be as high as 0B annually and is noted as being responsible for 50% of all treatment failures. In a period of nursing and physician shortages, where home care is inadequate in frequency partly due to high cost, our hope is that Addison Care and Electronic Caregiver can fill the gap in patient care and bring better outcomes to the masses," Dr. Alicia Mangram stated.
About SameDay Security, Inc. and Electronic Caregiver
SameDay Security (SDS) is one of the fastest growing monitored technology providers in the U.S. and one of only a handful of nationwide service providers. Known as the Electronic Caregiver CompanyTM and founded in 2009, SDS currently provides automated home care solutions and safety devices nationwide to thousands of clients. SDS has invested over ,000,000 in patient screenings, research and development. SDS will disclose a new capital offering after CES to fuel new product launches and expansion. SDS has developing contracts with hundreds of home care partners across America who will participate in Addison Care marketing to their clients. New clinical trials are scheduled with G60 Trauma of Phoenix, Arizona, involving 500 patients over 3 years to determine the impact on patient outcomes, cost reduction, lower hospitalization, chronic disease management and long-term care. Electronic Caregiver employs over 70 employees and is headquartered in Las Cruces, New Mexico. http://www.electroniccaregiver.com
About G60Trauma.org
G60 is a specialized trauma care program developed by Dr. Alicia Mangram. Since 2009, Dr. Mangram has devoted her career to improving trauma care through advocacy, surgical and critical care research, education and community services. In the beginning of her career, she quickly realized that a traumatic injury in patients 60 years and older could occur from a simple fall resulting in a hip fracture. The traditional approach was to admit them to a medical facility and await medical clearance for pre-existing conditions such as diabetes, heart disease, etc. prior to any surgery.
While patients waited for medical clearance, other medical related complications could develop. Recognizing the cause of these complications lead to a paradigm shift and implementing an aggressive care approach for our G60 population. Through evidence-based research, Dr. Mangram and her team developed a care plan to address the needs of G60 trauma patients. These care plans achieved several goals, such as: Expedited early identification in the ER, admission to trauma service, alternative pain management modalities, for example, hip block, multidisciplinary care rounds with integration of the Biopsychosocial Model, evaluation of care approach through research and data analysis, achievement of optimal level of functioning and independence upon discharge.
Posted in: Health & Medicine,Technology
A2 Hosting Announces Proprietary Plugin Compatible with WordPress 5
A2 Hosting, a committed provider of high-performance shared hosting, WordPress Hosting, and more, today announced that its A2 Optimized Plugin will be compatible with WordPress 5.
WordPress 5 first entered beta in October, and is slated for a full release in the very near future, WordPress 5 features a complete redesign and reimagining of the WordPress Editor. The update also includes improvements to the WordPress Rest API, enhancements to the custom theme and page building experience, and an overall more intuitive experience.
With an eye on simplicity, A2 Hosting provides a hosting environment that meets WordPress requirements by default. In other words, there's no tinkering required on your end to get your site up and running smoothly (and with greater security).
The A2 Optimized plugin is designed to help users easily optimize their WordPress sites for speed, security, and performance. To that end, it's designed to automatically configure W3 Total Cache, optimizing your website with minimal effort on your part. These tools and utilities will assist A2's clients in building the best website possible, allowing them to focus on content and branding rather than optimization.
The plugin is offered free of charge, with additional features available to A2 Hosting customers.
"At A2 Hosting, we always strive to offer the best experience imaginable for our clients," explains Brad Litwin, Marketing Manager at A2 Hosting. "To that end, our shared environmentmeets WordPress's recommended hosting environment by default, and we offer a comprehensive set of Managed WordPress hosting solutions. Our experts are also constantly testing the ideal WordPress configuration, tweaking it to offer the fastest page loads, best performance, and highest security possible."
"Providing webmasters with a seamless upgrade to the most game-changing version of WordPress yet is one more aspect of our commitment to excellence, and one more way our plugin can enhance our clients' WordPress experience," he continues. "Clients are free to enjoy all the versatility WordPress has to offer, without the technical challenges it can present - to focus on building their site, writing content, and promoting their brand while we manage the rest."
A2 Hosting, Inc. is a high-performance hosting company located in Ann Arbor, MI. A2 Hosting provides their customers with ultra-reliable solutions and 24/7/365 US-based support from their Guru Crew team. Since 2003, A2 Hosting has offered innovative, affordable and developer friendly website hosting for personal homepages up to full-service solutions for businesses of all sizes, based in all locations. Each A2 Hosting service is hosted on their fine-tuned SwiftServer Hosting platform. Customers seeking an additional speed boost can host on A2 Hosting's Turbo Servers featuring page load speeds up to 20X faster compared to competing hosts.
To learn more about A2 Hosting, visit https://www.a2hosting.com
About WordPress
WordPress started in 2003 with a single bit of code to enhance the typography of everyday writing and with fewer users than you can count on your fingers and toes. Since then it has grown to be the largest self-hosted blogging tool in the world, used on millions of sites and seen by tens of millions of people every day. WordPress started as just a blogging system, but has evolved to be used as a full content management system and so much more through the use of thousands of plugins, widgets, and themes. WordPress is limited only by your imagination.
To learn more about WordPress, visit https://wordpress.org
Posted in: Computers & Software,Services,Technology
Recosoft Releases ID2Office 2019 – Export InDesign CC Files to Word, PowerPoint & Keynote Formats
ID2Office 2019 adds support for Adobe InDesign CC 2019, the latest release of InDesign CC for macOS and Windows. Additionally, ID2Office 2019 recognizes the split/span property, resulting in enhanced layout preservation. Finally, ID2Office 2019 now allows converting images to JPEG type, significantly reducing the file size of image-centric documents.
ID2Office converts InDesign files to editable Microsoft Word, PowerPoint and Apple Keynoteformats; converting the text, associated styles, paragraph structure, corresponding property information, frames linking, tables, graphics and other objects while matching and maintaining the layout fidelity, resulting in enhanced workflow automation for Creative Professionals.
Key New Features
Support for InDesign Creative Cloud 2019
ID2Office 2019 now supports and integrates with InDesign CC 2019. InDesign CC through CC 2018 are supported as well.
You can now specify JPEG as the image type and specify the compression quality of the JPEG images; resulting in smaller file sizes.
Split/Span property recognition
ID2Office 2019 includes layout enhancements where span/split column property are recognized, and the layout is preserved as accurately as possible when converting to any of the supported formats.
Additional InDesign property support
Tab markers are now processed and replicated accurately. Additionally, grouped objects with text/tables are now editable in the resulting Word, PowerPoint and Keynote file.
ID2Office 2019 is available immediately in the following configurations from the Recosoft web store (per license):
ID2Office Standard 2019 Annual subscription (macOS/Windows) US9.00
ID2Office Professional 2019 Annual subscription (macOS only) US9.00
System Requirements
Mac OS: macOS 10.10.x or higher
Hardware: Intel based Mac
Application: InDesign CC, CC 2014, CC 2015, CC 2017, CC 2018 or CC 2019
Windows: Windows 7, Windows 8 or Windows 10
Hardware: Minimum Pentium III computer
Application: InDesign CC, CC 2014, CC 2015, CC 2017, CC 2018 or CC 2019
Recosoft Corporation has pioneered PDF2Office®, the de-facto PDF-to-Excel, PDF-to-Word, PDF-to-PowerPoint, PDF-to-OmniGraffle conversion utility; PDF2Office® for iWork, the PDF-to-Keynote, PDF-to-Numbers and PDF-to-Pages conversion application; IR2Office, the only Adobe Illustrator to PowerPoint and Apple Keynote tool; ID2Office, the InDesign-to-Word, InDesign-to-PowerPoint converter; and PDF2ID® the de-facto PDF-to-InDesign conversion tool. The company is a leader in designing and delivering PDF converters, InDesign and Illustrator software solutions enhancing workflow automation and productivity. For more information on Recosoft PDF converters and InDesign or Illustrator related solutions, visit http://www.recosoft.com
IR2Office, ID2Office, PDF2Office, PDF2ID, PDFtoID are trademarks or registered trademarks of Recosoft Corporation in the US and/or other countries. Microsoft, Excel, PowerPoint, Word and the Office logo are trademarks or registered trademarks of Microsoft Corporation in the US and/or other countries. Adobe, InDesign, Illustrator and Creative Cloud are either registered trademarks or trademarks of Adobe System Incorporated in the US and/or other countries. Apple, Macintosh, macOS, Mac, Numbers, Keynote, Pages, iWork, iPod, iPhone, iOS, iPAD are either trademarks or registered trademarks of Apple, Inc. in the US and or other countries. All other trademarks are recognized and are the property of their respective owners.
Posted in: Computers & Software,Technology
American IRA Discusses How to Avoid Getting a Self-Directed IRA Disqualified by the IRS
A Self-Directed IRA can be a powerful tax tool—provided that it is approved by the IRS. But failure to comply with certain IRS rules can result in a Self-Directed IRA becoming disqualified, which in turn can trigger a series of "bad things" under IRC Section 4975, according to a recent post at the American IRA blog.
One of the most important things for investors to watch for, according to the post, is a prohibited transaction. In IRC Section 4975, a 15 percent tax can be levied on the amount involved in the prohibited transaction—on the prohibited person involved with this transaction. For instance, if someone were to sell a house from the Self-Directed IRA directly to a family member's IRA, that family member would then see a potential tax bill of 15% of the transaction. That's because certain family members would be "disqualified persons" related to an investor's IRA.
Additionally, the IRS would then levy a 15% tax on the transaction on the selling party—which in this case would be the original selling Self-Directed IRA.
These penalties are heavy, but they are not the only penalties that those with a disqualified Self-Directed IRA could see as a result of doing bad business. That is why the article highlighted how important it is for investors to maintain best practices with their Self-Directed IRAs.
"People understand that a Self-Directed IRA gives them a lot of freedom," said Jim Hitt, CEO of American IRA. "But that is not all it gives them. It also gives them a wide range of responsibilities. Self-Directed IRA administration firms like American IRA can help in making sure that people understand the paperwork involved. But we do not hold the power capable of stopping people from making bad decisions. That is why it is so important that investors understand what goes into a valid transaction under a Self-Directed IRA."
For more information on keeping a Self-Directed IRA in good standing with the IRS, interested parties may visit American IRA at http://www.AmericanIRA.com or call 866-7500-IRA.
Posted in: Services,Technology
Gingkoo Shares Its Vision to Empower Economy by Using Blockchain at the UN GA
(Oct 30, 2018 New York) Gingkoo Technology of Shanghai presented its vision on being a leading blockchain company in China during the Cryptocurrencies & Blockchains Forum at the 73th UN General Assembly. Gingkoo's founder and CEO William Zuo gave a speech on how blockchain has been applied to the economy at the global conference in New York.
Gingkoo founder William Zuo speaks at UN
Representing Georgia, France and Germany, the Leading Group on Innovative Financing for Development invited experts from government and private sectors to provide insight into blockchain technologies and the potential impact on development. Blockchain technologies are critical to finance the 2030 Agenda and the Sustainable Development Goals.
Gingkoo's founder, William Zuo shared his vision on blockchain with government officials, experts and entrepreneurs. He pointed out that blockchain technology should serve society from five tiers of the economy: government, financial institutions, large corporations, small and medium size enterprise (SME) and individuals.
Zuo says, "Blockchain should have two core values: one is the trust machine, with trust by coding and programming. The other is to build the next generation value internet."
Gingkoo, the Shanghai based fintech company has successfully applied blockchain technology to serve government and financial institutions clients worldwide.
In Guangzhou, Gingkoo has guided local government in adopting a blockchain solution to improve government affairs and transparency, which has been awarded as the top 10 Blockchain Application by China Ministry of Information and Industry. They also created a garbage classification solution by using blockchain+IOT technology for the local governments. The company deployed a food traceability project from northern china to address the problem of food safety concerns in China.
In the financial services arena, Gingkoo's cases include payment and tax solutions, supply chain finance and Regtech solutions. Gingkoo's clients include major commercial and central banks such as HSBC, Citibank, Morgan Stanley, Deutsche Bank and UBS etc.
As the biggest solution provider for CIPS, China cross border payment system of China central bank, Gingkoo has been a key player to support the country's one Belt one Road Initiatives and to develop blockchain-enabled cross-border, cross-currency and cross-asset payments and logistics solutions, which could revolutionize the supply chain finance sector worldwide.
Meanwhile, David Ritter, CEO of Penta and co-founder of Gingkoo, Florie Zheng joined the meeting and shared Penta's work progress on blockchain. Penta, a public chain, is leading the solution of identity issues for the homeless population in US west coast cities. In July 2018, Penta was the first blockchain crypto startup to complete acquisition of shares of AXS listed Australian IOT tech Company, CCP Technologies, using Penta's PNT Cryptocurrency.
(L-R) Florie Zheng, David Ritter of Penta at UN
Zuo pointed out the other advantage of blockchain is to resolve the trust issue among SME. Gingkoo has used blockchain technology in Xiamen City to help SME financing and individual credit information sharing. This case was one of the first successful attempts in its field and was shared by Zuo at the Berlin World Bank SME Financing Summit in Nov. 2017.
As Gingkoo aims to be the first blockchain application solution provider in China, Zuo shared his vision on the future of blockchain, "I think blockchain should be green, inclusive and productive. I think everyone in the future will deserve opportunity of the blockchain." His speech has been applauded by hundreds of attendants at the UN event.
On September 4 and 5, Wiliam Zuo gave a speech as an honored guest at the Organization for Economic Co-operation and Development (OECD)'s first ever Blockchain Policy Forum in Paris, which was considered one of the high-level discussions with a range of public officials and private leaders from all over the world.
William Zuo Gingkoo CEO speaks at OECD Blockchain Policy Forum in Paris
OECD Picture
About Gingkoo and Penta
Gingkoo Technology (www.gingkoo.com) is a Shanghai based leading Blockchain technology company established in 2014. It helps build complete blockchain solutions in banking, financing and government. Gingkoo has raised about 23 million dollars or 160 million RMB led by Zhongnan Investment Group (SZ.000961).
As a member of China's Ministry of industry and information and the National Standardization Management Committee, Gingkoo Technology participates in the formulation and compilation of several national standards of blockchain, and several district chain experts have been selected as members of the ISO/TC307 international standard specialist group. Gingkoo is the first company to receive the prestigious Million RMB Award for Blockchain from the Shanghai municipal government, recognizing Gingkoo's outstanding contributions to blockchain development. In explaining their decision for the award, the government cited Gingkoo's credit chain as a groundbreaking project that enables SMEs to gain access to credit.
Penta (www.penta.global) is a joint project of permissionless chain by Gingkoo and an American team. The goal of Penta is to achieve a fast-decentralized infrastructure compared to ETH and EOS. Penta has raised 30 million dollars in private funding, invested by crypto funds including Draper Dragon, Node Capital, Block VC and LD Capital.
Video http://webtv.un.org/search/cryptocurrencies-blockchains-%E2%80%93-a-new-boost-for-sdg-financing/5841823227001/?term=BLOCKCHAIN&lan=english&sort=date
Image courtesy of UN and OECD
Contact
Florie.zheng@Gingkoo.com
Posted in: Business,Finance,Finance Market,Technology,World
Checkit Real-Time Operations Management to boost US Foodservice Business
Santa Fe Springs, CA. October 2018. Checkit, the leading provider of Real-Time Operations Management and Food Safety solutions, today announces the launch of its US operations.
Checkit's technology provides a proven way to address the needs of organizations to ensure that the work of staff is performed consistently, easily and to a high standard. It achieves this by creating intuitive, easy to use mobile applications to replace traditional pen and paper checklists, and by using Internet of Things sensors to replace routine monitoring.
Checkit allows businesses to build solutions rapidly, with no software coding or complex IT projects. It gives managers unprecedented insights out of the box, using operational KPIs and analytics derived from the millions of data points it continually gathers.
Checkit has established a base of clients with global businesses including Compass, Sodexo and the Merlin Group, as well as working with leading UK businesses such as John Lewis Partnership and Center Parcs. With its US operation up and running, its aim will be to bring this experience to food service chains, hotels and contract catering and soft FM, with a focus on helping them to improve
Revenue– by more consistently delivering intended service experience & freeing up time to focus on customers
Productivity – by automating repetitive checks and the streamlining of front-line work & improving management efficiency
Risk – from improved compliance, enforcement and visibility
Checkit USA will operate out of a sales and service base in Santa Fe Springs, California, and will have access to the infrastructure and resources of its corporate parent, Elektron Technology plc, which has a well-established US operation.
According to German Casillas, Vice President of Americas: "We see great potential in the United States market. There is a clear need, with many operations still poorly served by unsuitable or paper-based operational systems. We estimate that US food service market alone has the potential to develop to be worth over billion annually as technology adoption grows."
To find out more get in touch on 1-833-44-CHECK (833-442-4325)
Posted in: Computers & Software,Food & Beverage,Hospitality,Technology,U.S
Mobility innovators select cloudyBoss as technology partner
The mobility sector is undergoing a massive change, with both vehicle manufacturers and mobility tech innovators, taking up the challenge to revolutionise personal and commercial transportation.
In the vehicle-sharing sector, one of the upcoming innovators is a European company, WeGo, which provides a digital marketplace for people to rent out their own vehicle to individuals or organisations that require one on an occasional basis.
At the core of its architecture is a platform that incorporates Blockchain, Big Data and AI and WeGo selected award-winning cloudyBoss as the platform on which to base its innovation.
cloudyBoss NEXT+ platform has Blockchain DLT (Distributed Ledger Technology) and Artificial Intelligence built into its core, making it the only platform in the world currently to provide a code-less DLT solution called SKYE.
"For clients, such as WeGo, who work in a rapidly evolving industry, our ERP-X platform with its built-in blockchain technology allows for fast-track development of highly-scalable solutions," stated cloudyBoss CEO, Lou Schillaci.
CTO, Giovanni Di Noto added, "As WeGo has partners across the insurance and transportation industries, the use of Blockchain is essential to ensure that all information collected and exchanged is at all times secure, valid and immutable."
cloudyBoss is gaining considerable traction across the entire Mobility sector, with interest coming from major vehicle manufacturers, logistics and supply chain businesses who require access to similar technology
WeGo CEO, Marco Filippi stated, "Selecting cloudyBoss as our technical partner means choosing a worldwide acknowledged company, that is recognized for its expertise and the solid background of its management team.
cloudyBoss is the right partner for developing our project as we need innovative and advanced solutions, such as SKYE, which will provide a deep ability to handle disruptive technologies. cloudyBoss is a disruptor itself and visionary and this is the added value that makes it different from its counterparts."
Posted in: Computers & Software,Technology,Transportation & Logistics,U.S,World
KryptoGraphe is proud to be the first Cryptocurrency Portfolio Manager to be GDPR compliant!!
Dallas, TX: KryptoGraphe is pleased to announce that its cryptocurrency portfolio manager is compliant with the GDPR regulations. The EU General Data Protection Regulation (GDPR) is the most comprehensive EU data privacy law in decades. Besides strengthening and standardizing user data privacy across the EU nations, it will require additional obligations for all organizations that handle EU citizens' personal data, regardless of where the organizations themselves are located.
The new regulations are designed to better reflect the interconnected nature of our world regarding consumer's right to privacy, protection of personal data, and business usage of personal data across the European Union.
The team at KryptoGraphe has updated the app to implement the data protection and privacy policies.
An updated Terms of Access and Privacy Policy to ensure transparency.
The personal data of the user is anonymized.
There is a provision to update the personal data
The users are now able to export their personal information.
The personal data will be deleted from the app's records should the user choose to close their account.
In case of a breach of security, all users will be notified within 72 hours.
Download the app for free at:
Our partner and compliance administrator from Hummingwave, Amit Singh says: "KryptoGraphe has been trusted by thousands of its users with their cryptocurrency portfolio information due to its security, privacy, and transparency. Implementing GDPR makes these features so much more visible to users. Recent enhancements let users export their data in a machine-readable format to be used in any other system and to delete their account should they choose to."
KryptoGraphe encourages safe investing and aims to provide a secure platform to track all cryptocurrency investments.
Posted in: Finance,Finance Market,Personal Finance,Technology,U.S
Insuranks looking for big name investors to join and disrupt the insurance market
Insuranks.com, the international startup technology company and marketplace platform is looking forward towards complete disruption of the insurance industry by continuously improving the insurance experience of all sides of the industry. Insuranks is aiming towards creating as many simple, transparent, accessible, fast, reliable, secure and friendly user experiences for insurance consumers, agents, brokers and carriers. It currently has over 70 listed insurance companies and over 12,000 insurance agents on board.
The new Israeli technology startup is allowing consumers (also named Insurankers on the friendly platform) to request and compare quotes and purchase their insurance online with over 230 supported insurance types, manage it and later rank the level of service that they received from their chosen insurers. Insurankers rank anything from customer service and claims experience to emotional intelligence, listening skills, trustworthiness, dedication and more in depth factors that are important to look for in an insurance service provider. Those rankings aggregate in to what is called Insuranks Score, an average ranking of all user rankings submitted for each insurance service deliverer. This ranking is displayed all around the platform for the benefit of the users, so when they get quotes they can find all the information they need about the insurance provider and make a wiser and more educated decision. Or when they simply browse through insuance companies and agents or look for the top 10 insurance companies and agents for over 230 insurance categories that the platform supports. It becomes the insurers reputation all around the platform.
On the other hand, it also provides full information on companies and agents and allows agents and brokers to deliver quotes online through the carriers they work with via the easy to use marketplace platform. The agents insurance marketplace is fast, reliable and user friendly and contains a stream of insurankers that are waiting for agents to give them bids and quotes for their insurance needs. Agents can also manage their sold policies and clients online via desktop, tablets and mobile phones.
With a mission to create maximum remarkable insurance experiences worldwide while making insurance simple and accessible to anyone regardless of levels of income, education or location, Insuranks is now looking for big name investors and sponsors to support their efforts and become the ultimate one-stop shop for all insurance needs while offering consumers, agents and carriers the best insurance experience that they can possibly receive online.
Posted in: Business,Finance,Finance Market,Technology,U.S
Powersolv, Inc. Successfully Meets All the Statutory Demands For its ISO 9001:2015 & 27001:2013 Certifications
Powersolv Inc., the premier Information Technology Services Company and a reputed name in providing technologysolutions to various clients at Federal, State, County level as well as to Quasi Federal, Not-for-profit, and Local Agencies, has announced that they have successfully completed their Surveillance Audit 2 for ISO 9001:2015 & ISO 27001:2013 certifications.
Surveillance Audit is an audit conducted within specific time frames on organizations that have been awarded ISO certificationsto ensure that they continue to maintain the standard and statutory requirements. The audit is conducted every year by an external auditor.
"We are happy to announce that we have successfully completedthe Surveillance Audit 2 for our ISO 9001:2015 & ISO 27001:2013 certifications," says the President and CEO, Rahul Dhawan."These audits are a part of the ongoing periodic review of the quality management system as well as information security management system of theorganization. These audits are conducted to highlight Powersolv's ongoing and unwavering commitment to our clients at various levels to continually provide them with thebest-of-breed solutions and latest technologies"
The successful completion of the Surveillance Audit 2 has allowed Powersolvto proudly claim to bean ISO 9001:2015 and ISO 27001:2013 certified company. It also reflects their high level of commitment to providing the best quality IT services and solutions to their clients. For certifications to be allocated and remain valid, organizations are required to demonstrate their adherence to the stringent quality and security measures, customer service processes, and statutory requirements.
About Powersolv, Inc.:
Established in 1995, Powersolv is a CMMI Level 3 and a Microsoft Gold Partner Certified Information Technology Services provider with its headquarters in the Washington DC Metro region. Powersolv specializes in offeringsoftware development and systems integration, and business process improvementservices to address the growing information technology demands in the public sector.They supply the best breed of technology services with a proven commitment toexcellence delivered with superior customer service.They areone of the leading players in Enterprise Technology, Business Process, Infrastructure,Management& Cloud Services. The company also offers a wide range of other key services underthe IT domain such as Database Management, Legacy Systems Migration, Technical Support, Staff Augmentation, Network Infrastructure, and Enterprises Mobile Solutions.
Posted in: Computers & Software,Professional Services,Services,Technology,U.S
Global Food Processing Equipment Market to Surpass USD 74 Billion in Next Five Years, Says Meticulous Research
The global food processing equipment market will grow at a CAGR of 6.1% from 2017 to 2022 to reach USD 74.019 billion by 2022, according to the latest publication from Meticulous Research®. The global food processing equipment market is driven by the increasing consumer demand for processed food, focus on food safety and safety of workers, growing need to increase productivity, increasing focus of food manufacturers to reduce production cost, and government support to promote food processing sector. In addition, emerging economies such as Latin America, South East Asia, and Africa provides significant opportunity for the manufacturers in the global food processing equipment market. However, high cost of equipment and increasing inclination towards consumption of minimal processed food restrict the growth of this market to some extent.
Key Market Segments to Watch
The global food processing equipment market is mainly segmented by type into meat, poultry, and seafood processing equipment (cutters and grinders; smokers, massagers, and tumblers; mixers; tenderizers; killing and defeathering equipment; slicers; evisceration equipment; cookers, roasters, and grillers; deheading and gutting equipment; filleting equipment; and others), bakery processing equipment (ovens and proofers; dough mixers; moulders and sheeters; dividers and rounders; depositors; and others), beverage processing equipment (brewery equipment; filtration equipment; carbonation equipment; blenders and mixers; and others), dairy processing equipment (pasteurizers; homogenizers; separators; evaporators and drying equipment; membrane filtration equipment; and others), chocolate and confectionary processing equipment (depositors; formers; coating and spraying systems; mixers; coolers; and others), fruit and vegetable processing equipment (juice extractors; peelers, cutters, and pulpers; dryers; evaporators; and others), and other food processing equipment (cereal & grains processing equipment, fat & oil processing equipment, snacks food processing equipment, and others).
Browse in-depth Report on https://www.meticulousresearch.com/product/food-processing-equipment-market-forecast-2022/
Meat, poultry, and seafood processing equipment to dominate the food processing equipment in 2018
The large share of meat, poultry, and seafood processing equipment is mainly attributed to increasing demand of processed meat products due to growing global population, urbanization, and consumer preference for protein-rich food products. However, chocolate and confectionary processing equipment market is expected to witness fastest growth during the forecast period. The rapid growth of this market is attributed to increasing focus of manufacturers on quality products manufacturing, integration of innovative processes, product innovation, building & maintaining strong brand of products, and optimization of traditional processes in this field. Also, once considered luxury products in some developing nations, chocolate and other sweets have become more attainable and attractive as living standards in these countries increase, ultimately driving demand for chocolate and confectionery processing equipment.
Regional Market Growth Trends
Geographically, the global food processing equipment market is segmented into North America (U.S. and Canada), Europe (Germany, France, Italy, U.K., Spain, The Netherlands, and RoE), Asia Pacific (China, India, Japan, Australia, and RoAPAC), Latin America (Brazil, Mexico, Argentina, and RoLATAM), and Middle East & Africa.
Asia-Pacific region is expected to hold the largest share in the global food processing equipment market in 2018, followed by Europe, and North America. The major share of this region is mainly attributed to increasing demand of processed food products in emerging and developing countries including India, China, Indonesia, and Thailand; and increasing investments from major food processors. This region is witnessing tremendous growth for food and beverages industry, primarily due to the increasing urbanization, health awareness, and disposable income; as a result, numerous food and beverage firms in this region are transitioning from manual to mechanical food processing in order to increase output and develop new products, which ultimately drives the food processing equipment market.
Speak to Analyst @ https://www.meticulousresearch.com/speak-to-analyst/?cp_id=3588
Top Companies in the Food Processing Equipment Market
The key players operating in the global food processing equipment market are Bühler AG (Switzerland), Marel HF (Iceland), GEA Group Aktiengesellschaft (Germany), Bucher Industries AG (Switzerland), John Bean Technologies Corporation (U.S.), The Middleby Corp (U.S.), Heat and Control Inc. (U.S.), SPX Flow Inc. (U.S.), Alfa Laval AB (Sweden), Nichimo International Inc. (Japan), Krones AG (Germany), Paul Mueller Company (U.S.), Key Technology Inc. (U.S.), and Tetra Pak International S.A. (Switzerland).
These vendors employed various strategies to expand their product and application offerings, global footprint, and augment their market share. The key strategies followed by most companies in the global food processing equipment market were acquisitions and expansions.
Key questions answered in the report-
Which are the high growth market segments in terms of equipment type and regions/countries?
What is the historical market for food processing equipment across the globe?
What are the market forecasts and estimates from the period 2015-2022?
What are the major drivers, restrains, and opportunities in the global food processing equipment market?
Who are the major players in the global food processing equipment market and what share of the market do they hold?
Who are the major players in various countries and what share of the market do they hold?
What are the competitive landscapes and who are the market leaders by sub-region in the global food processing equipment market?
What are the recent developments in the global food processing equipment market?
What are the different strategies adopted by the major players in the global food processing equipment market?
What are the geographical trends and high growth regions/ countries?
What are the local emerging players in the global food processing equipment market and how do they compete with the global players?
Download Sample Report @ https://www.meticulousresearch.com/download-sample-report/?cp_id=3588
About Meticulous Research®
Meticulous Research® is founded in 2010 and incorporated as Meticulous Market Research Pvt. Ltd. in 2013 as a private limited company under the Companies Act, 1956. Since its incorporation, the company has become the leading provider of premium market intelligence in North America, Europe, Asia-Pacific, Latin America, and Middle East & Africa.
Contact Us:
Meticulous Research®
Email- sales@meticulousresearch.com
Contact Sales- +1-646-781-8004
Connect with us on LinkedIn- https://www.linkedin.com/company/meticulous-research
Connect with us on Twitter- https://twitter.com/MeticulousR123
Posted in: Agriculture & Farming,Business,Food & Beverage,Manufacturing & Industry,Technology
Espire Infolabs to host a breakfast meet for the higher education in Sydney, powered by Sitecore
Sydney, Australia - 7th June 2018 - Espire Infolabs, a global technology services company, has today announced that they will be a hosting a power-packed breakfast meet for the higher education sector. The breakfast session will be hosted in collaboration with their partner, Sitecore, the global leader in customer experience management. It will be held at the Shangri-La Hotel Sydney, Australia on June 22nd, 2018.
The digital enablement breakfast meet will focus on assembling customer experience, digital marketing and technology leaders from the higher education industry to discuss a clear digital strategy that education houses need to implement to provide seamless experiences to students. The morning session will look at starting a conversation on other key aspects like the student engagement strategy, holistic view into student journey powering student, research and community along with maintaining a credible university reputation and much more.
Espire, as a Sitecore solution partner, will be drawing on their industry experience to discuss latest trends and best practices on delivering highly personalised and contextual digital experiences that are essential for education houses to build a strong competitive edge with Sitecore's experience platform. This will include engaging presentations and insightful sessions by Matt Scolari, Digital Strategist, Technologist and Consultant and Ex Chief Digital Officer & Director - IT Solution Delivery, The University of New South Wales (UNSW), Rebecca Mangan, Digital Experience Specialist at Sitecore, and Ram Bali, Regional Head, Espire Infolabs, Australia and New Zealand. This will be complimented by Australian Catholic University's (ACU) guest speaker who will expand on their digital transformation journey so far.
Adding to this, Matt Scolari, Digital Strategist, Technologist and Consultant and Ex Chief Digital Officer and Director - IT Solution Delivery at UNSW said, "As we see the shift to an increasingly digital culture, a strategic approach to student engagement can only drive business growth for institutes. At the breakfast meet, I am excited to join Espire who is working towards helping education institutes to stay relevant and effective by personalising a student's experience whenever and however they interact with your university or institute."
Espire is a Sitecore solution partner in countries like Australia, United Kingdom, United States, Singapore, India and others. They have expertise in designing and deploying an extensive portfolio of web content management solutions for its customers by leveraging the latest Sitecore capabilities. Espire enables business transformation by designing actionable customer journeys with a cross enterprise approach. This is powered by Espire's Customer Engagement Hub (CEH) framework driven by student journey mapping combined with student journey analytics to fuel their complete spectrum of digital experience solutions spanning marketing automation which includes web content management and campaign management, multi-channel customer communication management, enterprise applications, cloud computing, integration and analytics.
To gather insights on how Espire's digital experience solutions can strengthen your digital strategies and increase revenue opportunities, participate in the digital enablement breakfast meet by writing to us at enquiries@espire.com.
About Espire Infolabs
Espire Infolabs is a global IT services company empowering global businesses to drive growth and customer engagement with exceptional digital experience solutions through digital content management, multi-channel customer communication management, and enterprise applications, cloud computing, integration and analytics. It is a SEI CMMI Level 5 Ver 1.3 (Dev + SVC) Appraised, ISO 27001:2013, ISO 9001:2015, and ISO 20000-1:2011 and ISO 22301:2012 Certified Company. Espire Infolabs has offices in UK, USA, Canada, Australia, New Zealand, Singapore and Development Centers in India (Gurgaon, Delhi and Navi Mumbai). For more information, please visit website.
About Sitecore
Sitecore is the global leader in customer experience management. The company delivers highly relevant content and personalised digital experiences that delight audiences, build loyalty and drive revenue. With the Sitecore Experience Platform, marketers can own the experience of every customer that engages with their brand, across every channel. More than 4,400 of the world's leading brands – including American Express, Carnival Cruise Lines, EasyJet and L'Oréal trust Sitecore to help them deliver the meaningful interactions that win customers for life. For more information, visit website.
Contact Information
Anuradha Bose
Espire Infolabs
anuradha.bose@espire.com
+91-124-7173000
www.espire.com
Posted in: Australia,Europe,Technology
Stankevicius MGM joins Congress-Realty as Leading PR and Advertising Partner
Congress the Real Estate 2018 together with Stankevicius MGM has prepared an exciting investment event with presents and new business opportunities for participants worldwide.
About the event
The organizers of Congress the Real Estate 2018 are preparing a worthy event to attend for investors. The event will cover crypto-assets, overseas properties, museum pieces, different investment projects, possibility to purchase gold bullion, possibility to deal with stock exchanges, IT-technology projects, developer's programs. Event's participants will as well include insurance companies, tax consultants, and lawyers. Representatives and delegations from over 20 countries will come to the Congress.
Each year the congress offers innovative technologies and conveniences for guests and participants. Among the offers, you can find the matching opportunity of the first online exhibition of the Congress on the platform by Online Expo. The exhibition makes direct contact between the visitor from around the world and participating company on the platform, Online Expo.
About Stankevicius MGM
Stankevicius MGM is the leader in PR and advertising field. The firm has consulted Fortune 500 companies and international small and medium-size enterprises. Stankevicius MGM has provided successful PR campaigns for ICO clients in result of raising over 300 million dollars for blockchain projects
Posted in: Business,Finance,Finance Market,Public Affairs,Technology
Excelerat - A Google Connect Event on Digital Marketing
An estate agent's website is their most important office. The footfall there is far higher than for any high street branch and with the market slowing, it is this reality that is pushing the most innovative traditional estate agents to embrace digital marketing and find ways to grow.
At an event hosted at Google's central London headquarters on Tuesday 15th May, global award-winning agency Fountain Partnership and the leading UK live chat conversion experts Yomdel explored best practice digital marketing strategies employed by some of the fastest growing UK estate agents.
Attendees, who included senior executives from Knight Frank, Hunters, Carter Jones, SDL Group, Miles & Barr, Arun Estates and many more, heard presentations from the two companies -- as well as a terrific insight from Google itself – to paint a picture of low cost, high impact digital marketing strategies for estate agents.
"Yomdel and Fountain began working together on EweMove in 2014, and since then we have developed unique approaches to generating quality traffic and then turning that traffic into high-converting new business opportunities," said Yomdel Founder, Andy Soloman. "It's a complete no-brainer for any business – invest in getting the right clicks as well as ensuring you also put in place the ability to maximise conversion."
The programme for the evening heard key note sessions from Andy Soloman, Fountain's Head of Digital Alice Rose, and Roxanne Brownlee from Google.
The event was exclusive invite-only, and attendees besides being able to visit the impressive Google HQ, went away with ideas on how to carve out competitive advantage and maximise ROI through digital investment.
Alice Rose, the Head of Digital at Fountain spoke of proven digital marketing strategies for estate agents and outlined the best way to drive new business in a short space of time. She also took the audience through the most effective strategies for growth, prioritising the lowest cost with the highest return on investment.
"The Estate Agency Industry has faced a lot of disruption over recent years with the rise of online and hybrid agents, Brexit and now GDPR. Today we've shared our proven roadmap for success, discussing the one thing all Estate Agents should invest in now, as well as 4 top tips for rapid growth in 2018."
Andy Soloman spoke of how to transform distracted website visitors into loyal customers through bringing human interaction online and then delivering an exceptional digital customer experience.
"We live in an age of distraction where people expect immediate answers to questions and if we are not there to help at exactly the time they need it, they will go elsewhere", he said. Andy explained how intelligently targeted managed live chat can significantly multiply results achieved via digital marketing channels. "Conversion can increase 50% or more," he said.
Yomdel can be used on any website for online sales, lead generation or customer service and support. As well as live chat, Yomdel sets itself apart from competitors by offering extra services such as taking visitors direct from chat into phone calls, SMS engagements, integrations into CRM platforms and Google Analytics. "There are other live chat providers out there, but Yomdel is unique in the way we partner with clients to deliver the very best results," says Andy. "Our technical platforms are built based on my experience as a former Reuters foreign correspondent and editor, and speed and accuracy are essential. We are continuing to innovate and invest in our services to help clients grow faster."
Google was represented by Roxanne Brownley who works with Google's high-performance clients on their growth ambitions discussed how to future proof your business in a changing landscape. She also stressed the importance of getting the Brilliant Basics right to stay ahead of the competition. The event was introduced by event compere Rachel Murray from Fountain.
For more information about how the Yomdel can benefit your organisation, contact our team on 01403 616 000 or email info@yomdel.com
NOTES TO EDITORS:
Yomdel is based in Billingshurst, West Sussex. It was the first company in the UK to offer intelligent 24/7 managed live chat operator services. The service is used by over 2,000 UK estate agents, including Fine & Country, Chestertons and Belvoir, as well as many businesses in other sectors spanning finance, legal, automotive, construction, events and many more. Yomdel services can be used on any website for online sales, lead generation or customer service and support.
Fountain Partnership
Fountain Partnership is a globally recognised digital marketing agency with offices in London and Norwich. The Partnership founded almost nine years ago has developed a unique, numbers-based methodology which takes the risk out of digital marketing for its clients. This approach led to Fountain winning the Google Premier Partner Award for Best Search Performance last year, beating thousands of marketing agencies from across Europe, the Middle East and Africa.
Contacts:
Andy Soloman, Yomdel Founder & CEO, is available for interviews on +44 (0)7928 542917 or andy.soloman@yomdel.com
Dan Bell
Marketing & Events Manager at Fountain Partnership
E: dan.bell@fountainpartnership.co.uk
T: 020 3325 6681 M: 07843 692738

Ambrose Harcourt
Yomdel PR
ambrose.harcourt@yomdel.com
Tel: 01403 616000

For more on how Yomdel helps businesses grow and generates leads please visit https://yomdel.com or call on 01403 616000
Related links:
www.yomdel.com
https://www.facebook.com/Yomdel/
www.twitter.com/yomdel
Posted in: Automotive,Business,Real Estate,Technology,World
Cummins Selects Agility Warehouse Park in Ghana for Regional DC
Cummins Selects Agility Warehouse Park in Ghana for Regional DC Agility facility to stock parts for Cummins regional operations in West Africa ACCRA, Ghana – May 22, 2018 – Agility, a leading global logistics provider, has leased warehouse space in the Agility Warehouse Park in Ghana to Cummins for a new West African Distribution Center.
Cummins, one of the world's leading manufacturers of diesel engines, generators, filtration and associated engine components, will use the facility to stock and distribute a range of over 10,000 spare parts for Cummins operations across West Africa.
Cummins joins other multinationals and small and medium-sized Ghanaian companies that have chosen the Agility Warehouse Park at Tema because its secure, convenient location provides international standard warehousing and services for their West African operations.
Location was a significant factor in Cummins' selection. The Agility park is eight kilometers from Ghana's main seaport and is adjacent to the Aflao highway connecting Ghana to Ivory Coast, Togo, Benin, and Nigeria.
Felix Bani, Cummins Operations Manager – Central Supply Chain Operations (CSCO), said: "Product distribution can be fast-tracked, either by road, sea or air. By choosing the Agility Warehouse Park, Cummins has addressed one of the biggest constraints to companies doing business in West Africa – the lack of quality infrastructure."
Bani said Cummins was also attracted to the facility because it meets international environmental standards and features eco-friendly construction materials. Agility used energy efficient roof and side insulated panels; wind-driven roof fans; skylights for natural lighting; LED and energy-saving bulbs; and solar-powered streetlights. The site will recycle paper, plastic, metal, and carton waste. It provides eco-friendly waste management services and carbon footprint reporting.
The Agility Warehouse Park in Ghana is part of a network of international standard warehouse parks that Agility is funding and developing across key markets in Africa to support the development of domestic and regional trade.
Geoffrey White, CEO Agility Africa, said, "We believe that the provision of international standard warehouses in Africa for storage, distribution and light manufacturing is one of the fundamental building blocks necessary for economic growth. The Agility Warehouse Parks enable companies, whether multinationals such as Cummins, or small and medium enterprises, to access quality infrastructure easily, quickly and cost effectively."
About Agility
Agility is one of the world's leading providers of integrated logistics. It is a publicly traded company with more than .6 billion in revenue and more than 22,000 employees in over 500 offices across 100 countries. Agility Global Integrated Logistics (GIL) provides supply chain solutions to meet traditional and complex customer needs. GIL offers air, ocean and road freight forwarding, warehousing, distribution, and specialized services in project logistics, fairs and events, and chemicals. Agility's Infrastructure group of companies manages industrial real estate and offers logistics-related services, including customs digitization, waste management and recycling, aviation and ground-handling services, support to governments and ministries of defense, remote infrastructure and life support.
For more information about Agility, visit us @ www.agility.com
Twitter: twitter.com/agility & twitter.com/agilityafrica
LinkedIn: linkedin.com/company/agility & linkedin.com/company/agilityafrica
YouTube: youtube.com/user/agilitycorp
About Cummins Inc.
Cummins Inc., a global power leader, is a corporation of complementary business segments that design, manufacture, distribute and service a broad portfolio of power solutions. The company's products range from diesel and natural gas engines to hybrid and electric platforms, as well as related technologies, including battery systems, fuel systems, controls, air handling, filtration, emission solutions and electrical power generation systems. Headquartered in Columbus, Indiana (U.S.A.), since its founding in 1919, Cummins currently employs approximately 58,600 people committed to powering a more prosperous world. Cummins serves customers in about 190 countries and territories through a network of some 500 company-owned and independent distributor locations and approximately 7,500 dealer locations. Cummins earned billion on sales of .4 billion in 2017. Press releases can be found on the Web at www.cummins.com.
Follow Cummins on Twitter at www.twitter.com/cummins and on YouTube at www.youtube.com/cumminsinc.
Posted in: Business,Manufacturing & Industry,Real Estate,Retail,Technology
UK Cards and Payments Market Share and Growth Forecast to 2022
MarketDataForecast's 'UK Cards and Payments Market' report provides the insight into various payment cards market trends and growth opportunities in the UK along with the complete information about different types cards in the market. It also offers an epitomized assessment about the competitors in the market, influential marketing strategies, customer purchase patterns, adopted payment methods in the e-commerce industry and significant government regulations associated with the UK cards and payments market. Our report unfolds many existing opportunities with reliable information about the different types of cash transactions, volumes of cardholders, market share, current accounts, growth in the number of cards, credit cards outstanding balances, transactional values, details of the issuers along with available banking schemes and futuristic analysis of overall cards and payment market in the UK.
Mobile payments inhibit the cards and payments industry in the UK
The banking industry in the United Kingdom is undergoing a rapid shift from regular branch services to digital services in the recent times. According to British Banker's Association, the mobile payments accounted around 340 million in 2015, which is a 55% increase compared to 120 million in 2014. Likewise, the internet payments have witnessed tremendous growth in the same year.
Debit cards dominate the payment card market in the UK
The number of debit cards is estimated to cross 104 million by 2021 from the current value close to 100 million. Many basic bank accounts were opened in the previous years with the aid of prominent banks like Barclays, Lloyds Banking Group, Nationwide, Royal Bank of Scotland, Clydesdale and Yorkshire Bank, Co-operative Bank, HSBC, TSB, and Santander, offering a free charge accounts.
Prepaid Cards Market is growing steadily
The UK prepaid market is growing steadily and estimated to cross GBP 40 billion by 2020 with a compound annual growth rate more than 5%. The main factors driving the market are the incorporation of these cards by both the government and corporate organizations.
Gift card market is predicted to grow rapidly by 2020 as they are used in many business organizations to reward their employees. The UK government also encourages the use of prepaid cards to distribute pensions, child benefits, job seekers' allowances and so on.
Visa and MasterCard focus on contactless technology in the UK
Card providers like Visa and MasterCard are also concentrating more on the technology of contactless card payments. Visa, however, is also extending this technology to the mobile devices and wearables. On the other hand, MasterCard is completely focusing on the contactless debit cards to enhance its market presence. Retailers in the UK are gradually shifting to contactless POS terminals. According to the United Kingdom Cards Association, as of February 2017, there were more than 478,000 bank-owned contactless POS terminals in the market. The growth rate was comparatively higher than the earlier year by around 44% and predicted to occupy entire POS terminals market in the UK by 2020.
Moreover, the investments in the card setup and the increasing adoption of contactless payments are expected to propel the card payments market in the US amid tough competition. Some of the dominating companies in the market: Lloyds Bank, HSBC, Royal Bank of Scotland, Halifax, Ulster Bank, Barclays, First Direct, Santander UK, Bank of Scotland, M & S Bank
The Scope of the Report:
• The functioning of the UK cards and payments market and complete analysis of the market drivers
• It provides conventional and contemporary information about payment cards of the UK and market predictions till 2022
• It details the emerging payment solutions and their economic, regional and business impact on the cards and payments industry of UK
• Detailed information about existing market leaders, their strategies and government policies driving the payment cards market
Key Questions Answered by the Report:
• What is the adoption rate of UK Cards and Payments market and different types of cards in circulation?
• Who are the leading card issuers, scheme providers, and third-party providers influencing the US payment cards market?
• What are the growth opportunities provided by the alternative payment options in the UK market?
• How are the emerging technologies and new product launches affecting the local cards and payments market of the country?
Reasons to Purchase the Report:
• Enhance the decision-making with the comprehensive information about trends, conventional statistics, and forecast for next five years
• Understand the competitive landscape in the UK cards and payments industry and their marketing strategies
• Unfold hidden growth opportunities with the use of data about emerging transitions in the market and customer transactional behaviors
• Broaden the insight about regulatory policies and frameworks that impact UK cards and payments market
Inquire before buying @ https://www.marketdataforecast.com/market-reports/UK-Cards-and-Payments-Market-6847/inquire
About Market Data Forecast:
Market Data Forecast is a firm working in the areas of market research, business intelligence and consulting. We have rich experience in research and consulting for various business domains to cater to the needs of both individual and corporate clients. A few key business areas that we handle with excellence include business process improvement, corporate financing and decision making based on market research, assisting in developing appropriate strategy and providing consultancy based on extensive research.
Contact Us:
Abhishek Shukla
Sales Manager Market
Data Forecast Direct Line: +1-888-702-9626
Mobile: +91 998 555 0206
Mail: abhishek@marketdataforecast.com
Posted in: Europe,Finance,Finance Market,Technology,Telecom
METRUMCOIN - THE NEW WAY TO DO REAL ESTATE.
Real Estate Blockchain Platform METRUMCOIN Announces Pre-sale
METRUMCOIN — is a new generation digital Real Estate market platform that unites B2B, C2C and B2C into a single worldwide net designed for simplicity of use.
About the platform
METRUMCOIN — a multifunctioning, multilevel platform based on the Blockchain technology with the use of iDeals (the next generation of smart contracts). The platform is capable of bringing any participants' business processes to life. The main purpose of the platform is to remove geographical, bureaucratic and transactional barriers, while uniting all participants within a single digital space for the international RE market. It substantially simplifies the activities of buyers, brokers, investors, developers, construction companies, and all those who consider the RE business their lifestyle. We are making the market available in just a few clicks. Transparency, speed and safety are in METRUMCOIN's DNA.
About the project
The idea of METRUMCOIN project belongs to Mr. Telman Abbasov, a specialist with more than 25 years of real estate experience, and the President of the World Council of Developers and Investors FIABCI 2015-2017. The project was presented to the public at significant industry events such as "MIPIM-2017" in Cannes and "BlokTex-2017" in Kuala Lumpur. It has sparked great interest among RE specialists, as well experts from the IT industry. A team of highly qualified RE specialists determines company strategy. In addition, leading international experts assist METRUMCOIN. In 2017, we obtained a patent, which protects our methodology for attracting investments in real estate objects with the help of crypto-instruments.
Why to participate?
Real Estate allows quick and safe capital investment. Unlike other assets, RE assets do not devalue. We are offering unprecedented opportunities for conducting business both online and offline. Never before has conducting deals and transactions in the RE market been so easy! But that's not all. Early participants of the project are guaranteed a 20% discount for purchase of METRUMS token.
Every single investment you make is your personal contribution towards the evolution of the RE market in the 21st century, as well as contributing to the project that will forever change the way business is conducted.
For further information about our project and technical details of the platform we recommend looking at the Roadmap and White paper.
Join METRUMCOIN's pre-sale, and become the key to global RE market transformation
Posted in: Building & Construction,Finance,Professional Services,Real Estate,Technology