Premium German Brand HALLHUBER Hones in on Time-to-Value with Centric PLM™
The home of unique ready-to-wear items, shoes and accessories for fashion-loving women in Germany has chosen Centric Software as a long-term PLM partner to eliminate non-value added tasks, prioritize more strategic product-related activities and transform operational efficiency, ensuring beautiful products arrive to market quickly and efficiently. Centric Software® provides the most innovative enterprise solutions to fashion, retail, footwear, outdoor, luxury, consumer goods and home décor companies to achieve strategic and operational digital transformation goals.
HALLHUBER GmbH was founded in Munich in 1977. At the time, the concept of young, trend-conscious brands was still scarce. Today, HALLHUBER is one of the most important vertical fashion brands for self-confident and sophisticated women in Germany, with an internationally connected design team producing up to 26 new collections every year. HALLHUBER sells its range in over 380 stores and sales areas in Germany, Austria, Switzerland, Italy, the Benelux countries, Poland, Great Britain, and Ireland as well as its own online platforms in Germany, Austria, Switzerland and France. The company has consistently pursued its market position in the "Bridge-to-Premium" category over the past 40 years.
With a new collection every two weeks at HALLHUBER, the margin for production error is small in a retail world where there is a growing consumer demand to be on-trend and on-time. Felix Gross, Head of Project Management says an outdated PDM solution was creating internal inefficiencies and hindering the ability to make the strategic decisions required for fast-paced collections.
"We were mainly using spreadsheets, email and a very old-fashioned PDM. None of these systems spoke to each other, so there was a growing need to reevaluate and streamline our design processes in order to save time and minimize mistakes. We wanted to reduce the number of tools we were working with to just one. That's where Centric stepped in."
By incorporating information from previous collections, Centric PLM saves teams hours usually spent searching for crucial data. Increased visibility and efficiency at every stage of product development maximizes time to value, ensuring quantities and quality are on track to meet promised delivery and fulfillment commitments.
Commenting on Centric's position as Fashion PLM market leader, Felix Gross says, "The single most important metric for us is time to value, ensuring that our teams spend more time on using their talents so we can explore new ideas and expand into new categories, while making smarter, more strategic product decisions. It's transformational for us to build this partnership. Centric is constantly developing new product features and effective growth strategies we can benefit from."
"We are very excited that HALLHUBER has chosen to partner with Centric," says Chris Groves, President and CEO of Centric Software. "We look forward to supporting their progress, designing and delivering beautiful products for an increasingly dynamic and competitive female fashion industry."
Learn more about Centric Fashion PLM
HALLHUBER (http://www.hallhuber.com)
HALLHUBER GmbH was founded in Munich in 1977 and is now one of the most important vertical fashion brands in Germany. HALLHUBER offers a unique selection of ready-to-wear items, accessories, bags and shoes to create individual looks. The design team is internationally connected and, with great attention to detail, designs up to 25 collections that are always in tune with the current mood.
Environmentally conscious action and the continuous expansion of sustainable paths is part of the company philosophy. HALLHUBER works every day to have the products sourced and manufactured responsibly. 50 percent of the goods are already produced in Europe. The company commits its suppliers to production under ethically and ecologically correct conditions, relies on a reliable, globally established supplier network and, thanks to the vertical business model, can guarantee fast and smooth processes.
HALLHUBER sells its range in approximately 380 retail spaces (as of January 1st, 2020) in Germany, Austria, Switzerland, Benelux, Poland, Great Britain and Ireland as well as on hallhuber.com in Germany, Austria, Switzerland and France. In the financial year 2018/19 (01/11/18-31/10/19), sales were 197.5 million euros. Managing directors are Rouven Angermann and Torsten Eisenkolb.
Posted in: Fashion & Beauty,Services,Technology,U.S,Website & Blog
EMS Consulting to Acquire Digital Banking Services (DBS DX) Accelerating Its Financial Services Cloud Offerings for Digital Banking
EMS Consulting (EMS) has entered into an agreement to acquire Digital Banking Services (DBS DX), one of the fastest-growing Digital Transformation Services Partners for Banking, and Credit Unions specializing in Salesforce. The move will further strengthen EMS's position as the leading enterprise cloud services provider and enhance its ability to provide clients with unparalleled cloud strategy, technology consulting, cloud application implementation, integration, and their Cloud Advisory managed services.
EMS Consulting, an enterprise technology solutions company, has delivered services to over 7500 customers across the USA for over 22 years. This acquisition further elevates EMS Consulting's position as an end-to-end Salesforce enterprise cloud solutions and services provider for the Financial Services Market. This addition will address the surging demand from its trans-formative customers from implementation to offering out of the box Virtual Branch Banking Solutions.
DBS brings Financial Services expertise, industry knowledge, solution assets, and deep ecosystem relationships across a variety of financial services segments including mortgage, commercial, consumer, and insurance for both banks and credit unions. DBS has created multiple banking applications that will quickly advance our financial services, customers, in conjunction with EMS's industry strength, size, and scale.
"We've reached a tipping point where our FINS customers are asking for comprehensive, out of the box solutions built on the Salesforce platform that can be easily deployed for rapid adoption to enhance the customer experience and achieve significant business results more quickly," said Elaine Myrback EMS's chief executive officer. I look forward to welcoming the talented professionals of DBS to the EMS team.
Lisa Nicholas, DBS DX chief executive officer, said, "We are thrilled to be joining forces with EMS. The combination of our capabilities and experience with EMS's scale, broad industry expertise, and global cloud application capabilities represents a unique and compelling opportunity for our customers, for our people and the future of cloud technology."
About EMS Consulting

EMS is a Salesforce Gold Partner, founded in 1998 headquartered in Tampa, Florida with experienced, cloud advisory and technology services consultants, providing cloud strategy, implementation, and integration services to thousands of customers around the country. EMS Consulting has over 100 dedicated consultants providing expertise in Financial Services, Health Care, Retail, and Higher Education Industries and a certified Salesforce and MuleSoft Partner since 2012. Visit http://www.consultems.com or call 813-287-2486 to learn more.
Posted in: Business,Finance,Technology,U.S,Website & Blog
Knorex Awarded Certification Renewal by JICWEBS for Brand Safety (DTSG)
Digital ad standards industry body, Joint Industry Committee for Web Standards (JICWEBS) has awarded to Knorex, a leading provider of cross-channel marketing cloud platform the DTSG Brand Safety (https://jicwebs.org/standards/brand-safety/) renewal certification following an independent audit by Audit Bureau of Circulations (ABC) of Knorex advertising processes against JICWEBS DTSG Good Practice Principles.
The JICWEBS DTSG Principles are industry-approved guidelines that are designed to reduce the risk of ad misplacement, and deliver transparency by allowing businesses to demonstrate their brand safety processes to the same industry standards. The aim of this verification program is to promote confidence in the industry by demonstrating that companies like Knorex upholds brand safety and protects the integrity of online advertising.
Abhishek Kumar, VP Engineering of Knorex said: "We have been proactive in providing to our customers and partners with the trust of delivering to them the highest quality and assurance in brand safety, right down to the granular level of every bid. We work hard with industry partners and bodies to ensure that each ad of our customers are being delivered efficiently to the right audience with minimal or no wastage without compromising on quality. Attaining the renewal certification from JICWEBS DTSG brand safety seal is important as it recognizes our long-standing commitment in providing a trustworthy and brand-safe environment to our customers and partners. At a time when brand safety remains an on-going concern and advertising buyers seeking out for trusted partners, we are thrilled to receive a renewal of our independently verified Seal of Compliance to foster a more transparent digital ad trading environment."
The certification demonstrates Knorex solutions as measuring up to industry best practices and standards. It also reaffirmed Knorex commitment to delivering greater transparency to advertising buyers that their ads will reach the right audience and not be associated with content that could jeopardize their reputation and business.
About Knorex
Established in 2010, Knorex is a technology company that provides programmatic online advertising products and technologies to advertising buyers worldwide through its offices across United States and the Asia-Pacific region.
With its marketing cloud platform, Knorex XPO™ enables ad buyers to self-serve and advertise real-time across the globe regardless of the media channels (social, search, OTT/CTV, video, web/mobile etc.), ad formats (display, native, search, social, video etc), platforms (android, iOS, mac, linux, mac, windows etc.), devices (desktop, laptop, smartphones and tablets) to deliver personalized marketing messages at the right moment to the targeted audience in an automated way, powered by machine learning/AI. Underpinned by a multi-layered data-driven approach, XPO simplifies the execution and optimization of marketing campaigns, while delivering measurable and attributable performance. To learn more, visit https://knorex.com.
About ABC

Audit Bureau of Circulations (ABC) is a leading industry-owned auditor for media products and services, with specialist skills in digital ad trading.
Through the organization experienced teams, it provides an independent service, checking compliance across a range of media standards. ABC rigorous auditing of multiple business types underpins the work of other Standards setters such as BARB, JICWEBS and TAG. For more information on ABC's Verification Service, please visit https://www.abc.org.uk/audit-services/brand-safety
About DTSG / JICWEBS

The Digital Trading Standards Group (DTSG) is a UK group comprising representatives of the entire digital display advertising market, including trade bodies the Association of Online Publishers (AOP), Internet Advertising Bureau (IAB) UK, News Media Association, ISBA – the voice of British advertisers – and the Institute of Practitioners in Advertising (IPA). DTSG was set up in 2012 to bring the industry together to propose guidelines aimed at significantly reducing the risk of misplacement of advertising across the digital trading ecosystem. The DTSG Good Practice Principles serves as the basis of certification for brand safety.
The DTSG's Good Practice Principles are endorsed by the UK's Joint Industry Committee for Web Standards or JICWEBS. These principles set industry-wide standards, including the wide use of Content Verification (CV) tools and appropriate / inappropriate schedules, to inject greater transparency into the digital display advertising market, and provide control to help ensure that advertising will not be associated with inappropriate or illegal content. For more information, visit https://www.jicwebs.org
Posted in: Arts & Entertainment,Services,Technology,U.S
KERV Releases New Feature Set with Support for Vertical Video
KERV Interactive, a multi-award-winning interactive video company revolutionizing the performance of digital advertising with its patented technology, has launched a new feature set that enables support for interactive vertical video. The new features, which also include object audio and custom fames, are helping brands keep up with our unprecedented time in history as the world shifts more to digital content and mobile device consumption.
The new feature set maximizes the mobile screen without the need to shift grip, which makes the entire experience more seamless for consumers. This functionality also capitalizes on improved interactive ad delivery for large social platforms such as Snap chat, Instagram, Facebook, and Tiktok. As vertical video has shown to be a huge performer and contact point for consumers, brands now can repurpose already produced social vertical video with KERV-powered interactive versions to further amplify social executions, while getting more use and engagement from a single source of content.
Moreover, KERV's new feature set includes object audio, which enables brands to enhance the interactive experience with custom sounds tied to specific objects within a video. Another feature is custom frames and scene images, which can help brands give users the ability to explore additional content and info about products, brand, features, and more that are not represented in a video. Brands can use this feature to make special announcements, updates to product lines or business procedures, calls-to-action, disclaimers, or cater any quick and custom messaging on the fly.
"With our new feature set and accommodations for vertical video, brands can further maximize both ad dollars spent and the consumer experience as people across the globe are watching more digital content during social isolation and the quarantine," notes Marika Roque, COO of KERV. "This also leverages the trend of vertical content being used for video consumption, short-term activations, and commerce."
To learn more, please contact Jeannine Jacobi of Fresh PR at 323-903-7063 or jeannine@freshpr.net, or visit https://kervit.com.
About KERV Interactive

Based in Austin, Texas, KERV Interactive is the world's most advanced interactive video technology company and is revolutionizing the future of video engagement through dimensional storytelling. KERV's digital advertising platform was built on cutting-edge, patented technology and adds extraordinary value to brands, agencies, and creative and data-science teams by creating audience-to-brand connections within video like never before. Leveraging breakthrough machine learning techniques and AI with unmatched processing speed, the KERV technology recognizes depth, dimension, and objects within a video just as precisely as the natural eye. KERV enables every frame in every scene of any digital video to be an immersive, interactive experience for consumers.
Posted in: Services,Technology,U.S
Rex Academy Online Coding Courses Help Kids Beat the Covid 19 Quarantine Boredom
Rex Academy, a leading global technology academy for kids and teens, offers fun, engaging, high quality online programming courses. These courses will not only keep them occupied while being locked in at home, but also arm them with coding skills that can help them gain an edge in their future professional lives.
"Programming is sheer magic and a universal language", says Rex Academy CEO Sandy Padala. "Kids can develop a passion for it quickly. It becomes an outlet for their creativity and helps hone problem-solving skills. In many ways, programming is the new literacy that every kid must learn in this digital world. The earlier they are introduced to it, the easier it becomes for them to pick it up."
"Our online classes are delivered through videoconferencing," continued Rex CEO Sandy Padala while talking with parents and encouraging them to enrol their kids for a trial online group class. "Students are placed in an age appropriate coding class. Teachers both present the material and monitor all students' computers during class to ensure they are learning. Class recordings and student's progress reports will be available to the parent after every class. We maintain small age-appropriate student to teacher ratios (4:1 for our youngest students)."
Parents can enrol their kids at http://www.rex.academy/online-classes/
While most working parents are adjusting to the COVID-19 work from home mandate, it is the kids that are most affected by the lockdown situation. Governments all around the world have closed educational institutions to contain the global pandemic. Kids are not only bored and restless, but they are also deprived of the knowledge-gaining process.
One of the best ways to help kids overcome their boredom is to get them into coding. It will not only keep their brains ticking but, more importantly, developing coding skills at a young age will prepare them well for the digital world they will step into tomorrow.

Mark Zuckerberg of Facebook, Bill Gates from Microsoft all learned coding with a private tutor when they were in middle school.
When it comes to learning to code, it is important to choose the right place that can impart this critical skill for this generation in a simple, fun and engaging manner. Rex Academy is the best place to learn online coding skills.
The key benefits of enrolling kids in Rex Academy are:
Fun and engaging classes

Teaches critical and analytical thinking and improves communication skills

Teaches kids to create games, mobile apps, animations, websites and build software applications.

The courses are 80% percent project based.

Aligned with National Education standards like TEKS, CSTA and K12CS

Multiple ways to learn - self-paced, one on one and small group sessions
Research reveals that in 10 years there will be 1.4 million jobs in computer science, but just 400,000 qualified graduates thus creating a huge demand for quality coders. There is a growing demand for programmers in every industry. Even if your kid never chooses to be a software programmer, coding is still a fundamental skill that your child would need regardless of what career she/he is going to choose when they grow up in this digital world.
Technology is everywhere, parents must start early and prepare their kids for the digital world right away. This will help them gain a fundamental understanding of how computers think. Computer Science is a skill for life that can be used to solve problems in a variety of businesses, scientific and social contexts. Kids who understand the basics of programming will be more adaptive to the changing needs of the workforce.
For more information, visit https://www.rex.academy
About Rex Academy:
Rex Academy, a top-rated global technology academy for kids and teens offers comprehensive, fun, and hands-on coding classes. These courses are aimed at transforming kids from technology users to technology creators. There are more than 30 courses that cover a wide variety of topics from Digital Arts to Ethical Hacker Certification. Rex's mission is to make practical high-quality coding and computer science education universally available to anyone, anytime, and anywhere.
Rex is currently offering special discounted programs to meet the needs of the prevailing situation brought by coronavirus.
Posted in: Computers & Software,Education,Employment,Leisure Activities,Technology
TD Madison Leads Successful Executive Search for CableLabs' New Vice President of Wireless
TD Madison, a trusted provider of executive recruitment services to the cable and broadband industry, is pleased to congratulate Rakesh Taori on his new role as the Vice President of Wireless at CableLabs®. TD Madison undertook an exhaustive executive search and recruitment program, identifying Taori as the strongest candidate in a competitive field.
Rakesh Taori is a 5G pioneer who has passionately led 5G efforts for over a decade. His involvement with 5G started with the identification of spectrum for 5G to the regulators (2010), before leading the 5G system design team and driving early feasibility studies and ecosystem efforts at Samsung. Taori helped cofound a 5G startup company called Phazr, which spearheaded some of the first 5G trials (2017) and pilot deployments (2018) with Tier-1 operators in the EU and carried out exhaustive indoor 5G propagation studies with Japanese Tier-1 operators. Taori is an expert in cellular system design and Mobile and Wi-Fi networking standards.
Taori will be responsible for driving and executing CableLabs' wireless and mobile area vision and strategy. He will report to Mariam Sorond, CableLabs' Chief Research and Development Officer, whose recruitment TD Madison also managed.
"We are pleased to have once again successfully placed a senior executive at CableLabs, the most innovative and influential research and development lab in the cable and broadband industry. It was a pleasure to work with the CableLabs team, and we're thrilled to congratulate Rakesh as he takes up a position that will have an enormous impact on the future of 5G, wireless, and mobile networking," said Dean Madison, CEO of TD Madison.
Before joining CableLabs, Rakesh was the first JMA Fellow of 5G Technologies at JMA Wireless, which acquired Phazr, a 5G startup at which Rakesh was Vice President of Systems and Standards and a founding employee. While at Phazr, Taori led the system design team that helped to architect and build the company's innovative 5G base station. Before Phazr, Taori held positions at Samsung, Ericsson, and Phillips, as well as serving on the Wi-Fi Alliance board and as Vice Chairman of the IEEE 802.16 working group. Rakesh is a prolific inventor with over 150 granted US patents.
"With vast amounts of unlicensed, shared spectrum for local/private 5G becoming available, cable operators offering wired and wireless services have an unprecedented opportunity to build a truly converged network of the future. CableLabs is in a unique position to architect, define and drive the network convergence paradigm. I'm looking forward to working with the world-class researchers and engineers at CableLabs, helping the cable and broadband industry to innovate the next generation of wired and wireless networks," said Rakesh Taori.
TD Madison has been the trusted executive recruitment partner of the cable and broadband industry for over thirty years. The full life-cycle executive recruitment agency works with clients throughout the recruitment process to identify, assess, and negotiate with senior technology executives. TD Madison's combination of industry knowledge and evidence-based assessments helps clients like CableLabs to identify and recruit the ideal candidate for C-suite, VP, and Director-level positions.
About TD Madison
TD Madison and Associates works with clients across the cable and broadband industry, providing executive recruitment, training, and staff augmentation to businesses ranging from emerging growth firms to Fortune 500 companies. With over three decades of experience, TD Madison finds exceptional leaders for exceptional companies. To learn more, visit: http://www.tdmadison.com
Posted in: Technology,U.S,World
Data Media Associates Extend Patient Billing Solutions with Pay by Text from Everyware
Everyware is redefining healthcare payment processing and patient engagement by offering Pay by Text with two-way messaging that helps companies collect more payments. They are invested in giving health organizations and medical billing companies the best new way to connect, collect and reduce barriers to payment.
Data Media Associates, LLC (DMA), known and trusted for over 40 years for offering the latest ways to streamline the statement-to-payment process, is dedicated to helping providers get paid. Now, DMA will elevate its multifaceted payment solution suite even further by offering Everyware's Pay by Text and two-way messaging solution into their mix.
"We've known text communication and billing were on the rise and have been planning to extend our SMS services for some time now. So we're very excited to bring this new pay by text solution to our providers and their patients." - Cleve Shultz, President, Data Media Associates.
The best healthcare billing organizations today already offer a mobile billing option. The forward-thinking ones, however, recognize growing demand for business-to-consumer texting. This includes billing via text message and accepting SMS payments alongside paper or other methods. Sending an invoice text ahead of a paper statement, following up with automatic reminder text, alerts and gives patients the chance to take care of their bill from their phone easily.
"Our healthcare clients have been surprised to be able to connect with patients they couldn't contact by other means. With pay by text they hit the bullseye, got paid, and even re-engaged with patients wanting to schedule new appointments." - Larry Talley, CEO & Founder, Everyware
With more people looking for frictionless, contactless payment methods to avoid touching cash, mail and plastic, Everyware's Pay by Text is growing fast because it gives patients a way to pay from anywhere.
About Everyware
Everyware is a conversational payment gateway enabling Pay by Text and two-way messaging with customers. Making text communication a part of the purchase process improves the customer experience and helps companies get paid faster. Get started with Everyware for Healthcare, watch the Everyware Pay by Text video and follow Everware on Linkedin for the latest updates.
About DMA

Data Media Associates (DMA) LLC, founded in 1975 by Bob Murphy, is one of the largest independently owned and operated print and mail businesses. DMA services the medical community across the country with print and mail services for patient statements, collection letters, paper claims, and special notes. Service also features acceptance of electronic claims which are processed in real time, giving an immediate electronic remittance to submitted claims. To learn more, visit http://www.dma.us.
Posted in: Finance,Finance Market,Technology,U.S
Focus Technology Achieves Titanium Tier in 2020 Dell Technologies Partner Program
This is the third consecutive year Focus has advanced its tier status with Dell—moving from Gold to Platinum to Titanium—signifying the firm's rapid growth over the past three years.
As a Titanium member of the Dell Technologies Partner Program, Focus Technology serves a key role in providing innovative solutions that solve customers' problems of today and tomorrow. With over two decades of experience in converged and hyper-converged infrastructure, storage, server and core client, and an extensive track record delivering business results, Focus has demonstrated unmatched expertise that distinguishes them as a top Dell partner.
"We are excited and privileged to be among Dell's top partners who hold the most advanced certifications and know-how around Dell's gold standard IT solutions," said Doug Alexander, CEO of Focus Technology. "Using our deep understanding of Dell's portfolio, we are able to enhance our own infrastructure solutions portfolio to offer exceptional value and address each client's unique business requirements and strategic vision," he added.
"Holding the highest level of certifications with capabilities and resources that span the Dell Technologies portfolio of solutions, we are thrilled to welcome Focus Technology into our exclusive community of Titanium Tier partners," said Gregg Ambulos, SVP, North American Channel Sales, Dell. "We look forward to the ongoing collaboration we've enjoyed with Focus over the past ten years as we partner to innovate and offer transformative value to customers."
About Focus Technology
Founded in 1997, Focus Technology is a leading Boston-based information technology firm that offers organizations new ways to consume technology. By designing and implementing innovative IT solutions through personalized service, Focus Technology delivers positive results that support the customers' strategic vision. Our team of experienced industry-certified solutions architects provides customized solutions specifically designed to address each client's unique business requirements.
With expertise in next-generation data center infrastructure, managed IT services, cloud solutions and cyber security, Focus Technology is one of the top IT solution providers in the Northeast. The company has earned numerous awards and accolades, including CRN MSP Elite 150, CRN MSP Security 100, CRN Fast Growth 150, CRN Tech Elite 150, CRN Triple Crown Winner and Boston Business Journal's Best Places to Work.
For more information visit focustsi.com, Twitter @FocusTSI or LinkedIn
Posted in: Computers & Software,Technology,U.S,Website & Blog
Jeremy Hudson Named to the 2020 Food Logistics Champions: Rock Stars of the Supply Chain
Open Sky Group is pleased to announce that Food Logistics has named Jeremy Hudson, Director, Client Services, to its 2020 Food Logistics Champion: Rock Stars of the Supply Chain award.
Open Sky Group, global Blue Yonder specialists, implements and upgrades warehouse, labor and transportation management software and has helped over twenty food and beverage clients with warehouse and labor management optimization projects in a variety of facility environments, including cold storage. Hudson was recognized for his expertise in optimizing distribution processes for many food and beverage companies.
As Director of Client Services, Jeremy was part of ten successful warehouse and labor management solution go-lives in 2019 alone. Some of his work with food and beverage clients includes applying engineered labor standards to produce significant workforce savings; using mobile capabilities to better manage the workforce and provide enhanced coaching capabilities and systematic automation of incentive algorithms; and occasionally designing versatile allocation, picking and staging approaches that allow for adaptability to various order sizes. Jeremy's projects demand consideration of advance lot, date rotation and shelf life requirements and frequently involve automation including palletization, sortation, ASRS and pallet shuttling.
"There are so many challenges facing the food industry today - from safety and security, to compliance and regulations and product quality and shelf life, says Jeremy Hudson, Director, Client Services, Open Sky Group. "The companies that embrace technology and dedicate the people, time and dollars it requires to truly understand and use it well, will find that they are the ones who grow and thrive. It's not a one-time "set it and forget it" proposition - the successful companies know this and commit."
"Jeremy embodies 'Rock Star' in my mind," says Curt Sardeson, CEO of Open Sky Group. "He came to us with a deep labor software background and within two years had mastered warehouse management and was running multiple implementation projects at once. Jeremy puts his full energy, which is considerable, behind everything he does and deeply understands the challenges our food and beverage customers face every day."
2020 Food Logistics Champion: Rock Stars of the Supply Chain recognizes influential individuals in our industry whose achievements, hard work, and vision have shaped and attained milestones in safety, efficiency, productivity and innovation through the global food supply chain.
"The 2020 Food Logistics Champions: Rock Stars of the Supply Chain showcases the true rock stars of the industry, those that go the extra mile, so to speak, to ensure their company's supply chains are being operated in an efficient, safe and transparent manner," says Marina Mayer, editor-in-chief of Food Logistics. "These professionals are a true example as to why today's food and beverage supply chains are in position to curtail tomorrow's consumers' demands, and why today's youth should consider the supply chain and logistics industry as a possible path of employment."
Recipients of this year's 2020 Food Logistics Champions: Rock Stars of the Supply Chain award will be profiled in the March 2020 issue of Food Logistics, as well as online.
ABOUT FOOD LOGISTICS
Food Logistics is published by AC Business Media, a business-to-business media company that provides targeted content and comprehensive, integrated advertising and promotion opportunities for some of the world's most recognized B2B brands. Its diverse portfolio serves the construction, logistics, supply chain and other industries with print, digital and custom products, events and social media.
ABOUT OPEN SKY GROUP

Open Sky Group, global specialists in WMS, Labor and TMS software upgrades and implementations, helps clients lower costs and risks and reduce time to implement with its proprietary methodology and no-modifications approach. A gold implementation partner and reseller of Blue Yonder Warehouse, Workforce, Warehouse Labor and Transportation Management software, Open Sky Group strives every day to be the best consulting partner on the planet for supply chain solutions.
Contact: Open Sky Group
Darcy Reeves
VP of Marketing
919.800.8250
http://www.openskygroup.com
Posted in: Computers & Software,Technology,U.S
SIUE School of Nursing Hosts Virtual Advanced Nursing Education Workforce Conference
It's consistently clear that nurses play a huge societal role as educated, compassionate medical professionals and abundantly so in the midst of the current world health crisis. Whether on the frontlines, as administrators, educators or aspiring healthcare workers, nurses continuously seek new knowledge and skillsets that will add value for their patients.
One of the latest examples of this dedication is the Southern Illinois University Edwardsville School of Nursing's (SON) innovative Advanced Nursing Education Workforce (ANEW) program. Despite the suspension of on-campus activities at SIUE as a result of the ongoing COVID-19 pandemic, the ANEW program held its first continuing education conference on Saturday-Sunday, March 21-22 in a virtual format.
Almost 300 attendees, comprising regional Advanced Practice Registered Nurses (APRN) and students, participated remotely in the regional conference as nationally-renowned speakers presented on topics of opioid crisis, non-opioid pain treatment options, recognizing addictive behavior, rehabilitation of the opioid dependent patient, and long-term follow-up strategies.
"The ability of healthcare providers, and in particular, nurse practitioners to appropriately serve a patient population struggling with opioid use disorders within rural areas of Illinois is of critical importance," said SIUE SON Family Nurse Practitioner Clinical Site Coordinator and Instructor Melissa Bogle, DNP, FNP-BC, ACNP-BC. "I was incredibly impressed with the level of participation, engagement and best practice sharing from attendees. Despite the virtual environment, you could sense the collegiality of the group."
"We received so much interest from healthcare providers in the bi-state area for this conference, so it meant a lot to us to be able to deliver on our commitment to provide educational credits to this group, despite current COVID-19 challenges," Bogle added. "The majority of attendees are required to have this type of opioid-focused education to renew their licenses within the state of Illinois."
SIUE SON Instructional Designer Jodie Nehrt helped with the successful transition to a virtual format, primarily through the use of Zoom and Mursion.
"We were fortunate to have a collection of speakers who were motivated to share their content, despite the last-minute change in venue, and attendees who were eager to engage and participate from the comfort and safety of their homes," Nehrt said.
"Zoom was the technology that saved the day for us," she explained. "We were able to schedule the sessions and offer virtual attendance to this free conference using a free communication tool. We coordinated with our presenters to fulfill their needs for attendee participation and question-and-answer management. Additionally, one of the sessions was a dynamic demonstration of a software we use on campus, called Mursion, which offers mixed reality for the practicing of professional skills."
"Dr. Melissa Bogle worked nonstop on developing this conference from the beginning. Jodie Nehrt came in to work last week when the World Health Organization declared COVID-19 a pandemic and we knew that our live campus event would likely be canceled," said ANEW Program Director Valerie Griffin, DNP, PPCNP-BC, FNP-BC, PMHS, FAANP, assistant clinical professor and director of nurse practitioner specializations in the SON. "These incredible, dedicated women were able to transition this large event to a virtual format without exhibiting worry or stress over the process. They remained positive that we could pull this off, and we did!"
Attendees expressed their appreciation to the SON for their creative online management and successful execution of the ANEW Conference.
"During a time when faculty are stressed to get their classes online, I am amazed at your commitment to those who registered for this meeting," noted Margaret Faut Callahan, CRNA, PhD, FNAP, FAAN, senior vice president of Strategy and Innovation at Loyola University Chicago, in a post-conference email. "The skills required to make this happen so quickly, in just a week, are remarkable. Further, the lectures were of high-quality both from a content perspective and the technology used to bring this to us virtually. It was clear to those of us who participated that your faculty and support staff worked long and hard to provide this excellent conference."
Funded by a four-year .75 million grant from the Health Resources and Services Administration (HRSA), the ANEW program is a multi-faceted educational effort that is creatively designed to increase the number of nurse practitioners who practice in rural and underserved communities throughout Illinois by promoting a smooth and natural transition from the student role to practicing APRNs into those areas.
The SIUE SON and its clinical partners collaborated on the conference's development. Clinical partners bolstering the success of the ANEW program are Chestnut Health Systems, OSF HealthCare, Southern Illinois Healthcare, Synergy Healthcare Solutions, LLC., and the SIUE We Care Clinic.
The SIUE School of Nursing's programs are committed to creating excellence in nursing leadership through innovative teaching, evidence-based practice, quality research, patient advocacy and community service. Enrolling more than 1,700 students in its baccalaureate, master's and doctoral programs, the School develops leaders in pursuit of shaping the nursing profession and impacting the health care environment. SIUE's undergraduate nursing programs on the Edwardsville campus and the regional campus in Carbondale help to solve the region's shortage of baccalaureate-prepared nurses and enhance the quality of nursing practice within all patient service venues. The School's graduate programs prepare nurses for advanced roles in clinical practice, administration and education.
Posted in: Education,Technology,U.S
Smart2Pay Adds Ant Financial's HUABEI Credit Card To Its Payments Portfolio
Smart2Pay, the company with the world's largest coverage of online alternative payment solutions, has added Huabei credit solution to its 200+ payment methods portfolio.
With this new feature, Smart2Pay offers its Merchants an additional means to tapping into the Chinese market, besides the popular methods like Alipay, Wechat Pay and UnionPay that Smart2Pay already offers.
Huabei is Ant Financial's virtual credit card for its Chinese users. Some internal shareholders estimated that, of Alipay's 900 million Chinese users, more than half have created Huabei accounts. Huabei literally means 'just spend' and is generally perceived as a microlender.
Huabei may be used for all online and offline purchases via Alipay wallet. Users of Alipay can set Huabei as their default payment option, meaning that their purchases are first made with credit before funds are debited from their Alipay account. As well, when Huabei is used to shop, the user must return the amount of the payment on the 9th of the next month. There is an interest-free period of up to 41 days. Merchants offering Huabei can see conversion increase by up to 40%.
Huabei was launched in April 2015 by Ant Financial as a way for users of its wallet solution Alipay to fund purchases on ecommerce platforms run by Ant Financial's affiliate, Alibaba group, such as Tmall and Taobao. Huabei's main user base is made up of individuals born after the 80s and 90s, accounting for around 80% of the total users. Since Huabei's launch, Ant Financial has been expanded the service to more online and offline merchants.
James Flinterman, CEO of Smart2Pay: We are proud to add Huabei via Alipay to our already extensive Chinese payment methods portfolio. We constantly improve and expand our services in direct relation to market dynamics. We are confident that, with this latest addition, our Merchants and partners will successfully expand further their business in a very digitally-oriented and lucrative market like China.
About Ant Financial's Alipay
Alipay is a mobile payment method founded by Jack Ma's Alibaba Group in 2004 and which allows users to create a digital wallet to store, top up and pay online or in store for products and services. It is one of the most popular methods of payment in China and is also available in many Asian markets, as well as in Europe, US and Canada.
Ant Financial's chairman and CEO Eric Jing said on Alibaba's 2019 Investor Day, held in Hangzhou, that Alipay (900m users) and its international e-wallet partners (300m users) have collectively served around 1.2 billion users worldwide.
About Smart2Pay
Smart2Pay offers a single API for all payment services to international Merchants, covering credit card and local payment options throughout the world! By using Smart2Pay, you will be offering the preferred local method of payment to your global Customers, thus significantly boosting your sales!
Posted in: Finance,Finance Market,Technology,U.S
Automated Marketing Services Support Businesses in Difficult Times
Atlanta – As more businesses across the country worry about maintaining customers and keeping the doors open during the COVID-19 pandemic, a variety of digital marketing services and support can help companies reach more potential customers in an effective manner. ThinkZILLA Consulting, an innovative branding and digital transformation agency, is helping small to mid-size public and private businesses employ marketing automation, website updates and relevant marketing channels for digital transformation during challenging times.
Certified as a woman-owned small business (WOSB) by the U.S. Small Business Administration (SBA) and as a certified minority business enterprise through the National Minority Supplier Development Council, ThinkZILLA Consulting helps small businesses to Fortune 500 companies implement digital solutions to support business awareness and growth. From the technology to healthcare industries and from education to energy, ThinkZILLA simplifies the marketing process for businesses across industries, allowing them to focus on business management.
"To meet the needs of companies across the country, we have expanded our team so we can serve as your outsourced digital marketing and branding partner, helping with everything from expanded reach to crisis communications," said Dr.Velma Trayham, CEO of ThinkZILLA. "We enjoy helping businesses reach their goals by becoming more visible online, crafting the perfect messaging and connecting with our network of more than a million media partners to share their mission and message."
With innovative solutions to solidify strong customer perceptions, ThinkZILLA Consulting's services include: cultural branding to prompt more customers to identify with company culture and message; digital marketing including email marketing, search engine marketing (SEO), social media outreach, videos and mobile applications; public relations to manage reputation and boost consumer confidence to enhance credibility; business partnerships to leverage strategic marketing and help companies achieve their objectives, among others.
Beyond efficiency and greater reach, the benefits of digital marketing include greater personalization, which significantly increases customer engagement, new leads and the ability to measure effectiveness of efforts. Social media is one of the simplest, most cost-effective ways to reach more people across the globe, and 90 percent of consumers have communicated with a brand via social, according to a recent survey.
With its growing team of experts across marketing platforms, ThinkZILLA is A Plus rated by the Better Business Bureau and recently partnered with Grady Health System as part of the prestigious George Mentor Protégé Association. The company is a member of the Atlanta Business League and the Atlanta Press Club as well as a premier Google partner.
"With a focus on value and solving complex problems, we are authentic and thoughtful when it comes to delivering solutions and helping our clients transform and innovate," Trayham added.
About ThinkZILLA Consulting Group
ThinkZILLA specializes in multicultural branding, digital engagement, influencer marketing, experiential events and partnership creation. Making brands more relevant, ThinkZILLA builds meaningful connections between brands and consumers. For more information on ThinkZILLA or to schedule a consultation, please visit https://thinkzillaconsulting.com/
Posted in: Building & Construction,Education,Energy & Environment,Professional Services,Technology
InformaCast Fusion with Microsoft Teams Wins 2020 Secure Campus Award from Campus Security & Life Safety
InformaCast Fusion with Microsoft Teams from Singlewire Software, a leading mass notification technology developer, has earned a 2020 Secure Campus Award from Campus Security & Life Safety magazine. The software won a Gold Award in the Emergency Notification/Mass Notification category. InformaCast Fusion with Microsoft Teams was selected by an independent panel of judges from the security industry based on criteria that included features, innovation, user friendliness, interoperability, quality, design, market opportunity, impact in the security industry, technical advances, and scalability.
"Singlewire Software is dedicated to providing college and university campuses with the tools they need to enhance safety and communication," said Pat Scheckel, vice president of product management at Singlewire Software. "This award highlights the benefits InformaCast Fusion with Microsoft Teams offers to higher education institutions to reach their people in the applications they frequently use with critical messages."
InformaCast Fusion with Microsoft Teams is a mass notification system that allows colleges and university campuses to add value to existing devices by leveraging them for safety and communication. With the ability to reach mobile and on-premises devices and well as collaboration tools like Microsoft Teams, InformaCast Fusion offers the speed, reach and flexibility organizations need to utilize technology that's already in place to keep people safe and informed. It can connect to a wide range of IoT devices, including IP phones, IP speakers, desktop computers, panic buttons, digital signage, mobile phones, door access control systems and more to provide organizations with a powerful mass notification ecosystem.
"We are pleased to be a vital part of providing solutions that will protect our children and young adults in the learning environment," said Ralph C. Jensen, editor-in-chief of Campus Security & Life Safety magazine. "Within the security industry, we all have a vested interest in protecting learning spaces and providing security to our valuable assets, the children."
To learn more about InformaCast Fusion with Microsoft Teams and how it can help colleges and universities provide a secure campus experience, visit https://www.singlewire.com/notification-informacast-and-microsoft-teams.
About Singlewire Software

Singlewire Software, based in Madison, Wis., is the developer of InformaCast, a leading software solution for fast and reliable emergency notifications. More than 7,000 organizations in over 50 countries use InformaCast for emergency mass notifications. Whether it's an active shooter, severe weather, or another crisis situation, InformaCast helps reach the right people, with the right information, to increase awareness, safety and security. To learn more, visit http://www.singlewire.com/informacast.
About 1105 Media's Infrastructure Solutions Group

1105 Media's Infrastructure Solutions Group includes several leading industry media brands that provide new product and technology solutions for security professionals: Campus Security & Life Safety, http://www.campuslifesecurity.com, Security Today, http://www.securitytoday.com, and GovSec. The brands' print, digital, custom media and research products integrate physical and IT security coverage and provide the smartest, most cost-effective solutions for reaching security decision makers.
Posted in: Computers & Software,Technology,U.S,Website & Blog
Gladinet Announces Triofox to Help Mobilize Existing Servers
To address the increasing need for home-based work during these stressful times, Gladinet Inc., a leading provider of simplified remote access solutions for file servers, has announced the widespread availability of free licenses for Triofox, its newest product. By mobilizing existing on-premise servers, Triofox is enabling secure, remote, and mobile access to existing file server shares without a VPN.
To enjoy the aforementioned free licenses, which expire June 30, 2020, enterprises can email ticket@triofox.com and request them.
Gladinet's Vice President of Customer Success, Azam Ali, said:
"In this time of need, we are faced with the challenge of making it as easy as possible to work from home, without compromising security or productivity. And everyone is saying they need it done yesterday. The problem is it can take significant time to provide VPN less access – especially if you're talking about workflows that involve file servers and line of business applications. Triofox eliminates those hurdles! It's simple to install, and it leverages existing network file shares, users and permissions for automatic configuration. You can literally have your employees working from home in minutes, not days or weeks."
In stark, relieving contrast to VPN's confusing, slow, and error-prone connections, Triofox simplifies the at-home user's experience by providing remote access through a familiar mapped drive, creating the illusion of working in the office on the company network, without a VPN's encumbering setbacks.
Azam continued:
"While we cannot help out on the medical front, we can help out by providing solutions to keep employees safe and make the transition to work from home as seamless as possible. Companies are asking employees to work remotely. However, doing so increases risks like losing productivity due to traditional, inefficient remote access methods, or data breaches from home computers that tend to be more vulnerable than those on a corporate network."
Triofox's built-in ransomware protection is a notable member of an extensive arsenal of security, reporting and monitoring features. It uses behavioral heuristics to actively monitor all Triofox clients for any unusual activity, quarantine them at the first sign of possible attack, and alert the administrator to the neutralized threat.
Other prominent features include versioning and offsite backup of file server assets to simplify recovery from disasters like accidental deletions. Triofox also prevents "data sprawl" by storing data on existing file servers, while simultaneously governing remote access with existing permissions. However, if so desired, Triofox does provide the option to instantly move file servers to the cloud. There is also no vendor lock-in and organizations can continue to access their data with or without Triofox.
In his final comments, Azam noted:
"We're seeing more workers that need to access corporate data remotely, at home or from personal devices. This emphasizes the need for organizations to both empower and manage employee mobility to satisfy the tension between conflicting demands for security, agility and productivity. Thankfully, we designed Triofox with the file server integration features and flexibility required to resolve those conflicts."
To learn more, please go to https://www.triofox.com or email us ticket@triofox.com or call us at +1 888 955 6656.
About Gladinet Inc.
Gladinet Inc. offers solutions that enhances existing Windows file servers with secure remote access, mobile file sharing, data protection, and cloud migration, while addressing business concerns about security, privacy, compliance and control. Gladinet Inc. is headquartered in Boca Raton, FL and can be reached at https://www.gladinet.com/ or call us at +1 888 955 6656.
Posted in: Computers & Software,Technology,U.S,Website & Blog
TEKLYNX International's Travis Wayne Named to the 2020 FOOD LOGISTICS Champions: Rock Star of the Supply Chain
TEKLYNX International, the world's leading barcode and RFID labeling software developer and solutions provider, today announced Product Manager Travis Wayne has been named a 2020 Food Logistics Champions: Rock Star of the Supply Chain by Food Logistics. The esteemed list, featured in the March 2020 issue of Food Logistics magazine, recognizes influential individuals in the food and beverage industry whose achievements, hard work, and vision have shaped and attained milestones in safety, efficiency, productivity and innovation through the global food supply chain.
"I'm proud to be named a 2020 Food Logistics Champion: Rock Star of the Supply Chain because of TEKLYNX' commitment to the global food supply chain," stated Travis Wayne, Product Manager, TEKLYNX. "At TEKLYNX, we stay aligned with food labeling regulations across the globe, new approaches for food traceability, and partner with customers in the food industry to achieve success. Advancing food labeling practices is essential to making educated decisions around our food choices. As the food industry continues to evolve it is essential for companies to be able to confidently adjust to new labeling requirements and improvements."
Wayne is a highly-respected supply chain thought leader and brings 15+ years of experience in Information Technology and Product/Project/Portfolio Management. In his role as Product Manager for TEKLYNX, Wayne is responsible for the development and success of TEKLYNX suite of barcode label design software solutions that streamline efficiencies for companies throughout the food industry.
Under Wayne's leadership, TEKLYNX has developed a streamlined governance model and refined product management processes, enabling increased product quality while decreasing time-to-market. Ensuring that barcode labeling software is automated, secure, compliant and scalable is crucial for the success of food industry customers. For example, in the past year, TEKLYNX successfully offered six new major version releases and ten point releases that continuously meet customer demands and needs, and stay on top of (or ahead of) food industry compliance.
TEKLYNX is the only barcode labeling solutions provider to offer subscription licensing – allowing food and beverage manufacturers, wholesalers and retailers to start using TEKLYNX for a low cost of entry – while offering a portfolio of tiered solutions that are designed to grow with companies over time. Some of the most renowned companies in the food industry rely on TEKLYNX.
To view the 2020 Food Logistics Champions: Rock Stars of the Supply Chain list visit foodlogistics.com and to learn more about TEKLYNX barcode labeling software solutions visit teklynx.com.
About TEKLYNX International

TEKLYNX International helps supply chains work better. Today, more than 750,000 companies in over 170 countries trust TEKLYNX integrated barcode and RFID label design products and the people behind its solutions to make barcode labeling operations efficient, accurate, secure and industry compliant. With over 30 years of experience, TEKLYNX is the global leader because of its reliable software and superior customer support. To learn more about how the TEKLYNX community helps companies across industries worldwide, visit teklynx.com or call TEKLYNX in your region. Barcode Better™ with TEKLYNX.
Posted in: Computers & Software,Technology,U.S,Website & Blog
Katalon Establishes Partnership with CircleCI to Augment Go-to-Market Software Delivery
Katalon LLC announced a partnership and integration with CircleCI to ensure a secured integration between the codeless test automation solution and the continuous integration and delivery platform, respectively.
Katalon provides a robust cross-platform test automation solution that supports web, application programming interface (API), mobile, and desktop testing for teams with minimum requirements for programming skills. CircleCI is a leading continuous integration and delivery platform used by the world's best engineering teams to radically reduce the time from idea to execution.
"Continuous integration is at the heart of digital transformation," said Dung Ngo, VP of Product at Katalon. "We believe this partnership will help our mutual end-users to move further than just automated testing: to empower continuous testing through intelligent automation, and build frictionless CI/CD pipelines that drive sustainable values for their organizations."
This partnership introduces the official support of CircleCI to Katalon, through the partner-certified plugin called "Katalon Orb." Orbs are "shareable packages of configuration elements, including jobs, commands, and executors," according to CircleCI. Katalon Orb expands the integration capability of Katalon with continuous integration and continuous delivery (CI/CD) tools, while offering a host of benefits to the end-users in both engineering and quality assurance teams, including:
Ensuring security and eliminating risks when integrating Katalon with CircleCI
Reducing the time and effort put into configuring, writing test scripts, or integrating Katalon and CircleCI
Improving the reusability of test artifacts, jobs, commands, and executors when designing test cases
Katalon Orb is available for installation on the CircleCI platform.
"This new integration is the next step to complement our goal of making our product a comprehensive tool that meets the demand for project scalability and team collaboration. The partnership with CircleCI enhances Katalon's native integration with other DevOps tools, and sets up seamless integration solutions for teams with specific needs for their CI/CD ecosystem," Dung continued.
This collaboration also marks a new name added to the Katalon Partner Program. Along with the constant growth in product development and customer experience, Katalon also centers on expanding its community of partnership to provide a wider scope of test automation needs for the end-users. Learn more about Katalon Partner Program.
About Katalon

Katalon is a leading provider in software test automation solutions. The company offers a flexible platform for web, API, mobile, and desktop testing that fits teams and projects of any size, for any purpose—from creating tests, execution, reports, to seamless integration with the CI/CD ecosystem.
Katalon is widely adopted by a global community of users across 160+ countries. It is recognized as a top automation tool by prestigious reports such as Gartner, Capterra, and IT Central Station. Katalon solutions include Katalon Studio, Katalon TestOps, Katalon Recorder, Katalium, and Katalon plugins. For more information, visit https://www.katalon.com
About CircleCI

CircleCI is currently the largest platform for continuous integration and continuous delivery pipelines. CircleCI provides teams with what they need to scale up quickly and effectively. With more than 1 million builds a day across Linux, macOS, Docker, and Windows build environments, CircleCI was named a Leader in cloud-native continuous integration by Forrester in 2019. For more information, visit https://circleci.com
Posted in: Computers & Software,Technology,U.S
Upcoming Episode of Advancements Series to Explore Innovations in Infrastructure Data Collection
Advancements with Ted Danson will focus on leading-edge infrastructure data collection technologies during 3Q/2020. Check your local listings for more information.
This segment will explore Hydromax USA (HUSA), a professional services firm specializing in advanced data collection in support of locating and assessing the condition of the country's aging water, wastewater, and natural gas conveyance systems.
Viewers will learn how HUSA's vast experience with new technologies and techniques empowers contractors, engineers, and utility owners to make the best decisions regarding their buried infrastructure.
"The marriage of technology and infrastructure, with verifiable mapping, is aiding the gas, water, and wastewater industries in ensuring the sustainability and reliability of energy to the world," said Jon A. Smith, CEO of Hydromax USA. "While there remains much to do, Hydromax USA's innovation and partnerships with leading organizations, utilities, and municipalities is advancing this industry in new ways daily. We ensure that our customers understand the present condition, while protecting the safe future of energy."
The show will also teach viewers how HUSA utilizes the largest array of technologies, within one company, to provide the broadest capability in the country to assess buried infrastructure.
"With a strong record of performance, HUSA brings a unique ability to meet the needs for advanced data collection," said Brett Ferrigan, senior producer for DMG Productions and the Advancements series. "We look forward to exploring how this technology is helping to improve infrastructure throughout the country."
About Hydromax USA:

Hydromax USA is a leading national provider of infrastructure condition assessment services for the gas, water, and wastewater industries. Leveraging innovative and proprietary GIS-Centric solutions, HUSA's comprehensive assessment and analytics platforms provide the highest level of actional business intelligence, while ensuring public safety and improving asset management. For more information, visit: http://www.hydromaxusa.com.
About Advancements and DMG Productions:

The Advancements series is an information-based educational show targeting recent advances across a number of industries and economies. Featuring state-of-the-art solutions and important issues facing today's consumers and business professionals, Advancements focuses on cutting-edge developments, and brings this information to the public with the vision to enlighten about how technology and innovation continue to transform our world.
Backed by experts in various fields, DMG Productions is dedicated to education and advancement, and to consistently producing commercial-free, educational programming on which both viewers and networks depend. For more info, please visit: http://www.advancementstv.com.
Posted in: Education,Technology,U.S
XOP Networks Offers Conference System Lease Program to Assist Companies Coping with Employees Working from Home Challenge
In response to unprecedented need for employees to work from home, XOP Networks, a developer of Audio Conference and Web Collaboration bridges announces a conference bridge lease program.
As part of this program, XOP Networks will:
Will load latest conferencing software on a customer owned physical or virtual server.
Enable conference bridges that scale from 24 ports to 1000 ports
Lease software in 3-month increments
Allow 90% of the amount spent on lease towards an equipment purchase if the customer desires to do so at a later date
Our latest software release offers following advanced features for further facilitating work from home:

Join the Audio Conference using computer audio or dial in via PSTN
Share webcams for Video Conferencing
Share desktop or specific application (Word, Excel etc.)
Share a whiteboard for brain-storming etc.
Use webinar for training, product demonstrations
Optimize bandwidth utilization
Bulk provision Moderator accounts and conferences quickly using our REST API
"We are pleased that we are able to help companies meet their employees' needs for being able to work from home. We can have our conference bridge installed and working on a customer's server in an hour or less", said Sudhir Gupta, CEO of XOP Networks.
To take advantage of this offer call us at 972-590-0201 or email us at sales@xopnetworks.com.
About XOP Networks
Headquartered in Dallas, Texas, XOP Networks was founded in January 2003 and is backed by a seasoned management team. Deployed at multiple Cellular Operators, Fortune 100 companies, CLEC/IOC customers, Government organizations, DOD networks (Air Force, Army and Navy) XOP Networks' products allow customers to boost employee productivity, increase business efficiency and enhance emergency communications. Having both TDM and VoIP interfaces, XOP products allow customers to seamlessly transition their Value-Added Services from legacy circuit switched networks to VoIP based packet switched networks.
For more information about XOP Networks, visit its website at http://www.xopnetworks.com.
Posted in: Technology,Telecom,U.S
Trident at AIU Education Professor Receives Teaching Excellence Award
Trident at American InterContinental University (Trident at AIU) is proud to announce Dr. James "Greg" Hodges as the recipient of its Teaching Excellence Award for the Summer 2019 quarter. From the pool of faculty nominated, Dr. Hodges was selected as the winner by University leadership based on the strength of the positive feedback submitted by students.
"Dr. Hodges enhanced the online teaching tools by providing real world examples, asking for everyone's thoughts on the scenario, and then posting what the final outcome was in the real situation," states student Kristine Boyle. "What an amazing way to see what we are learning applied to actual situations in schools! I am very grateful for being a part of Dr. Hodges's class and hope that I am able to benefit from his teaching style in future courses."
Dr. Hodges joined Trident at AIU's College of Education as a part-time professor in 2014, instructing doctoral level courses. He has held several positions in higher education including his current position as a Chief Academic Officer at a community college. Prior to this he worked as an elementary school teacher for 12 years.
A lifelong learner and teacher, Dr. Hodges has traveled to more than 70 community colleges across the country, training thousands of faculty members and administrators through workshops on cooperative learning, guided pathways, critical thinking, developmental education reform, and the national student success agenda.
He has been a member on boards of directors for local, state, and national organizations, including his current tenure with the Boys and Girls Club of the Blue Ridge and the Fellowship of Christian Athletes.
Dr. Hodges is a graduate of Trident at AIU's Ph.D. in Educational Leadership program. He holds a Master of Arts in Educational Leadership from the University of Phoenix, Master of Arts in Biblical Studies from Bethany Theological Seminary, and a Bachelor of Arts in Education from the College of William & Mary.
About Trident at American InterContinental University

Founded in 1998, Trident at American InterContinental University (Trident at AIU) is part of an online postsecondary university serving adult learners. Trident at AIU uses the EdActive™ learning approach, which employs case-based learning in an online setting to teach real-world relevant critical thinking skills designed to enhance the lives and education of students. Trident offers quality associate, bachelor's, master's, and doctoral degree programs and certificates, led by a qualified faculty team, over 80% of whom have doctoral degrees. Trident at AIU is regionally accredited by the Higher Learning Commission (hlcommission.org) and has more than 22,000 alumni with a military affiliation. The University has received multiple acknowledgements from Washington Monthly, Military Times, and Military Advanced Education & Transition for their dedication to student success. Visit http://www.trident.edu or call at (855) 290-0290 to learn more about Trident at AIU's wide range of educational options.
Posted in: Education,Technology,U.S,Website & Blog
Global Banking & Finance Review® Accepting Entries for Their Prestigious 10th Annual Awards
Over three million people read Global Banking & Finance Review annually, counting on us for our well-respected news, views, and analysis. This stretches across quite diverse areas touching on everything of solid importance in the extended international banking and financial spaces. A major highlight the platform delivers every year is the Global Banking & Finance Awards
In exciting news, we have recently announced that we are accepting entries for 2020's awards and encourage interested parties to fill out a submission form on the platform's official website. Entering is quick, easy, and completely free. By nominating, you stand to boost your company's awareness, reputation, and leadership. Winning is universally considered a sign of quality for companies in the banking and financial world and is highly sought after.
"We are always excited for this time of year and getting to see who enters our Award competition," Wanda Rich, Editor from Global Banking & Finance Review. "Every year more companies enter, and the competition becomes more and more competitive. Determining the top choices is something we take very seriously."
The Awards reflect the innovation, achievement, strategy, progressive and inspirational changes taking place within the Global Financial community. The awards were created to recognize companies of all sizes which are prominent in particular areas of expertise and excellence within the financial world.
The entire Awards process from start to finish is free of charge. This includes nomination, selection and announcement of the winners on the website https://www.globalbankingandfinance.com and on the print magazine.
The 2020 Awards are likely to be the most competitive yet, along with carrying the largest amount of recognition for winners.
For more information be sure to visit www.globalbankingandfinance.com.
Posted in: Business,Finance,Media & Communications,Technology,Telecom
Sudrania Fund Services Raises Strategic Additional Investment From Bodhi Tree Asset Management
Sudrania Fund Services Corp ("Sudrania"), the fund administration and technology company that is revolutionizing the buy side fund management with its Seamless suite of technology solutions today announced that it has completed another round of strategic seed investment by Bodhi Tree Asset Management ("Bodhi Tree"). This investment is a follow up from an initial investment made by Bodhi Tree in October 2018 and will help the company aggressively expand its sales and marketing efforts as well as broaden and accelerate professional services and product development. Shalin Madan, the CIO of Bodhi Tree will join Sudrania's Advisory Board.
This financing builds on an exceptional year for Sudrania which saw a rapidly growing roster of clients, multi-fold growth of revenue, and market momentum in the competitive yet lucrative field of fund administration and fund technology. Sudrania currently has approximately 150 clients and a staff of 160 across its offices in Chicago, Boston, India, and Hong Kong.
Sudrania's offering is well positioned with the rapidly changing demands of fund management industry that is looking to get away from time consuming and expensive manual processes or aged software solution that lack modern day computing power and flexibility.
"We believe that the mindset of the current generation of fund managers is very different. They are no longer looking for big bank administrators, they understand technology and the value it can bring to their business, and they are looking to keep their businesses cost-efficient", said Nilesh Sudrania, Founder & CEO of Sudrania. "We believe the market will continue to shift towards more capable technology offered by fintech companies such as Sudrania, and establish a new high watermark of expectations that fund managers have from their fund administrators."
Seamless platform consists of a portfolio of products geared towards investment managers in different verticals. At the heart of the platform is "Seamless Investment Backoffice" that provides the framework for other models of Seamless that include (Seamless CTA, Seamless Crypto, Seamless RIA, Seamless PREQ, Seamless NAV, Seamless Impact, and CommonSubDoc).
Key features and benefits of the Seamless platform include a daily processing of:
Full-scale generate ledger system
Complete taxlot portfolio accounting,
Wash sales and capital gains calculations,
Automated expense amortizations, waterfall calculations, fee calculations
Market data connectivity with third party sources,
Income allocation,
Fee calculations,
Performance reporting,
Investor reporting via a dedicated portal.
Complete cyber-security ensured, and certified with SOC1, SOC2, and SOC3 audits
"As an emerging fund manager who adopts the latest technologies, I immediately noticed that our industry's back office solutions were far behind in the adoption of technology. A situation like the COVID-19 pandemic is an example of just how important it is for modern investment managers to have vendors that use automated technologies, can work flexibly, have a global workforce, and who can offer a much needed continuity of business as well as a much higher level of visibility into the portfolio and account value on a day to day basis to the fund managers as well as investors," said Bodhi Tree CIO Shalin Madan. "As a fund manager, I know how important it is to have the account values for each investor at any time. I believe the monthly reporting cycle is antiquated and reflects a broken system, for which Sudrania has created a ground-breaking solution."
About Sudrania
Sudrania Fund Services Corp is a Chicago, IL based fund administrator marrying the power of cloud computing with boutique service model scaled for volume. Sudrania's Seamless platform is an integrated portfolio, fund, and investor accounting system with full scale general ledger system, capability to process millions of trades, and produce daily NAV for hedge funds, crypto funds, commodity pools, mortgage funds. This integrated software system is equally capable of supporting automation of capital calls/distribution and other complex calculations for private equity and real estate funds as well as SPVs. In its short history of three years, Seamless platform has been shortlisted among top fund accounting system many times by industry leading publications. For more information, visit https://www.sudrania.com.
About Bodhi Tree
Bodhi Tree Asset Management, LLC is a Fort Lauderdale, FL based investment management and family office advisory firm serving ultra-high net worth clients. Bodhi Tree offers a monthly subscription based quantitatively driven stock portfolio on the Interactive Brokers platform. Bodhi Tree also offers a cost-effective Back Office solution to family offices and alternative investment managers through its strategic partnership with Sudrania. For more information, visit http://www.btam.co.
Posted in: Business,Computers & Software,Professional Services,Technology,U.S
Registration Closing Soon for Virtual Cybersecurity Competition
For high school and college students looking to test their cybersecurity skills and talent, sign up for the National Cyber League (NCL) virtual competition before registration closes on March 20.
NCL gives students a real-world cybersecurity experience, all from the comfort of your institution or home. It allows players of all levels practice their cyber-savviness in an online gymnasium and then compete against others individually and then on a team. Players will face a series of challenges where they can display their abilities to break into vulnerable websites, recover from ransomware attacks or identify hackers from forensic data, in other words, work on tasks they would do in an actual cybersecurity professional scenario.
The challenges are defensive and offensive puzzle-based, capture the flag style. They are based on the CompTIA Security+ and EC-Council Certified Ethical Hacker performance-based exam objectives. From this competition, students further develop their skills and as a bonus receive scouting reports of their performance that can be viewed by potential employers.
"Every season, we include challenges relevant to current security trends. Last spring, it was ransomware. Last fall, it was cloud security. We're excited for players to experience what we've planned for this season," said Franz Payer, CEO of Cyber Skyline, the competition platform for NCL.
High school students can get a jump-start on a career path in cybersecurity while college students can work one step closer to a lucrative cybersecurity career by competing in the NCL.
The Spring Season runs from March 19 through May 15. Registration is through March 20 and until March 24 when registration ends. For more information or to register, visit nationalcyberleague.org.
About National Cyber League:

Founded in 2011 by an alliance of public agencies dedicated to developing the next generation of cybersecurity professionals, the NCL is a nonprofit cybersecurity competition that measures the ability of students to perform real-world cybersecurity tasks. Powered by industry-leading cybersecurity skills evaluation technology from Cyber Skyline, the competition has students identify hackers from forensic data, break into simulated bank websites, recover from ransomware attacks, and more.
Posted in: Computers & Software,Technology,U.S
Future of School Annual Rural Summit Focused on Digital Learning
A diverse group of national leaders in education recently gathered in Austin, Texas, to share critical insights on advancing K-12 rural education through digital learning. Online and blended learning programs have supported rural students and schools in myriad ways for years, but for many educators and advocates, the pivotal role digital learning plays in boosting student engagement and academic achievement in rural education has not been widely explored. The second annual Rural Students Digital Learning Summit, which took place on February 23 and 24, 2020, was sponsored by the Virtual Learning Leadership Alliance (VLLA) and Future of School (FoS), and focused on providing equitable access to online and blended learning in remote areas.
Representatives from the summit's sponsors, including Robert Currie, President of VLLA, and Robyn Bagley, a Founding Board Member of FoS, kicked off the event with thought-provoking remarks. "The schools and districts of rural America face unique challenges related to equity and access," Bagley said. "Technology can be the equalizer to provide those students the well deserved resources afforded the nation's most populous and affluent areas. Enabling districts to retain teachers in onsite roles as well as tap into the expertise of those located elsewhere will transform learning for rural populations."
Through talks, presentations and open discussions in large and small group formats, attendees from 21 states and the District of Columbia shared their experiences as educators and nonprofit leaders, and explored trends, obstacles, opportunities and emerging shifts impacting rural school districts throughout America.
A few of the Summit's highlights:
Three state-level presentations by representatives from the Colorado Department of Education, the Vermont Virtual Learning Collaborative and Virtual Arkansas underscored the impact that strong or absent policy has on expanding access to high quality learning opportunities.
Three presentations of creative strategies in Montana, North Carolina and Tennessee that involved philanthropy, state virtual programs, and/or community organizations and directly increased access and equity.
The Summit's youngest attendee and speaker who has yet to receive her diploma gave a personal perspective on digital learning. Satara Ehnes, a 17-year-old senior at Julesburg High School in Colorado, will graduate with 50 college credits and an associate's degree from community college two days prior to her high school graduation in May—an accomplishment made possible by virtual learning programs.
"Equitable access is a work-in-progress and much more needs to be done in order to provide high quality online learning opportunities to even the most remotely located schools," said Amy Valentine, Executive Director of Future of School. "Our students' futures depend on it, regional economies depend on it, and the competitiveness of our workforce depends on it."
Attendees tackled current educational policy, solutions to teacher staffing shortages, the imperative for broadband internet, emerging social and community issues, and workforce readiness, among others, aiming to shed light on topics that shape a meaningful, rigorous and relevant K-12 learning experience despite geographic challenges.
The Summit proved to be an intimate, interactive forum for national rural education leaders, leading practitioners and supporters of online and blended learning to discuss and develop meaningful approaches that will improve rural education in the 21st century.
The Future of School fully supports the evolution of America's rural school districts toward readiness for an increasingly interconnected world. It is committed to an active dialogue on progress made in 2020 and exchanging ideas and finding new ways forward—both at the third Annual Rural Students Digital Learning Summit in 2021, and via a digital resource repository now in the early stages of development. Sign up here to receive updates on these efforts.
Future of School is a 501(c)3 public charity amplifying the importance of K-12 learning as a catalyst for student readiness and a stronger society through programs and events, including its celebrated impact summits, original publicly shared research, grants for educators innovating in their schools and a scholarship program that rewards students diversifying their educational pathway.
The Virtual Learning Leadership Alliance is an association of innovative virtual programs in the U.S. Consisting largely of state virtual schools and several consortia, the member organizations serve well over a half million online course enrollments annually. The Virtual Learning Leadership Alliance (VLLA) is a 501(c)(3) educational nonprofit organization that includes Colorado Digital Learning Solutions, Georgia Virtual School, Idaho Digital Learning Alliance, Illinois Virtual School, Indiana Online, Michigan Virtual, Montana Digital Academy, Nevada Learning Academy, NC Virtual, Virtual Arkansas, VHS Learning, Virtual SC, Virtual Virginia, Wisconsin eSchool Network and Wisconsin Virtual School.
Posted in: Education,Technology,U.S,Website & Blog
Nonprofits Can Now Rent Technology to Boost Fundraising
In a class of its own, Karma Payments provides nonprofit organizations with technology unavailable elsewhere in the industry. This includes cashless payment device rentals—no other company has this option. Ideal for donations at special events, Instant Karma invites instant philanthropy for charitable causes by securely accepting mobile payments and all major cards. It is small enough to be handheld and can be rented daily, weekly, or monthly. Organizations may customize their device to spark brand awareness.
Advantageous year-round, Instant Karma particularly flourishes for spring fundraisers. Donations can be made anytime, anywhere—on trails, in parks, city plazas—attended or unattended. Think 5K races, charity golf tournaments or softball games, school or craft fairs, silent auctions, plant, bake, or book sales, garden galas, community festivals, pet parades, Memorial Day benefits, Earth Day celebrations…the sky is the limit.
Renting is a smart choice for short-term payment processing needs. It is cost-effective (why purchase a device for one-time use?) and worthwhile for optimal fundraising (cashless giving raises the average cash donation amount by 300 percent. Some nonprofits have seen a 600 percent increase).
Two weatherproof, easy-to-use models are available to rent. No login or lengthy setup necessary, simply power on and donations can be made.
Tabletop:

Designed for use in a fixed location (countertop, lobby, market); beneficial in brick and mortar institutions or outdoor areas with access to power.
Mobile:

Accepts donations on-the-go, complete with an ergonomic handle, ultra-light design, an eight-hour battery.
Instant Karma uses wireless connections for payments. If no signal is available, up to 1500 transactions can be stored offline and processed once a connection is restored.
"We value nonprofits and their charitable work," says Chris Fleisch, co-founder and vice president, business development, Karma Payments. "To support their worthy efforts, we offer beneficial, cost-effective technology. Our rental program saves expensive product costs while increasing contribution opportunities."
Renters receive the same white-glove treatment as buyers: Top quality products, low-cost processing, and impeccable 24/7 customer support. All rentals require a minimum one week contract. If desired, the device may be purchased at any point during the rental process; if prior to the contract's conclusion, the rental fee (not including service fees) will be credited to the purchase. Bulk pricing is available.
About Karma Payments

Karma Payments' mission is to "Make a Positive and Lasting Impact in the World" by providing secure, purpose-driven, and innovative payment solutions for nonprofit partners, saving expensive processing fees. For more information about Karma Payments, their products, and services visit KarmaPayments.com or contact a nonprofit specialist at support@KarmaPayments.com
Posted in: Computers & Software,Technology,U.S
Remcom Announces Advanced Phased Array Design Capabilities In XFdtd EM Simulation Software Including Superposition Simulation And Array Optimization
Remcom announces superposition simulation and array optimization in the latest release of XFdtd® 3D EM Simulation Software, further expanding the software's capabilities for high-frequency 5G device design and beam steering analysis.
Antenna arrays are essential for maximizing the performance of complex 5G-enabled devices, facilitating the use of beam steering, spatial diversity, and other techniques to improve throughput. Determining the numerous beam states for a new design can be tedious due to the hundreds or thousands of port phase combinations. XFdtd enables users to leverage the electromagnetic principle of superposition to reveal these combinations with a single simulation. By combining steady-state results from the simulation, XFdtd efficiently determines the port phases that maximize the far zone coverage in each direction.
Sam Seidel, XFdtd project manager, said, "Remcom continues to develop XFdtd to keep pace with the growing complexity of 5G design requirements and the advanced technologies that our customers are utilizing to meet them. Superposition and array optimization enable highly sophisticated array analysis and beam steering while removing slowdowns that impede the design workflow."
For more information on the latest release of XFdtd, please visit Remcom's website. XFdtd users without an active Remcom Professional Support contract can upgrade to the latest version by contacting sales.
About Remcom:
Remcom provides innovative electromagnetic simulation and wireless propagation software for users in the commercial wireless industry and government sectors. Remcom's products are designed to work together to provide complete and accurate results when modeling propagation with real-world devices in real-world scenarios. Remcom is committed to its customers' unique needs, offering flexible licensing options for installations of all sizes as well as custom engineered solutions.
Posted in: Computers & Software,Technology,Telecom,U.S
USARAD Including its SecondOpinions.com Division, Launches a Screening Program to Provide Medical Expertise During the Current COVID-19 Pandemic
USARAD Holdings Inc., the leading US Joint Commission Accredited teleradiology and telemedicine company backed by Siemens Healthineers and several healthcare VC firms introduces a first of its kind COVID-19 screening program. The virus has already infected over 100,000 people in over 100 countries and has caused over 4,000 fatalities to date. Over the years, USARAD through its SecondOpinions.com division has provided multi-specialty consultations to patients in over 100 countries for innumerable medical conditions and is ready to assist during the current global health crisis.
Early detection of Coronavirus is essential due to the lack of a known treatment or vaccine. Research by several leading academic radiology departments in USA and China has recently been conducted demonstrating the important role of CT diagnostics. For example, in a study conducted by Mount Sinai Health System and published in the industry-leading journal Radiology, a chest CT scan has significantly outperformed laboratory testing in diagnosing COVID-19 at 98% accuracy vs. 71% results using gene sequencing concluding that CT may be used as the primary screening tool for COVID-19.
USARAD introduces a program where a network of Chest CT-trained Radiologists provides screening diagnostics and consultations alongside other medical specialists including pulmonologists and infectious disease experts. The program is launched in partnership with Medical Diagnostic Web (MDW.io) team operating a blockchain-powered radiologist marketplace which connects hundreds of radiologists readily available to provide radiological diagnosis. The initiative will be utilizing AI algorithms as decision assistive mechanism for the team of radiologists as imaging quantities mount.
Research confirms that certain patterns of atypical pneumonia is seen on CT in patients affected with COVID-19, including ground-glass opacities, peripheral areas of consolidations, "crazy paving" as well as absence of certain findings. The evolution of such findings is critical in understanding the timeline of the disease as well as predicting progression and course of the infection. Radiology specialists are available around the clock to help diagnose or exclude COVID-19. The images can be uploaded via intuitive online service available around the clock. The team of multiple other specialists and subspecialists is also available on stand-by.
Planning for long-term preventive measures, USARAD has partnered with its Israeli Nanox Imaging (http://www.nanox.vision) that has developed a novel medical imaging system based on a digital X-ray source providing highly mobile, small footprint medical screening systems at a fraction of the cost of the industry-standard scanners. The partnership collaborates with global government health authorities planning potential global deployment of thousands of scanners at ports, border waypoints and community medical centers that may enable efficient and timely preventive screening for future outbreaks of COVID-19 or other similar pandemics.
USARAD and Nanox recently announced a joint distribution deal for the deployment of 3,000 Nanox.ARC scanners in the US. Once cleared by the FDA, the Nanox scanners will be dispatched into the high risk areas to provide immediately screening capabilities. Imaging devices can significantly limit patient transportation, facilitate disinfection and therefore lower the risk of virus transmission.
Dr. Michael Yuz, Founder & CEO of USARAD stated: "USARAD together with its strategic partners, MDW and Nanox is available to help patients world-wide during the current COVID-19 pandemic by leveraging the latest science and technology. We are doing everything possible to reduce panic, bringing the peace of mind to millions of patients world-wide."
About USARAD Holding Inc. including SecondOpinions.com

USARAD Holdings, Inc. is a global telemedicine company consisting of two operating divisions – USARAD and SecondOpinions.com. USARAD is a radiology services provider offering interpretations of a full range of sub-specialty and general radiology patient studies. With an existing advanced technology network connecting medical facilities to board-certified radiologists and support staff, USARAD offers radiology services in all 50 states as well as more than 15 countries. Via its unique Radiology-On-Demand® platform, USARAD is committed to providing timely and responsive image review 24/7. SecondOpinions.com® is a medical consultation and second opinions leader providing health care customers, physicians and consumers with expert opinions from all medical specialties and sub-specialties. For more information please visit http://usarad.com & http://secondopinions.com.
About MDW.io

Medical diagnostic web (MDW.io) is first of its kind decentralized autonomous organization operating Blockchain based platform which utilizes smart-contract to facilitate complex B2B and consumer transactions between various stakeholders in radiology field. MDW.io designed to facilitate remote medical diagnostic consultations including radiologic and multispecialty second opinions, peer reviews, primary and preliminary teleradiology interpretations as well as synchronous and asynchronous telemedicine visits. MDW puts patients in forefront of their diagnostic health records by allowing patients and their diagnostic providers to upload findings in a secure, anonymized manner to be further evaluated by the community. For more information please visit http://mdw.io.
About Nanox:

Nanox, founded by the serial entrepreneur Ran Poliakine, is an Israeli corporation that is developing a commercial-grade digital X-ray source designed to be used in real-world medical imaging applications. Nanox believes that its novel technology could significantly reduce the costs of medical imaging systems and plans to seek collaborations with world-leading healthcare organizations and companies, to provide affordable, early detection imaging service for all. For more information, please visit http://www.nanox.vision.
Posted in: Technology,U.S
SAFE Health Selected as Finalist for 2020 SXSW PITCH
SAFE Health, a digital healthcare company focused on sexual health, has been selected as a finalist for the 12th annual SXSW Pitch® (formerly SXSW Accelerator) for its debut product, The SAFE App, which lets potential partners verify each others sexual health status and provides the easiest and least expensive way to get tested.
SXSW Pitch is the marquee event of South by Southwest® (SXSW®) Conference & Festivals (March 13 - 22, 2020) Startups Track, where leading startups from around the world showcase some of the most impressive technology innovations to a panel of hand-picked judges and a live audience. Out of the 937 companies that applied to present at SXSW Pitch 2020, SAFE was selected as one of 5 finalists in the Health, Wearables & Wellbeing category.
The event will be held the first weekend of SXSW Conference & Festivals on the fourth floor of the Downtown Hilton Austin, Salon D/E. The event will then culminate with the 2020 SXSW Pitch Awards Ceremony on Sunday evening, March 15, where winning startups from each category and a Best in Show winner will be announced and honored. SAFE and fellow finalists in the Health, Wearables & Wellbeing category will present on March 15th.
"Our goal is to empower young people to respect and protect their sexual health,"said Lauren Weiniger, co-founder of SAFE. "We created a tool to make it easier, and a little less awkward, to have the conversation about sexual health between partners, while also providing access to easy and affordable testing. It's not about blame or shame, our mission is to end the spread and stigma of STDs in our lifetime."
According to the CDC, STD rates have reached an all-time high in the U.S. for the fifth year in a row. Dating apps and social networks have played a significant role as they have expanded dating pools, enabling STIs to spread rapidly through diverse populations. The HIPAA-compliant SAFE App is the first real-world, practical solution to addressing what the CDC now calls a "public health crisis." The app lets people import their medical records from any provider, so they can show their status on their phone (and confirm the status of their partners). The app also lets users schedule affordable testing at 30,000 locations across the country.
"For over a decade, SXSW Pitch has played a pivotal role in...giving promising companies the resources they need to succeed when it matters most and providing high profile exposure," said SXSW Pitch Event Producer Chris Valentine. "Of the 503 companies who have participated since the competition's inception, over 75 percent have gone on to secure funding and 16 percent have been acquired."
For more information about SXSW Pitch and to view the complete list of finalists, visit: https://www.sxsw.com/pitch.
About SAFE App

SAFE App lets people show their verified STD status on their phone, and provides the easiest and least expensive way to get tested and treated. Users can import their medical records for free from any provider, or book testing at over 30,000 locations. SAFE has partnerships with many of the leading players in healthcare, including Quest, Labcorp, and Mayo Clinic. More than an app, SAFE is a movement to end the spread and stigma of STDs in our lifetime.
Download SAFE App here: http://www.safeapp.me
Photo assets can be found here: https://goo.gl/6zs47h
About SXSW

SXSW dedicates itself to helping creative people achieve their goals. Founded in 1987 in Austin, Texas, SXSW is best known for its conference and festivals that celebrate the convergence of the interactive, film, and music industries. An essential destination for global professionals, the event features sessions, showcases, screenings, exhibitions, and a variety of networking opportunities. SXSW proves that the most unexpected discoveries happen when diverse topics and people come together. SXSW 2020 will take place March 13 - 22, 2020. For more information, please visit sxsw.com.
Media Contact:
Bridget Garwood
The SAFE App
301-305-6284
Posted in: Computers & Software,Technology,U.S
Arreva Launches ExceedFurther - The Next Generation, All-in-One, Fundraising and Donor Relationship Management Software
Arreva, the trusted advisors and leaders of fundraising and donor relationship management software for nonprofits today, launches ExceedFurther, the All-in-One, Cloud-based, Fundraising and Donor Relationship Management Solution. ExceedFurther's complete collection of applications combined with user-friendly simplicity is unlike anything currently available for nonprofits. It enables organizations of any size to be more productive and work more efficiently and collaboratively to transform fundraising and cultivate donor relationships.
The launch of ExceedFurther represents the next evolution of nonprofit fundraising and donor relationship management software. ExceedFurther's best-in-class household and organization approach provides the ability to bring together donor relationships in a unique way for a 360-degree view and an accurate understanding of donors and constituents. The platform streamlines nonprofit workflow and simplifies administrative efforts by providing one unified application to manage donations, donors, constituents, campaigns, volunteers, events, grants, online fundraising, and more. ExceedFurther offers peer-to-peer fundraising, recurring giving, and an option to cover processing fees, allowing nonprofits to increase donor contributions effortlessly.
"Nonprofits are accustomed to using various disparate applications to manage their donor relationships and fundraising efforts. From managing events to volunteers, campaigns, households, donor databases, and more, siloed applications result in process inefficiencies and software integration challenges, making it difficult in the past to glean actionable insights," said David Blyer, Co-founder, President, and CEO of Arreva. "Now, with ExceedFurther, nonprofits can view and manage every interaction with every stakeholder and leverage powerful analytics to understand and improve donor stewardship and engagement," Blyer adds.
"We've realized tremendous value from this integrated solution," says Pat Burke, Director of Finance and Administration for The Jewish Federation of Northeast Florida. "This fully integrated system has significantly improved our ability to raise funds and attract and engage new donors while saving us time and money."
Nonprofits also enjoy access to trusted advisors and in-house nonprofit experts offering best practices and hands-on product training and resources. "Without Arreva, what we do would be impossible. Arreva provides a one-stop-shop solution for our organization," says Soraya Rivera-Moya, Executive Director of Ronald McDonald House of South Florida.
"ExceedFurther's powerful yet straightforward integrated software solution is a natural evolution," says Susan Packard Orr, Co-founder, and Chairman of Arreva. "Our mission at Arreva has always been about bringing the best technology and insights to nonprofit organizations so they can spend more time furthering their cause, and less time using technology."
Nonprofits around the world today are benefiting from the value of our all-in-one solution. Customers currently using both Arreva's online fundraising and donor relationship management solution have transitioned to ExceedFurther. To learn more about ExceedFurther and how your nonprofit can transform fundraising and cultivate and engage donor relationships, request a demo.
About Arreva

Arreva is the trusted advisor and market leader of fundraising and donor relationship management software for thousands of nonprofits, including the Boys & Girls Clubs of America, Ronald McDonald House Charities®, The Arc, The National Association of Police Athletic Leagues, and Meals on Wheels. ExceedFurther, Arreva's All-in-One, Cloud-based, Integrated Solution, is helping nonprofits worldwide further their mission, transform fundraising, and cultivate relationships with donors and constituents. With offices in Palo Alto, CA, Fort Lauderdale, FL, and Phoenix, AZ Arreva's team has served the nonprofit industry for over three decades. Learn more at Arreva.com.
Posted in: Computers & Software,Technology,U.S
Shred Cube Launches First-Ever USB Drag-and-Drop File Shredding Device
The Shred Cube, the first product of its kind ever to hit the market officially launched on March 1st, 2020, bringing in a new frontier of fast, reliable, secure and permanent digital file deletion.
The key features of the Shred Cube include an easy to use drag-and-drop or attach interface, PC and Mac compatibility, and the peace of mind that your unwanted documents and files are actually gone with no trace left behind. The compact hand held "cube" weighs in at a feathery 2.3oz and comes in at a one-time cost of 9.99. With rigid dimensions of 1 x 1 x 1inches, the tiny profile makes it easy to transport and use across multiple devices.
"Our mission is to bring the simplicity of an office paper shredder to the world of digital files, all in a simple plug-and-play USB device."
-Nancie Williams, Co-Founder
Traditional file deletion software and programs often make computers even more vulnerable to common cyber threats, like malware, ransomware, and trojans by using downloadable software. Unless a person is downloading a well-known, highly-vetted file remover over the internet, there's no way of knowing what they're potentially exposing their computer or network to. There is always a degree of risk, even with the most noteworthy file removal programs.
The Shred Cube promises what other file removers simply cannot. Since the Shred Cube is an external device, users can be confident that no additional files or logs will be added to their system that could potentially compromise the machine's or network's security. Being wholly external, the Shred Cube permanently deletes digital files, folders or bulk data without software needing to be downloaded. Even better is that Shred Cube does not save any of the user's data to the cube itself and there is no trace of the cube being used on the device.
Because of its ability to quickly and securely remove sensitive data, the Shred Cube has a number of applications across multiple industries, including:
Healthcare
Financial
Legal
Corporate
Industrial
Consumer
About Shred Cube

Founders Alex Stieb and Nancie Williams created the Shred Cube with privacy at the forefront, creating an easier way to permanently delete sensitive personal data, client information, or any other computer files from any device in an instant. Nancie's background in the legal field combined with Alex's background in industrial manufacturing and engineering was the perfect union when it came to offering the general public this incredible innovation in cybersecurity.
Posted in: Electronics & Semiconductors,Technology,U.S
Rybbon and Sawtooth Software Partner to Improve Survey Data with Automated Rewards
Rybbon, a digital rewards platform, announced today a partnership with Sawtooth Software, a premier provider of survey software tools specializing in conjoint analysis and MaxDiff. The new collaboration helps increase data collection for Sawtooth's client base by increasing response rates from respondents by offering gift rewards.
Rybbon's integration for digital rewards enhances Sawtooth's decades of experience in quantifying preference and choice modeling. Sawtooth's choice to partner with Rybbon will provide clients with greater depth and breadth of data when partnered with Rybbon's reward programs. Customers will eliminate the need to manage incentives by hand with an easy-to-use, automated, and self-run survey rewards system.
Rybbon's rewards integration with the Sawtooth Software platform simplifies and expedites the reward fulfillment process. Users can offer survey respondents a wide selection of eGift cards, Visa and Mastercard Prepaid cards, and charitable donations with all communication aligned to customer branding.
Sawtooth Software clients will also benefit from 100% refunds on all unclaimed rewards with up-to-the-minute status on respondents, reward choices, delivery, and reward claims. The rewards process is automatic and preserves response anonymity. By adding incentives to their survey programs, Sawtooth customers can boost response rates, thus increasing the quality of data they need.
"We are pleased to partner with Sawtooth Software," said Rybbon's CEO, Jignesh Shah. "Our software integrates to improve the value of their surveys and data analysis." Justin Luster, Director of Product Management at Sawtooth agrees, "This simplifies our reward fulfillment so we can focus our energy on providing even higher levels of client satisfaction with our choice analysis software."
About Rybbon
Rybbon puts the power of rewards to work for marketers and market researchers through its extensive catalog of e-gifts from top brands like Amazon.com and Panera. Rybbon also offers rewards suitable for international rewards programs such as Visa and Mastercard Prepaid card rewards that work in over 150 countries. Rybbon integrates with top marketing platforms like HubSpot, Marketo, Qualtrics, SurveyMonkey and Talkable to make gifting easy and automatic.
Learn more about Rybbon at http://www.rybbon.net.
About Sawtooth Software

Sawtooth Software provides advanced analytics and insights through conjoint analysis of survey responses. Their insights assist organizations in understanding their customers' preferences when given multiple choices. They provide survey platforms, consulting, and educational services.
Get started using Sawtooth Software at https://www.sawtoothsoftware.com/.
Posted in: Computers & Software,Technology,U.S,Website & Blog
Newline Teams Up with Logitech to Deliver Bundled Video Conference Solutions
Newline Interactive is pleased to announce it is teaming up with Logitech to deliver new bundled video conferencing solutions featuring Newline's interactive touch panels and Logitech conference room systems. Combining their products into a bundled offering gives people the ability to connect and collaborate with others, both in the same room and across the globe. These new solutions deliver a best-in-class video conferencing experience, as well as support future customer technology needs.
"The Newline and Logitech partnership is a powerful combination. This modular peripheral approach creates a unique solution that will allow us to make a positive impact on more of our customers." stated Chris Bradford, President of Newline.
The initial bundles come in two different configurations, easily tailored to the customer's needs. Each will include either the award-winning Newline interactive RS Series or IP Series touch panel paired with a Logitech Meetup and TV Mount XL for Meetup. These bundles will be available through all authorized Newline partners, including distributors, resellers, and system integrators, and you can find more about the products and how to purchase online.
With Newline and Logitech combined, this product team-up allows virtually every room, in every organization, the ability to have interactive videoconferencing at a competitive price point, placing customers on the best path for success.
More about Newline Interactive

Founded in 2012, Newline Interactive provides exceptional experiences to corporations, universities, government agencies, healthcare and schools with their multi-touch interactive panels, accessories, and software. The continual innovation and product development Newline practices result in the company's reputation as a world-class organization without exception. Find out more at newline-interactive.com.
Posted in: Services,Technology,U.S,Website & Blog
Otus Releases Enterprise Analytics Tools for the K-12 Sector
Otus, the fast-growing edtech company based in Chicago, announced today the release of two transformational data analytics tools: Historical Analytics and the Otus Data Consortium.
Historical Analytics is designed to give school and district leaders a simplified way to see trends in student academic performance, engagement and social-emotional development, and ultimately the impact these have on state and local assessments over time.
The Otus Data Consortium allows neighboring or like-minded school districts to share and compare their student performance data using their own criteria. In practice: a High School Principal can generate a report instantly to see all of the student data from every feeder middle school in minutes. This allows school leaders to develop better plans for incoming students, and eliminates countless face-to-face meetings with incomplete data.
"Every industry in the world has a way to measure performance in real-time, except for K12 education. This means that schools are being run by leaders who, by no fault of their own, are forced to make decisions using incomplete or stagnant data, like state-test scores," said Andy Bluhm, CEO and Co-Founder of Otus. "With Otus, school and district leaders can pair student performance on infrequent high-stakes and benchmark assessments with real-time classroom data on how students are performing each day. By providing a complete learning picture, administrators have the foundation to continuously improve educational outcomes more rapidly than ever before ."
The challenge to seeing data in real-time, is the ability to collect data in real-time. Otus has overcome this challenge by building dozens of teacher-friendly tools that seamlessly integrate into one platform. Otus encourages frequent use by teachers by eliminating the need to bounce from one disconnected app to another to complete all of tasks associated with their jobs. From grading assignments to texting families, all of these tasks live in one place: Otus.
As Otus is used by teachers and students, performance data is organized, aggregated and paired with legacy data (state tests, college entrance exams, benchmark assessments) and made available for an infinite number of analyses in real-time so that critical decisions can be made based on the best and most accurate information.
In addition to detailed data analysis (gender, student subgroup, ethnicity/race, extracurriculars, etc.) that individual school systems can practice with their own students, Otus also released the Otus Data Consortium tool which gives school districts the ability to share their data with one another for cross-district analysis and idea sharing.
"As K12 educators work to collaborate, the ability to compare a single district to similar school systems, or to schools anywhere in the world using a common set of data, is critical" said Dr. Keith Westman, COO of Otus.
"We have several school systems representing some of the largest and smallest districts in the country who were given early access to our analytics tools," said Christopher Hull, Chief Product Officer and Co-Founder. "The conversations that are happening in districts as a result of what the data is showing have been powerful. Teachers are seeing the results of their work in entirely new ways which have led to better conversations about student learning."
With this product release, current and future Otus clients have access to these powerful new analytics tools that shine a light, creating a clear path forward to maximize student learning.
Posted in: Technology,U.S,Website & Blog
Sandhya Padala - A Rare Inspirational Journey From a Traditional Indian Background to a Modern American Female Entrepreneur
Sandy Padala, the Founder and CEO of Rex Programming, is a global entrepreneur working towards bringing high quality technology education to everyone. Her journey from a conservative Indian family, to one of the few women in major corporate IT management roles, to a start-up founder, is an inspiration to everyone, especially for minorities, immigrants and women.
"I grew up in a 300 sq ft home that I shared with 5 people", says Sandy. "I was an average student who excelled in Math but was not good in History, Biology, or English. My Mom was strict and taught me the value of hard work. Dad was lenient and taught me to believe in myself." By 11th grade, it was clear that math and computer science would be her key to a successful future.
Sandy went on to earn a Master's Degree in Computer Science from the University of Toledo. For the first eight years she lived in the US, she played it safe. She never questioned anyone and always agreed to what her bosses said because of her insecurities about her English and finances, and her upbringing in a culture that taught girls that they should defer to men.
She improved her English by watching movies and attending classes. As her confidence grew and her financial and visa situation stabilized, she worked her way up to senior IT management positions at reputed corporations like Harley-Davidson Motor Company as well as serving on nonprofit boards, like the YMCA. In her last full-time corporate position, she ran a multi-million dollar, 200+ person project. Of the 200 people on her team, less than 3% were women.
Sandy says "It is important to make the family a part of your journey." Since her son was six, he wanted to learn to create video games, "I looked high and low for a suitable environment for him" Sandy explained, "when I couldn't find one, I decided to create one."
She has spent the last four years overcoming many obstacles as she builds her company, Rex Programming. She says it is critical for entrepreneurs to remain open-minded and adjust their strategy with developing situations and circumstances.
Rex aims to provide organizations the best-in-class cutting-edge technology courses.
"I was struck by the comment made by Sandy, that coding is the reading and writing for the future generation. That really resonates when you realize how basic reading and writing is and what that means for coding going forward."
Curt Hazelbaker President/CEO, YMCA of Metropolitan Dallas.
Today, Rex is a huge success having impacted over 10,000 students in its short tenure and has doubled revenue every year, for the past two years and opened a second location in North Carolina. It has taught students through partnerships and pilot programs with major organizations like Girl Scouts, YMCA, as well as camps and classes at reputed private schools such as Greenhill.
Sandy had considered giving up like any other entrepreneur. Her daughter told her that if Steve Jobs had given up then the world wouldn't be where it is today. Sandy realized that she needs to be a good role model for her daughter, nieces and many other women afraid to take the next step. She discovered her inner strength and resilience while building her business. The financial investment and support of her husband and brother helped her at every step. She also credits her success to her employees and advisory board.
According to Sandy, the biggest challenge of a female entrepreneur is to balance societal obligations, taking care of family, and the demands of running a business. Sandy believes that women are better at business as handling conflict, emotions, empathy, multitasking and being realistic about finances comes naturally to them.
The confident entrepreneur realizes that she is the best salesperson of her product and services. She is conscious that she has a long entrepreneurial journey ahead and is poise about it. In the technology domain where there are few female entrepreneurs, Sandhya Padala has emerged as a role model that others can look up to.
Here is a testimonial from the youngest students of Rex Programming.
Also view this news link video
To follow Sandy and her activities you may visit https://www.linkedin.com/in/sandhyapadala/ and for information on her company you can visit the website http://www.rexprogramming.com/
Sandy's interview on Dallas Innovates also highlighted the company's unique offerings and vision (to read, visit https://dallasinnovates.com/rex-programming-is-helping-kids-become-digitally-literate).
Posted in: Business,Computers & Software,Education,Family & Parenting,Technology
Nastel announces the general availability of Nastel Navigator 10
Nastel Technologies™, a premier global provider of Messaging Middleware Centric solutions covering end-to-end Transaction Tracking and Application Performance Management (APM) for mission-critical applications in mixed cloud environments, announced today the general availability of Nastel Navigator™ release 10.
Nastel Navigator™ is a solution helping enterprises to efficiently and securely manage and control Message Oriented Middleware in hybrid cloud environments. Middleware administrators can delegate management tasks to development and QA users through a self-service web portal, improving delivery times for new and existing applications and provides an audit trail of all the changes.
David Mavashev, the Founder of Nastel® said, "We continue to innovate. Our Navigator is the only solution that provides secure Self-service of multiple messaging middleware environments in one product".
This latest release includes a number of performance and functional enhancements requested by customers. Customers with multi-vendor environments such as IBM's MQ, MQ Appliance, Tibco/EMS and Apache – Kafka can:
Automate changes, integrate with IT automation platforms
At last be able to make quick global changes with rollback and reporting
Be able to schedule changes and use automation to move, copy, manipulate and replicate entire environments to aid rapid deployments
Simply search for objects and messages through the whole messaging middleware estate
Nastel Navigator™ delivers increased functionality to help enterprises streamline the management of their messaging middleware estates.
About Nastel®:
Founded in 1994 and headquartered in Plainview, NY, Nastel Technologies™ provides IT organizations and business executives with the tools and insights they need to understand and manage their digital environments. Nastel® is a privately held company headquartered in New York, with offices in the U.S., the U.K., France, Germany and Mexico, and a network of partners throughout Europe, the Middle East, Latin America and Asia. Nastel® solution includes products AutoPilot® for proactive monitoring, XRay covering Decision Support and end-to-end transaction tracking, and Navigator for multi-middleware management.
Posted in: Technology,U.S
Northern New England Taproom Tour, Hosted by ACCESS Manufacturing Systems, Showcasing State-of-the-art Markforged 3D Printing in Metals and Composites
ACCESS Manufacturing Systems is pleased to formally announce the Northern New England Taproom Tour, featuring Markforged 3D Printers at popular breweries located in Maine, Vermont and New Hampshire.
The tour will take place in Portland, ME (March 9, 2020); Portsmouth, NH (March 10, 2020); Manchester, NH (March 11, 2020); and Burlington, VT (March 12, 2020). Demonstrations will allow attendees to experience the simplicity of the CAD to final 3D printed part process, while learning how parts can be printed in copper, stainless steel, tool steel, Inconel, titanium, onyx, fiberglass, carbon fiber, Kevlar and more. Complimentary beverages will be provided for attendees twenty-one years and older, as well as a chance to win a 0 gift card to each brewery event location.
The Northern New England Taproom Tour comes after the wildly successful Georgia Taproom Tour, which ACCESS hosted in September 2019. ACCESS experts drew considerable crowds in Georgia, intensifying the hype over groundbreaking advancements in additive manufacturing.
Interest has steadily grown among manufacturers throughout the Eastern United States, since ACCESS first announced the addition of Markforged 3D Printers to their product suite in June 2019.
"Industrial 3D printers are no longer a novelty item in a manufacturing facility. They have become a vital part, and compliment to, the machining operations on the plant floor," said Joe Lagennusa, national sales manager at ACCESS Manufacturing Systems. "Our goal is to deliver the newest technology, such as copper 3D printing solutions or reinforced continuous Carbon Fiber. Quality and strength of end-use and prototype parts are important needs our customers have expressed. These solutions deliver that and more, so we're excited to showcase the technology throughout Northern New England to share how local competitors are already leveraging additive manufacturing."
Stanley Black & Decker replaced their current manufacturing work flow with the Markforged Metal X 3D Printer and now saves between 34% and 48% on manufacturing costs, while reducing part lead-time by 69%.
Saint-Gobain increased productivity and design freedom with the Markforged X7 Composite 3D Printer. "We were able to hit print and have four hundred parts come off our X7 printer ready for the factory line . . . We had a one-hundred percent return on investment within six months of purchasing the printer," said Emmanuel Simadiris, research engineer at Saint-Gobain.
Registration for The Northern New England Taproom Tour is now open. Register today for free to secure your seat (space is limited).
About ACCESS:

ACCESS Manufacturing Systems, Inc. is the largest CAMWorks® reseller in the world. For more than 30 years, ACCESS has delivered best-in-class manufacturing software and accessories, along with unsurpassed industry expertise, to thousands of companies across the nation. ACCESS also provides customers with alternative, cutting-edge and affordable, end-to-end 3D printing manufacturing solutions. Our extensive industry knowledge has allowed our customers to enhance their machining operations by reducing setup time, doubling machine capacity, and improving overall quality. To gain ACCESS to the most qualified team of CAM experts in the industry, please visit accessmfgsys.com, or connect with us on LinkedIn, Facebook, and YouTube.
Posted in: Manufacturing & Industry,Professional Services,Technology,U.S
Stratosphere Networks Named to CRN's 2020 Managed Service Provider (MSP) 500 List
Stratosphere Networks has been named to the 2020 Managed Service Provider (MSP) 500 list in the Pioneer 250 category by CRN, a brand of The Channel Company, for the third consecutive year. The annual list highlights top North American technology providers and consultants that demonstrate innovative approaches to delivering managed services. The organizations included on the list help their clients improve operational efficiencies and systems to maximize their return on IT investments.
Especially in today's digital age, MSPs provide crucial support and services to help businesses tackle digital transformation and successfully adopt and maintain complex technologies. CRN's MSP 500 list recognizes forward-thinking MSPs that offer cutting-edge and groundbreaking solutions.
The MSP 500 list is divided into three categories: the Pioneer 250, which includes companies with business models weighted toward managed services and largely focused on small and midsize businesses (SMBs); the Security 100, which recognizes organizations that focus mostly on cloud-based, off-premise security services; and the Elite 150, which includes large, data-center-focused MSPs with a strong mix of on- and off-premises services.
Stratosphere Networks delivers comprehensive managed services (including co-managed IT and managed cybersecurity services) and trusted advisor services to businesses across all industries. The company was also named to the MSP 500 list in the Pioneer 250 category in 2019 and 2018.
"We're honored that CRN chose to include us on the MSP 500 list again this year," said Steve Melchiorre, CEO of Stratosphere Networks. "Our team works hard every day to empower our clients with exceptional IT support and services, and we're very pleased to earn recognition for our efforts."
For the full MSP 500 list, please visit CRN's website.
About Stratosphere Networks
Stratosphere Networks is a Chicago-based multifaceted IT managed service provider focused on delivering comprehensive technology services and solutions to meet and exceed always-changing, diverse business needs. Since 2003, Stratosphere Networks has grown exponentially and continues to provide best-in-class and cost-effective solutions to businesses in all industries. Visit http://www.stratospherenetworks.com for more information.
For more information contact:
Lori Leonardo
847-440-8608
LoriL@stratospherenetworks.com
Posted in: Technology,U.S
New Petition Holds Social Media Giants Accountable in Wildlife Crime
The Pan African Sanctuary Alliance (PASA) – the largest alliance of wildlife centers in Africa – has launched its "Not a Pet" petition, demanding that tech giants Facebook and Google stop enabling wildlife crime. "Not a Pet" is part of a three-pronged strategy to fight the illegal wildlife trade that began in January with Action for Chimpanzees (AFC), a program to curtail poaching of western chimpanzees and prevent their impending extinction, and continued with the call to close markets selling bushmeat.
"Wildlife crime is an existential threat to primates in Africa," said Gregg Tully, PASA Executive Director. "And while our members are a crucial bulwark against trafficking, they can't do it alone. We need to hold social media companies accountable for their role in this heinous trade."
Social media companies play a key role in the wildlife crime supply chain. Traffickers share videos and images of monkeys and apes for sale – often as light, fun content that is quickly shared. When buyers signal interest, social media companies enable the next phase of the sale by providing private, encrypted channels like WhatsApp for communication between buyer and seller. This contributes to a trade involving hundreds of thousands of primates every year, according to research – and lives of misery for the unfortunate animals who are the victims of this criminal activity.
Primates are not suitable pets for many reasons. A baby chimp usually spends the first five years of its life nursing. Without this critical contact time, primates fail to pick up natural behaviors, and they may even develop aggressive or fearful behaviors. But the hard part comes when they reach sexual maturity. For smaller monkeys, this occurs around 18 to 24 months of age, while chimps mature around seven years of age. At this point, the animal will likely become aggressive and territorial. In an effort to contain adult primates, owners often resort to locking their "child" up in a tiny cage, filing their teeth or having them removed, forcing them to wear shock collars, or even beating them. When these tactics fail to control their adult primate, owners are forced to give up their pet or risk their safety.
"Internet markets can be much larger than physical markets," said Dan Stiles, head of the Project to End Great Ape Slavery (PEGAS) and a leading researcher tracking wildlife crime. "Thousands of buyers located in many countries can be involved. That's why the Not a Pet petition is so important. We have to bring social pressure to these companies so that they have an incentive to enforce their policies or develop stronger ones."
Fast Facts:
There are fewer than 300,000 chimps left in the wild.
Wildlife crime is the fourth largest type of international crime.
In 2015, the primate trade volume was estimated at 8M, a 40% increase over three years.
The United States has remained the largest importer of live primates since 2009.
Wild chimpanzees are already extinct in four of their former African range countries
Chimps and other primates are killed for bushmeat and sold in wildlife markets similar to the one believed to be the source of the coronavirus. The mothers are killed and their babies are sold as pets.
Posted in: Technology,Website & Blog
Halfpricesoft.com Now Offers 2019 ezW2Correction Software In Network Format for 2 to 15 Users
Halfpricesoft.com offers the latest ezW2Correction software in a 2 to 15 user network version format. The W2 and W3 form correction software is compatible for business owners and tax professionals that need the application on multiple computers or in multiple locations.
"W2C and W3C software, ezW2Correction 2019 is now available to customers as a network version for 2 to 15 user compatibility." said Halfpricesoft.com Founder, Dr. Ge.
Download and purchase to begin processing W2 and W3 correction forms immediately: https://www.halfpricesoft.com/w2c_software.asp. The software's point-and-click simplicity makes it ideal for small business owners who have better things to do than learn complicated software.
In addition to the customer support offered, ezW2 Correction also includes white paper printing that has been approved by SSA to print all W-2C and W-3C forms, eliminating the need to purchase red ink forms.
ezW2Correction Basic Single User Version is .00. Prices begin at for the network version of ezW2 Correction software. The network version includes Import W2 Previous Data from csv and efile document.
Network version includes:
Print tax Year 2007 - 2019 Correction forms
With Data Import feature, unlimited companies, unlimited forms
ezW2Correction software can print W2C (copy 1, 2, A, B, C and D) and W3C on plain white paper. (This feature is SSA-approved).
Multiple users can share the same account over network with network version
ezW2 Correction can also fill data on pre-printed forms .
ezW2 Correction can print recipient copies into digital PDF file.
ezW2 Correction can support unlimited companies, recipients and forms with one flat rate
Try before purchasing
New enterprise version for Importing both W2 previous and corrected data from csv file
ezW2Correction is compatible with Windows 7, 8.1 and Windows 10 systems. Even the smallest of businesses can benefit from this easy to use W2 and W3 Correction filing software.
Other tax software from Halfpricesoft.com includes ez1099 and ezW2Correction. Potential customers can test to ensure ezW2 meets the business needs at no risk or obligation. Download test at https://www.halfpricesoft.com/w2c_software.asp.
About halfpricesoft.com

Halfpricesoft.com is a leading provider of small business software,
including online and desktop payroll software, online employee attendance tracking software, accounting software, in-house business and personal check printing software, W2, software, 1099 software, Accounting software, 1095 form software and ezACH direct deposit software. Software from halfpricesoft.com is trusted by thousands of customers and will help small business owners simplify payroll processing and streamline business management.
Posted in: Technology,U.S
Following Agreement to Assume Management of the BeyondTrust Auditor Suite, Cygna Labs Appoints Morgan Holm as Vice President of Products
Following the recent agreement to assume management of the BeyondTrust's Auditor Suite, Cygna Labs continues to tap experts in the field, today announcing that Morgan Holm has joined its management team as vice president of products.
With more than 19 years' experience in product management and a strong focus on security audit, systems management and identity for multi-cloud and hybrid environments, Holm will oversee Cygna Labs' product teams. Prior to joining Cygna Labs, he achieved rapid growth at many organizations as a success-driven and customer-centric strategist. He brings significant experience in auditing and compliance solutions including work as a product manager at NetPro through the Quest acquisition, and again at the Blackbird Group, which was acquired by BeyondTrust.
He most recently served as VP of product management for 5nine Software, managing its hybrid cloud security and management solutions.
Morgan Holm, VP of products, Cygna Labs, said, "I am excited to join Cygna Labs and look forward to being a part of this dynamic, forward-thinking technology team. I believe that the experience I bring to the table will ensure a smooth transition not only for our internal teams, but also for our customers."
Rainer Maurer, CEO, Cygna Labs, said, "Morgan's audit and compliance background as a product manager at NetPro and Blackbird, combined with his hybrid and multi-cloud experience, will be a huge benefit to Cygna Labs, our customers and those BeyondTrust Auditor Suite clients making the transition to Cygna Labs."
About Cygna Labs
Cygna Labs is a leading provider of compliance solutions that grant unparalleled visibility across Microsoft-hybrid IT infrastructures. Built from the ground up to protect data regardless of its location, Cygna Auditor delivers insight into user behavior, system configuration and data sensitivity. Organizations worldwide rely on Cygna Labs to detect and proactively mitigate data security threats, affordably pass compliance audits, with less effort, and increase the productivity of their IT departments. For more information, visit https://cygnalabs.com.
Posted in: Professional Services,Technology,U.S
Chris Ezekiel of Creative Virtual Appears in Leaders Council Podcast Alongside Sir Geoff Hurst
The Founder & CEO of Creative Virtual, a world leader in customer and employee engagement solutions, discusses leading the company and being a global player in the chatbot, virtual agent and live chat industry in a recent episode of The Leaders Council podcast. The Leaders Council of Great Britain and Northern Ireland is talking with leadership figures from across the nation, including Creative Virtual's Chris Ezekiel, as part of their new podcast.
Chris was invited to an episode of the podcast, which also includes an interview with Sir Geoff Hurst. Host Matthew O'Neill asked both guests a series of questions about leadership and the role it has played in their careers to date. In the episode, Chris touches on the importance of having a healthy body and mind as a leader and being able to motivate people and make difficult decisions when needed to move the company forward.
"It was a pleasure to be a part of The Leaders Council podcast with Sir Geoff Hurst," says Chris. "Growing a profitable company requires strong leadership, conviction in your vision for the company and employing good people who bring a different perspective from your own to the business. I'm proud of the Creative Virtual team and the work we've done together to build a successful company in a very competitive marketplace over the last sixteen years."
"I think the most informative element of each episode is the first part, where Matthew O'Neill is able to sit down with someone who really gets how the industry works and knows how to make their organisation tick," says Lord Blunkett, chairman of The Leaders Council of Great Britain and Northern Ireland. "Someone who's there day in day out working hard and inspiring others. That's what leadership is all about."
The full podcast episode is available on both YouTube and Spotify.
More information about Creative Virtual and the company's award-winning chatbot, virtual agent and live chat solutions is available on the Creative Virtual website.
ABOUT CREATIVE VIRTUAL
Creative Virtual, winner of the Queen's Awards for Enterprise: Innovation 2017 and Frost & Sullivan's 2019 AI-Enhance Customer Self-Service Product Leadership Award, is a world leader in self-service solutions that enable anywhere, anytime customer engagement between brands and their customers. Leading global organisations including Lloyds Banking Group, BT, HSBC, Chase and InterContinental Hotels Group rely on our award-winning V-Person™ technology to improve their customer support experience, increase sales, reduce costs and build brand loyalty.
Backed by an experienced, expert team as well as an extensive partner network, our innovative virtual agent, live chat, knowledge management and business intelligence platform empower organisations to provide customers with consistent, accurate, personalised and seamless omnichannel engagement across web, mobile, social, SMS, contact centre, service desk, live chat and IVR channels. Delivering significant contact deflection and reductions in average call handling times, as well as increased first contact resolution, together with powerful customer analytics and outcome tracking, the V-Person Smart Help platform is the most compelling self-service product in the world today.
Creative Virtual is headquartered in the United Kingdom with operations in the United States, Australia, New Zealand, India, Singapore and Hong Kong. For more information about Creative Virtual and V-Person technology, please visit our website at https://www.creativevirtual.com.
Posted in: Services,Technology
PST Announces Railyard Automation Systems Design and Services
PS Technology (PST) is today launching its train terminal process control systems for switching operations. The modern and proprietary SwitchPro™ software systems and yard design services are now available for all railroads interested in automating or upgrading their train terminals.
"We're seeing hump yards increase their cars per minute by over 20% while at the same time decreasing misroutes," said Levi Keene, senior manager-Yard Systems, PST. "There is a lot of industry pressure right now to optimize the rail network; the SwitchPro systems are designed to meet that need."
In addition to the hump yard software known as SwitchPro HPC, the product line includes solutions for flat yards, as well as receiving and departure yards. PST's solutions have been implemented across Union Pacific Railroad's 23-state network over the last eight years.
"We've helped fine-tune operations for the largest Class I railroad in America," said Jeff Jordan, systems engineer, PST. "The concentrated effort allowed us to create smart systems that self-tune based on car characteristics, track structure, weather, and more."
The system comes with real-time monitoring abilities used to alert maintainers, operators, and management on the health and performance of the solution.
"We have real-time insight into the network's state, health, and operational performance, creating a closed-loop control system and operating environment that allows for steady-state and sustainable operations," said Nathan Nowak, senior systems engineer, Union Pacific.
SwitchPro HPC is designed to be a distributed process control system with all field devices communicating through fiber-connected cabins throughout the yard. Each cabin consists of redundant hardware and fiber optic cable rings, ensuring that single failures do not impact operations. The system's architecture allows for 99.99% system availability.
The flat yard system, SwitchPro FPC, automates previously manual tasks in flat yards. Integrated work list management leads to more efficient operations during car classification, lining routes and car processing, and ensures accurate car location.
SwitchPro NX is a state-of-the-art system designed to improve routing, track protection and blue flag protection in receiving, departure, or any yard requiring switch or derail automation routing. The program seamlessly integrates with other classification systems, while supporting commercially available hardware and mobile capabilities for use within the terminal.
"We are extremely pleased to bring this modern solution to the rail industry," said Seenu Chundru, president, PST. "Eliminating yard dwell and speeding train-building is a proven way to increase ROI."
About PS Technology

PS Technology is committed to delivering significant and measurable returns to its clients and partners. For over three decades, PST has improved the processes and systems surrounding crew management, timekeeping and physics-based simulation solutions with integrity and a desire to create value.
PST's asset management systems power the largest railroads in North America. PST's crew management and timekeeping solutions have been used to manage the day-to-day operations of over 100,000 employees that run, maintain and support rail operations across more than 120,000 miles of rail. PST's physics-based simulation solutions provide a premium learning environment.
Posted in: Electronics & Semiconductors,Technology
Konica Minolta Extends Alliance with M-Files to Bring Intelligent Information Management to the Entire European Market
M-Files Corporation, the intelligent information management company, today announced a strengthened technology alliance with Konica Minolta, a global leader in document management. After initial successes in 14 European countries, the two companies have widened their alliance to bring their intelligent information management solution to the entire European market. With a heightened partnership, Konica Minolta Business Solutions Europe and M-Files will enhance AI-driven document management offerings for shared customers. The deeper alliance will enable users to benefit from Konica Minolta's existing document management solutions, strengthened by the M-Files next generation intelligent information management platform. The pan-European partnership will come into action this month.
"Our enhanced partnership with M-Files is further evidence of the growing need for intelligent document processing solutions that enable business agility and support strategic digital transformation initiatives across enterprises," commented Katja Nick, Product Marketing Manager – Information Management, Konica Minolta Business Solutions Europe. "We are delighted to be partnering with M-Files and look forward to an effective and long-term collaboration for the benefit of our joint customers."
M-Files is the only intelligent information management platform that organizes content based on what it is, not where it's stored. Users can connect to existing network folders and systems to make them more intelligent with built-in workflow capabilities and advanced search and filter tools. The AI-powered information management solution, thus, perfectly fits into Konica Minolta's portfolio for offered business process solutions.
The partnership began with joint projects in various European countries, which have shown high potential: For example, Astrup AS, Norway's leading supplier for metals and plastic semi-finished products, significantly benefitted from the solutions. Realizing the need to digitalize their barcode-labels, they implemented M-Files, installed by Konica Minolta. M-Files recognizes incoming documents and generates a digital stamp – comparable to a digital barcode. The solution files all documents for easy retrieval and connects the data to the applied ERP system. As a result, the digitalized process made work more efficient, faster and improved their overall quality. Another successful digitalization has been realized with Norway's biggest manufacturer for ready-mixed concrete and concrete products: M-Files replaced the old and obsolete IT system, facilitating streamlined workflows. Additionally, improvements to planning processes resulted in increased efficiencies. These two examples highlight the high performance of the M-Files solution and the benefit it created. Based on this positive feedback, Konica Minolta and M-Files were inspired to widen their partnership and provide the intelligent ECM solution all across Europe.
"We are proud of the continued expansion of our rapidly growing partnership with Konica Minolta," said Scott Erickson, Senior Vice President of Worldwide Channel Sales at M-Files. "Our close association with Konica Minolta and complementary offerings reinforce our commitment to support leading industry and public sector organizations, as well as companies of all sizes, including small and medium-sized businesses and large enterprises."
The partnership with M-Files is another strong development of Konica Minolta's vision of the Connected Workplace, which features the Konica Minolta Workplace Hub. "At Konica Minolta we are constantly looking for ways to make our customers more productive through empowered technology," said Katja Nick. "The collaboration with M-Files is a perfect example of how we can help our customers improve the workplace experience for their employees. Using M-Files in combination with Konica Minolta products truly enables organizations to merge people, processes and technology," she concluded.
About M-Files Corporation
M-Files provides a next-generation intelligent information management platform that improves business performance by helping people find and use information more effectively. Unlike traditional enterprise content management (ECM) systems or content services platforms, M-Files unifies systems, data and content across the organization without disturbing existing systems and processes or requiring data migration. Using artificial intelligence (AI) technologies in its unique Intelligent Metadata Layer, M-Files breaks down silos by delivering an in-context experience for accessing and leveraging information that resides in any system and repository, including network folders, SharePoint, file sharing services, ECM systems, CRM, ERP and other business systems and repositories. Thousands of organizations in more than 100 countries use M-Files for managing their business information and processes, including NBC Universal, OMV, Rovio, SAS Institute and ThyssenKrupp. For more information, visit http://www.m-files.com.
M-Files is a registered trademark of M-Files Corporation. All other registered trademarks belong to their respective owners.
About Konica Minolta Business Solutions Europe
Konica Minolta Business Solutions Europe GmbH, based in Langenhagen, Germany, is a wholly owned subsidiary of Konica Minolta Inc., Tokyo, Japan. Konica Minolta enables its clients to champion the digital era: with its unique imaging expertise and data processing capabilities, Konica Minolta creates relevant solutions for its customers and solves issues faced by society. As a provider of comprehensive IT services, Konica Minolta delivers consultancy and services to optimize business processes with workflow automation. The company further offers its customers solutions and managed services in the field of IT infrastructure and IT security as well as cloud environments. With regard to its office printing solutions, 'IDC MarketScape: Western Europe Smart Multifunctional Peripheral 2018 Vendor Assessment' stated that Konica Minolta is 'recognized globally as a leading smart MFP provider of note'. As a strong partner for the professional printing market, Konica Minolta offers business consulting, state-of-the-art technology and software and has established itself as the production printing market leader for more than a decade in Europe, Central Asia, the Middle East and Africa (InfoSource). Its Business Innovation Centre in London and four R & D laboratories in Europe enable Konica Minolta to bring innovation forward by collaborating with its customers as well as academic, industrial and entrepreneurial partners. For its solutions that combine 'smart service with smart technology', Konica Minolta was awarded the prestigious 'Buyers Lab PaceSetter Award for Outstanding Serviceability 2018/2019' from Keypoint Intelligence. Konica Minolta Business Solutions Europe is represented by subsidiaries and distributors in more than 80 countries in Europe, Central Asia, the Middle East and Africa. With almost 10,300 employees (as of April 2019), Konica Minolta Europe earned net sales of over EUR 2.39 billion in financial year 2018/19.
Media Contact:
Debra Dekelbaum, Senior Manager, US PR, M-Files, debra.dekelbaum@m-files.com, +1 (972) 516-4210 ext. 272
Posted in: Technology
HM White Announces Expanded Service Offerings for Energy Audits
Detroit, Michigan — HM White, a leading supplier of advanced paint finishing systems and metal fabrication, factory HVAC systems and energy conservation solutions, today announced a formal series of Energy Sustainability Services. HM White's Energy Audits leverage over a decade of experience gained from energy conservation projects at multiple industrial plants nationwide.
"Our energy savings engagements have helped major automotive OEMs achieve ambitious energy and carbon intensity reduction goals", said Dan Volz, Energy Programs Manager at HM White. "Our successful projects include major upgrades to powerhouses, lighting upgrades to LED, and building renovations to conserve energy. It is now time to make our expertise available to a broader range of industries".
The Level 1 Energy Profiling Survey consists of an initial review of the facility's utility bills and a visual inspection of the building, energy systems, and modes of operation. HM White will provide an Energy Savings Roadmap that identifies low-cost savings opportunities, identifies capital projects that merit further consideration, and provides an initial estimate of potential cost savings. Based on HM White's confidence in identifying major savings opportunities, this service is offered at no charge.
The Level 2 Precision Energy Investment gives substance to targeted items on the Level 1 Roadmap. Deliverables of this phase include a rigorous analytical evaluation to quantify project cost and savings projections, detailed design of engineered solutions, followed up by on-site implementation and project management. The Precision Energy Investment phase brings energy savings from the realm of the theoretical into the physical reality of your plant's operations.
Energy audits, project designs, implementation and project management will be conducted by HM White energy specialists with over 20 years of engineering and project management experience in construction and manufacturing. Our specialists have designed and implemented energy conservation projects, ventilation systems and pollution controls for automotive and other industrial manufacturers. They are backed by a team of dedicated project managers and a large pool of fabrication and installation resources. HM White has two modern fabrication facilities with over 50,000 square feet of space and state of the art design and fabrication equipment.
About HM White
Founded in 1936, HM White provides automotive and industrial manufacturers with advanced paint finishing systems and metal fabrication, HVAC / air pollution control and energy saving services and solutions.
In just the last 10 years alone, HM White has completed $ 24 million in energy conservation projects, resulting in customers receiving $ 13 million in energy savings the first 1 to 2 years, and $ 3.6 million in utility incentives.
To learn more about HM White Energy Solutions, visit www.hmwhite.com/energyaudit. Email us at Energy@HMWhite.com or call 248-567-6819.
Posted in: Energy & Environment,Manufacturing & Industry,Professional Services,Services,Technology
HHHunt Continues Smart Senior Living Community Journey with K4Connect, Introduces Voice Technology to Spring Arbor Senior Living
K4Connect, a mission-driven technology company that creates solutions that serve and empower older adults and individuals living with disabilities, announced today the further expansion of its partnership with HHHunt's Spring Arbor Senior Living, operator of Spring Arbor assisted living communities across the Mid-Atlantic. Throughout 2020, HHHunt's Spring Arbor Senior Living plans to expand its technology offering with new voice technologies, while adding additional communities to its K4Connect-enabled portfolio of communities.
This expansion comes three years after HHHunt signed on as K4Connect's very first customer to implement K4Community, the company's flagship technology solution designed for senior living, in 2017. Over the years, hundreds of residents and staff have benefitted from responsive environments enabled by smart home automation, more connected experiences through digital content and communications, and improved engagement with community activities, staff, family and fellow residents. The technology has also helped improve the organization's overall occupancy, sharpened its market differentiation and positively impacted operational costs. The addition of leading-edge voice assistant technologies will now give Spring Arbor residents and staff voice-activated control of smart home features, community content and daily activities.
"K4Community has brought tremendous value to our senior living portfolio. Our residents and staff truly value it, and we've seen tangible operational ROI including, as an example, a meaningful contribution to a 15 point vacancy decrease at one of our communities," said, HHHunt SVP of Spring Arbor Senior Living, Richard Williams. "We're committed to continuing to leverage innovative technologies like voice to provide great experiences for our residents and staff with K4Connect, which is why we're planning to extend the K4Community solution from today's 10 to 13 Spring Arbor communities, while expanding our original agreement from two years to four more years."
Voice technology has proved more than a novelty for assisted living residents, including easing access and engagement for those with visual and mobility impairments, and in communities voice-enabled to date, seeing over 70 percent daily adoption rates. Spring Arbor will introduce voice through Amazon's Alexa across all of its K4Community-enabled assisted living communities this year, providing voice-activated community content, automated home features and K4 Alexa Skills customized to community needs. And residents are already seeing the benefits, as one Spring Arbor of Crofton resident said, "The fact that it can call the front desk is very beneficial."
"We firmly believe the future of senior living is in Smart Senior Living Communities, and HHHunt is a prime example of that journey. When we first worked together, voice-first technology wasn't even on senior living's radar. Now, we're bringing this technology to hundreds of residents using the same extendable system we implemented three years ago, K4Community," said K4Connect CEO and co-founder F. Scott Moody. "We're excited to continue our innovative partnership and for what's to come in 2020 and beyond."
K4Connect is the leading provider of enterprise-grade technologies for senior living communities, currently serving more than 28,000 residents at over 120 premier continuing care, independent living, assisted living and memory care communities across the nation. The company's patented (28 US patents to-date) operating system, FusionOS, on which K4Community is built, is the first and only of its kind in senior living. To learn more about K4Connect and its solutions, visit us at http://www.k4connect.com.
About HHHunt
HHHunt is a diversified regional real estate development and management company with residential communities in Virginia, North Carolina, South Carolina and Maryland. HHHunt, with primary offices in Blacksburg, VA, Richmond, VA and Raleigh, NC, employs over 1700 people in the areas of community development, home building, apartment living and senior living development and management.
About K4Connect
K4Connect is a mission-driven technology company that creates solutions that serve and empower older adults and individuals living with disabilities, together with the people, communities and organizations that support them. K4Connect's solutions integrate the latest in Smart Home, Smart Wellness and Smart Living technologies into a single easy-to-use solution designed specifically for and with those they serve. The Company's premier solution, K4Community, is currently being used by tens of thousands of senior living residents and staff across the country. For more information, please visit http://www.k4connect.com.
Posted in: Technology
TCN to Showcase Its Award-Winning Contact Center Technology at Receivables Management Association International's 2020 Annual Conference
WHAT:
Hosted by Receivables Management Association International, RMAi 2020 brings together debt buyers, originating creditors, collection agencies, law firms and brokers from around the world to discuss and debrief on regulatory updates, business opportunities and continuing education for the receivables management industry.
During the conference, TCN - a leading provider of cloud contact center technology for enterprises, contact centers, BPOs and collection agencies worldwide – will demo its intuitive natural language compliance tool enabling contact centers, collections and compliance officers to create and add customizable rules that fit the compliance needs of any ongoing campaign.
Additionally, TCN will highlight its recent partnership with Numeracle's Number Registration and Trusted Entity™ Certification solutions, enabling users to register and certify phone numbers with call labeling analytics companies utilized by the top U.S. wireless carriers and third-party robocall identification apps. TCN's strategic partnership with Numeracle safeguards contact centers' calls from being incorrectly classified as "fraud" or "scam" and centralizes call labeling data to empower the originators of legal and wanted calls with actionable measures to regain control of their outbound calling strategies.
WHEN:
February 3-6, 2020
WHERE:
Receivables Management Association International's 2020 Annual Conference
Booth #106
Aria Resort & Casino Las Vegas
3730 S. Las Vegas Blvd., Las Vegas, NV 89158
For more information about RMAi 2020, or to register, visit: https://rmaintl.org/events/2020-annual-conference/.
About TCN
TCN is a leading provider of cloud contact center technology for enterprises, contact centers, BPOs, and collection agencies worldwide. Founded in 1999, TCN combines a deep understanding of the needs of call center users with a highly affordable delivery model, ensuring immediate access to robust call center technology, such as predictive dialer, IVR, call recording, and business analytics required to optimize operations and adhere to TCPA regulations. Its "always-on" cloud delivery model provides customers with immediate access to the latest version of the TCN solution, as well as the ability to quickly and easily scale and adjust to evolving business needs. TCN serves various Fortune 500 companies and enterprises in multiple industries including newspaper, collection, education, healthcare, automotive, political, customer service, and marketing. For more information, visit http://www.tcn.com/ or follow on Twitter @tcn.
Posted in: Technology
Not for Squares: Quadro Apartments Built for Miami's Tropical Climate
In December 2019, the first residents of the Quadro Apartment complex moved in. The mixed-use development in the heart of Miami's Design District integrated Penetron crystalline technology to ensure the crucial below-grade concrete structure would be waterproof and durable.
The Quadro, a residential/commercial building on the former studios of WPLG-Channel 10 in Miami's Design District, was envisioned by Behat Font Partners and built by Alta Developers. The 13-floor tower features 198 rental apartments with open floor plans ranging from 548 square foot (50 m2) studios to 1,280 square foot (116 m2) 3-bedroom apartments. The Quadro complex also has 26,888 square feet of commercial/retail space on the ground floor and underground parking for 387 cars.
Revitalized Design District
"The Design District in Miami is a neighborhood of art galleries, showrooms, creative start-ups, architecture firms, luxury fashion stores, antiques dealers, restaurants and bars," adds Christopher Chen, Director of The Penetron Group. "Once a neglected, run-down area that had fallen into disrepair, the Quadro project is further confirmation of its reemergence as a trendy shopping, dining and cultural destination."
With panoramic views of Biscayne Bay and the Miami skyline, amenities at the Quadro also include a swimming pool with a large deck and cabanas, patio deck with a summer kitchen and BBQ, game room, residents' lounge, fitness center and yoga room, pet-wash room, and bicycle room.
Ensuring durable below-grade concrete elements
"With a construction site only two blocks from the Atlantic Ocean, the project owners at Alta Developers needed secure – and waterproof – below-grade foundation elements to ensure durability," adds Christopher Chen. "We worked with Titan Concrete, the ready-mix supplier, and proposed an optimal waterproofing solution."
The design and construction team faced various challenges due to the high groundwater level on the jobsite and extreme chloride ion exposure, both major causes of concrete deterioration. Initially, the project engineers specified a bentonite membrane as the waterproofing solution. However, the local Penetron specialist showed that implementing a solution based on integral crystalline technology would not only streamline the construction schedule, it will guarantee a durable structure with an extended service life.
Titan Concrete supplied the PENETRON ADMIX-treated concrete used to construct the elevator pit/pile cap, ensuring a waterproof and durable concrete matrix.
Permanent concrete protection – and self-healing capability
Easily mixed in during batching and unaffected by climatic conditions, PENETRON ADMIX forms an integral part of the concrete from day one and lasts for the life of the concrete. A permanent solution with self-healing capabilities, PENETRON ADMIX-treated concrete will self-heal and seal all hairline cracks that form – for the life of the concrete. This crystalline waterproofing admixture is designed to protect concrete in critical environments, like the Quadro construction site in Miami.
"As recent ACI test results have shown, concrete treated with PENETRON ADMIX can last up to 60 years longer than untreated concrete," says Christopher Chen. "It turned out to be the optimal solution for Miami's tropical climate."
The Penetron Group is a leading manufacturer of specialty construction products for concrete waterproofing, concrete repairs and floor preparation systems. The Group operates through a global network, offering support to the design and construction community through its regional offices, representatives and distribution channels.
For more information on Penetron waterproofing solutions, please visit penetron(dot)com or Facebook(dot)com/ThePenetronGroup, email CRDept(at)penetron(dot)com, or contact the Corporate Relations Department at 631-941-9700.
Posted in: Technology
The Trade Group Repeats as One of Event Marketer's Fab 50 for 2019
The Trade Group, an award winning, event marketing and experiential design firm, is pleased to announce that it has been named to Event Marketer's Fab 50 list for 2019. Event Marketer, a print and digital publication for the trade show and live event industry, developed the Fab 50 directory to help trade show teams, event departments and procurement officers narrow down their options for fabrication vendors.
According to Chris Stone, President and CEO of The Trade Group, "Our team strives every day to provide innovative and cost-effective solutions for our exhibit clients. We do so in an industry that continues to be highly-competitive and dynamic, so it is indeed an honor to be named as one of Event Marketer's Fab 50 once again."
To be considered as one of the Fab 50, fabricators endure a rigorous application and review process. Event Marketer also looks far beyond fabrication when choosing its top exhibit builders. The judging panel considers each company's ability to work as a strategic partner and integrate technology into builds that amplify experiences, boost engagement and meet marketing objectives.
Each year, Event Marketer also seeks to "identify and highlight the differences between and among the best ones." The publisher also recognizes that "each offer their own unique cultures, specialties and service offerings."
As noted in its Fab 50 listing, The Trade Group is a fabricator that works in any industry but is one that has carved a niche in video gaming and esports. The listing also touts the company's work for clients Facebook Gaming, Wargaming and Twitch, as well as the gaming stations, creator cubes, AR, VR, life-sized scenics and live entertainment The Trade Group has integrated into exhibits for global events like gamescom and others.
"Creating unique exhibits and engaging experiences that help our clients achieve success is something that really drives us. We look forward to speaking with any new prospective clients that the Fab 50 directory brings our way, " Stone says.
To learn more about The Trade Group's exhibit design and fabrication services and solutions for trade shows, experiential activations and other live events, visit http://www.tradegroup.com or call 800-343-2005 to speak with a sales consultant.
ABOUT THE TRADE GROUP
The Trade Group is an award winning, full-service event marketing and creative design firm, specializing in trade shows, esports events and activations, corporate events, brand activations, retail merchandising, commercial graphics and experiential solutions. Since 1986, the company's team of live event, design and engineering experts has helped thousands of clients amplify their brands and successfully navigate a wide range of events and experiences. Clients rely on The Trade Group for: event ideation, creation and production; esports expertise; exhibit design and fabrication; graphic design and production; strategic marketing solutions; technology integration and more.
Posted in: Technology
Virtual Cloudland Pioneers a New Kind of Musical Creation Utilizing Existing Technology
For more information, follow: https://virtualcloudland.com/
The Song:
This debut song on the album in progress, "Imaginary Crisis", is titled "Delish" and has a softer Courtney Love sound. It is about a hardcore, punk life.
About the Name:
According to Sarah Sisson, the word Cloudland has meaning. Although virtual has an obvious meaning, the word Cloudland is also in the dictionary and was first used in the 1800s. A region of unreality, imagination, etc.; dreamland. The word symbolizes to Sisson, the dreams and pseudo realities of people. Her real musicians joined the system easily thanks to the innovation Sisson created.
About Sarah Sisson:
The band is the brainchild of Sarah Sisson, a professional Texas-based singer/bass player/composer known also for her inspirational poetry and can bring about emotions among others. She is self-published as a poet and online publishers have come to her throughout the years for her words to be used in other publications.
About the Players:
Today, the Virtual Cloudland team is additionally comprised with Paul Layamon and Alan Cox. Layamon is a powerhouse with drums and is also an extremely talented keyboard player. Laymon is the engineer as well. Cox, with his guitar and multiple styles, has a knack for understanding Sisson's genre ideas as she expresses the music with her bass and vocals.
About the Concept:
"We are happy to introduce a pioneering form of music creation. We are real musicians in separate studios." says Sarah Sisson, the singer responsible for putting the band together. "You might think that this phenomenal way of recording music might have been tried in the past. I have since heard that there may be others. We still consider ourselves to be pioneers of this process and are proud of it." One of the key reasons for the success of this musical experiment is that none of the players are afraid of using existing technologies "off label" to create wonderful music. Although anyone can find a way of creating a similar virtual recording process, Sarah Sisson has assured knowledge of their unique technique by adding the descriptive title Virtual to the Virtual Cloudland brand name.
About the Discovery:
While tinkering with existing apps, Sisson spent time, trial and error and purchased upgraded, tangible equipment (mics, boards etc.) with attachments. The situation takes time and a lot of quick thinking to understand. Her unique idea of using virtual recording for creating music was not a quick idea. No apps are designed to completely appease her. It took interactions that she now has down pat using a "laundering" system. Her search for talented musicians was simply Facebook. She wound up with non-replaceable talent.
About the Time and Effort:
It took years to come up with a way to get this far, and now we want listeners all over to enjoy not only the music but the concept." Sarah Sisson is comfortable with this style of working and hopes to become a charted pop/dance/rock band one day. Until then, she is happy with experimenting with technology and combining music and technique to create magical pieces with her virtual members who have never even spoken.
In Conclusion:
Sisson has achieved great success in her Virtual Cloudland project, but it did not come easily. "There are not as many wonderful, talented players around as one may think" says singer/bass player/composer. "This did not happen overnight. I went through many prospects." Now Virtual Cloudland has it down pat and is ready for new music creations.
Price and the Store:
Those interested can download for $ 1.99. The listener can visit the store at https://virtualcloudland.com/. The band name Virtual Cloudland is about to start crawling on the web as well for ease to find.
You can watch the trailer/demo by clicking on this video
Posted in: Arts & Entertainment,Society & Culture,Technology,U.S,World
Appliance Repair 512 in Austin, TX Offers 10% Off Refrigerator Repairs for New Customers
A broken refrigerator can wreak havoc on any home. From staples such as milk and eggs to expensive cuts of meat, most people today keep their refrigerators well stocked. When the refrigerator stops working, it is important to fix it as soon as possible. For February 2020, highly respected Austin repair shop Appliance Repair 512 is offering 10% off refrigerator repairs for new customers. Simply mention this offer when scheduling an appointment.
Common Refrigerator Problems
Any working part in a refrigerator can go bad, but some problems are especially common. These include:
Frost Buildup
Improper Cooling
Leaks
No Ice
Not Running at All
Odd Tastes
Strange Noises
Repair or Replace
Most refrigerator problems are relatively easy for an expert service technician to fix. However, if a particular refrigerator is nearing the end of its useful life and the needed repair is extensive, it may be better to replace the unit instead. As a rule of thumb, top-freezers are expected to last approximately 3 years, side-by-side models for 5 years, and bottom-freezers for 7 years. Still, many units last much longer, so it is worth having even an older model professionally inspected.
About Appliance Repair 512
Appliance Repair 512 keeps its overhead costs low, passing on the savings to customers without compromising quality or customer service. The company's friendly service technicians undergo factory training for all major appliances, and they are available for emergency service around the clock. All technicians undergo a thorough background check, and the company is fully insured against accidents or damage. A complete warranty is provided on all parts and labor.
For immediate assistance, call Appliance Repair 512 at (512) 351-7624 or visit the website at https://www.appliancerepair512.com/. The storefront is located at 421 W 3rd St, Austin, TX 78701.
Posted in: Electronics & Semiconductors,Technology
MIOPS Launches Its New Product MIOPS Capsule 360, the World's Most Versatile and Compact Motion Box Ever Created
Today, MIOPS, the leading producer of creative photography equipment, including one of the most popular Camera Trigger MIOPS Smart+, launched its latest product - the MIOPS Capsule 360 - the world's most versatile and compact motion box ever created.
The Capsule 360 enables users to quickly produce professional motion time-lapse videos and footage with smooth automated pan, tilt, and slide movements (or any combination of them). Motion can be set with its user-friendly app and executed repeatedly for impressive, consistent, visual effects. Compatible with any DSLR, mirrorless or smartphone, the Capsule 360 provides accurate object tracking, making it ideal for self-shooting vloggers looking to improve their production values. The Capsule360 also has features for producing high-quality 360° product photography and motion time-lapses.
MIOPS Capsule 360 is the ideal companion for filmmakers and photographers who want to go further than ever before with their projects,.
MIOPS Capsule 360 and its features can be used for different types of photography and videography:
The Capsule 360 is designed to allow users to quickly create perfect motion for video clips. Straight out of the box, the Capsule 360 will produce smooth pans, while the optional L-Bracket for tilt motion or or the Capsule Slider for smooth movements can be added. Capsule360 requires no cables and all aspects of its speed and direction can be controlled via the Capsule 360 App.
One-Touch Object and Face Tracking
Whether you're self-shooting a vlog and want to be able to self-track during filming, or just want a smoother method of following an object around a scene, the Capsule 360 can automatically track any object with just one click in its intuitive smartphone app.
Automated 360° Product Photography
Using the Capsule 360 application and the Capsule 360's turntable accessory, available separately, you can program your camera or smartphone to capture 360° images of products quickly and automatically in just a few minutes.
Enhanced Motion Time-Lapse Modes
Thanks to the unique design of Capsule 360, taking Motion Time-Lapse photographs has never been easier. With the device's app, you can add advanced effects to your time-lapse creativity with bulb ramping, interval ramping, HDR, or long-exposure settings. Your options are endless.
Create Motion Path Using Mobile App
Capsule 360 can learn motions from its easy-to-use mobile app. Use your connected smartphone to teach the Capsule 360 the desired movement, and the Capsule 360 can repeat it as many times as needed. You can configure the speed of this motion and all other settings from the mobile application via Bluetooth.
Capsule 360 offers Cable-Free Setup and saves you from cable clutter.
High-resolution images are available from the MIOPS Capsule 360 Press Kit, found here:
https://bit.ly/39QJnjr
About MIOPS
MIOPS creates advanced gadgets for photographers to help capture high speed events such as lightning strikes, popping balloons, breaking glasses, rocket launches etc. Thanks to its easy-to-use design, it can be used by both amateur and professional photographers. MIOPS helps photographers and videographers take spectacular photos by turning their regular cameras into high speed equipment.
Posted in: Business,Technology
Baicells Technologies Receives FCC and OnGo Certifications for Wireless Broadband Equipment
Baicells Technologies, a manufacturer of LTE fixed wireless broadband equipment, proudly announces several products have been granted Part 96 CBRS Certification by the FCC. The products are the Nova 436Q, Nova 233 and the Nova R9. Additionally, the Nova 227 is going through testing procedures now.
Baicells has been performing Initial Commercial Deployment (ICD) CBRS testing with multiple operators.
Mike Harrison with Calpines Wireless in California embraces the 436Q, "The 436Q has great performance improvement. Latency has improved and our customers are getting their speed during peak evening loads. CA mode of the 436Q's is working as designed. Our Cat 6 UE's are reaching our towers as far as 11 miles away. Signals are well balanced across all four elements of the UE. The CAT6 UE's work much better than the CAT4 UEs."
"This is a great milestone for our legacy NN license users and current and future CBRS customers. Stay Tuned, more to come!" stated Rick Harnish, CMO of Baicells Technologies.
Baicells expects additional Atom CAT6 UEs will be granted Part 96 CBRS certification by the end of the January. Atom CAT4 UE certifications are expected before April.
Please contact sales_na@baicells.com for more information.
Follow Baicells Technologies on Facebook, LinkedIN, Twitter, YouTube, and Instagram!
Posted in: Business,Electronics & Semiconductors,Technology
ProClip USA Launches New Cradles for Zebra Mobile Computers
ProClip USA Inc., a Zebra Technologies Independent Hardware Vendor (IHV) and leading distributor of device-specific vehicle cradles and mounts, is launching several custom cradles and mounts for Zebra's MC9300 and MC3300 mobile computers and TC20 touch computer.
Bjorn Spilling, CEO, ProClip USA added: "We are proud to announce three new custom cradle series to support these industry-leading devices from Zebra. ProClip mounts and cradles will help keep the devices securely mounted in the vehicle, powered and ready to go to work."
Zebra MC3300 Series Vehicle Cradles; Product Page – Powered and Passive Holders supporting Gun/Pistol Grip, Turret/Rotating Top and Straight Shooter Models; Options include Vibration Damper, Swiveling Top Support, Front or Rear Facing Screen, CLA, and Hard-Wired Charging.
Zebra MC9300 Series Vehicle Cradles; Product Page – Powered and Passive Holders supporting the MC9300 with or without hand strap. Options include Vibration Damper, Swiveling Top Support, CLA and Hard-Wired Charging.
Zebra TC20 Series Vehicle Cradles; Product Page – Powered and Passive Holders supporting the standard device, pistol grip and RFID versions of the TC20; Options include Tilt Swivel, Vibration Damper, CLA and Hard-Wired Charging.
ProClip will be exhibiting at NRF 2020 in New York City (booth #310) and MODEX 2020 in Atlanta, Georgia (booths #3302 & #6380) showcasing several new mounts for the Zebra portfolio. Also, look for ProClip at the Zebra-ScanSource Roadshow Series in cities across the U.S. throughout 2020.
Browse ProClip mounting solutions for a wide range of Zebra devices here.
ProClip can facilitate bulk orders with short lead time to deliver the parts needed to make your business successful and more efficient. Contact a ProClip sales representative at 1-800-296-3212 or enterprisesales@proclipusa.com or submit your detailed product request.
About ProClip USA
ProClip is a leading supplier of enterprise mobile device mounting solutions for phones, tablets, mobile computers, scanners and mobile printers and is the exclusive distributor of ProClip products in North America. ProClip has deployed hundreds of thousands of mounting solutions for industry leading devices from manufacturers like Samsung, Zebra, Panasonic, Honeywell, Apple and more. ProClip USA services many different industries from fleet and delivery services to warehousing, waste disposal, military, police and healthcare. For more information, visit http://www.proclipusa.com. Follow on LinkedIn, Facebook and Instagram.
Posted in: Automotive,Technology
Energy Experts say the the 2020s will be the Decade of Solar
For the next 10 years, we will likely witness an impressive increase in solar energy, not only due to specific renewable energy goals, but also as a result of generational change that is shifting how the world works.
The Solar Energy Industries Association (SEIA) announced last year a goal for solar power to reach 20% of all U.S. electricity generation by 2030, naming the 2020s "the Solar+ Decade". They see radical change and exponential growth in our future, with the U.S. solar industry expecting to double its workforce and offset electricity sector emissions by 35% by the year 2030.
The massive growth that the solar industry saw over the last decade will need to continue in order to accomplish the SEIA's goal. Reaching 20% of generation from solar is achievable, as long as the industry grows at an average rate of 18%, with about 39 gigawatts (GW) worth of installations per year, over the next decade. This target would result in hundreds of thousands of new U.S. jobs, more than 14 million solar rooftops, and 500 million metric tons of CO2 emissions offset each year.
The economic and environmental benefits make the increase in solar power seem like a no brainer. But not everyone is on board.
Millennial and Gen Z adults have a very different view on the climate crisis than their elder generations. With their continuously growing influence on our world's policies, this generation's awareness and actions regarding the climate crisis are meaningful, because they will be the ones to change the system in the coming years.
According to the Pew Research Center, about three-quarters of Americans (77%) agree that the more important energy priority should be developing alternative energy sources such as solar power rather than increasing U.S. production of fossil fuels. While the vast majority of Democrats (90%) agree with this, the percentage of Republicans that agree much lower at 62%, and there's a large disparity depending on age. The majority of Millennial and Gen Z Republicans (78%) say the U.S. should prioritize alternative energies, compared to just 53% of Baby Boomer and older Republicans.
The data shows how the opinions of younger generations are changing drastically from older generations - exactly the kind of attitude we need to meet our sustainable goals this decade. A big factor in this change may be the growth of social media conversation about the climate crisis. With more young people having access to the harmful effects of climate change worldwide, they are able to make more informed decisions about how they feel about the importance of alternative energy sources.
The effects of the media are not lost on those in the solar installation industry. Jorge Ricalday, Marketing Director of Green Solar Technologies, believes that the exponential growth of the social industry in recent years can be owed somewhat to social media. Jorge comments, "Information in the media spreads so fast these days. With more and more talk about climate change, especially among younger generations sharing their concerns on social media, people are scared and looking for solutions. Alternative energy sources are a reachable solution, which is why more people than ever are switching to solar energy."
Generation Z teens spend the most time on social media by far, and with their strong opinions about climate change, the word will continue to spread. As they and Millenials grow older and become the majority of the population, the support for relying on renewable energy sources will grow, as will the use of these sources. Solar is one of the easiest for the consumer to switch to and has both environmental and financial benefits, which may be contributing to the recent surge of solar projects around the world.
If solar continues to grow like we're expecting, the goal for solar power to reach 20% of all U.S. electricity generation by 2030 is all too likely. The Solar+ Decade is not only in reach, but it will hopefully cut emissions enough to slow the effects of climate change.
Posted in: Business,Technology
Netgate® TNSR™ Release 19.12 Adds vRouter and IPSec Robustness
Netgate, the leading provider of open-source secure networking solutions, today announced its latest version of TNSR software, Release 19.12. TNSR is advanced firewall, router, and VPN software with breakthrough price-performance, management, and service expansion flexibility. Built on FD.io's Vector Packet Processing (VPP), of which Netgate is a leading contributor, TNSR delivers extraordinary packet processing performance in software. This enables enterprises and service providers to scale networks far less expensively than with legacy brand solutions.
TNSR Release 19.12 expands deployment options, increases IPSec stream performance, and strengthens overall routing functionality. Notable features include:
Kernel-based Virtual Machine (KVM) – now an officially supported platform
Multi-core IPSec – enables multiple encrypted streams, critical to scale up / scale out use cases including data center replication and Site-to-Site VPN
Bidirectional Forwarding Detection (BFD) with dynamic routing – identifies forwarding path failure(s), enabling rapid routing adjustments for OSPF and BGP networks
Virtual Router Redundancy Protocol (VRRP) interface tracking – enables management of VRRP instance priorities based on the state of TNSR interfaces, thus ensuring traffic continues to flow through an available VRRP peer if an interface upstream of a VRRP instance goes down
OSPFv3 (OSPF6) – enables OSPF for IPv6
RIPv2 – provides support for legacy routing use cases
"Release 19.12 represents another significant step forward for our customers as they continue to build out high-speed routed networks," said Jim Thompson, Netgate CTO. "We are seeing rising demand for TNSR in vRouter and high-speed IPSec use cases. And, while cloud containers may dominate the world's networking headlines, traditional network function virtualization (NFV) is still our biggest deployment driver."
TNSR is available for deployment on Netgate's SG-5100, XG-1537, XG-1541 appliances; as a bare metal image for non-Netgate appliances and virtual machines; as software instances on AWS and Microsoft Azure Marketplaces; and from AWS Solution Providers and Microsoft Azure partners.
Contact sales@netgate.com to request a free trial version of the software. To learn more, visit tnsr.com. For additional questions, contact Netgate at +1 (512) 646-4100, or sales@netgate.com.
About Netgate
Netgate is dedicated to developing and providing secure networking solutions to businesses, government and educational institutions around the world. Netgate is the only provider of pfSense® products, which include pfSense software - the world's leading open-source firewall, router, and VPN solution. TNSR extends the company's open-source leadership and expertise into high-performance secure networking – capable of delivering compelling value at a fraction of the cost of proprietary solutions.
Netgate is a registered trademark of Rubicon Communications in the United States. pfSense is a registered trademark of Electric Sheep Fencing, LLC in the United States and other countries.
All other brands or product names are the property of their respective holders.
Posted in: Business,Education,Services,Technology
Two Crestwood Associates Add-On Products for Acumatica are Officially Certified
Crestwood Associates is proud to announce that two of our add-on products (AP Inbox Assist and Collections Management) have been recognized as Acumatica-Certified Applications (ACAs). AP Inbox Assist is an accounts payable add-on that seamlessly integrates email with Acumatica, and Collections Management is an accounts receivable add-on that automates the collection process.
The ACA title highlights outstanding development partners whose applications have met the highest standards set for Acumatica integration and functionality. To become an Acumatica-Certified Application, Crestwood has demonstrated commitment to quality by passing the Acumatica software test and aligning to future Acumatica roadmap releases.
"Customers who want to stay competitive need flexible, responsive technology to execute their long-term business strategies," said Christian Lindberg, Vice President of Partner Solutions at Acumatica. "Our ACA label is built to help customers find applications capable of delivering that. We're proud to recognize AP Inbox Assist and Collections Management as Acumatica-Certified Applications. They masterfully utilize the Acumatica platform to meet customers' growing business demands."
Acumatica, the world's fastest-growing cloud ERP company, has been recognized as a Visionary in Gartner's Magic Quadrant for Cloud Core Financial Management Suites for Midsize, Large and Global Enterprises 2019, as well as in The Gartner Magic Quadrant for Cloud ERP for Product-Centric Midsize Enterprises.
About Crestwood Associates, LLC
Founded in 1998 and headquartered in Mount Prospect, Illinois, Crestwood Associates is a premier Cloud Service Provider (CSP), Gold-Certified Microsoft Dynamics Partner, 10-time President's Club Award Winner, and 2017 Inner Circle recipient. In addition, Crestwood was honored to be chosen as Acumatica's US Partner of the Year in 2016 and 2017, as well as being inducted into the inaugural class of Acumatica's President's Club for 2018. Crestwood delivers a variety of business solutions, including: Microsoft Dynamics GP, Microsoft Dynamics SL, Microsoft Dynamics CRM (now called Dynamics 365 for Sales), Microsoft Dynamics 365 Business Central, Acumatica Cloud ERP, and Greentree applications. From accounting and financial reporting, to CRM, manufacturing, distribution, payroll and human resources, Crestwood Associates provides the tools and services that help businesses perform above and beyond the competition. The Crestwood team is comprised of over 50 certified professionals who provide in-depth industry experience and functional expertise.
About Acumatica
Acumatica provides cloud-based business management software that enables small and mid-size companies to accelerate their businesses. Built on cloud and mobile technology and a unique customer-centric licensing model, Acumatica delivers a suite of fully integrated business management applications, such as Financials, Distribution, CRM, and Project Accounting, on a robust and flexible platform. For more information, visit http://www.acumatica.com.
Posted in: Computers & Software,Technology
Cyara Appoints Paul Tocatlian to Vice-President of Engineering
Cyara, the leading automated customer-experience (CX) assurance platform, has appointed Paul Tocatlian to vice-president of engineering. An experienced manager of large technical teams, Mr. Tocatlian brings to Cyara a deep understanding of omnichannel customer engagement technologies, positioning him perfectly to lead Cyara's engineering team as it embarks on accelerating expansion of Cyara's Automated CX Assurance platform.
Tocatlian has a successful track record of delivering innovative and scalable Web and mobile B2C and B2B technology solutions in the cloud, and has built and led high-performance, distributed global teams with an emphasis on agile transformation and organizational effectiveness. During his twenty-year career, Tocatlian has held numerous management and technical positions at companies ranging from very early stage through IPO, and for industry giants such as AT&T Bell Labs, BEA Systems, Minerva Networks, and Global Knowledge. He holds an M.S.E. in computer and information science from the University of Pennsylvania and a B.S. in computer science from the American University in Paris.
"What attracted me to Cyara is that through its broad array of integrations with carriers and infrastructure providers, Cyara has accumulated incredibly rich insights into what it takes to deliver a great customer experience. This knowledge can be applied to measure and assure excellent CX across all customer touchpoints," said Paul Tocatlian, VP of engineering at Cyara. "And while Cyara has certainly established itself as the leader in CX assurance, I can see huge potential to enhance our capabilities to make the Cyara name synonymous with CX excellence."
"The next phase of our growth will depend on platforms and products that deliver high performance and are infinitely scalable—and that's exactly what Paul has done for some of the world's most famous network and infrastructure companies," said Alok Kulkarni, founder and CEO of Cyara Solutions. "Paul also understands that what defines a truly great product is the culture of the organization that builds it, and that makes him a terrific fit for the Cyara culture that we all love."
When he's not building high-performance enterprise software, Tocatlian volunteers his time and fundraises for an orphanage in Vietnam (http://www.happyplanetchildren.org). He is also currently developing a series of seminars and workshops for software engineering leaders and managers (http://www.spark.academy).
The Cyara CX Assurance Platform
The award-winning Cyara CX Assurance Platform helps companies accelerate CX development, increase quality across all digital and voice channels, and assure the quality of customer journeys end-to-end. Cyara's automation and collaborative environment helps organizations rapidly innovate their CX. Cyara then puts CX systems through extensive performance and load-testing, ensuring systems work at scale. Finally, Cyara delivers real-time CX insights via desktop or mobile phone, enabling customers to identify any issues and troubleshoot problems. Cyara's customers include leading brands across a variety of consumer and business segments including technology, insurance, finance, travel, and retail.
About Cyara
As the world's leading CX Assurance platform provider, Cyara accelerates the delivery of flawless customer journeys across digital and voice channels while reducing the risk of customer-facing defects. Every day, the most recognizable brands in the world trust the Cyara Platform to deliver customer smiles at scale. For more information, please visit cyara.com.
Posted in: Services,Technology
Gray Element Launches New Web Design Service (Investor Relations Sites) To Help Public Companies Grow Their Online Brand
After more than a decade of successfully helping small and large businesses grow their online brand and build effective internet marketing campaigns, Gray Element has announced they are branching out and will now offer a specialty web design serviced geared toward public companies.
"We felt there was an important need to diversify our web design services to meet the needs of public companies," said Asal Mehraban, Founder and CEO of Gray Element. "Public companies can greatly benefit from providing potential clients or customers the opportunity to find pertinent information – such as up-to-date stock prices – when visiting their websites. Therefore, we expanded our website design services to help these companies better share their success stories."
With a team of highly skilled web developers, coders, designers, copywriters, and marketers, Gray Element's website design service for public companies will help businesses communicate important information such as their stock price, pertinent news, and financial information to current and potential investors. Gray Element's website design skills make communicating this vital information to potential investors seamless, efficient, and also fully SEC-compliant.
A website built by Gray Element will provide visitors with instant news, live quotes and charts, and efficient navigation options. Gray Element has helped dozens of small businesses across a variety of industries grow their business and attract new customers with their expert web design services. Now, Gray Element is shifting its focus to include web design services specifically for investor relations websites.
"What potential investors are looking for in a company's website is much different from what an average customer might be looking for in a company's website," said Mehraban. "Potential investors are looking for information that will help them make an informed decision about whether or not to invest in a company. Our goal is to help these public companies better present their pertinent information online, making it easier for the investors to make an informed decision."
Gray Element's team is available to build a website from scratch or refresh a company's existing website. Before the Gray Element team starts any website design project, they first work with the client to analyze their current online brand. Then, the Gray Element team will take a look at what other similar companies are doing in the market and determine how to build the ideal website to meet their clients' needs.
Gray Element is currently offering free quotes for new potential customers. For more information on Gray Element, you can visit http://www.grayelement.com or call 888-995-5509.
About Gray Element
For more than 10 years, Gray Element has been a leader in providing interactive web solutions for businesses in a variety of industries. So their customers don't have to go through multiple channels to market their business online, Gray Element offers complete online marketing services, from website design and logo creation to marketing, social media strategy, reputation management, and traffic-building. For more information on how Gray Element can help your public company grow, visit http://www.grayelement.com or call 888-995-5509.
Posted in: Computers & Software,Technology,Website & Blog
ONEIL Cultivates Company Culture Benefitting Employees and Local Community
O'Neil & Associates (ONEIL), an employee-owned company that develops technical publications, training and related materials, is creating a culture of caring through its employee stock ownership plan (ESOP) business structure. From its employee recognition programs to its Adopt-a-Family outreach, the company aligns itself with a "service over self" culture that motivates employees and serves its neighbors well.
The company provided Christmas gifts for 45 children and grocery gift cards for more than a dozen families this month alone. As it has done for more than 20 years, ONEIL employee-owners voluntarily give of their own money to support disadvantaged Miamisburg families through its Adopt-a-Family program. ONEIL employees give thousands and partner with Miamisburg schools to provide pre-identified families with food and gifts purchased by the ONEIL Helping Hands Committee.
"Serving our neighbors each holiday season is a great joy for us," said Hernan Olivas, president and chief executive officer for ONEIL. "As a 100 percent employee-owned business, our employees, our business, and our local community thrive when we join together to positively impact communities where our own families live, work and play."
The ONEIL culture of giving extends beyond the holiday season and benefits the local community year-round. The Helping Hands Committee raises money for causes that employees choose, such as its Back to School Shoes program, the Larry E. O'Neil Scholarship, Miamisburg Schools Latchkey program, and the #LoveLikeLogi Foundation that equips first responders with teddy bears to soothe frightened, sick children during tragedies. This year alone, ONEIL employees have given nearly ,000 back to the community.
To honor its employees internally, ONEIL annually recognizes an employee of the year and team of the year. This year, the ONEIL executive team selected Cynthia Schneider, company controller, as employee of the year and Manitowoc Grove as team of the year for 2019. Each winner was nominated and selected by the executive team and was publicly recognized for their achievements.
"ONEIL employees are committed, caring and conscientious, so narrowing our winners to only one person and one team each year is never easy," says Olivas. "This year's winners exemplify what it means to be an ONEIL employee – collaborative, inclusive, respectful and committed to our mission. In this season of thankfulness and reflection, the ONEIL family salutes their collective 2019 accomplishments."
Studies show that employee ownership strengthens company culture by increasing employee engagement – and ONEIL is affirmation of that fact. As stakeholders, employees see how the quality of their work contributes to the company's growth and success, motivating them to perform with higher productivity and greater excellence – because as the company prospers, employees directly benefit.
According to a 1997 Washington state study, ESOP employees earned 5 percent to 12 percent more than those in non-ESOP companies. ESOP employees also have greater retirement benefits, a 2000 Rutgers study discovered. More than 20 percent of ESOP companies have defined benefit pension plans and more than 35 percent have 401(k)s, while fewer than 5 percent of non-ESOPs have defined benefit plans and only 8 percent have 401(k)s. And, with studies showing that ESOP companies also boast higher employee retention and a greater ability to withstand economic downtown, ONEIL benefits the local economy, too.
About O'Neil & Associates, Inc.
O'Neil & Associates, Inc. (ONEIL) is an employee-owned company that develops technical publications, training and related materials for manufacturers to help them show their customers how to operate, maintain and repair their products. In addition to providing services for developing these materials, ONEIL offers related technology solutions for creating, managing and delivering their client's technical information. ONEIL serves clients in the commercial, aerospace and government markets with offerings like Interactive Electronic Technical Manuals (IETMs), Web-Based Environments, Intrusive Diagnostic Systems, e-Learning, training, Content Management Systems and traditional paper manuals.
For more information about ONEIL products and services, visit http://www.oneil.com.
Posted in: Business,Computers & Software,Technology
Vizion Interactive Announces a Move to a New Vizion (dot com)
Vizion Interactive is proud to announce its move over to the newly acquired domain, Vizion.com.
The digital marketing agency has owned VizionInteractive.com since its inception back in 2005 but has always been on mission to acquire the simplified Vizion.com domain.
President & CEO Mark Jackson said, "When I founded Vizion Interactive in 2005, one of the first items on my to-do list was to secure a domain. I knew that I wanted to name the company Vizion, but – alas – the person who owned Vizion.com would not sell. Hence, 'Vizion Interactive.' Today, we are happy to say that - 14 years later - we have secured the domain and are now 'Vizion'."
The rebranding comes at a perfect time, coinciding with the New Year…"2020."
"20/20 Vision" = "20/20 Vizion.com." "It just happened that this acquisition came at this time. Perhaps it's fate that this happens as we celebrate the turning of our calendars to the year 2020," said Jackson.
To celebrate this re-branding, Vizion Interactive hosted people at the Dallas Digital Summit to free 2020 New Year's glasses and everything else that one would need to bring in the new year (except for the champagne).
"There's lots to celebrate at Vizion Interactive. We'd like to wish everyone a safe and enjoyable new year!"
About Vizion Interactive:
Vizion Interactive is a Google Premier Partner and leading digital marketing services agency, bringing the process and tools that you might expect from the largest agencies, the specialized skills and knowledge of a boutique, and the care and attention of an independent contractor. Vizion Interactive provides a wide array of digital marketing services to B2B, B2C, franchise, and ecommerce clients including holistic SEO, PPC Management/Optimization, Amazon Ads Management/Optimization, CRO and Enterprise Analytics and Reporting.
Contact
Kristien Matelski
888.484.9466
Kristien@Vizion.com
Posted in: Business,Media & Communications,Technology
LiquidPixels Strengthens Partnership with UNT
LiquidPixels, Inc. announced today the winners of the Fall 2019 LiquidPixels Image Competition™ at the University of North Texas (UNT) Global Digital Retailing Research Center. As a founding member of the center, LiquidPixels has partnered with UNT since 2017 to prepare students for entry into the digital retailing workforce. After several successful years of collaboration, LiquidPixels worked closely with Kiseol Yang, Ph.D. this semester to develop a new curriculum for her DRTL 4090: Digital Merchandising class. The revamped coursework included in-depth training on LiquidPixels LiquiFire® Operating System (OS), colorization, customization, and true dynamic imaging. The class culminated with the LiquidPixels Image Competition where students submitted their best examples of LiquiFire Image Chains™ for judging by the dynamic imaging professionals.
The winners of the inaugural LiquidPixels Image Competition were announced live by Sarah Flynn, Director of Marketing + Design, and Evan Chapman, Senior QA Engineer, to the Digital Merchandising class on December 4.
First place award of an Apple® iPad® and an invitation to the LiquidPixels 2020 Summer Internship Program: Kimberly Quan
Second place award of Apple AirPods®: Brian Lai
Third place award of LiquidPixels swag: Mya Nguyen
"We are so pleased with the work submitted by the Digital Merchandising students for this competition," said Flynn, "The thoughtfulness that went into creating their LiquiFire Image Chains showed incredible maturity."
The quality of work was not surprising, given that UNT is the only university in the country with a B.S. in Digital Retailing. The fall Digital Merchandising class, one of many at UNT that prepares students for entry into the digital retailing workforce, was made up of undergraduate juniors, seniors, and graduate students.
"Learning and practicing LiquiFire OS enables our students to further their competencies in the digital retail industry, and makes them to be more competitive in the workforce," said Dr. Yang. "We really appreciate the work that LiquidPixels has done with our school and the digital retailing program. LiquidPixels has been very generous in providing the LiquiFire OS platform for the classroom use. And the series of training and prompt assistance from their team was greatly appreciated."
UNT's Global Digital Retailing Research Center is the first interdisciplinary center the U.S. with a complete focus on digital retailing as a research hub and resource for the industry. As a founding member of the Global Digital Retailing Research Center, LiquidPixels collaborates with faculty and other founding members to provide technology insights, updates on relevant career paths, and internship opportunities to ensure that graduating students have direct hands-on experience in advanced technology solutions to effectively address the most demanding challenges facing the online retail industry.
As part of their membership engagement, LiquidPixels offers students at UNT the opportunity to receive an introduction to LiquiFire OS and to understand the value that dynamic imagery brings to the leading e-commerce websites. These values include operational efficiency to optimize website updates, enhanced visual merchandising that leads to higher conversion rates, and cross-channel image delivery for the best mobile and responsive experiences. Graduating students are prepared to enter the online retail workforce with practical knowledge of on-demand dynamic imaging and its benefits."
About the Global Digital Retailing Research Center
The Global Digital Retailing Research Center at UNT, launched in April 2013, works to advance digital retailing and consumer experience through academic and industry collaborations. The center actively brings together the best minds, ideas, and creativity to shape the dialogue in objective thought and inquiry in the science of current and future digital retailing and its impact on consumers.
About LiquidPixels
LiquidPixels leads the imaging revolution. Built on open standards, our LiquiFire Dynamic Imaging Solutions integrate into existing Web and workflow environments, enhancing product creation and visualization while reducing production costs. Founded in 2000, LiquidPixels makes its patented technology available as a hosted service or via on-site enterprise servers with solutions that may be tailored to each of our customers' unique needs. For more information, visit us at LiquidPixels.com.
Posted in: Computers & Software,Technology
SecureMac marks 20 years of Apple security
Cybersecurity firm SecureMac marks two decades in an industry which has changed dramatically over the past 20 years. Company officials say SecureMac's story parallels that of the security community at large, driven by a rapidly evolving threat landscape.
SecureMac was founded in 1999, when public awareness of cybersecurity threats was low and Macs were widely believed to be immune to computer viruses. Founder and CEO Nicholas Raba recalls:
"At the time, it was rare to find any mention of security issues on Apple forums or websites. There was certainly no centralized resource where Macintosh users could get reliable information about Mac security. SecureMac was founded to address that need: To provide a Mac-oriented security news portal, and to help raise awareness of Mac security issues."
Mac users soon began seeking out security solutions which gave them more protection and greater control than Apple's native offerings. In response to this, SecureMac released MacScan, a macOS malware detection and removal tool, in 2005. The software offered powerful and reliable third-party security to everyday users, and continues to be SecureMac's flagship product to this day.
In the past decade, ecommerce and data-driven marketing grew exponentially, and digital privacy became the new frontier of cybersecurity. Eager to build marketing profiles of potential customers, advertising and analytics firms began collecting data on users' web activity, personal information, and even physical location. In response to this growing privacy threat, SecureMac released its award-winning PrivacyScan product in 2012. SecureMac's lead developer Nicholas Ptacek remarks:
"People had started to wake up to the privacy issue. Apple did what it could, but they couldn't cover every base. PrivacyScan was created to fill that gap for Mac users, and to give them more granular control over what was happening on their systems."
Today Macs are widespread, even in enterprise environments, and security researchers have seen a concomitant trend of increasingly sophisticated macOS malware. Meanwhile, the continuing success of phishing attacks and the increase in large-scale data breaches point to a lack of cybersecurity education on the one hand, and organizational preparedness on the other.
In light of this, SecureMac has decided to renew its focus on education. In 2016, the company debuted The Checklist, a weekly podcast focused on security issues affecting Mac and iOS users. SecureMac is also returning to its roots as a news and information portal, providing updates and articles, interviews with cybersecurity experts, and a malware research database.
As Raba says, "It will always be important to have reliable security and privacy software on your Mac. But this isn't enough anymore. That's why we're putting so much focus on news and education, on security research, and on our podcast and interview series. We're building something bigger than software; something which, ultimately, will be even more effective at keeping people safe: Community."
Posted in: Computers & Software,Technology
London Calling: Eventerprise heads to the UK on latest investor roadshow
Switzerland, Zürich, December 10.2019
The next leg of Eventerprise's fundraising journey sees Birgit Thümecke head to the UK to deepen ties with existing investors and industry partners as the platform looks to fuel its expansive growth marketing initiatives early in the new year. The latest roadshow on British soil, which sees the company's CEO addressing a booming UK events market worth a staggering £42.3bn at most recent estimates, aims to provide insight on their ambitions for 2020 and will look to tap into positive industry sentiment in the wake of the most recent acquisition by B2B Media Group Tarsus of the UK-based exhibition and conference organiser Smarter Shows. The city of London proudly remains Europe's tech capital, seeing more than twice as many companies successfully raise funds since 2015 compared with the other large hubs across the continent. The substantial investment has been in no small part thanks to the support of the U.S. investment community, with .4bn (£3.4bn) having crossed the Atlantic in 2019 to date, accounting for more than three-quarters of total investment according to research from Pitchbook and London & Partners.
With the recent announcement of completion of its due diligence with The Keiretsu Forum, Eventerprise is looking to complete a .1 million late-seed funding round with significant industry and investor validation in hand. Peter Henry, Managing Partner at Act 5 Ventures LLC, highlighted that "whereas typical early-stage tech startups have a great deal of risk inherent in their untested ability to deliver on the promise of their technology vision, this is not the case with Eventerprise. If anything, the technology, and its development are among the least risky aspects of the business at this point." It has certainly been a busy back end of 2019 for Birgit and her executive team, with the Keiretsu Forum engagement having provided the opportunity to pitch at a series of events across the U.S. and also present the latest release of the platform's EventerQuote/RFP solution to the RISE conference in Hong Kong.
Looking to meet Birgit between the 6th and 13th January 2020 in London to discuss all things events? Please email us at letsmeet@eventerprise.com to arrange a time and let's look to connect the world of events together.
The Eventerprise late-seed round is led by San Francisco based Act 5 Ventures and has already added Phillip R. Lynch, Vice President, Commercial Growth & Innovation at Johnson & Johnson Asia Pacific, to its list of seasoned angel investors. "My investment is predicated on good leadership, the right team, and its business model. The team is privileged to be led by an outstanding leader in Birgit Thümecke, who is well qualified to take Eventerprise forward."
Birgit Thümecke is co-founder and CEO of Eventerprise.com, a global marketplace platform that connects event organizers with event professionals as well as vendors of event-related products, services, and venues. As a recipient of a Stevie Award for Women in Business, she is committed to building a world-class distributed organization that serves all its stakeholders with growing value.
Instagram & Twitter: birgit_ceo
Linkedin: Birgit Thümecke
Source: Eventerprise AG (Switzerland)
Eventerprise AG
charlie@eventerprise.com
www.eventerprise.com
Posted in: Professional Services,Services,Technology,U.S,World
Draper Unveils LiDAR with MEMS Beamsteering Technology for Autonomous Vehicles
LiDAR, short for light detection and ranging, is often considered the primary sensor for self-driving cars, given its ability to create high definition maps of the surrounding environment. LiDAR provides a three-dimensional point cloud of a car's surroundings by measuring how long light takes to travel to an object and bounce back.
Currently, most LiDAR systems rely on mechanical scanning, which suffers from poor reliability and high cost. In contrast, Draper has developed, and recently advanced, a LiDAR-on-a-Chip that uses patented, all-digital MEMS optical switches for beamsteering.
Draper's all-digital switches provide robustness for the harsh automotive environment, which carries advantages over competing solid-state approaches that rely on analog beamsteering. In addition, the use of novel components, like optical switches, MEMS and integrated photonics, all on a single-chip, allows Draper to surpass current LiDARs in range and resolution.
The result is that Draper has successfully built a high resolution solid state LiDAR that images objects at 50 meters. In the development of this achievement, Draper demonstrated low-loss waveguides with verified losses under one dB/cm and MEMS optical switches with lifetimes surpassing 10 billion cycles.
With Draper's LiDAR, light is emitted through a matrix of optical switches and collected through the same optical switches, which allows for a favorable signal-to-noise ratio, since little ambient light is collected.
Draper's LiDAR is being developed to image a range of hundreds of meters while providing a corresponding angular resolution targeted at less than 0.1-degrees, a significant advancement over competing LiDAR systems, many of which offer lower range and resolution.
"At Draper, we have experience with differing beamsteering methods, such as optical phased arrays. However, we feel MEMS optical switches provide an elegant simplicity," said Sabrina Mansur, Draper's self-driving vehicle program manager. "If we want to image a target at a specified location, we simply enable the corresponding optical switch, whereas other approaches rely on precise analog steering, which is challenging given automotive's thermal and vibration environment."
The new offering, which is available to license, adds to Draper's growing portfolio of autonomous system and self-driving car capabilities. The portfolio includes the Draper APEX Gyroscope—a MEMS gyroscope that provides centimeter-level localization accuracy, and Draper's all-weather LiDAR technology, named Hemera, a detection capability that's designed to see through dense fog and is compatible with most LiDAR systems.
Draper
At Draper, we believe exciting things happen when new capabilities are imagined and created. Whether formulating a concept and developing each component to achieve a field-ready prototype or combining existing technologies in new ways, Draper engineers apply multidisciplinary approaches that deliver new capabilities to customers. As a not-for-profit engineering innovation company, Draper focuses on the design, development and deployment of advanced technological solutions for the world's most challenging and important problems. We provide engineering solutions directly to government, industry and academia; work on teams as prime contractor or subcontractor; and participate as a collaborator in consortia. We provide unbiased assessments of technology or systems designed or recommended by other organizations—custom designed, as well as commercial-off-the-shelf.
Posted in: Business,Technology
Sunrise Hitek Announce New 7th Generation iPad Case for 10.2" iPad
A broken screen often leads to a broken iPad. The dual-layer rugged design with extra padding around the corners brings added drop-resistance. The simple act of adding a case to the device can add years to the life of the device and save school districts (and parents) hundreds of dollars.
The Slim Tough Case G7 offers the most rugged protection for 7th Generation (2019) 10.2" iPads. It is specifically designed for kids and teachers at K-12 schools, and is compatible with all popular charging carts, including the Bretford, Anthro, Datamation, Ergotron, and others.
This G7 model offers some exciting new features. First off, it includes a built-in holder for Apple Pencil or Logitech Crayon. Perhaps the most innovative new feature is that the kickstand rotates 360 degrees for vertical and horizontal viewing at any time. To go with this new kickstand is an optional hand strap and customers can purchase an optional shoulder strap. This case will be available in black, blue, red or green colors.
In addition to the new features listed above, this case still has the same bells and whistles as the previous generations of Slim Tough Case. Sunrise Hitek's rugged iPad case adds ultimate durability and shock resistance to iPad. Its highlights include a dual-layer rugged design including a protective silicone skin over an inner hard case and a naked frame for the very best touch experience, which is 100% stylus compatible.
About Hitek Cases
Hitek is a leading maker of protective gear for schools' 1:1 technology programs. Hitek has been designing tech accessories since 2013 and expanding ever since. Their primary customer are K-12 schools, with products in over 3,200 schools, protecting more than 240,000 devices. A privately-owned enterprise, the company is based in Chicago and sells products worldwide.
About Sunrise Hitek
Sunrise Hitek is an Inc. 5000 company established in 1988 and offers speedy and innovative print marketing execution for the world's leading brands. Sunrise employs the most advanced equipment and technology, such as G7-certified HP Indigo & UV flatbed presses, digital die-cutting, and specialty coating/lamination, to create best-in-class color printing, packaging, trade show & display graphics, plus a wide variety of promo products. A privately-owned enterprise, the company is based in Chicago and sells products worldwide.
Posted in: Shopping & Deal,Technology
Mindgrub Named to Clutch's List of Top 1000 B2B Service Provider
Mindgrub is honored to have been named #645 on the second annual Clutch 1000 index, a list of the top B2B (business to business) service providers in the world. This is Mindgrub's second year being named to the exclusive list, which recognizes the top 1% of companies on the platform.
Clutch, the leading online B2B ratings and reviews platform, judges companies based on six categories, including quantity and quality of verified client reviews, brand reputation, and visibility in their target market.
"What an honor to be named one of the best in the world, not just once, but twice," said Mindgrub CEO Todd Marks. "This award exemplifies the ability of our team to consistently deliver high-quality results to our clients. It's been a record-breaking year for us, and I look forward to pushing the envelope even further in 2020."
"As a member of the Clutch 1000, these companies represent the top tier of service providers on our platform," said Clutch Founder Mike Beares. "With an impressive array of projects and clientele, superior knowledge, and attentive, detail-oriented customer service, these companies have established themselves as industry leaders both locally and in the global B2B market."
Mindgrub has a 4.8-star rating on Clutch and is proud to also be ranked #9 of 595 for Baltimore-area companies, and #11 out of 1,301 in the state of Maryland.
ABOUT CLUTCH | A B2B research, ratings, and reviews firm in the heart of Washington, D.C., Clutch connects small and medium businesses with the best-fit agencies, software, or consultants they need to tackle business challenges together and with confidence. Clutch's methodology compares business service providers and software in a specific market based on verified client reviews, services offered, work quality, and market presence.
About Mindgrub | Mindgrub, a member of the Inc. 5000 for seven years running, is a technical agency and creative consultancy specializing in the design and development of exceptional digital experiences. Headquartered in Baltimore, Mindgrub has offices in New York City, Philadelphia, and Washington D.C. Connect with Mindgrub online at mindgrub.com.
Posted in: Computers & Software,Technology
Mantra Softech Launched MFS500 – a High Quality Biometric Fingerprint Scanner
Mantra Softech has launched MFS500 – a high-quality fingerprint scanner with a scratch-free optical sensor for efficient identification of the fingerprint. MFS500 is utilized for the identification and authentication of an individual.
This new MFS500 has the lowest FRR (False Recognition Rate) amongst all other biometric fingerprint scanners in the market. Apart from this, MFS500 has been certified by FBI PVI Certification for FAP10. Its platen prism is made of glass instate of plastic, currently, many players in the industry use a plastic prism to lower their cost. Due to this the glass prism platen does not get yellowish after some point of time and maintains its ruggedness and durability.
MFS500 fingerprint scanner has widest platform selection as it is compatible with Android, Windows, and Linux operating systems. Mantra has also developed MFS500 APIs and SDKs which helps SIs, and developers to work in any environment to develop their own products and solutions.
To manage all the service or maintenance queries, Mantra has developed a dedicated service support center (SERVICO) to handle customer queries in real-time with online and on-site support.
The device form factors makes it easy to use in various applications such as Citizen Identification, eKYC, Verification of any individuals to get the access and authentication.
Posted in: Business,Electronics & Semiconductors,Manufacturing & Industry,Technology
MedWand Wins CES 2020 Innovation Awards Honoree in Two Categories
MedWand Solutions, Inc., a global leader in remote diagnostics, is pleased to announce that its remote examination device, MedWand, has been selected as a CES 2020 Innovation Award Honoree in not one, but two categories. Every year the CES Innovations Awards honors outstanding design and engineering in consumer technology products. MedWand was awarded in the categories of "Health & Wellness" and "Tech for a Better World".
Telehealth is one of the healthcare industry's fastest-growing segments. With numerous telemedicine services in existence worldwide, most virtual visits are conducted via video with few, if any, examination capabilities. MedWand changes this.
Engineered to allow physical examinations during telemedicine consultations, the MedWand device contains ten diagnostic tools housed within a singular handheld unit that allows patients to be examined remotely over the Internet. The MedWand contains the following instruments:
1. Stethoscope to listen to heart, lungs, and abdomen
2. Otoscope for ear exams
3. Ophthalmoscope for eye exams
4. Dermatoscope for skin exams
5. Throat illuminator for oral exams
6. Pulse oximetry for oxygen levels
7. Pulse rate
8. Thermometer
9. Respiratory rate
10. EKG
MedWand's chief engineer and COO, Robert Rose, who was present at the CES Innovation Awards ceremony in New York, says development of MedWand was incredibly complex, but equally rewarding. "It wasn't easy putting ten medical devices into something the size of a computer mouse that weighs less than 5 ounces, but we did it. Our engineering team did a phenomenal job, and we look forward to showing our technology to the world at CES 2020. We are currently involved in the FDA and CE approval process, with clearance anticipated in Q1 2020."
MedWand shall be present at CES 2020 alongside several technology partners (Dell, Intel, and Microsoft) this January 7th – 10th in Las Vegas, where MedWand Solutions, Inc. is based. The MedWand booth #44925 can be found in the Sands Main Hall in the Health and Wellness area. Visitors will be able to demo the MedWand device*, see various MedWand system packages, and meet the team members. Free prizes, presentations on the future of medicine, and live MedWand exams** are also planned.
MedWand's physician-founder and CEO, Samir Qamar, is looking forward to CES 2020. "We are thrilled that CES recognizes the impact MedWand can have on healthcare and the world. Our vision was that patients should have the means to be examined from anywhere, reducing the need to travel for medical visits. With its vast array of diagnostics, MedWand increases the value of any telemedicine video visit by 10x, opening up a world of possibilities in virtual health. If you have the means to help others, wouldn't you do whatever it takes to do so? This is what MedWand is all about."
*Currently not for sale in jurisdictions requiring FDA or CE approval
** Exhibition purposes only
About MedWand Digital Health –
U.S.-based MedWand Solutions, Inc. creates award-winning telemedicine technology, allowing consumers to be remotely-examined by clinicians. Designed to be used during telemedicine visits, the handheld MedWand device is portable and houses 10 medical devices in a singular unit. MedWand DOCs (Digital Onsite Clinics™) combine MedWand devices with computers and tablets to create virtual clinic capabilities for consumers worldwide. For more information, visit https://www.MedWand.com.
About the CES 2020 Innovation Awards –
The CES 2020 Innovation Awards is an annual competition honoring outstanding design and engineering in consumer technology products. The program recognizes honorees in a multitude of consumer technology product categories and distinguishes the highest rated in each. The CES Innovation Awards are based upon descriptive materials submitted to the judges. CTA did not verify the accuracy of any submission or of any claims made and did not test the item to which the award was given. For more information about the CES 2020 Innovation Awards, visit http://www.ces.tech.
Posted in: Technology
Incedo continues to strengthen its leadership team with senior executives joining from Mu Sigma and Flipkart
Incedo, a New Jersey headquartered, Digital and Analytics company, is pleased to announce strategic appointments of industry leaders, Krishna Rupanagunta, as the President and the Chief Customer Success Officer and Paresh Huria as the Executive Vice President and Chief Delivery Officer. These leaders have enviable track-records of leading customer impact and delivery organizations for some of the most prominent digital native companies globally. They will play a key role in helping Incedo's customers realize the business potential from Digital Transformation initiatives.
Krishna was a member of the global leadership team at Mu Sigma, one of the world's largest pure-play Big Data and Analytics firms. He is an acknowledged thought leader in Big Data and AI technologies and brings along over 25 years of exceptional experience in building and leading teams across client advisory, product management, and delivery in decision sciences and advanced analytics. In his role as President and the Chief Customer Success Officer, he will be responsible for developing Incedo's Solutions & Platform capabilities and further raising the impact delivered to clients. He joins Incedo from Cisco, where he was Head of Advanced Analytics and Data Science.
Paresh joins Incedo from Flipkart, where he built and led a pan India team to transform and turn around the operations with improvement in all metrics such as scale, reach, cost, and customer experience. Paresh was also instrumental in setting up and building an end to end planning function at Flipkart, responsible for ensuring seamless execution and synchronization as the company went through the hyper-growth stage. In his role as Executive Vice President and Chief Delivery Officer, Paresh's will be responsible for leading the global delivery organization and for continually raising the bar on quality, efficiencies, and client satisfaction. He has over 17+ years of experience in procurement, planning, finance & control, strategy, and operations across firms such as Hindustan Lever, PepsiCo, and Boston Consulting Group.
"We are fortunate to have Krishna and Paresh join us, to strengthen our focus towards customer success and help our customers realize the true potential and business value from Digital Transformation and Data Science investments. Krishna, a pioneer in Digital and Data Science, will bring tremendous value to our clients." said Nitin Seth, CEO, Incedo Inc. He further added, "Paresh's strong industry and consulting expertise, coupled with his experience in transforming delivery for large digital native organizations, will be instrumental in constantly enhancing Incedo's delivery capabilities, given our sharp growth trajectory."
About Incedo
Incedo is a new age Digital & Analytics firm that helps clients achieve a sustainable advantage in their business by bridging the gap between business and technology. We are Headquartered in Iselin, New Jersey. Our 1900-strong workforce represents world-class talent at the intersection of problem-solving, user-centered design, and deep domain expertise. We have been recognized by INC5000 and CRN as the fastest-growing company in the US consistently from the last four years. Our client base includes multiple Fortune 500 companies in the Financial Services, Life Sciences & Healthcare, and Telecom verticals. http://www.incedoinc.com
Media Contact:
Apurv Bhatnagar
T+91 9958378877
apurv.bhatnagar@incedoinc.com
Posted in: Business,Technology
Fast Technologies, Inc. is excited to announce the launch of Fast.io: The world's most convenient platform for scalable (CDN) and reliable file hosting
Fast Technologies, Inc. is excited to announce the launch of Fast.io: The world's most convenient platform for scalable and reliable file hosting. It is a solution for designers, developers, and marketers looking to automate everything needed to host and track files and static websites at an enterprise scale.
Fast.io was founded by Derek Labian and Tom Langridge, who also co-founded MediaFire, a top 100 website visited globally, and a leader in consumer cloud storage and file sharing.
"The process of deploying static content today is complicated and time-consuming because solutions like S3 require manual uploading, a separate CDN configuration, a manual review of raw data logs, and tedious cache flushing each time an update is made," says Tom Langridge, co-founder of Fast.Io and MediaFire. "We want to get content online quickly with the simplicity and ease of use of cloud storage without sacrificing the reliable scalability and performance of a CDN."
The platform simplifies and automates the cumbersome steps required to add, manage, update, deploy, and analyze static assets directly on content delivery networks (CDNs) like Akamai, Fastly, and Cloudflare. It tightly integrates with your current workflows and preferred cloud storage service (Google Drive, Dropbox, OneDrive, MediaFire, Box, and GitHub) to manage files. It includes an integrated CDN, using Cloudflare and Akamai for lightning-fast global deploys, a visual dashboard, and detailed, accurate analytics data sent to Google Analytics and Mixpanel.
The enterprise-file distribution network delivers:
Continuous integration that syncs from your cloud storage or version control system to a global Content Delivery Network
Foolproof Analytics that works regardless of Ad-Blockers and integrates with MixPanel or Google Analytics
High performance, low latency enterprise-grade infrastructure that scales reliably
Large file support, with individual files up to 20GB each
Simple Pricing, with no storage fees
A free tier offering 100GB transfer a month, forever
Free unlimited DNS
Custom domains with automatic and free SSL (HTTPS)
Automatic image optimization and code minification
Customization features such as Password Protection, Automatic Directory Listings, and Custom Error Pages
Workflow integration with Slack
Visit http://www.fast.io to get started syncing and publishing today with our free version.
About Fast Technologies, Inc.
Fast Technologies, Inc. is on a mission to simplify how the web is built. Located in San Francisco, Houston, and Seattle, the Fast.io team embraces remote work. The tools they use and develop enable productivity anywhere thanks to the cloud. They created a simple enterprise file delivery network that automates everything needed to host and track files and static websites at an enterprise scale.
Fast.io is a registered trademark of Fast Technologies, Inc. in the United States. All other trademarks, trade names or service marks used or mentioned herein belong to their respective owners.
Media Contact:
Tom Langridge
Co-Founder & CPO
press(at)fast.io
1-877-FASTIO-8
Product Hunt: https://www.producthunt.com/posts/fast-io
Visit our website: fast.io
Follow us on Twitter: @fastdotio
Chat with us on Facebook: Facebook.com/fastdotio
Connect with us on LinkedIn: linkedin.com/company/fastio
Posted in: Technology
Heilind Electronics Now Stocking HARTING VarioBoot RJ45 Patch Cords
Heilind Electronics, a leading distributor of electronic components worldwide and an authorized distributor for HARTING, is now stocking the manufacturer's VarioBoot RJ45 overmolded cable assemblies. The patch cords introduce the flexibility of controlling the angle and orientation of the RJ45 connectors, creating an ideal fit inside an electrical enclosure or control cabinet.
The HARTING VarioBoot RJ45 supports all matters of routing paths without the risk of interference or transmission loss. The direction of the RJ45 connectors can be adjusted up to 20 times and bent in a left-to-right or up-and-down orientation.
VarioBoot RJ45 patch cords are IP20-rated with durable locking levers. The 10 Gbit/s transmission performance allows compatibility with the most frequently used data rates in industrial Ethernet. Ideal applications include robotics, automation, wind and machinery.
Visit Heilind's website for more information about HARTING VarioBoot RJ45 patch cords.
About Heilind Electronics:
Heilind Electronics, Inc. (http://www.heilind.com) is one of the world's leading distributors of connectors, relays, sensors, switches, thermal management and circuit protection products, terminal blocks, wire and cable, wiring accessories and insulation and identification products. Founded in 1974, Heilind has locations throughout the U.S., Canada, Mexico, Brazil, Germany, Singapore, Hong Kong and China. Follow Heilind on Facebook at facebook.com/Heilind and on Twitter at twitter.com/Heilind.
About HARTING:
The HARTING Technology Group (http://www.harting.com) is a global provider of industrial connection technology for the three lifelines of power, signal and data. The company has 13 production locations as well as business units in 44 countries. In addition, the company produces checkout systems for the retail sector; electromechanical actuators for automotive and industrial series production; and hardware and software for customers and applications in the areas of automation technology, robotics and transportation.
Posted in: Technology
CBD.io Anticipated to be the most Highly Attended CBD Tradeshow of 2019, Setting the Gold Standard for CBD Discovery, Thought Leadership & Entertainment
Last year's expo was a resounding success pulling in over 7,500 attendees and hosting buyers from 46 different countries including big box buyers like Costco, Walmart, and GNC. Exhibitors included some of the biggest CBD brands including Blue Moon Hemp, CBDistillery, CBDfx, and GRN to name a few.
This year, CBD.io and partners, are once again set to produce the world's largest CBD trade show doubling capacity for 2019 with more than 300 booths and 15,000 attendees!
The 2019 Expo is expanding CBD.io's unique, industry- leading activations headlined by 2 massive stages hosting over 100 speakers and the official show mixer. Debuting at this show is also the Flower Lounge; an LED cherry blossom tree garden nestled with farms showcasing the finest hemp flower in the country.
NORML, The National Organization for the Reform of Marijuana Laws, is the show's official education partner. Leveraging their vast network, they are gathering the industry's leading scientists, doctors, legislators, and thought leaders; bringing together the top minds from around the globe to speak about the past, present, and future of CBD. Additionally, Vapexpo has officially partnered with the American Vaping Association, to also host critical Industry discussions about the future of the vaping industry worldwide.
"In our experience, a successful trade show comes down to one thing: bringing buyers. It's a good thing that's our specialty" says Mike McNeely, CMO. In fact, CBD.io attendees will include international Buyers from over 10 countries along with top USA buyers including Kroger, who recently announced it would begin selling CBD products in nearly 1,000 stores across the U.S.
From leading legislators to A-list celebrities and big-box retailers, CBD.io will be attracting a large swath of the most relevant industry players.
The event is slated to run from November 22-23, 2019, at the Las Vegas Convention Center. It will be business-to-business on Friday and open to consumers on Saturday. Tickets are on sale now. To register for this event, email contact@cbd.io or contact@vapexpo-usa.com or call/text (702) 323.8875. For more general information about CBD.io, visit CBD.io
CBD.io 2019 Diamond Sponsors include Tyson Ranch, Loot, Hempcy, GRN, KaliBloom, Livive, Pacific CBD, VaporTech, Shijin Vapor, Monster Vape Labs, Traffic Roots, Allo and CannaSpa.
About CBD.io
Created in 2018 with the goal to provide a world-class trade show with a strong thought leadership element, CBD.io has evolved into an industry leader in CBD information and technology. Their eagerly awaited online platform is expected to go live on December 1st and is anticipated to be the largest functional CBD ecosystem on the market with solutions throughout the supply chain. To request a demo, please contact vip@cbd.io.
Posted in: Technology
Vancouver, Canada to Host the 2020 World Forum for Foreign Direct Investment
Conway, Inc. announced that it has awarded the 17th annual World Forum for Foreign Direct Investment (FDI) to Vancouver, Canada. The Ministry of Jobs, Trade and Technology, Vancouver, British Columbia, will host this historic event, which is held in a different country each year and highlights the host region as a premier destination for FDI and business expansion.
The Forum will be held June 15-17, 2020 and bring together up to 500 top corporate executives, multinationals and corporate Investors, ministries of Trade and Investment, economic development agencies, realtors and site selection advisories, and FDI consultancies from across the globe to network and forge lifelong relationships.
"If there's a greater hotbed of Asian/North American FDI then Vancouver, I've never seen it. We're thrilled to announce that the World Forum for FDI is going to Vancouver, Canada, in 2020!" said Adam Jones-Kelly, President, Conway, Inc. "A stunningly beautiful city, a booming economy, and a world-class investment destination – all the ingredients for a spectacular event!"
The World Forum for FDI provides a platform for dialogue around the most critical issues facing the global economy. During the three-day forum, business leaders, chief executives, and decision-makers from internationally expanding companies come to discuss the latest news and trends on corporate investment strategy and expansion opportunities, including workforce development issues and incentives, emerging markets and sustainable development, and challenges companies face when establishing a presence in new countries, cities, and zones.
The Ministry of Jobs, Trade and Technology of Vancouver, British Columbia, will serve as the official host organization and arrange exclusive hospitality receptions throughout Vancouver. Delegates of the Forum will participate in world-class seminars and networking events where they will have the opportunity to speak with experts who will share their knowledge, experience, and tips. Additionally, Conway will conduct a one-day FDI Training Seminar before to the World Forum. The seminar will detail global best practices, new ideas on marketing, and the latest strategies for attracting and increasing foreign direct investment.
For more information on the World Forum for FDI, visit http://www.worldforumforfdi.com.
About Conway, Inc.
Since 1954, Conway has provided the world's most comprehensive offering of services related to domestic and cross-border corporate investment. Our integrated services help government agencies attract investment, and companies planning international expansion. Conway's network of corporate decision-makers invests more than 0 billion each year in new facilities, offices, and sites, assisting in the creation of hundreds of thousands of jobs.
Conway has divisions which specialize in publishing, consulting, public relations, event development, marketing, advisory services, lead generation, site consulting, training, and association management. Conway is the publisher of Site Selection Magazine and management firm for the Industrial Asset Management Council (IAMC).
Headquartered in Atlanta, Georgia, USA, Conway has offices and representation in 29 cities around the world.
For more information, please visit http://www.conway.com
About the B.C. Ministry of Jobs, Trade and Technology
The Ministry of Jobs, Trade and Technology manages government services that help support and maintain the strong and diverse economy that British Columbians need for long-term prosperity. It's the ministry's mandate to grow B.C.'s technology sector, champion innovation, nurture small businesses, support economic development throughout the province, and promote B.C. internationally as a preferred place to invest and do business.
For more information, please visit https://www2.gov.bc.ca
Posted in: Services,Technology
Global Events Platform to address Mumbai Angel Network as part of global fundraising roadshow
The Indian events industry is an economic powerhouse. This week Birgit Thümecke, CEO and Co-founder, and Barry Blassoples, VP Growth of Eventerprise, will address the Mumbai investor network as part of Eventerprise' global funding initiatives.
Eventerprise is a tech company on a mission to connect the world of events by ensuring technology is accessible, inclusive, and affordable across an underserved market.
Making it easier to create memorable experiences by helping everyday people find the best vendors, venues and event professionals, all on one platform.
Eventerprise recently announced the completion of due diligence with the Keiretsu Forum (USA), part of the world's number one most active venture investor network. The three-month collaborative process, which saw substantial input from experienced entrepreneurs, investors, and legal experts, provides a platform to finalize Eventerprise' .1 million late-seed funding raise coupled with significant industry and investor validation. With 5,000 already secured in the 1st close of the round, the report and additional financing of 5,000 will fuel the company's growth marketing initiatives and launch in the greater Los Angeles region.
The move to address the Indian investor community is a logical one for the Swiss and US incorporated business, with an established strategic R&D partner in Vadodara, India, Co-founder and events entrepreneur, Charlie Wright, is excited by the potential: "India being arguably one of the largest events markets in the world makes the local validation, investment and partnerships already secured tremendously significant for us. We are now very much looking forward to launching the platform here in due course."
Dr. Rajen Kilachand, investor, businessman and prolific philanthropist adds: "I have known Charlie for a number of years and his friendship and absolute commitment to what he does, along with his integrity as a businessman are what have convinced me to get behind Eventerprise, and I'm delighted to be part of the early pioneers in this platform."
The experience with Keiretsu has been invaluable and created a platform to present the next phase for Eventerprise at a series of global events. "Receiving the stamp of approval from such an internationally recognized due diligence process was a key objective for us," echoed Birgit Thümecke, who acknowledges that the benefits go far beyond funding from the Keiretsu network. "Having the opportunity for some of the best in the business to take a deep dive into every corner of our business, and come up with such positive sentiment, truly reaffirms our belief that the Eventerprise platform is ready to serve the global events industry."
Adam Smith, owner of the digital growth agency Sound Press, Cincinnati, USA, highlighted the following in the final report: "They have a plan in place to put the funding towards the right tasks for proving the business model and acquiring market share. The supporting documents are some of the best I've seen in regards to preparedness." It was not only the firm's marketing strategy that received ringing endorsements, its underlying technology gained high praise from veteran and San Francisco angel investor Peter Henry: "Whereas typical early-stage tech start-ups have a great deal of risk inherent in their untested ability to deliver on the promise of their technology vision, this is not the case with Eventerprise. If anything, the technology, and its development are among the least risky aspects of the business at this point, and it's more about the marketing and execution of launching the offering in the right place and time".
The management team, led by serial entrepreneurs and industry experts Birgit Thümecke, Götz Thümecke and Charlie Wright, clearly understand the potential of the event management software market, the size of which is expected to balloon to .4billion by 2024 according to latest research. Industry giant Cvent's recent acquisition of the event technology provider DoubleDutch provides testament to the event industry's continuing ability to develop and embrace innovative digital solutions. With two-sided platform models being already well established with consumers in India and the United States, Eventerprise covers a niche which has been long overlooked by the industry's established technology powerhouses. Its unique focus on streamlining the interactions between event hosts and vendors of event products, services or venues allows the company to, in the words of CEO Birgit Thümecke, "level the playing field by bringing trust, order and simplicity to an underserved and fragmented industry."
Eventerprise has recently extended its reach into the Asian market, with a Singaporean hub coming online in 2019. Investor sentiment in the region has followed suit, with its current round adding Phillip R. Lynch, Vice President, Commercial Growth & Innovation at Johnson & Johnson Asia Pacific, to its list of seasoned angel investors. "My investment is predicated on good leadership, the right team and its business model. The team is privileged to be led by an outstanding leader in Birgit Thümecke, who is well qualified to take Eventerprise forward."
Funds secured from the current late-seed round, which is led by San Francisco based Act 5 Ventures, are earmarked for growth market activation activities across the greater Los Angeles region, as well as further investment in its R&D capabilities. With expansion milestones and revenue targets achieved the team will head toward Series A latest 9 months after launch full of optimism. The event industry has seen high profile exit transactions such as Eventbrite's billion IPO in 2018, Eventerprise's market-ready platform, detailed roll-out plan, and potential return over five years (based on comparable investments), offers a very compelling investment opportunity.
To learn more about the Eventerprise investment opportunity, please click here.
Learn more at www.eventerprise.com/invest
Eventerprise.com is a Swiss global tech startup on a mission to connect the world of events. We do this by ensuring technology is accessible, inclusive and affordable across an underserved market. Eventerprise makes it easier to create memorable experiences by helping everyone find the best vendors, venues and event professionals, all on one platform.
Birgit Thümecke is co-founder and CEO of Eventerprise.com, a global marketplace platform that connects event organizers with event professionals as well as vendors of event-related products, services, and venues. As a recipient of a Stevie Award for Women in Business she is committed to building a world-class distributed organization that serves all its stakeholders with growing value.
Posted in: News & Current Affairs,Professional Services,Services,Technology,U.S
Haivision Accelerates Cloud Strategy by Acquiring LightFlow, the Artificial Intelligence and Cloud Orchestration Media Business of Epic Labs
Haivision, a leader in video streaming solutions, today announced the acquisition of LightFlow Media Technologies S. L., the advanced media optimization business of Epic Labs.
This acquisition adds artificial intelligence and machine learning technologies to Haivision's innovation portfolio to form the basis for advances in content-aware video encoding, content indexing, object detection, as well as optimization of video contribution, distribution, and delivery for low-latency live feeds or video on-demand.
LightFlow's technology suite also gives Haivision an advanced media cloud orchestration architecture, a foundation to accelerate the company's cloud strategy of creating an ecosystem of modular video streaming and management technologies. The LightFlow team also led the development of the DASH.js implementation that includes low-latency CMAF support, which adds to Haivision's overall market leadership with the SRT open source initiative and the development of the Haivision SRT Hub intelligent cloud media routing platform.
"Haivision is a recognized leader and pioneer in video streaming with the Makito series of video encoders and the open-source SRT initiative. Epic Labs is a cutting-edge innovator in cloud development and AI for video streaming," said Mirko Wicha, founder and CEO of Haivision. "By bringing our visions together, we are poised to enable the delivery of revolutionary new end-to-end media solutions that will transform low-latency streaming workflows – from contribution and distribution, all the way to delivery and monetization."
"LightFlow brings a vast expertise and technology to improve video workflows leveraging artificial intelligence," said Alfonso Peletier, Founder and CEO of Epic Labs. "LightFlow finds in Haivision the scale and reach of the world leader in performance streaming. The joint team and technologies will accelerate our shared vision of delivering revolutionary cloud workflows to the market and the community."
"Innovation is at the heart of Haivision's cloud development efforts," said Mahmoud Al-Daccak, Haivision's CTO and EVP of Product Development. "Haivision is pioneering next-generation cloud video services made possible through intelligent media routing, AI-optimized media and metadata processing, as well as blockchain-enabled decentralized federated content distribution, opening new opportunities for more content providers to deliver video to ever-expanding audiences."
"With so much real-time data available throughout the media workflow, the magic dwells in understanding, learning, and adjusting continuously to achieve optimal results," said Miguel Serrano, CEO of LightFlow Media Technologies. "By applying artificial intelligence in different layers of the video workflow, we can harness the combined power of the cloud and edge processing to reinvent the way broadcast and media organizations produce, deliver, and monetize their content."
The LightFlow team, based in Madrid Spain, now augments Haivision's global development organization, which is headquartered in Montreal, with additional R&D offices in Portland, Chicago, Austin, and Hamburg.
About Haivision
Haivision is the leader in live video streaming technologies, providing more than 25,000 organizations globally with video solutions that help them stream broadcast-quality, low-latency video from anywhere. Founded in 2004, Haivision is a profitable, privately held company with headquarters in Montreal and Chicago, and regional offices located throughout the Americas, Europe, and Asia. To help solve the world's most difficult video streaming challenges, Haivision open sourced its award winning SRT low latency video streaming protocol in 2017 and founded the SRT Alliance, which now has over 250 industry leading companies supporting this new standard. Awarded an Emmy® for Technology and Engineering from the National Academy of Television Arts and Sciences, Haivision is also recognized as one of the most influential companies in video by Streaming Media and one of the fastest growing companies by Deloitte's Technology Fast 500. Learn more at haivision.com.
Posted in: Technology
RiVidium Inc. (dba TripleCyber) Appoints Jim Kirby as Sr. Vice President, Business Development
RiVidium Inc. (dba TripleCyber), today announced that Jim Kirby is appointed Senior Vice President, Business Development, effective October 1, 2019. In this role, Jim will direct and manage all business development-related activities for RiVidium's four Divisions: Logistics and Financial Services, Human Capital and Training Services, Information Technology and Engineering Services, and Cyber and Intelligence Services. Jim will report to Manny Rivera, Chief Executive Officer (CEO).
Jim is a growth-minded executive who brings more than 20 years of experience helping small and large businesses exceed their strategic goals. He has long standing relationships and contacts within the business development community, and he will drive RiVidium's ability to establish relationships and identify service contracts and build business. Jim most recently served as Senior Manager, International Business Development, Cybersecurity & Special Mission, Raytheon where he was responsible for building the pipeline from nil to 0M and bringing in over 0M. This gave Raytheon the Cyber foothold it needed in the Middle East.
"Jim has a successful track record of driving business objectives for companies as innovative as RiVidium, and we are excited for the future of RiVidium," said Manny Rivera, RiVidium's President/CEO. "Jim brings a wealth of experience and expertise and will transform our business development efforts in the federal, defense and security arenas."
"I am excited about joining RiVidium's team and confident we have a significant opportunity to grow the company beyond expectation," said Kirby. "I look forward to working with the senior leadership team to both grow current programs and drive new business while increasing sustainability and profitability."
Jim retired from the Army Signal Corps as a Colonel with more than 26 years of honorable service. He is a graduate of Washington and Lee University (Lexington, VA) and the US Naval War College (Newport, RI) where he earned a Master's Degree in National Security and Strategic Studies.
About RiVidium: RiVidium, the leader in IT, Logistics, Cyber and Human Capital Management (HCM), offers a robust portfolio of capabilities, featuring patented cyber and security platforms as well as libraries for HCM employee decision support tools for new hires. RiVidium's technologies are accessible from any device through RiVidium's cloud support infrastructure. These technologies provide security, interactive user experience and deep analytics on user engagement. By transforming traditional methods used to communicate on the Internet, RiVidium significantly increases customer and individual security while decreasing the personal exposure footprint on the Internet.
Posted in: Business,Technology
Digital Sportsman launches lifestyle brand focused on technology and apparel
Digital Sportsman, or DS, announces the official launch of its company and online store at http://www.digitalsportsman.com. The web site features its exclusive line of DSA (Digital Sportsman Advantage) T-shirts in short- and long-sleeve versions. These 100% polyester shirts are lightweight, comfortable, and come in a variety of colors and styles themed toward the great outdoors.
A veteran-owned company, DS was founded by Anthony Hamilton and his three sons, Devin, Trevor, and Ethan.
"After years of shopping online and in large retail outlets, and continually seeing apparel made outside of the U.S., the family decided enough was enough," said Anthony Hamilton, President and CEO of Digital Sportsman. "It was a big letdown to shop at some of our favorite stores and see products that were made somewhere other than the U.S., while so much wasted, American talent lay dormant right here."
The founders decided it was time to do something about it, and Digital Sportsman was born. DS has been building out supply chains, operations, and product lines for over two years, in order to deliver the highest quality products and best customer experience possible. The company is intent on making quality U.S. products, specializing in a direct-to-consumer model. DSA is the first product line in this launch, offering T-shirts that are UPF 50, with moisture wicking technology to promote dryness, and a zinc-based technology that fights odor-causing bacteria. All artwork is hand drawn by the founders of DS, and made in the U.S. from U.S. and imported fabrics.
Digital Sportsman's other specialty is advanced technology to help people interface more successfully with the great outdoors. DS will launch a state-of-the art mobile and web app with a toolbox of features to give both hunters and anglers a strategic advantage in the outdoors. This innovative app will provide key weather data, best times to hunt and fish, public access locations, and many more creative features designed to allow next-generation sportsmen greater success in the outdoors.
Over the course of 2019 and into 2020, expect to see Digital Sportsman attending local sportsman events as it launches product lines in apparel and revolutionizes technology used by sportsman all over the world.
About Digital Sportsman
Digital Sportsman, a veteran-owned company headquartered in North Carolina, United States, is a lifestyle brand focused on technology and apparel for next-generation sportsmen. It makes high-quality apparel in the U.S. from U.S. and imported fabrics. Its apparel graphic designs, which showcase freshwater species of fish as well as all types of big and small game animals found in the U.S., are created with attention to detail from hand-drawn digitized artwork. At the heart of Digital Sportsman is the most advanced technology on the planet today—both in its business practices, and in tools to allow sportsmen to be more successful in their adventures in the great outdoors.
For more information, please visit the corporate web site at http://www.digitalsportsman.com.
Posted in: Technology
International Society of Automation Announces WisePlant as a Corporate Partner
The International Society of Automation (ISA) announced today that WisePlant—a global provider of industrial solutions in secure automation and energy, industrial cybersecurity, asset security, and functional, intrinsic, and worker safety—is an ISA Corporate Partner.
WisePlant, founded in South America and headquartered in Pompano Beach, Florida USA, has been providing customized safety and cybersecurity services and solutions to South America's leading process companies and mission-critical industries since its 2012 inception.
The company specializes in providing consulting and training services—through its independent WiseSecurity and WiseCourses Academy divisions—based on the ISA/IEC-62443 series of industrial automation and control systems (IACS) security standards. WisePlant's mission is to deliver the proactive capabilities and defenses needed to mitigate serious security and safety risks.
ISA/IEC 62443, the world's only consensus-based series of industrial cybersecurity standards and those endorsed by the United Nations, protect the IACS and networks that control operational technology machinery and associated devices within critical infrastructure and manufacturing plants. Without these defenses in place, an industrial cyberattack can result in plant shutdown, operational and equipment impairment, and severe economic and environmental damage, and put lives at risk.
WisePlant was the first South American company to become a member and supporter of the ISASecure® certification program, which assesses industrial automation and control products and systems to ensure they are robust against network attacks, free from known vulnerabilities, and meet the security capabilities defined in the ISA/IEC 62443 standards. WisePlant also has collaborated with ISA to educate industrial leaders in South America on ISA/IEC 62443 standards and ISA training courses based on the standards.
Under the partnership agreement, WisePlant will work with ISA to co-develop a range of informational and promotional resources, including webinars, technical content published in InTech magazine; and a diverse range of online and e-newsletter ads, video alerts, and ebook sponsorships delivered on and through Automation.com, ISA's online publisher of automation-related content.
"We are very excited to be partnering with ISA to educate owners and operators of critical infrastructure about the value and significance of the ISA/IEC 62443 standards, and demonstrate how efficiently and effectively they can be adopted and implemented," said Maximillian G. Kon, CEO and Managing Director at WisePlant. "From process to discrete manufacturing, WisePlant and its divisions provide specialized consulting services and leading technology solutions to combat industrial cyber risk and improve operational safety and security. We expect our alliance with ISA, a widely and long-recognized leader in industrial automation security standards, training, and education, will build on our strategic strengths and enhance our ability to deliver value to our customers around the world."
"As a company that provides ISA/IEC-62443-based cybersecurity solutions and services across the same broad industry spectrum that ISA serves—most notably oil and gas, chemical, petrochemical, mining, metals, food and beverage, and pharmaceuticals—WisePlant is a natural fit as an ISA Corporate Partner," says Jennifer Infantino Halsey, ISA's Director of Marketing & Communications. "WisePlant is well positioned, given its knowledge of the ISA/IEC-62443 standards, to complement our efforts to expand global awareness around the need to protect IACS from the growing risks of a cyberattack through internationally adopted cybersecurity standards."
About the ISA Corporate Sponsorship Program
The ISA Corporate Sponsorship Program offers companies a customized, tailored approach to sponsorship within the organization. Partnership packages include year-round promotion, prominent association-wide access and recognition, and turnkey service from a dedicated team of professionals.
Companies can bundle ISA products and services with marketing opportunities, providing a more streamlined approach to corporate sponsorship. For more information about ISA's Corporate Partnerships Program, visit http://www.isa.org/partnershipsoverview.
About WisePlant – A WiseGroup Company
From our locations throughout South America—including Buenos Aires, Sao Paulo, Santiago, Bogotá, and Montevideo—and its US headquarters in Pompano Beach, Florida, WisePlant provides technology solutions to all industrial segments.
Our areas of action and portfolio of solutions and services include process measurement, secure automation, secure energy, industrial cybersecurity, functional safety, intrinsic safety, worker safety, and asset security with many years of experience in multidisciplinary projects.
Together with specialized systems integrators, we select the technology to be used and provide customized solutions to implement the services by world-class best practices and methodologies.
Our team of technicians and engineers have experience working on large-scale projects for international companies. Our knowledge and technology apply across various industries, such as oil and gas, chemical, petrochemical, mining, metals, food, beverages, automotive, pharmaceutical, and many more. For more information, visit https://wiseplant.com.
About ISA
The International Society of Automation (http://www.isa.org) is a nonprofit professional association founded in 1945 to create a better world through automation. ISA advances technical competence by connecting the automation community to achieve operational excellence. The organization develops widely used global standards; certifies industry professionals; provides education and training; publishes books and technical articles; hosts conferences and exhibits; and provides networking and career development programs for its 40,000 members and 400,000 customers around the world.
ISA owns Automation.com, a leading online publisher of automation-related content, and is the founding sponsor of The Automation Federation (http://www.automationfederation.org), an association of non-profit organizations serving as "The Voice of Automation." Through a wholly-owned subsidiary, ISA bridges the gap between standards and their implementation with the ISA Security Compliance Institute (http://www.isasecure.org) and the ISA Wireless Compliance Institute (http://www.isa100wci.org).
Posted in: Business,Technology
Keystone Expands Strategic Suite of Services with New West Coast Hires
Keystone Strategy, which delivers transformative ideas in strategy, economics and technology to the world's most influential companies, has expanded its West Coast leadership with two strategic hires.
Jennifer DeWhitt Graves, of Seattle, and Ryan Drake-Lee, of San Francisco, have been named Principals at the firm effective immediately. They will augment the firm's Digital Transformation and Digital Operations practices, respectively; supporting client strategies related to Data Science and Analytics-enabled operating models. They will also support Keystone's strategic growth and people development across its West Coast offices.
The duo brings extensive consulting and tech industry experience to the forefront, coming from Google, Starbucks, Bain & Company and McKinsey & Co.
Prior to joining Keystone, Graves was a Senior Program Manager, U.S. Operations, at Starbucks overseeing the margin, inventory and field analytics for 10,000 stores in the U.S. and Canada. While at Starbucks she implemented and led a 0 million waste management program, digitally redesigned inventory, and overhauled reporting for all 10,000 US and Canada stores. Earlier, she worked at Bain & Company in private equity, consumer products, retail, manufacturing, and education.
Graves brings a wealth of knowledge in operations, innovation, and digital transformation. Her focus is on expending the firm's offerings and leveraging Artificial Intelligence and Machine Learning within supply chain, inventory, manufacturing processes, and distribution networks. Graves is a guest professor of Business at the University of Washington, lecturing on operations management and on finance for non-finance majors.
Drake-Lee joined Keystone after working at Google, where he led a 15-plus person team, driving million of incremental revenue. While at Google, he also scaled the vendor team from 14 to 200 plus agents across four locations. He was involved in an operating plan that secured a million budget.
Prior to Google, Drake-Lee was a Director and Project Manager at Tomra of North America, where he advised the Senior Leadership Team. He also performed acquisition due diligence for two potential targets in the hardware and equipment segment, ranging from million to million. Prior to this, he spent five years at McKinsey & Co., where he was an engagement manager and business analyst.
"Both Jennifer and Ryan are critical additions to our leadership team," said Keystone President, Jeff Marowits. "Keystone was created to advise technology companies on how best to approach challenges associated with the next wave of business transformation be it through Artificial Intelligence (AI) and Machine Learning (ML), or more general digital transformation of strategic business objectives," he said. "Jennifer and Ryan are wonderful additions, who will expand our reach on the West Coast while offering new and current clients unequaled talent, insights and technology fluency."
About Keystone
Keystone is an innovative strategy and economics consulting firm delivering transformative ideas and novel solutions to global enterprises and law firms on leading-edge challenges in technology, business, and science. The firm's expertise in information strategy & risk, economics, product development, digital transformation, AI/ML and antitrust is ideally suited to developing bold strategies that have a far-reaching impact on business, consumers, and public policy. Keystone combines the strategic insights of leading experts from Harvard, Stanford, MIT, Wharton and other top universities with the practical industry expertise of its accomplished professionals to deliver extraordinary impact. Learn more about Keystone at keystonestrategy.com.
Posted in: Business,Science,Technology
Opendock Celebrates its First Year with Record Growth
Truckers and warehouses looking for a solution to the pains of waiting longer to load or unload now have a solution; it's Opendock dock scheduling software, and it's celebrating its first year with record growth.
Opendock is a centralized dock scheduling platform, allowing brokers and carriers to easily search for warehouses and book with them. It also allows the user to access all of their appointments across all warehouses using a single platform. Through this appointment visibility, they can track statuses, edit appointments, and cancel appointments.
"A lot of complex and expensive technology is being thrown at this industry, but our solution is easy to use, simple to implement, and very reasonably priced," said Bob La Loggia, Founder and CEO of Opendock.
Since its launch in September of 2018, Opendock has experienced tremendous growth. Between warehouses booking appointments and carriers scheduling their own, over 500,000 appointments are being booked each month through Opendock. Many Opendock users are Fortune 500 companies, including International Paper, Ecolab, Georgia-Pacific, Pepsi, Anheuser-Busch, Unilever, Cargill, Phillips 66, ADM and many others.
"It's hard to believe that it's only been one year since Opendock was released," said Bob La Loggia. "Since that time, it has become a bustling dock scheduling platform with over 15,000 brokers and carriers registered on the site."
Media sources like the Wall Street Journal have recently put warehouses under a microscope focusing on the growing trend of trucks having to wait longer and longer to pick up or drop off loads. It's a big problem for all involved parties. Truck drivers are generally paid by the mile. So, being stuck in a warehouse yard for hours is a killer for their ability to generate income. Detention fees can help ease the pain a bit, but warehouses have some pretty tight rules on when they are willing to pay for excessive wait time. No carrier wants to depend on detention fees to generate revenue.
Trucks having to wait to load or unload is a serious problem. Opendock sees a future of healthy growth as it continues to disrupt the logistics technology space to solve this problem.
When asked how he feels about the future of Opendock, Bob La Loggia responded, "I'm so excited about our future. 99% of warehouses worldwide do not offer online dock scheduling. That means that the potential is almost limitless for helping warehouses to be more organized and efficient, making the lives of brokers and carriers much easier, and allowing drivers to plan their days better and avoid waiting."
Opendock is free for the carriers and brokers who book. Warehouses pay a monthly fee to utilize the software.
About Opendock – Founded by Bob La Loggia in September of 2018, Opendock is a dock scheduling platform that originated from the dock scheduling vertical of AppointmentPlus online scheduling software. With over 50 of the Fortune 500 as clients, Opendock is a leader in supply chain solutions. For more information, visit http://www.opendock.com.
Posted in: Technology
Red Giant Universe 3.1 Introduces Three Brand New Text and Motion Graphics Tools
Red Giant today released Universe 3.1, an update to their GPU-accelerated plugins for editors and motion graphics artists. Red Giant Universe 3.1 introduces three new tools for animating motion graphics to the collection: Numbers, Array Gun, and Progresso. Also new to Universe 3.1, Red Giant has added 35 new presets into HUD Components, a tool for quickly adding animated Heads Up Display elements into shots, bringing it to a total of over 65 ready-to-go animations that artists can completely modify for their unique work. The latest update brings the Red Giant Universe 3.1 collection to over 80 tools supported across eight host-applications.
Watch Now: What's New in Universe 3.1
Three Brand New Tools in Red Giant Universe 3.1
Numbers: Render and animate a wide variety of numbers, including currency, percentage, date and time.
Array Gun: Generate animated motion graphics based on grids, shapes and lines, featuring built in animation functions.
Progresso: Generate animatable progress bars in many different styles.
Updates in Red Giant Universe 3.1
HUD Components: 35 new presets have been added into HUD Components, bringing it to a total of over 65 ready-to-go animations that you can completely modify for your work.
Universe 3.1 Pricing and Availability
-Full: 9 annual; monthly
NEW TO UNIVERSE?
If you aren't already a Universe customer, you can purchase a subscription or download a free trial at http://redgiant.com/universe.
Universe 3.1 runs on Windows and OS X, and includes over 75 tools that run in:
Adobe After Effects CC 2017 or later
Adobe Premiere Pro CC 2017 or later
Apple Final Cut Pro X 10.2.3 or later
Apple Motion 5.3.2 or later
Avid Media Composer 8.2 or later
Magix VEGAS Pro 14 or later
DaVinci Resolve 14 or later
HitFilm Pro 6.0 and later
Visit the Universe Compatibility page to learn more about specific version and OS support.
As always, if you have any questions or problems, the Red Giant support team is here for you.
The Red Pledge
Red Pledge is Red Giant's commitment to customer happiness, with no purchasing hassles. Learn about the Red Pledge guarantee at http://www.redgiant.com/redpledge/.
Request a Universe 3.1 Media Review Kit
Members of the media are invited to review Red Giant Universe 3.1 as well as any individual tools or product suites from Red Giant. For more information or to request a product review kit, please contact Nick Govoni at nick@zazilmediagroup.com.
About Red Giant
Red Giant is a software company made up of talented artists and technologists who collaborate to create unique tools for filmmakers, editors, VFX artists, and motion designers. Our company culture is focused on finding balance between work and life – we call it "the double bottom line" – this philosophy helps us ignore complexity in favor of building simple tools that yield giant results. Over the last decade, our products (like Magic Bullet, Trapcode, Universe and PluralEyes) have become the standard in film and broadcast post-production. With over 200,000 users, it's nearly impossible to watch 20 minutes of TV without seeing our software in use. From our experiences as artists and filmmakers, we aspire to not only provide tools for artists, but inspiration as well. Watch our films, learn from over 200 free tutorials, or try our software at http://www.redgiant.com.
Posted in: Technology
V-Technologies, LLC, Acumatica Shipping Software Developer Announces New Web User Interface
V-Technologies, LLC, the developers of StarShip announces "new" web user interface for Acumatica shipping software. The new web interface adds a more unified workflow, improved customizable dashboard widgets, new ways to be more efficient using ecommerce integrations including Shopify, WooCommerce, Volusion, BigCommerce, Magento, Etsy, Amazon and more, enhanced functionality with the new packing assistant and the ability to use USPS to save on freight spend.
The new interface also includes enhancements for improved speed in both retrieving Acumatica documents and printing labels and documents. Customers save time by eliminating the need to log into ecommerce shopping carts to re-enter shipment details. Discounted USPS rates can be viewed to make smarter decisions.
Customer's current on software maintenance and the latest version of StarShip can take advantage of the new enhancements in a few simple steps.
About V-Technologies, LLC:
V-Technologies, LLC was founded in 1987 and provides integrated multi-carrier shipping software that connects your warehouse to the front office. They partner with dozens of parcel and LTL carriers such as DHL, FedEx, Holland, USPS, UPS, YRC as well as regional carriers like OnTrac and Pitt Ohio. Providing the integration between those carriers and popular ERP, EDI, accounting and ecommerce platforms such as Amazon, Acumatica, eBay, Magento, Microsoft Dynamics GP, Sage, SAP Business One, Shopify and QuickBooks.
Contact us today for more information: 800-462-4016 e-mail: sales(at)vtechnologies.com
Posted in: Business,Marketing & Sales,Technology
Finaeo hires Steve Henry as Chief Technology Officer
Finaeo announced today that Steve Henry as joined the team as Chief Technology Officer.
Steve will be responsible for all aspects of the global product and technology organization, including platform and corporate infrastructure, business applications, product engineering and security. Steve will serve as a member of the Executive Team, reporting into Aly Dhalla, CEO and co-founder.
Founded in 2016, Finaeo is building the digital infrastructure to modernize and streamline the distribution of life and health insurance.
The archaic processes that exist in the industry today have made it difficult for insurers to scale business practices and improve the client experience. In the company's recent funding announcement, Finaeo revealed their plans for launching a digital marketplace to help advisors streamline their workflow while enabling carriers to digitize their products and expand their market reach.
Deemed as the "Amazon of the Insurance Industry", Finaeo's marketplace will provide insurance advisors with direct access to carrier products, leveraging API integrations to accelerate quoting, underwriting and binding of policies using real-time data.
"To solve this incredibly challenging problem, we'll need to continue adding world-class talent to our team. Steve has a unique blend of technology, go-to-market and executive experience to help take Finaeo to the next level. In addition, Steve is fundamentally dedicated to helping grow talent, which is a core tenant of our philosophy. We couldn't be more excited to have Steve's leadership and expertise on our team to help bring our vision to life." - Aly Dhalla, CEO & Co-Founder, Finaeo.
Steve joins Finaeo from ScribbleLive, where he led the global engineering teams in his role as CTO. Parachuting into an active phase of business transformation, Steve consolidated product-engineering groups across multiple acquisitions, drove operational efficiencies, and spearheaded security and privacy initiatives across the organization.
"We are at a unique point in time where the insurance industry is at the apex of a major evolution. Finaeo is building technology to empower advisors to make data-driven decisions, enhance client relationships and improve the accessibility of insurance products in today's digital world. It's a very exciting challenge, and I'm thrilled to be part of the team that's at the forefront of solving this problem". - Steve Henry, CTO, Finaeo.
More about Finaeo:
Finaeo is a venture-backed insurtech building the digital fabric to connect and power the life insurance industry, globally. Finaeo connects insurance carriers, advisors and their clients through an integrated marketplace to streamline the "prospect-to-policy" experience. To learn more, visit https://finaeo.com/
Posted in: Business,Marketing & Sales,Technology
Christie Continues Inspiring Storytelling with New Core Series LED and CorePlus LED improvements
Christie continues inspiring and bringing the best value to its customers with today's introduction of Christie Core Series and the next generation of Christie CorePlus. Core Series is perfect for applications such as shopping mall kiosks, airport and public transit signage, and select corporate installations with budgetary constraints.
Christie LED family inspires story telling on several levels
Whether it's an enormous Las Vegas sportsbook, the largest multinational corporations, or a small business, Christie LED is inspiring customers around the world to tell their story with gorgeous visuals.
"We were, and still are, so excited to launch our Christie MicroTiles LED last February, which got a phenomenal response from our customers," said Ted Romanowitz, senior product manager, Christie. "MicroTiles LED are best in class but there are occasions when customers don't need those advanced capabilities or don't have the budget, so we wanted to bring certain advanced capabilities to the 'value' space – and that's where Core and CorePlus fit. Both CorePlus and Core Series deliver enhanced benefits and design flexibility typically offered only on more expensive products from the competition."
With pixel pitches from 1.2 to 2.5 mm, redundant on-board power and ADA-compliant mount system; Christie Core Series installs directly onto any wall without a costly mounting frame, saving setup time and money for integrators and end users.
"Core Series makes LED video walls affordable for even small budgets without sacrificing quality and the high-value design delivers all the key features in a package that is easy to install and maintain," said Romanowitz.
The Christie Core Plus LED difference
"Christie CorePlus has been very well received and we wanted to kick that up a notch and so we updated the product line in two important ways," said Romanowitz. "First, we've improved optical performance to over 97 percent of the NTSE 1987 color spectrum for images that pop out at you even more than before. Second, we've unlocked some of the advanced image capabilities that we previously offered on the newer version of Apex Series in conjunction with our E600 controller.
"Now, combining CorePlus with the E600, customers have HD10-R signal compatibility to ensure content is always displayed correctly and in the finest detail. CorePlus also has Christie's Clearview image processor for improved color performance and the sharpest, smoothest images – especially at low brightness levels. We've taken a well-received product and made it even better."
Available in 1.2 to 4.0mm pixel pitches, Christie CorePlus delivers a tremendous amount of flexibility while the choice of on-board or remote power increases installation options – all at a competitive price point. Front and rear serviceable, Christie CorePlus is quick and easy to both install and maintain.
Both the new Core Series and the updated CorePlus ship in the summer of 2019.
About Christie
Christie Digital Systems USA, Inc. is a global visual and audio technologies company and a wholly-owned subsidiary of Ushio Inc., Japan (JP:6925). Consistently setting the standards by being the first to market some of the world's most advanced projectors, complete system displays, and cinema audio solutions; Christie is recognized as one of the most innovative visual technology companies in the world. From retail displays to Hollywood, mission critical command centers to classrooms and training simulators, Christie display solutions and projectors capture the attention of audiences around the world with dynamic and stunning images, accompanied by awe-inspiring sound. Visit http://www.christiedigital.com.
Posted in: Business,Technology
FlexMR Launches Artistic Consumer Postcard Project
FlexMR have today launched a new research project that aims to demonstrate the range of unique ways in which consumer insight can be translated into business action. Dubbed The Consumer Postcard Project, the firm are translating qualitative research into artworks that capture sentiment in an engaging and thought provoking way.
To launch the project, FlexMR have created insight-led, artistic representations of the retail, food production, food service, hotel, travel and financial service industries. Both style and subject matter reflect consumer opinion – drawing on digital, painted, minimalist and retro styles. Each artwork is available to view online, alongside brief explanations of the insights that inspired them.
FlexMR CEO, Paul Hudson, says of the project, "Our focus with this initiative is not the research itself, but demonstrating the broad range of ways in which research departments can empower and engage stakeholders.
We hear regularly from insight departments the challenges they face in distributing research results and ensuring it's used in decision making processes. In this project we want to show that there are creative solutions to stakeholder engagement – leaving decision makers with a memorable, impactful takeaway."
Initially, FlexMR have run the project with six industries that make up a significant proportion of the UK economy. This is what the artwork for each reflects:
Retail: This piece highlights the polarising consumer retail experience. A sparse, industrialist, Lowry-inspired depiction contrasts with the wonderfully colourful and detailed impressionist element. The artwork brings to life contradictory aspects of the consumer experience, ranging from the "over-the-top" and experiential glamour of the high street to the dull, depressing and dying town centres. As represented by the clear dividing line: "to survive in an increasingly online world, customer service is a key differentiator."
Food Production: Inspired by Dada-style collages, this artwork draws on common themes that consumers highlighted. The vast range of choice portrayed in the collage encroaches and overshadows the only natural food source; emblematic of the perception that while the variety of products is impressive, it only serves as a distraction to core issues. Consumers care about "animal welfare, the high degree of competition, the potential for deception" and questioned whether the cost of highly-processed foods was worth the impact.
Food Service: Feedback most suited a digital illustration that represents the modern, clean, and atmospheric dining environment that is primarily associated with the food service sector. Consumer behaviour and choice and highly review-driven, both by online sites and word of mouth. The piece represents the fact that many consumers "always look online for reviews" before trying a new establishment that is not one of their "existing favourites". Ultimately, consumers believe restaurants service experiences; service and atmosphere are just as important as the food that they cook.
Financial Services: The cubist imagery of this design represents the clean-cut professionalism that consumers associate with financial services. The geometric rigidity of the industry is stark; but consumers believe money is the sole focus, while customer service and experience are given very little attention. The dash of blue in this piece symbolises the expressed hope that the industry will see them soon. But for now, the overriding impression is still that "institutions do not care about you as a person anymore. All they care about is reaching their targets."
Hotel: This design reflects that while consumers may enjoy the furnishings and décor of a hotel, the single aspect of the experience that can make or break an experience is the service provided by the staff. Hotels were described as a "much needed resource" highlighting that the experience is often viewed in a utilitarian light. As such, elements such as cleanliness, convenience, and comfort are important in the moment, but not memorable after a stay.
Travel: The travel sector is represented in a retro, pop art-style in order to highlight two key themes: the vibrant and colourful visuals depict the expectations of "fun and relaxation" that consumers have come to expect. Transport, hotels, and location were all considered contributing factors to the experience, but fun appears to be the main metric travel is judged on. Travel agents were also a source of nostalgia for a number of consumers – remembering past experiences from both recent years and decades past.
Chris Martin, FlexMR Chief Marketing Officer, says, "We know that the future of insights will be faster, more immediate and more accessible. But with that growth of data comes of a new kind of challenge – impact. New methods for creating impactful and memorable insights are emerging, such as storytelling techniques and data visualisation.
But we wanted to take this to the extreme and draw on a medium known for resonating with people on a deep, emotional level. It's our hope that by showcasing how creativity can be used to engage decision makers, we'll start to open up a whole new age of insights engagement and empowerment."
FlexMR are inviting brands to get involved with The Consumer Postcard Project, to find out how their reputation would be artistically represented. To find out more about how to get involved, or view all of insight-led artworks, visit the FlexMR gallery.
Posted in: Technology
NextPax Introduces Direct Booking Technology for Vacation Rentals on Google
Channel manager NextPax releases a direct booking technology for property managers working with Google to list vacation rentals on Google Hotel Search. This technology puts property managers in control, as every visitor is directed to their own brand's website, instead of to a third party website or iFrame.
Being an early tech provider selected to co-develop with Google, NextPax is very pleased to introduce its solution to the vacation rental market. 'Our aim is to put the supplier's website first by sending traffic directly. By doing this we avoid intermediate solutions like external landing pages,' says Erik Engel, CEO of NextPax.
The added advantage is that property managers start strengthening their own brands in Google, as their participation in this program with NextPax facilitates direct bookings on their own websites. Erik Engel explains, 'NextPax has always highly valued the property manager's own brand, so putting them in control of all guest communication and their own bookings is key in our development strategy.'
Some of the largest European property managers like Cottages, Hoseasons and NOVASOL A/S are among the first companies that went live with their inventory on Google's vacation rental listings and are directly bookable on their own websites. Opening the connection to Google as a channel for vacation rentals via the NextPax platform exposes their brands to millions of travelers worldwide. The connectivity NextPax provides fully synchronizes updates in content, rates, availability and inventory.
For more information, visit the NextPax website.
Posted in: Technology,Travel
D3 Technologies announces an exclusive, strategic business partnership with The Madison Group to serve OEMs and manufacturers of all sizes.
D3 Technologies, a Platinum-level Autodesk partner, dedicated entirely to manufacturing solutions, announced an exclusive, strategic business partnership that combines D3's unrivaled manufacturing expertise and passion with The Madison Group's best-in-class consulting, technical expertise, and innovative technology in the plastics industry.
Under the agreement, D3 and The Madison Group will jointly serve OEMs and manufacturers of all sizes with a comprehensive range of services and support for Advanced Manufacturing practices. The partnership will offer assistance in accelerating technology adoption, continuing education, product development, and mold design and construction.
The Madison Group is a global leader in plastics technology and unmatched in bringing innovation to the industry. With multiple PhDs on staff, their ability to analyze and optimize plastic parts and processes are unparalleled. With services like Failure Analysis, Material Evaluation, Design Evaluation, and Moldflow Analysis, they find economical solutions that help drive product development to yield higher quality parts for clients.
"Combined, we have a unique vantage point from which to identify and provide the most advanced solutions for our clients. We chose a partner who provides best-in-class technology but also shares our deep commitment to ensuring mutual clients have access to the most powerful, efficient, and effective solutions. Together we can meet the challenges of today's complex manufacturing environment, and ensure their products perform as expected when entering the field." - Erik Foltz, Senior Managing Engineer from The Madison Group
D3 Technologies partners with manufacturers to help them leverage the latest in engineering technologies and execute business process initiatives, to help them design products better, build them more effectively, and bring them to market faster. As an accomplished Autodesk Manufacturing Partner in North America, D3 focuses on 3D design and manufacturing technology, product data management/product lifecycle management (PDM/PLM), engineer-to-order (ETO), configure-to-order (CTO) solutions and ERP solutions.
"Helping our clients achieve their objectives is our core focus, and we continue to build out our suite of products and partnerships to support that mission. We are honored to partner with The Madison Group. They are a respected and innovative company that is well known for their expertise in Advanced Materials Analysis. Together we look forward to delivering significant value to our clients." – Mark Lackovic, VP of Sales for D3 Technologies
D3 Technologies' ability to support the entire product design process (Design, Make, Use) combined with The Madison Group's ability to analyze and optimize plastic parts, material selection and manufacturing processes will enable a holistic level of support for clients, that will yield optimal results throughout the product lifecycle.
About D3 Technologies
D3 Technologies is an Autodesk Platinum-level partner, dedicated to Autodesk manufacturing solutions in North America; including being a valued integrator of Autodesk manufacturing and plant solutions. From initial concept to the final product - D3's solutions transform manufacturing and engineering operations by improving workflows, aligning clients with the right technologies, and providing educational pathways and support. D3 has been a trusted partner to U.S. manufacturers since 1999, and continues to partner with those that demand the best. See a full list of solutions and services at http://www.TeamD3.com
About The Madison Group
The Madison Group, incorporated in 1993, is a recognized global leader providing consulting services, technical expertise and innovative technology to the plastics industry. By leveraging knowledge and expertise in plastics, they open new vistas enabling plastics enterprises to develop and move new products to market more quickly; minimize time to market costs; and provider stronger, safer products to the world.
Posted in: Services,Technology
Solar Panel Installation Workshop Offers Real World Training
Anticipating the desire for people to learn renewable energy technology and begin entry-level careers in the solar PV industry, ETA® Internationa l will host a solar panel, or photovoltaic (PV), installer certification workshop with trainer Jay Warmke, PVI, of Blue Rock Station, Ohio. This class is ideal for those who wish to begin a career in solar PV installation, homeowners wanting to install a system on their residence, business owners thinking of installing a system on their building, and architects, engineers or electricians needing to expand their skill sets and business portfolios.
"This training was one of the best theory and hands-on trainings I have ever received and as a result, I have built my second 10KW solar generator - based on the instruction I received," said James Mosley Jr, PVI, Ft. Campbell, KY.
The ETA Photovoltaic Installer (PVI) certification course from Blue Rock Station is designed for beginners, so previous experience with electronics/electricity is not necessary but is helpful. The class will gain real world, hands-on experience to conceptualize a design, compare costs of various products, dismantle, troubleshoot and reinstall the system to ensure proper operation on a working PV system. Along with an emphasis on rooftop safety, attendees will build their first small solar array system and install it with the existing array at the ETA headquarters on Saturday, Sept. 14.
During the course, attendees will learn to size the system according to electrical needs, select the type of system that works best for the situation, select all the components for the system, size the wiring and overcurrent protection, price the system according to size, and select a battery bank (if needed). The workshop will consist of lectures (about 60%) and hands-on labs (about 40%). Upon completion of the workshop, attendees will be able to design from start-to-finish a residential solar PV system, install and troubleshoot it, take ETA's PVI1 certification exam (which comes with a free retake) and begin a career in solar PV installation.
The following are included in the 0 registration fee for the 5-day class: textbook: 'Understanding Photovoltaics: A Study Guide for Solar Electric Certification Programs', starter tool kit, lunches, the ETA PVI certification exam, and hands-on installation experience. Training will take place 8 am-5 pm at the ETA headquarters in Greencastle, IN with the option to add solar panels to ETA's existing array on Saturday.
Reserve your seat in the PVI1 course today! ETA members can attend this course for just 0. Not a member? Join today by calling 800-288-3824 or signing up online.
ETA-certified PV Installers gain:
Marketable skills and knowledge in Solar PV Installation.
Entry-level Solar Installer Certification from a 40-year accredited and internationally-recognized professional association.
Solar PV knowledge and hands-on skills training from ETA-approved providers who are tested for their PV knowledge and have their curriculum pre-approved before instructing any ETA-related solar PV class.
Unique hands-on training not offered nor required for certification by any other solar energy organization.
No previous experience installing PV systems required.
ETA awarded its first entry-level Photovoltaic Installer (PVI) certification with the introduction of its Renewable Energy program in 2010 and today, nearly 1500 installers can call themselves ETA-certified professional Solar PV Installers. ETA developed an advanced level of the PVI certification designed for individuals who have significant experience in the design and installation of PV systems. The PVI2 certification focuses on commercial installation, financing options, as well as solar systems project management, and OSHA 10 safety standards. Learn more about ETA's Photovolatic Installer certification program.
O*NETOnline, a division of the U.S. Department of Labor, offers a summary report on Solar Photovoltaic Installer careers, including knowledge, technical skills, work activities, wages and employment trends, as well as where to find training and credentials along with job openings.
About ETA - Since 1978, ETA has delivered over 200,000 certification examinations successfully. Widely recognized and frequently used in worker job selection, hiring processes, pay increases, and advancements, ETA certifications are often required as companies bid on contracts. ETA's certifications are personal and travel with the individual, regardless of employment or status change and measure competencies of persons, not products or vendors. All ETA certifications are accredited through the International Certification Accreditation Council (ICAC) and align with the ISO-17024 standard. ETA is a member of the Canadian Solar Industries Association (CanSIA), Solar Electric Power Association (SEPA), and Continental Automated Buildings Association (CABA). http://www.eta-i.org
About Blue Rock Station – Blue Rock Station's (BRS) goal is to merge engineering, art and re-use of existing materials. This is accomplished by creating buildings made out of re-used materials to demonstrate a series of alternative building techniques, including the Earthship, straw bale structures, earth bag walls, and whatever else seems to make sense. Workshops at BRS include photovoltaics, tiny house projects, Earthship and sustainable farming, cheese making, and goat college. Blue Rock Station also offers a variety of publications and is open periodically for llama trekking around the beautiful hills of Southeastern Ohio, special events like Earth Day and special open house tours, plus skill building weekends. http://www.bluerockstation.com
Download this press release at – http://www.eta-i.org/pr/Solar_Panel_Installation_Workshop_Offers_Real_World_Training.pdf
Posted in: Business,Technology
MOU signing - Joint Venture FinTeix and ENIND form a New Partnership
"Electricity and hot water should never be seen as an amenity only a few privileged people can enjoy, but rather as a basic human necessity. This why we are committed to installing our new Solar Energy System into every Brazilian household, including those in the most remote areas of the Country" says Dr. Michael Lee - Founder & Chairman at Finteix Pte. Ltd.
"Climate Change is a daunting menace to our existence. Energy decarbonization is the only escape route and solar generation is a compass which every individual or enterprise should deploy to demonstrate our commitment to future generations" says Evandro Idalgo, CEO at Enind Energia Ltd.
The benefits of the MOU and new JV partnership will be the cornerstone introduction of ground-breaking Solar Energy technology into the Brazilian market - a solar cell system that combines thermal and electrical production of energy. (CHP – combined heat and power).
The innovative technology envisages greatly improving efficiency and greatly reducing costs into all segments of the Solar Energy Industry in Brazil, utilizing cells that address both thermal and electrical generation.
This MOU and JV, offers FinTeix the opportunity to enter into one of the largest world markets, along with acting socially responsible by providing our Solar Energy technology to all communities regardless of their social status or wealth.
About Finteix Pte: FinTeix is founded on the vision of pioneering positive change and disruptive innovation to the essential industries of telecom, energy, finance and healthcare, We pursue collaboration with like-minded companies seeking to help restore equality and integrity to these industries.
About ENIND: Enind Engineering is a 27-year, Brazilian construction and engineering company, which undertook the challenge to transmit electricity under BOT concessions with the government and build solar generation assets.
Our founder Dr. Lee, along with top Executives Tony Tsau VP R&D and Osvaldo Coelho Regional CEO LATAM/Africa will be in Singapore from 8/1-12/2019. All press interest enquires wishing to meet with FinTeix executives in Singapore, please make arrangements through our PR team. Media contact: pr@finteix.co
Posted in: Computers & Software,Energy & Environment,Technology,Telecom,World
eClinical Provider, Crucial Data Solutions, Names Jeff Rogers as President
Crucial Data Solutions, a provider of innovative technologies to advance clinical research, announced today that industry veteran Jeff Rogers has joined the company as President. The new appointment is a direct reflection of the expanding presence of Crucial's eClinical solutions: Clinical Studio©, a web-based EDC system and TrialKit™, a clinical research mobile app that allows researchers to design, deploy, and manage regulatory compliant studies from any smartphone or tablet.
"During this time of growth, there is no better person to lead Crucial Data Solutions than Jeff Rogers," said Paul Grady, Founder and CEO. "He has a clear vision of how our technology can transform the clinical research industry. With his strong leadership and business acumen in the Life Science space, I am confident we will continue to gain momentum."
Rogers said, "I'm excited and privileged to be joining such a forward-thinking, innovative and committed organization. Crucial Data Solutions continues to invest in the development of the industry's first fully mobile data platform, allowing them to meet all of the current and future data collection needs of today's clinical trial landscape."
Jeff brings more than 25 years of experience building and leading technology-based organizations. For the last 15 years, he has been rooted in the Life Science industry with companies dedicated to developing and delivering software and services to improve and optimize the clinical trials process. Throughout the course of his career, Jeff has developed a proven track record for accelerating growth and scaling operations to support clients across the United States and Europe while increasing shareholder value.
In his new role as President, Jeff will be responsible for expanding Crucial Data Solutions' market presence for both its web-based and mobile data collection platforms. His initial focus will be to support and expand Crucial's portfolio of Biotech, Pharma and CRO organizations while capitalizing on the momentum of TrialKit, Crucial's native mobile application for data collection.
About Crucial Data Solutions, Inc.
Crucial Data Solutions, Inc. is a forward-thinking company dedicated to developing innovative technologies that reduce the cost of medical research by equipping clinical professionals with the tools they need to advance treatments that enable patients with life-altering conditions to lead better lives. We believe clinical research should be a true partnership between ourselves, research professionals, caregivers, and patients worldwide.
Since the company's establishment in 2010, its flagship product, Clinical Studio, has evolved into an esteemed 21 CFR Part 11 compliant eClinical platform for rapid study building, convenient data collection, and efficient data management. Clinical Studio's companion product, TrialKit, is a native application that leverages the latest in mobile technology to enable data collection directly from sites, patients, and wearable devices without specially provisioned devices. TrialKit seamlessly addresses the challenges created by the growing virtual and hybrid trial market.
Posted in: Health & Medicine,Technology
REE Magnesium Inc. and CVMR®: Leading the Supply of Critical Metals and Rare Earth Elements to the U.S.
During the feasibility study, REE Magnesium Inc and CVMR® combined forces creating a joint venture that would take advantage of CVMR®'s vast mineral resources around the world. The joint venture aims to develop a complex of five metal refining structures based on CVMR®'s proprietary vapour metallurgy processes and technologies in the United States. The ultimate goal is to compete with foreign imports of refined metals into the United States, such as; rare earth elements (REE), magnesium (Mg), tantalum (Ta), niobium (Nb), vanadium (V), and nickel (Ni). All of which are considered strategic and critical metals for the U.S. manufacturing, energy, and defense sectors.
"With God's help and American ingenuity," Brittany Freeman, President of REE Magnesium Inc, says, "we aim to make U.S. industries stronger, more innovative and dominant in areas that keep our leadership intact."
REE Magnesium Inc's strategy has paid off quickly. A host of mine owners, financiers and potential endusers of products have approached the CVMR®/REE Magnesium Inc team, offering off-take agreements and looking for an investment opportunity. The products REE Magnesium Inc will offer are unique and in high demand in today's economy. Their products consist of metal powders and nano-powders used in batteries, 3D printing, superalloys, and complex granular shapes that can only be manufactured using vapour metallurgy processes.
"CVMR®'s close association with a number of prominent universities allows us to benefit from the latest developments in metallurgical processes and to produce state of the art metal products," says Cliff Boyd, CRO of REE Magnesium Inc "REE Magnesium Inc's joint venture agreement with CVMR® facilitates the production of strategically significant metal products and alloys that are being imported into the United States or are not produced in sufficient quantities due to lack of raw material resources. REE Magnesium Inc is in the inevitable position of being able to invent new products for the battery industry, aerospace, automotive, defense, and pharmaceutical industries."
In addition to supplying critically needed minerals and Rare Earth Elements, this joint venture will be environmentally friendly throughout the entire refining process thanks to state-of-the-art green technology. CVMR® has been able to capture carbon dioxide (CO2) emitted from various industrial outlets and convert it into valuable and highly sought-after products, such as graphite and graphene. The project has won a substantial award, two years in a row from "Solutions 2030 Challenge" program of the Ontario Centers of Excellence (OCE).
The CVMR® process captures various scales of CO2 emissions through a novel modular technology replacing the conventional absorption towers and scrubbers. The goal is to capture CO2 from industrial plants such as utility plants, oil sands producers, chemical manufacturers, and smaller operations. The captured CO2 is then converted into stable and value-added carbon by-products, such as graphite and graphene. The captured Carbon and metal powders are used in various modern batteries. Carbon flakes and graphene are used in water purification and desalination, concrete bricks, tires, and many other uses that are being discovered or invented.
Posted in: Business,Technology
MADD Teams with Velodyne Lidar for a Second Year to Advance Understanding of Autonomous Vehicle Technology
Mothers Against Drunk Driving (MADD) is proud to partner for a second year with Silicon Valley-based Velodyne Lidar, Inc., a market leader of real-time 3D perception systems used in a variety of commercial applications, including autonomous vehicles.
The partnership continues a public education effort across the country on the safety benefits of autonomous vehicle technology. On October 2, 2019, MADD will participate in Velodyne Lidar's second annual World Safety Summit on Autonomous Technology at Levi's Stadium in Santa Clara, Calif. The summit is designed to advance understanding of the safety benefits that can be achieved with autonomous vehicle technology.
"For almost 40 years, MADD has worked to change behaviors and attitudes toward drunk driving, with a great deal of success. But we have learned that technology is essential to getting us to our goal of zero deaths caused by drunk driving," said MADD National President Helen Witty. "Autonomous vehicle technology holds the incredible promise of helping us eliminate drunk driving. That's why we are so excited to partner with Velodyne."
Drunk driving is a violent and preventable crime that kills someone every 48 minutes in the United States. MADD's Campaign to Eliminate Drunk Driving is working toward eradicating this crime through four key elements that include supporting high visibility law enforcement, ignition interlocks, support for advanced vehicle technology, and building public support. Velodyne's work with autonomous vehicle technology is a natural complement to MADD's support for future technologies.
"We are honored to continue our partnership with MADD, and proud to assist in their efforts to eliminate drunk driving and save lives on our roadways. Velodyne welcomes their involvement in the upcoming World Safety Summit," said Marta Hall, President and CBDO, Velodyne Lidar. "We share a belief that safety on the roadways is for everyone. At Velodyne, we are putting this belief into action through our 'LIVE' – Lidar in Vehicles Everywhere – initiative. Our goal is to design, develop, and mass-produce lower cost lidar sold for every model of car and truck."
Velodyne's World Safety Summit will bring together business, government, public safety and community leaders to share a broad range of perspectives and creative solutions to address safety issues and public concern regarding autonomous vehicles. The agenda is designed to promote conversations that advance understanding of the safety benefits that can be achieved with autonomous vehicles. Attendees will have the opportunity to ride in autonomous vehicles and learn from experts at informational displays and booths.
"Public acceptance of autonomous technology is going to be so important as we explore this new territory, and this summit will help tackle some of the challenges we face," said Witty. "We are looking forward to working with Velodyne and advocating for the safe advancement of this technology so it can achieve its fullest potential — saving lives."
About Mothers Against Drunk Driving
Founded in 1980 by a mother whose daughter was killed by a drunk driver, Mothers Against Drunk Driving® (MADD) is the nation's largest nonprofit working to end drunk driving, help fight drugged driving, support the victims of these violent crimes and prevent underage drinking. MADD has helped to save nearly 380,000 lives, reduce drunk driving deaths by more than 50 percent and promote designating a non-drinking driver. MADD's Campaign to Eliminate Drunk Driving® calls for law enforcement support, ignition interlocks for all offenders and advanced vehicle technology. MADD has provided supportive services to nearly one million drunk and drugged driving victims and survivors at no charge through local victim advocates and the 24-Hour Victim Help Line 1-877-MADD-HELP. Visit http://www.madd.org or call 1-877-ASK-MADD.
About Velodyne Lidar
Velodyne provides smart, powerful lidar solutions for autonomy and driver assistance. Headquartered in San Jose, Calif., Velodyne is known worldwide for its portfolio of breakthrough lidar sensor technologies. Velodyne's Founder and CEO, David Hall, invented real-time surround view lidar systems in 2005 as part of Velodyne Acoustics. Mr. Hall's invention revolutionized perception and autonomy for automotive, new mobility, mapping, robotics, and security. Velodyne's high-performance product line includes a broad range of sensing solutions, including the cost-effective Puck™, the versatile Ultra Puck™, the autonomy-advancing Alpha Puck™, the ADAS-optimized Velarray™, and the groundbreaking software for driver assistance, Vella™.
Posted in: Automotive,Technology,U.S
Running a distributed organization - 7 critical factors for remote work success
Call it what you want - distributed organization, remote work, outsourcing - these overlapping terms have been go-to buzzwords in business parlance for a while, almost as de rigueur as diversity and transparency. Globally, one in every three people are now working remotely to some extent. No wonder, when you consider the much-vaunted benefits of a distributed business model: lower overheads and wages, higher productivity, better quality of life, wider access to talent, and of course, the promotion of diversity and innovation.
That may seem great, but before we get too excited about lounging in our jammies while Dan from HR delivers his 11th presentation on company leave policy via Zoom, there are a few caveats.
The digital nature of platforms makes them ideally suited to a distributed business model. However, its successful implementation is not a one-size-fits-all affair. Some digital-first companies, like Buffer, Zapier, and Github, have built thriving fully-distributed businesses. WordPress is another good example of a decentralized community with shared goals. Conversely, online retail giant, Amazon, is spending billion on its controversial HQ2 office with space for 50,000 workers. The fact that your business is digital, doesn't seem to dictate that your workforce should be too.
It's not only digital startups that are buying into the promises of higher productivity and happier employees. Many traditional companies, especially in the professional services sector, are experimenting with decentralized models. Unfortunately, some of these companies are either woefully ill-equipped to run a distributed organization or are trying to sugarcoat labour arbitrage.
Originally arbitrage meant cross-border trade in goods - the buy low, sell high principle. This was followed by offshoring factory work to low-wage countries. Now, Globalization 4.0, driven by the proliferation of digital technologies, is introducing a new form of arbitrage in the services sector. As a result, professional workers in developed economies are increasingly being subjected to the vagaries of the gig economy, which has diluted many hard-won workers' rights.
It is therefore important to distinguish between a true distributed organization, which binds together remote professionals, working towards common goals within a harmonious culture, and a simplistic outsourcing exercise with a one-dimensional (and sometimes exploitative) purpose. Hopefully, the Zeitgeist is changing. A quick Google Trends exercise shows that interest in outsourcing has waned dramatically over the past 15 years while remote work has risen in popularity.
How did we get here?
Large multinationals have actually been running distributed formats for ages. The Dutch and British East India Companies were early forerunners of these mega corporations with workers and offices spread across the globe. Ironically, the British East India company also helped to create the antithesis of distributed organizations, one of the first gargantuan centralised offices. It was an early forerunner of the labour concentration that was so characteristic of the First Industrial Revolution, due to the latter's need for factory fodder.
Despite its ubiquity, office culture has only been around for about 300 years. For most of humankind's existence work was conducted from home. This allowed families and communities to build strong bonds and support networks. The advent of centralised offices disrupted this natural state of affairs, as workers were generally reduced to units of production, with scant regard for their quality of life.
The internet and new methodologies like Agile and Lean have created an opportunity to break free from the constraints of the centralised office model. Ambitious young companies can now use a distributed model to compete with established players and disrupt entire markets. That is, if they are able to negotiate the following hurdles.
7 critical factors for remote work success
The rise of the distributed machines
Skynet is live. The proliferation of SaaS solutions for very aspect of running a business has been a game changer.Cloud software for CRM, project management, communication, and video conferencing has made collaboration between remote teams much easier, while AI and machine learning applications have removed the need for many entry level positions.
However, knowing which tools to use at each stage of your company's evolution can be tricky. Many young startups have rued the day that they signed up for the full (and quite expensive) Salesforce package, belatedly discovering that they only required 10% of its functionality. Runway up in flames.
Leadership experience
Digital tools are great, but if you don't have the right culture and organizational structure in place, they will not be wielded effectively. Startups that build a distributed model into their DNA from inception tend to be more effective at leveraging innovation, increasing productivity and raising employee satisfaction. Doing that is easier said than done though.
Your organization needs highly-focused leaders who can implement a clear structure and develop processes that nurture trust in common goals across multiple channels. That said, transparency is key to building trust. Leaders should communicate strategies, opportunities, and challenges in a clear and consistent fashion. Nothing kills trust like not knowing what is going on in the company that you are working for.
Get rid of hierarchies. The more layers you add to your distributed organization, the higher the likelihood of communication breakdown. That's why a lean approach works so well with a remote team.
Communication skills have never been more important
The fact that you are using cutting-edge digital tools and working in real time with team members situated thousands of miles away, does not mean that proven business principles don't still apply.
Omni-channel communication is not just for your clients. Your team should know when and how to use a specific communication channel. Make sure your onboarding process is up to scratch in this regard. Screencast videos are a great way to get this done.
Be clear and concise in all communication. A lack of physical cues and different semantic interpretations can cause misunderstandings and frustrations that would not usually occur in an office. Follow up on all interactions to make sure everyone is on the same page.
Recruit the right people
Not everyone is cut out for remote work. Candidates may have the right qualifications and relevant work experience, but if they are not self-disciplined, self-motivated, and nimble around remote technologies you're in for a challenge.
Recent studies have shown that many remote workers feel disengaged and isolated, which does not bode well for their commitment to the job at hand. This also ties back to communication and leadership - if you are not putting the right structures in places and coaching your people, you should not be surprised that they feel adrift and unvalued.
A good way to test a candidate's suitability is to include a small remote project, based on their particular field of expertise, in the recruitment process. If you get the desired results within the stipulated time frame, you probably have a keeper. Just make sure the test project requires interaction with other members of your team.
The laws of the land and fair practice still apply
If you want your employees to buy into your company goals, you need to make sure that they feel valued as real partners. That means giving them the same rights as a traditional on-site worker. Trying to circumvent leave and other benefits to cut costs in the short term, means sacrificing loyalty and team stability in the long term.
This does not mean that you can't negotiate a quid-pro-quo if you are a cash-strapped startup. As long as the terms are transparent. For example, if you can't afford to pay market-related salaries, then offer delayed satisfaction in the form of share options. It's a great way to create buy-in.
Choose the right mix
As a distributed organization, you need to know when to fill a position with a permanent employee and when to outsource the job to an independent contractor. The rule of thumb is usually that if it's not a core function, outsource it.
Except for outsourcing non-core functions, there are other permutations that can define your distributed organization. For example, do you employ team members on a contract or permanent basis? That will usually depend on the nature of the role and how financially secure your business is.
Sometimes a hybrid approach may be the most suitable, especially if there is a clear need and opportunity for stronger or more regular social cohesion. It can take the form of quarterly focus days or conferences. Another option is to use hot seating if your team lives in the same area. The rise of co-working spaces and platforms like WeWork have made this option much easier to implement.
Do it for the right reasons
Many companies abuse the distributed model purely to the advantage of their bottom line and shareholders. This means remote workers are often subjected to the insecurities of the gig economy.
A distributed approach suits a results-driven organization that does not need to nanny its people. It does not suit a bureaucratic culture that relies on dogmatic processes and multi-layered hierarchies.
If you don't trust your people to work remotely, you probably don't know how to recruit properly. A well-functioning distributed organization allows your employees to get on with what they do best, instead of chaining them to an outdated work environment.
As CEO of Eventerprise, I have led the creation of our global hub-and-spoke model since the company's inception. Never a trivial task, the job was made easier by the fact that I had previous experience of running a globally dispersed subsidiary for a major international airline. I can therefore attest to the immense value that a well-run distributed business offers to all your organization's stakeholders.
Find out why investors love our distributed culture
Posted in: News & Current Affairs,Professional Services,Services,Technology,World
Compliancy Group's Marc Haskelson brings expertise in business of technology to CompTIA's Business Applications Advisory Council
Compliancy Group today announced that Marc Haskelson, President/CEO has joined the Business Applications Advisory Council of CompTIA, the leading trade association for the global technology industry. As a member of the council, Marc Haskelson will help drive CompTIA's efforts to educate SaaS companies on progressive go-to-market growth strategies for selling business solutions using a dedicated sales channel.
Marc has over 25 years of sales, marketing, and operational leadership experience, and has held executive positions at Hearst Publications, Experian, and AT&T. He is an innovator who develops new products and solutions to address the challenges of the small and midsize market. Marc sits on the CompTIA Business Applications Advisory Council and is a Visionary Level Contributor to the American Optometric Association Political Action Committee. He focuses his knowledge of compliance, technology, security, customer care, and payment processing on improving market inefficiencies.
He co-founded Compliancy Group in 2005 with HIPAA subject matter experts and top software developers. Together, they used their expertise in sales marketing, compliance, and technology to bring Compliance-as-a-Solution to the healthcare IT industry.
The Business Applications Advisory Council is focused this year on driving business growth of SaaS companies and their solution providers, and Marc's expertise will be integral to driving those efforts.
"With the breadth of his experience in our industry, Marc is a strong addition to our Business Applications Advisory Council," said Annette Taber, CompTIA's vice president for industry outreach. "His insights into the business of technology – how it is developed, marketed, influenced, purchased and deployed – will help guide the actions we take as an advisory council, an association, and an industry."
Haskelson states, "The industry is evolving. Compliance, security, and business solutions are merging into one. Organizations that understand this, and are part of the evolution, will earn the lion share of the market. I'm proud to be part of CompTIA's Business Applications Advisory Council, working with industry leaders to better serve the MSPs and their clients."
The CompTIA Business Applications Advisory Council includes executives from organizations that deliver cloud software platforms and applications specifically developed for the line-of-business buyer seeking to achieve specific objectives. The council also includes specialized partners – such as CPAs and digital marketing agencies – who influence the sale of these solutions to line of business managers within organizations.
This year, the council's strategies include:
Understanding vertical market and line of business buyer needs and connecting them with the right SaaS solutions
Identifying the current skills needed in the SaaS Solution Provider space
Distinguishing programs SaaS vendors should build for customers and prospects
Continuing to ensure CompTIA's resources and expertise reach relevant business application providers
About Compliancy Group
Compliancy Group is the industry leader in Compliance-as-a-Solution (CaaS) for Managed Service Providers. Compliancy Group's partner program allows MSPs to offer CaaS to justify advanced security services to differentiate your firm, doubling your revenue, tripling your profit, and standardizing your stack. MSP partners have exclusive access to marketing and sales support teams. You don't need to know anything about HIPAA compliance to take on healthcare clients; we manage your healthcare clients for you. In turn, Compliancy Group works with MSP security partners from across the country to address HIPAA cybersecurity requirements. Adding CaaS to your stack, allows MSPs to make the transition to be the solution to your clients problems, evolving from the break-fix model to become Business Solution Providers (BSPs).
About CompTIA
The Computing Technology Industry Association (CompTIA) is a leading voice and advocate for the trillion global information technology ecosystem; and the more than 50 million industry and tech professionals who design, implement, manage, and safeguard the technology that powers the world's economy. Through education, training, certifications, advocacy, philanthropy, and market research, CompTIA is the hub for advancing the tech industry and its workforce. http://www.comptia.org.
More from Compliancy Group:
Business Associate AgreementHIPAA Encryption Requirements
HIPAA Risk Assessment
Posted in: Business,Technology
Sigora Solar Named 2019 Most Forward-Thinking Company in America by Solar Power World
With renewable energy expected to be the fastest growing source of U.S. electricity generation for at least the next two years, local solar installer Sigora Solar is humbled to be recognized by Solar Power World as the Most Forward-Thinking Company of 2019. This award celebrates solar installers devoted to making progress in energy and beyond for a more sustainable future. Sigora Solar also achieved a rank of #1 Solar Company in the state of Virginia and #30 among the top residential solar companies in the United States on the magazine's 2019 Top Solar Contractors list.
Sigora Solar was founded in 2011 and now boasts over 150 employees with operations in 13 states across the country. The company's unique 'Produce and Reduce' package includes a complimentary energy efficiency audit, performed by a BPI Goldstar-certified team, that identifies the home's inefficiencies. Customers then receive customized energy efficiency upgrades to maximize their home's performance and energy savings, along with a Pearl Home Certification, documenting all the improvements. No money down, low interest financing options, and production guarantees make Sigora's 'Produce and Reduce' package accessible and affordable to the masses and allow homeowners to experience immediate monthly savings.
Sigora further differentiates itself as a top company through its 'One for One' program running in rural Haiti. Through a collaboration with its sister company, Sigora Haiti and the non-profit Hummingbird Academy for Disaster Preparedness and Renewable Energies (HADPRE), Sigora provides free electricity to one home in Haiti for every residential installation performed in the U.S. For every commercial installation in the U.S., a Haitian clinic or school receives free electricity for 5 years. Through this partnership, 25,000 people, who previously had no access to electricity, now have 24/7 access to clean, reliable electricity. For the first time, these localities are booming and entrepreneurial activity continues to increase as people return to the region to start their own businesses.
As Sigora Solar CEO, Logan Landry, explains: "We are a humble family here at Sigora Solar, but that doesn't take away from the immense pride each one of us has in our work. Not only are we empowering our customers, but we're giving them the opportunity to also empower a family in Haiti by providing them with electricity."
"Solar Power World enjoys assembling the Top Solar Contractors list each year, and our 2019 edition features hundreds of companies making big impacts in local energy markets," said Kelly Pickerel, editor in chief of Solar Power World. "Solar power is becoming competitive with traditional electricity sources in more markets, and cities and states are demanding more renewable energy options. It's a great time to be a solar installer, and we're happy to highlight the best installation companies in the country on our list."
The U.S. solar market is expected to see 14% growth in 2019, with over 12 GW of new solar power added to the grid this year — enough to power 2.28 million average American homes. This increase in installations is attributed to strong residential solar interest and a rush to get projects in before the 30% federal investment tax credit steps down to 26% next year.
###
About Sigora Solar
Headquartered in Charlottesville, VA, Sigora Solar is the largest solar provider in the Commonwealth. The privately-owned company was launched in 2011, ranked as one of Inc. 500's fastest growing companies, and now been awarded 2019's Most Forward-Thinking Company in America by Solar Power World. Sigora Solar is the only solar provider in Virginia offering businesses and homeowners solar systems paired with energy efficiency, with no-money-down financing options. Sigora Solar works with customers throughout the Mid Atlantic to reduce their energy bills, sustain the quality of their environment, and shape the future of energy production and conservation. Sigora Solar's sister company is Sigora Haiti, located in Port-au-Prince, Haiti. For more information, visit http://www.sigorasolar.com
About Solar Power World
Solar Power World is the leading online and print resource for news and information regarding solar installation, development and technology. Since 2011, SPW has helped U.S. solar contractors — including installers, developers and EPCs in all markets — grow their businesses and do their jobs better.
Posted in: Electronics & Semiconductors,Technology
Rigaku Presents Latest Crystallography Systems at the 69th American Crystallographic Association Meeting
Rigaku Oxford Diffraction (ROD) is pleased to announce its attendance at the 69th Annual Meeting of the American Crystallographic Association (ACA), Saturday, July 20, through Wednesday, July 24, 2019 at the Northern Kentucky Convention Center in Covington, Kentucky. Rigaku Oxford Diffraction, a Ruby Sponsor of the event, is presenting their macromolecular and small molecule crystallography instrumentation at booths 206 and 208.
The American Crystallographic Association's Annual Meeting is among the largest gatherings of crystallographers in the world. It features workshops, information sessions showcasing the latest research and developments in convergent structural science, along with one of the largest exhibit shows in the industry.
Joe Ferrara, Deputy Director, X-ray Research Laboratory, Rigaku Corporation and President of the ACA states that "We have an excellent scientific program including the Transactions Symposium on Data Best Practices, keynote lectures and workshops, as well as events geared toward career development for young scientists. This will be a hot meeting."
On display at the event will be the Rigaku XtaLAB Synergy-DW dual wavelength X-ray diffractometer with a Hybrid Photon Counting (HPC) detector X-ray detector. The system is a versatile high-flux diffractometer, offering two wavelengths in one compact system for 3D chemical structure analysis. It is configured with a fast and efficient four-circle kappa goniometer that is compatible with a wide range of detectors.
Rigaku will conduct a users' meeting at 4 pm on Saturday and host a reception on Sunday evening from 7-9:30 PM. A poster session presenting two new scientific posters from Rigaku will take place on Tuesday, from 5:30 PM - 7:30 PM.
More information about crystallography systems from Rigaku is available at http://oxford-diffraction.com
About Rigaku Oxford Diffraction (ROD)
ROD was formed as the global single crystal business unit of Rigaku Corporation after the acquisition of the former Oxford Diffraction organization from Agilent Technologies in 2015. ROD is a leader in the field of single crystal analysis, both in the field of chemical crystallography as well as well as macromolecular crystallography. Formed in 1951, Rigaku Corporation is a leading analytical instrumentation company based out of Tokyo, Japan.
For further information, contact:
Michael Nelson
Rigaku Global Marketing Group
tel: +1. 512-225-1796
michael.nelson@rigaku.com
Posted in: Business,Technology
Metro Aerospace Microvanes™ Achieves Reduction of Fuel Consumption and Carbon Emissions on a Global Scale
The Nigerian Air Force, the air branch of the Nigerian Armed Forces and one of the largest forces in Africa, made the decision based on Microvanes' proven ability to save fuel and reduce carbon emissions.
Lockheed Martin Corporation's patented technology, which is licensed to Metro Aerospace, works by effectively reshaping air flow and reducing drag when attached to the fuselage of an aircraft. This reduces fuel consumption by 3%–6%, which in turn lowers emissions. Microvanes have been sold to customers in Australia, North America, Africa, and Europe, and have flown on long-haul missions to Antarctica, Asia, Australia, and across North America.
"By providing fuel reduction of up to 30 gallons per hour, Microvanes saves companies and military organizations millions of dollars every year – and this doesn't include the reduced wear and tear on engines," says Leslie Peters, CEO of Metro Aerospace. "We are delighted that the Nigerian Air Force has selected Microvanes to improve their fleet's operating efficiencies and reduce carbon emissions."
"Adding Microvanes to the Nigerian fleet further substantiates their commitment to reducing their carbon footprint both domestically and internationally," says Damon Ward, Executive Chairman of Metro Aerospace. "The ease of installation of our product and the overall fuel savings make the installation of Microvanes a very compelling business case."
The installation is scheduled for later this summer.
Posted in: Technology,U.S
Sunrise Hitek Launches Premium Metal & Acrylic Shelf Talkers
Shelf talkers are a tried and true way to draw customer attention directly to a product at the point of purchase. These shelf talkers are ideal for retail shelving. Users can customize everything which includes the material printed on, the print style itself, and even the shape of the piece.
The first material clients can choose from is that of metal which is aluminum. Once can choose from standard rectangle edges with rounded or square corners, or opt for a totally custom shape. These print 4-color ink beautifully, but also allow for the choice to leave negative space showing off some of the brushed metal finish. Sunrise can also provide u-channel shelf clips either installed or included for self-install.
The other material Sunrise offers is clear acrylic. Acrylic offers the same choice of sizes and custom shapes, but some different choices when it comes to print. Customers can choose full color printing with a "flood white" background which gives a vivid, opaque finish. They can also decide to skip the flood white and apply color straight to the clear acrylic which gives a translucent effect. Engraving or laser etching are other exciting possibilities.
Shelf talkers are the best way to make a product stand out amongst hundreds of others. According to the The Grocery Manufacturers Association (GMA), after cost, shelf talkers can influence buyers up to 40%. What a simple way to boost retail sales. Also, check out Darryl Rosen's 5 Tips for Effective Shelf Talkers:
1. Use big fonts – or at least a big enough typeface so that consumers can comfortably read them
2. Make them readable – and can be read while a consumer is moving
3. Creative – but not overly creative
4. Informative – in a compelling way
5. Well maintained – replace often and keep a fresh look
Metal & acrylic shelf talkers are just one product line in the shelf talker category. Sunrise also offers conventional shelf talkers, shelf talker flags, aisle violators, bottle neckers, channel strips and even a Sunrise exclusive product called the shelf talker hoop which adds a 3D effect to the standard shelving strip. All of these are designed to be customer facing and make your product easy to find on standard gondola shelving used in grocery stores, hardware stores and other retail environments. All of these can be printed on either synthetic paper or gloss paper. There are many free templates for shelf talkers on the Sunrise website and custom dielines are accepted as well to make the design even more unique.
About Sunrise Hitek
Sunrise Hitek is an Inc. 5000 company established in 1988 and offers speedy and innovative print marketing execution for the world's leading brands. Sunrise employs the most advanced equipment and technology, such as G7-certified HP Indigo & UV flatbed presses, digital die-cutting, and specialty coating/lamination, to create best-in-class color printing, packaging, trade show & display graphics, plus a wide variety of promo products. A privately-owned enterprise, the company is based in Chicago and sells products worldwide.
Posted in: Marketing & Sales,Technology
CarTrawler's New Mobility Platform Connects Airlines with Ride-Hailing Travelers
CarTrawler, the world's leading B2B travel technology company, has launched a global travel mobility platform that enables airlines to offer the broadest range of travel solutions from within their existing mobile applications, and thereby to "own the last mile" for their customers while driving incremental revenue.
Airlines are striving to offer a unique customer value proposition through their loyalty programmes. CarTrawler has responded to its partners' wishes by providing a market-first mobility SDK, which affords customers the ability to earn and burn loyalty points as they ride. By integrating with CarTrawler's industry-leading platform, airlines can now offer customers quick and easy access to pre-booked and on-demand private transfers and taxis.
An industry first, the platform is the culmination of significant investment by CarTrawler in the mobility sector and positions airlines to maximize revenues from the mobility-as-a-service (MaaS) market, which is estimated to reach a value of .75 trillion by 2030.
Aileen McCormack, chief commercial officer at CarTrawler, said: "Our new mobility platform will revolutionize the travel sector by offering customers a simple, one-stop-shop for all their travel needs to and from the airport. Airlines can now connect the dots and instantly utilise this platform in-app, offering customers a superior booking experience and reflecting the reality that those who don't rent, ride."
"Airlines need to offer travel solutions that can exist alongside car rental – the ride-hailing market alone is estimated to reach a value of 5 billion by 2030 and the overall MaaS market will grow by 25% over the next five years. However, just 59 of the world's 473 airlines currently offer mobility services to customers," said Charlie Coniglio, SVP for CarTrawler's North American operations. "By owning the first and last mile, airlines can maximize revenues from this rapidly growing sector and future-proof their business. At the same time, they will be able to offer customers every possible travel option, strengthening brand loyalty as a result."
CarTrawler creates global online marketplaces that bring together its 2,000 travel partners, 2,500 transport suppliers, and almost one billion end-customers. CarTrawler's easy-to-implement platform drives unparalleled revenue and market share with higher conversion rates for its partners.
About CarTrawler
CarTrawler is the world's leading B2B technology provider of car hire and mobility services to the travel industry. We offer the widest real-time choice at great rates, personalised to each customer's trip, through our award-winning technology and intelligent use of data science. CarTrawler's end-to-end solution enables our partners' customers to find the right car at the right price, no matter where in the world they are traveling. We provide their customers with a one-stop-shop for all of their ground transportation needs, including car rental, on-demand and pre-booked taxis, shared shuttle services, bus and rail products. The company headquarters and Customer Centre of Excellence are located in Dublin, Ireland. CarTrawler is private equity backed by BC Partners and Insight Venture Partners. For more, visit cartrawler.com.
Posted in: Business,Technology,U.S
Papercast Selected as Technology Supplier for INEOS Team UK America's Cup Challenge
Papercast selected as technology supplier for INEOS Team UK America's Cup Challenge
INEOS Team UK has today announced that Papercast, the leader in e-paper information display systems, has been selected as one of their technology partners for the forthcoming America's Cup (AC36) challenge taking place in Auckland in 2021.
INEOS TEAM UK was formed in 2018 to bring the America's Cup home to Britain. The America's Cup is the oldest international sporting trophy in the world and is ultimately a design and technology race. INEOS TEAM UK will use the best of British innovation to design and build two 'AC75' 75-foot foiling mono-hulls.
Ben Ainslie, Team Principal and Skipper of INEOS TEAM UK: "It's impossible to sail these incredibly advanced and sophisticated boats without data, and getting that data in a fast, highly-readable format in the extreme environment of an AC75 cockpit is a real challenge. We're very happy to have Papercast onboard to take that challenge on."
Papercast e-paper display technology was originally developed to transform real-time passenger information at bus stops around the world, with solar powered, wireless, sunlight readable displays. With a major foothold in this market, Papercast is perfectly placed to develop its technology for use in other more demanding applications where e-paper can provide significant benefits over traditional LCD and LED technologies.
Papercast e-paper displays combine ultra-low energy consumption with market leading processing performance along with a lightweight IP-rated enclosure. Robert Bicket, CEO of Papercast, comments: "The America's Cup is the pinnacle of yacht racing and this campaign is particularly close to my heart. I am delighted that our technology will form one of the many vital components that will make this one of the strongest British AC challengers that this country has ever seen."
The America's Cup dates back to 1851 when the Royal Yacht Squadron invited the New York Yacht Club to compete in a race around the Isle of Wight. The NYYC duly won the cup and then embarked on what would become the longest winning streak in the history of sport, defending successfully for 132 years until finally being defeated in 1983. A British entry has never won the America's Cup.
INEOS TEAM UK is based in Old Portsmouth backed by INEOS Founder and Chairman, Jim Ratcliffe. Sir Ben Ainslie, a previous America's Cup winner (AC34) and the most successful Olympic sailor of all time is Team Principal and Skipper and four times America's Cup winner, Grant Simmer is team CEO. Combined, the team has 22 Cup wins and 10 Olympic medals including seven gold.
Each competing team races under a challenging Yacht Club and INEOS TEAM UK will race for Royal Yacht Squadron Racing. Founded in 1815, the Royal Yacht Squadron – based in Cowes on the Isle of Wight - is regarded as one of the most prestigious yacht clubs in the world.
-- ends --
ABOUT PAPERCAST
Papercast e-paper displays were launched in 2016 specifically to transform the way bus operators provide passenger information at the bus stop. The unique attributes of e-paper make it ideal for outside use, with unbeatable screen visibility, even in direct sunlight. Couple this with wireless connectivity and exceptionally low power consumption, and the displays can be continuously solar powered – no power or connectivity cables are required. The platform enables transport providers to effortlessly keep passengers informed on real-time and advance service information at bus stops in a clear and user-friendly format. With continual innovation, Papercast has become the most advanced e-paper information display technology on the market. It is now experiencing adoption in train and airline markets, as well as other non-transport applications.
Kerry Marchbank
Marketing Manager
+44 (0)7817 916654
kmarchbank(at)papercast.com
Share this story and follow Papercast on Twitter, LinkedIn, Facebook and YouTube
Posted in: Services,Technology
Energy Marketing Conferences Announces its Next Free Educational Virtual Seminar for the Retail Energy Industry
Tuesday July 9th at 11:00am EST, EMC will be runining a free Virtual Seminar entitled: "Retail Energy Regulatory Trends – What's New, What's Coming Soon, and What You Should Do About It." It is sponsored by P.R. Quinlan.
Feeling like all the regulators are pointing their fingers at you? The onslaught of new rules and enforcement actions issued by Public Service Commissions is hard to keep up with and can drive marketers crazy. While new regulations can seem to come out of nowhere, the truth is there are patterns we can identify and use to predict what might be coming next – and how to prepare.

This seminar will identify positive and negative regulatory trends that you can expect to spread throughout North American markets in the next several years. We will then outline a four-step process you can use to stay on top of your obligations, out of trouble, and focused on growing your business.


The presenter: will be Frank Caliva III. As president of P.R. Quinlan, Frank helps energy companies understand and respond successfully to public policy opportunities and challenges. Frank and his team have over three decades of experience in retail electricity, natural gas, and clean energy markets, with specific experience working in retail energy markets in more than 21 U.S. states and three (3) Canadian provinces, P.R. Quinlan's team of professionals provides reliable and informed regulatory and political insight; drafts and delivers testimony in both regulatory and legislative venues; and builds issue coalitions and alliances with other stakeholders on a regular basis.
Who should attend: CEO's, COO's, CMO's and CFO's of retail energy suppliers should tune into this seminar.
Click HERE to see EMC's Virtual Seminar page.
Click HERE to register for free.
The next Energy Marketing Conference will take place at the Midtown Hilton Hotel in New York City on September 12th 2019. CLICK HERE to register for the largest retail energy event ever.
ABOUT Energy Marketing Conferences:
The mission of Energy Marketing Conferences LLC is to provide the competitive energy industry with exciting conferences in premium locations at extremely affordable prices. The goal of the conferences is to bring together hundreds of energy companies, utilities, marketers, vendors and suppliers in the competitive energy industry to network and learn more about our industry. EMC is the largest gathering of retail energy executives in North America and it takes place twice a year: Houston Texas in the Spring and New York City in the Fall. The EMC Monthly e-Newsletter goes out to more than 15,000 retail energy executives each month with important articles written by industry professionals. The EMC Virtual Seminars are the newest program of EMC, designed to help educate the industry on a host of topics – free of charge. Visit https://energymarketingconferences.com/ for more information.
Posted in: Business,Finance Market,Government & Politics,Public Affairs,Technology
Global Software Innovator, AnyDesk, Announces Record 100 Million Downloads
One of the fastest growing technology firms in Germany, AnyDesk, is marking a record-setting one hundred million downloads of its software. The AnyDesk remote access software is seeing massive adoption by companies and individuals, adding another 5 million users each month.
AnyDesk is a cutting edge remote access software which allows users to remotely connect to a computer, be it from the other end of the office or halfway around the world. After only five years, AnyDesk is already being used by millions of people around the world, and more than 17,000 companies in 165 countries, including world renowned Fortune 500 brands.
"Along with our team of experts, I saw the need for innovation in the industry and created AnyDesk to provide a faster, more comprehensive connectivity solution," says AnyDesk CEO, Philipp Weiser. "We are already one of the top remote desktop software brands in South America, Europe and India and are now looking forward to growing our company with an expansion in North America."
"We are incredibly proud of the fact that we have a 99 percent customer renewal rate," says Chief Operating Officer, Oldrich Muller. "We believe that fact speaks louder than words as to the quality of our product and our commitment to 'first in class' support and customer service."
"Our team of innovative engineers and technologists work constantly to make sure AnyDesk is providing software that ensures secure and reliable remote desktop connections for IT professionals, and on-the-go individuals alike, adds Muller." We look forward to expanding our service to the global community."
About AnyDesk:
AnyDesk was founded in Germany in 2014. AnyDesk is one of the 50 fastest-growing businesses in Germany and its technology is trusted by millions of people and more than 15,000 companies in 165 countries, including leading Fortune 500 brands. The software is based on the company's unique proprietary codec, DeskRT, which allows for virtually latency-free collaboration, no matter where you are located around the world.
We believe in software that enhances the creativity and productivity of its users. That's why it's our mission to build a product that enables you to accomplish great things - from wherever in the world you are.
Posted in: Computers & Software,Technology
ZeptoMetrix™ Releases New Respiratory Verification Panel for Molecular Quality Control
ZeptoMetrix™ Corporation (ZMC) has released a new 20-member respiratory verification panel for use in laboratories engaged in utilizing molecular diagnostics technologies when testing for infectious diseases.
"Our focus is to provide both strategic collaborators and end-use customers with reliable, easy-to-use, and cost-effective external QC controls for their various laboratory needs", explains Shawn R. Smith, President and CEO of ZeptoMetrix. "As industry leaders such as QIAGEN® gain approval to market novel approaches to testing for infectious diseases, such as the QIAstat-Dx® syndromic testing system, we seek to develop versatile tools that assist in the effort to ensure optimal performance within the testing labs. The recent release of our NATtrol™ Respiratory Verification Panel (# NATRVP-QIA) provides such laboratories with another example of how ZeptoMetrix is focused on supporting the diagnostic testing community with an ever-expanding portfolio of industry-leading products."
About ZeptoMetrix™
ZeptoMetrix Corporation (ZMC) is an established industry leader in the design, development, and delivery of innovative, quality solutions to the Infectious Disease Diagnostics Market. Our expertise and abilities in Molecular Diagnostics, including External Quality Controls, Verification Panels, Proficiency Panels, Customized and OEM Products/Services have set the industry standard for performance and reliability and made ZeptoMetrix the preferred choice for independent 3rd party QC materials.
Founded in 1999, ZeptoMetrix is headquartered in Buffalo, NY with additional facilities in Franklin, Massachusetts.
About NATtrol™
Globally, millions of people are tested for infectious diseases each year. The implications of reporting either a false positive or a false negative can be devastating to the patient. Accurate and sensitive diagnostics are necessary to confirm that laboratories are providing patients with proper testing results. Utilizing ZeptoMetrix NATtrol QC materials on a consistent basis helps to monitor testing performance and enhance confidence in testing results.
ZeptoMetrix NATtrol Molecular Diagnostics products are an essential component of today's ever-evolving testing market and are designed to provide safe, accurate and cost-effective support for activities relating to the analysis and identification of possible disease-causing microorganisms. The patented ZeptoMetrix NATtrol process renders highly-purified microorganisms non-infectious while allowing internal nucleic acids to remain intact, thereby serving as an ideal reference material for molecular diagnostic testing applications. Representing a total process control, from DNA extraction through amplification and eventual detection, NATtrol products are ready-to-use, refrigerator stable, and safe for operators to handle.
The routine and repetitive use of NATtrol™ External Run Controls and Verification Panels help enable laboratories to monitor performance and identify trends in daily test variations, test kit lot changes, and among individual operators.
For Sales and/or information regarding ZeptoMetrix, NATtrol Molecular Quality Controls & Panels, and Development/Custom Services, please contact ZeptoMetrix Customer Service.
Contact:
ZeptoMetrix Corporation, Customer Service
878 Main Street
Buffalo, NY 14202
716-882-0920
custserv(at)zeptometrix(dot)com
http://www.zeptometrix.com
Media:
Michael Hershfield, Vice President, Sales & Marketing
508-553-5852
mhershfield(at)zeptometrix(dot)com
Posted in: Technology,U.S
John Ive, The Iconic Designer of iPhone and Other Popular Gems, to Exit Apple
Sir Jony Ive, the designer of iMac and iPhone who with his two decades plus of hard work helped turn Apple into the world's most valuable company, is leaving to set up his own venture. It will be a creative firm named LoveFrom. Interestingly, its first client will be Apple.
This announcement comes at a time when investors have expressed deep concern about the falling sales of the iPhone. The exit of retail chief Angela Ahrendts in April has also created problems for the tech giant.
Sir Jonathan said in a statement: "After nearly 30 years and countless projects, I am most proud of the lasting work we have done to create a design team, process and culture at Apple that is without peer."
LoveFrom will be based in California and reports suggest that the company will be dealing with wearable technology. According to Sir Jonathan, Marc Newson, a friend, and collaborator at Apple would also join LoveFrom.
The company was in a bad shape financially when he became head of Apple's design studio in 1996. The introduction of Sir Jonathan's iMac in 1998 and the iPod in 2001 turned things around for the company. Other gems fro, Sir Jonathan includes:
2004 - iPod Mini
2007 - iPhone
2008 - MacBook Air
2010 - iPad
2015 - Apple Watch
2016 - AirPods
He also oversaw the completion of Apple Park, Apple's new corporate headquarters. It is an ultra-modern complex designed in partnership with British architects Foster + Partners.
After the death of Steve Jobs, there was speculation that Jony Ive might become the CEO Apple one day. However, he continued as the firm's design guru videos while Tim Cook took charge and drove the giant organization towards greater profits.
However, Sir Jonathan, the man who is credited with creating the most profitable product in history, the iPhone, is guaranteed of his place in history.
#apple #appleiphone #iphone #mac #JonyIve #designerapple #stevejobs
Posted in: Business,Services,Technology,U.S
Order Fulfillment Operations Success Increases Using RightFIT Seven-Step Methodology
The new RightFIT™ methodology from Conveyco Technologies provides organizations with a seven, step-by-step process to assure project success. This process allows for a more efficient execution while helping to address future growth and meet or exceed the business case.
The necessity for converting warehouse and distribution center operations from overhead to a profit center has never been more critical. By focusing on each segment of the journey, the RightFIT methodology helps guide organizations to determine their best solution.
"By following the RightFIT methodology, Conveyco is able to provide customers with both an immediate impact and a long-term investment which aligns on strategic goals and reduces operational costs in the supply chain," says Ed Romaine, VP Marketing & Business Development. He continued, "This process is part of a commitment to subscribing to a customer for life mentality and practice."
The seven step RightFIT methodology includes:
1. Deep dive data analysis
2. Design Objectives
3. Alternative Analysis
4. Business Case
5. Clear Path to Success
6. Execution Roadmap
7. Life Cycle Nexus
By performing a comprehensive data deep dive analysis, creating models that illustrate a 360-degree understanding of the existing state of the 4 walls within an operation and incorporate the "nuances" which make an organization unique and loved by its customers, you have the foundation to build success. Next, the organization's strategic goals and metrics are applied to identify the shape and scale of systems, processes, as well as resources required to meet future demands.
By understanding the current metrics required to define success of the future state, an evaluation of technologies, concepts and configurations is conducted. An emphasis is placed on a solution that optimizes people, processes and systems. In fact, alternative solutions are reviewed and analyzed to determine the very best fit for an organization's requirements.
Using an outcome-based approach and RightFIT methodology generates a business case focused on delivering of the solution's benefits, accommodating growth and flexibility and allowing a phased capital investment. A clear path to success is set and defined by creating a holistic vision that aligns the scope of work with all available resources. An execution roadmap is set which includes process documentation to hardware and software integration, phased realization testing and go-live extensive training.
The final step is the creation of the life cycle nexus. By working together with client partners to keep system up time and performance at peak efficiencies, accountability is enhanced along with the ability to move beyond the old design build paradigm. This allows the RightFIT methodology to help exceed clients ever changing and increasing demands.
About Conveyco Technologies
Conveyco Technologies has been providing world class performance enhancements for order fulfillment, distribution centers and warehouse operations for over 40 years. Solutions and systems include sortation, palletizing, AS/RS, automated case handling, autonomous mobile robots, robotic picking, dispensing, AGV, WES, WMS and WCS software plus consulting and integration services.
Posted in: Services,Technology,U.S
Bamboo Apps to Drive the Development of the Digital Key Technology
Bamboo Apps has long been a supporter of automotive innovation and a provider of solutions that help automakers and OEM suppliers respond to disruptive industry changes. Taking this initiative a step further, Bamboo Apps joins the Car Connectivity Consortium to develop and standardize the Digital Key technology alongside BMW, Google, Harman, Samsung, Mercedes-Benz, Apple, and many other cross-industry leaders.
Digital Key is a revolutionary solution for connected cars, which is based on the idea of using smart devices as keys and such technology as Global Platform, GSMA, Bluetooth, and NFC. Digital Key can be used for vehicle access, starting of the engine, provisioning of the key to smart devices. The technology can also be implemented outside of automotive: in the hotel, real estate, and other industries.
"Membership in the CCC will let us continue driving positive change by contributing to the development of the Digital Key standard for smartphone-car connectivity", says Anatoly Spirkov, COO of Bamboo Apps. "As a member of the CCC, Bamboo Apps will have access to the Digital Key specifications and cross-industry workgroups. This will definitely advance our expertise in the connectivity domain. Moreover, soon we plan to present an R&D project based on the Digital Key standard".
To stay up to date on the latest news about the Digital Key and Bamboo Apps initiatives in the connectivity domain, join the conversation on our website and social media channels.
About Bamboo Apps
Bamboo Apps is a division of the Bamboo Group (Tallinn, Estonia) that creates apps for vehicles. Bamboo Apps uses its domain expertise and practical experience to empower OEMs' success in ideation, design, and development of software for connected car apps, infotainment, and HMIs.
Posted in: Services,Technology
Eastman Foundation and STREAMWORKS Bring International Marine Robotics Competition to Tennessee
Ensuring public safety, maintaining healthy waterways and preserving historical artifacts are all on task for students participating in the 18th annual Marine Advanced Technology Education (MATE) International ROV Competition hosted for the first time in Kingsport. Presented by the Eastman Foundation in partnership with STREAMWORKS and Visit Kingsport, the underwater robotics competition is set for June 20-22, at the Kingsport Aquatic Center and MeadowView Conference Resort and Convention Center.
Why East Tennessee and why Eastman?
Typically held in coastal cities, the MATE ROV Competition has historically focused on robotics in an ocean environment. To bring the competition to East Tennessee presented a unique opportunity to demonstrate how underwater robots can be and are being used in inland waterways and freshwater environments such as Boone Lake, Boone Dam and the South Fork Holston River. The region's state-of-the-art Kingsport Aquatic Center is an ideal venue for competitors to put their remotely operated vehicles (ROVs) to the test.
Couple this idea with Eastman's commitment to advancing science, technology, engineering, arts and math (STEAM) education, and the decision to bring the competition to Kingsport was an easy choice.
"The location for the international championship and our partnership with Eastman and the Eastman Foundation is allowing us to expose students to new and different ways that underwater robots can be used to benefit society," said Jill Zande, president of MATE Inspiration for Innovation (MATE II) and associate director and competition director for MATE Center.
Eastman's STEAM education efforts hinge on strategic partnerships and initiatives to help ensure a successful workforce in the future. The company fosters opportunities that encourage innovative and productive thinking in real-world environments. Eastman's partnerships with organizations such as MATE, STREAMWORKS and the Woods Hole Oceanographic Institution have accelerated ocean science education in this region.
"I'm often asked why Eastman and the Eastman Foundation invest in advancing ocean science, and the answer is simple – the ocean matters everywhere," said David A. Golden, Eastman's senior vice president, chief legal & sustainability officer, and president of the Eastman Foundation. "There's no better opportunity to ensure the future of ocean science than to inspire today's students through real-world educational experiences like the MATE competitions."
What does a MATE ROV competition look like?
The international competition will bring 1,300 of the brightest minds from around the world to East Tennessee, from Kingsport to Hong Kong. Over the last year, more than 740 teams competed in regional competitions across the globe, and 70 of those teams advanced to compete in the international competition.
The MATE ROV Competition requires students to apply math, electronics, engineering and physics skills from the classroom toward solving problems based on real-world workplace scenarios. The competition challenges students from K-12, community colleges and universities within four levels (EXPLORER, RANGER, NAVIGATOR, and SCOUT) to design, build and test underwater robots to complete specified, simulated real-world missions. They also must organize themselves into mock companies, an exercise that encourages them to develop entrepreneurial thinking and business and project management skills, while spurring innovation and collaboration to produce and compete with their ROVs.
This year's simulated mission stems from Eastman's commitment to do "Good for Good." Teams must ensure public safety and healthy waterways by inspecting and repairing a hydroelectric dam; monitoring water quality, determining habitat diversity and restoring fish habitats; and recovering a Civil War era cannon while marking the location of unexploded cannon shells.
"From working to ensure that our infrastructure is safe to monitoring water quality for the health of aquatic species and making certain that pieces of our nation's history live on, these students and their inventions are doing Good for Good," said Zande.
"On behalf of Eastman and the Eastman Foundation, I appreciate Jill, the entire MATE organization, STREAMWORKS and Visit Kingsport for their partnership and passion to advance STEAM education, locally and globally," said Golden. "This is an incredible opportunity to welcome the world to our region, and I could not be prouder of the work that has gone into planning a world-class event. We look forward to an exciting competition!"
To learn more, visit https://www.marinetech.org/rov-competition/.
About Eastman
Eastman is a global specialty materials company that produces a broad range of products found in items people use every day. With the purpose of enhancing the quality of life in a material way, Eastman works with customers to deliver innovative products and solutions while maintaining a commitment to safety and sustainability. The company's innovation-driven growth model takes advantage of world-class technology platforms, deep customer engagement, and differentiated application development to grow its leading positions in attractive end-markets such as transportation, building and construction, and consumables. As a globally inclusive and diverse company, Eastman employs approximately 14,500 people around the world and serves customers in more than 100 countries. The company had 2018 revenues of approximately billion and is headquartered in Kingsport, Tennessee, USA.
The Eastman Foundation is a 501(c)(3) non-profit organization managed by a Board of Directors, separate and apart from Eastman. The Foundation invests in initiatives that serve and strengthen communities around the world with the goal of improving the quality of life for all people. The Foundation focuses its resources on partnership initiatives in the areas of education, environment, empowerment, and economic development.
Established with funding from the National Science Foundation at Monterey Peninsula College in 1997, the Marine Advanced Technology Education (MATE) Center worked with the Marine Technology Society's ROV Committee to create the MATE ROV Competition. The first event kicked off in 2001. Seventeen years later, MATE Inspiration for Innovation (MATE II) incorporated in the state of California as a 501(c)3 nonprofit organization in 2018. MATE II was founded to support and sustain ongoing education activities initiated at the MATE Center.
Based in Kingsport, Tennessee, STREAMWORKS is a new educational program that delivers enhanced opportunities for students (grades K–12) to participate in exciting mentor and project-based programs that focus on science, technology, engineering and math (STEM) skills; inspire innovation; and foster well-rounded life capabilities.
About the MATE International ROV Competition
Established with funding from the National Science Foundation at Monterey Peninsula College in 1997, the Marine Advanced Technology Education (MATE) Center worked with the Marine Technology Society's ROV Committee to create the MATE ROV Competition. The first event kicked off in 2001. Seventeen years later, MATE Inspiration for Innovation (MATE II) incorporated in the state of California as a 501(c)3 nonprofit organization in 2018. MATE II was founded to support and sustain ongoing education activities initiated at the MATE Center. To learn more, visit https://www.marinetech.org/rov-competition/.
Posted in: Education,Technology,U.S
OCR Canada Ltd. Announces Recent Acquisition of Multisource Group Corporation
Under the Barcodes Group, OCR Canada has achieved strong growth, continuing to be Canada's leading provider of supply chain automation solutions. With a strategy to serve the entire Canadian Market, executive management is confident this acquisition will enable OCR Canada to provide the best solutions and services available, nationwide.
Don Hartwick, President of Multisource Group Corporation, stated "Multisource Group is very pleased to announce that we have been acquired by OCR Canada, the largest and fastest growing company in our industry. Ensuring our western customers would continue to be served by our existing Multisource team members was paramount when considering acquisition partners. We also wanted our customers to have access to broader products and professional services offerings for both inside-the-four-walls and mobile solutions needs. Fortunately, OCR Canada offers a wide product and service set including wireless networking, repair, staging and system engineering AND the existing Multisource team located in Calgary will continue to serve our local customers. I am confident OCR will provide our customers with the high-touch service they have always associated with Multisource as well as OCR's broader product and support offerings."
Dan Nettesheim, President & CEO of Barcodes Group, the parent company of OCR Canada, added, "We're excited to finalize the acquisition of Multisource as it solidifies OCR Canada's presence in Western Canada. Having a facility located in Calgary, along with a great team, enables OCR to better serve both our national customers with western locations as well as continuing to service Multisource's valued customers."
About Multisource Group Corporation:
Multisource Group is a Western Canada based company providing end-to-end barcode and RFID data collection solutions. Having serviced Western Canada for over 18 years, providing automatic data collection (ADC) applications, rugged mobile handheld devices, industrial and hazardous location tablets and label printing systems.
Our focus is to provide cost-effective solutions, from installation to on-going service and support. Through implementation of ADC solutions, we can significantly improve our customer's ability to collect and provide accurate information. Within Multisource Group is the necessary knowledge and expertise to successfully implement and integrate barcode and RFID solutions within our customers' existing supply chain systems.
About OCR Canada:
OCR Canada carries over 38 years of trusted industry experience, as Canada's largest reseller, more companies turn to OCR for automated identification data capture (AIDC) solutions than to any other Canadian organization. Trusted advisors to more than 8,000 customers around the globe, OCR Canada has a proven track record of innovative achievements in the data collection industry and has received hundreds of awards; each award underscores OCR's reputation for streamlining their customers' processes and ensuring their competitive advantage.
With each purchase or installation of barcode, RFID, and wireless infrastructure equipment, OCR Canada offers customers the highest level of services: consultation, analysis, re-engineering, and implementation.
As a premier partner with the leading global manufacturers in barcoding, RFID, printing, and mobile computing, OCR Canada provides quality products and software to meet customer needs for any application, as well as offering award-winning engineering and repair services.
About Barcodes Group:
Barcodes group, parent company of Barcodes, Inc. and OCR Canada, Ltd., headquartered in Chicago, IL and with corporate offices across the U.S., Canada, and Europe, is a leading information technology solution provider with more than a 25-year history of providing products and services to automate businesses. The Company's data capture products, which include barcoding, RFID, mobile, people identification, and wireless networking devices, and integration and managed services enable customers to improve productivity and profitability in their businesses. Barcodes has partnered with Odyssey Investment Partners to leverage their private equity capital and experience to drive strategic growth.
Posted in: Automotive,Services,Technology
Virid Announces the Signing of the National Wildlife Federation
Virid, a team of eCommerce experts providing a comprehensive software and services solution for growing retailers, announces the signing of their new client, the National Wildlife Federation, on their Cloud platform marketAgility. For over 15 years, marketAgility has been the go-to eCommerce platform for brands experiencing explosive growth.
Virid will be leading the NWF to a responsive site with more mobile-friendly payment options, while also aligning the NWF eCommerce site with their current branding elements. Virid will be handling replatforming of the 2 NWF branded shop sites including shopnwf.org, cardshopnwf.org, and the shop Zoobooks, and shop Ranger Rick.
"We chose Virid because of their expertise and proven track record in the eCommerce industry as well as their high-touch customer relationship approach to our partnership," said Dawn Rodney, Vice President Innovation and CMO at the National Wildlife Federation. "They understand our needs and share our vision for how eCommerce can fuel our work safeguarding wildlife conservation for future generations. We're thrilled to be partnering with them."
About Virid: Virid is a team of eCommerce experts providing a comprehensive solution for growing retailers. Virid's unique offering includes enterprise-grade hosted eCommerce platform marketAgility, with 24/7 monitoring, website development, and ongoing technical and strategic support from a results-oriented team. For more information, please visit https://www.virid.com/.
About the National Wildlife Federation: National Wildlife Federation has a rich history. Founded in 1936, the NWF was one of the very first organizations to recognize the vital importance of protecting America's wildlife and public lands. In the intervening years they have become America's largest and most trusted conservation organization with 51 state and territorial affiliates and more than six million members. For more information, please visit: https://www.nwf.org/.
Posted in: Technology,U.S
CMBS Special Servicing Rate Climbs for the First Time in Nearly a Year
Trepp, LLC, a leading provider of information, analytics, and technology to the structured finance, commercial real estate, and banking markets, has released its April 2019 CMBS Special Servicing Report. The full report can be accessed here: https://www.trepp.com/april-2019-cmbs-special-servicing-report.
The Trepp CMBS Special Servicing Rate rose by 11 basis points to 3.53% in April, which is the reading's first month-over-month increase since July 2018. While special servicing rates for all five major property types climbed last month, the retail sector featured the greatest month-over-month change. Despite April's increase, the rate has fallen 115 basis points year over year.
"The special servicing rate increased for the first time in almost a year thanks to 0.2 million in newly transferred loans," said Joe McBride, Trepp's Director of Research & Applied Data. "Retail properties made up the majority of those transfers, led by the Destiny USA mall in Syracuse, New York. The mall backs a 0 million single-asset CMBS deal that was issued in 2014. Defaults in single-asset CMBS deals are very rare, so we will be keeping our eye on the Destiny mall going forward."
Special servicing readings for all five major property segments increased last month, but no increase was larger than that of the retail sector. The retail special servicing rate surged 24 basis points to 5.73% in April. Although the lodging segment is still the best performing major property type, it incurred the month's second-greatest jump, rising nine basis points to 2.25%. Lodging loans in CMBS 1.0 featured a very sharp incline in servicing transfers, as that segment's reading soared by more than 1,000 basis points.
The percentage of post-crisis, or CMBS 2.0+, debt that was in special servicing last month rose 16 basis points to 1.27%. Retail and multifamily servicing events pushed the overall 2.0+ rate higher, as those property type rates climbed 47 and 16 basis points, respectively, last month. The CMBS 1.0 special servicing rate, which looks at any loans issued before the 2008 financial crisis, surged 167 basis points to 50.05% in April.
For additional details, such as monthly rate changes for all major property types, download the April 2019 CMBS Special Servicing Report: https://www.trepp.com/april-2019-cmbs-special-servicing-report. For daily CMBS commentary, follow @TreppWire on Twitter.
About Trepp
Trepp, LLC, founded in 1979, is the leading provider of information, analytics, and technology to the CMBS, commercial real estate, and banking markets. Trepp provides primary and secondary market participants with the web-based tools and insight they need to increase their operational efficiencies, information transparency, and investment performance. From its offices in New York, San Francisco, and London, Trepp serves its clients with products and services to support trading, research, risk management, surveillance, and portfolio management. Trepp is wholly-owned by Daily Mail and General Trust (DMGT). For more information, visit http://www.Trepp.com.
Posted in: Services,Technology,U.S
INSTAGRAM MARKETING AGENCY CERTIFIEDLIKES EXPANDS U.S. BASED SERVICE OFFERINGS
MIAMI, FL - Instagram growth and marketing agency CertifiedLikes has announced the expansion of its US Based Instagram small business growth and influencer division, designed to rapidly accelerate the Instagram growth and social media needs of influencers and brands.
The company has added us-based customer service representatives, expanded IT services, as well as 24/7 chat support for both product implementation and support.
This announcement follows CertifiedLikes.com expanding services earlier this year in Europe and Australia, with targeted social media enhancement services available in Germany, UK, and the Netherlands.
In 6 years, Certified Likes has become one of the top social media enhancement sites worldwide. The agency supports the Instagram and social media growth of hundreds of thousands of brands, influencers, celebrities, and clients globally with value priced, high-quality service and technical support. The user-friendly platform allows clients to rapidly grow more robust presence online, adding real instagram likes and followers, which translates into overall credibility and volume for the brand. Recently, new self-serve options have allowed users to add likes and followers to their social media accounts for as little as usd, with complete customer support and near-instant delivery.
Certified Likes includes a global team of social media marketing and IT experts, supporting both businesses, and influencers globally. The company has expanded its support options to include 24/7 live chat with highly trained social media and marketing professionals, allowing the company to offer un-paralleled support and instant delivery.
1 billion people use Instagram every month, and 500,000 use the platform daily, making Instagram one of the most important communications platforms today. Users "like" 4.2 billion posts per day, which can be a significant boom for the 25 million businesses which have Instagram accounts. A profile with robust likes and followers gives a business (or influencer) immediate credibility and more likelihood of engagement with new customers, and is the closest thing to a "free trial" for many businesses.
Certified Likes offers a low-cost, high quality service adding real followers and likes to grow social media and brand presence. Options offer immediate delivery, targeted followrs and likes, video views, targeted commenting, and more across Instagram as well as all popular social media accounts. YouTube, SoundCloud, Twitter, Facebook, are all available as part of Certified Likes programs to add real likes and followers.

For the past 10 years, CertifiedLikes.com has helped businesses increase traffic, grow their instagram accounts, and create high quality brand presence, with a process is designed to empower brands and users to grow real likes from real users. CertifiedLikes.com has become one of the most highly-ranked social media enhancement agencies with 24/7 live assistance and high quality technical support, secure payment systems, and 100% service guarantee.
With over 6 years of experience in social media and Internet marketing, the CertifiedLikes.com expert team does not compare with other Social Media Agencies. The skilled IT team develops websites, complex SaaS projects and efficient online services around the world. The Certified Likes project team includes 8 dedicated online marketing specialists and programmers, as well as 6 IT specialists and a highly trained customer support staff. Our specialty is to help buy instagram likes or instagram posts, and put you (or your brand) on a solid track to success and profit in 30 minutes or less.
Certifiedlikes global community clients includes more than 251,160 users, brands, businesses, and social media influencers, with a reach that continues to grow. Their global client base includes many ordinary users, real people, businesses, brands, as well as well-known celebrities who trust our services to promote their free Instagram profiles, YouTube pages, Facebook, Twitter, or real accounts on other major social networks.
CertifiedLikes.com is a US-based, social media and Instagram growth agency, supporting clients globally by expanding their brand footprint and social media presence, primarily by adding affordable solutions for real likes and followers, video views, and interaction. Our programs operate online with 24 hour/ 7 day service and support, and is managed by Miami-based Leisure Growth Holdings, with collaboration from established marketing agents.
For more information on enhancing your Instagram, or social media, contact us at www.certifiedlikes.com
Media inquiries, custom projects, or IT please contact admin@certifiedlikes.com
Posted in: Computers & Software,Leisure Activities,Marketing & Sales,Technology,Website & Blog
Two New Hires Accelerate T2 Tech Group's Versatility and Agility
Los Angeles-based T2 Tech Group (T2 Tech) recently added Engineer, Jonathan Aparicio and Assistant Controller, Chelsey Ernstoff to its responsive consulting team, emphasizing IT capabilities and rapid project development.
Jonathan Aparicio joins the T2 Tech engineering team and brings demonstrated expertise in IT infrastructure assessment, configuration, installation and implementation of hardware and software. He will provide support and maintenance for end users within diverse and dynamic server, desktop and mobile computing environments for several clients. Aparicio was previously a Tier 1 support technician at Adroit Worldwide Media, where he was the primary point of contact for national and international infrastructure configuration, installation and support. Aparicio will initially join the ongoing support team of current client, Mesa Water District in Orange County.
"Jonathan impressed me at the outset because he's articulate, organized and a strong work ethic. We think these communication skills and his demonstrated expertise in infrastructure engineering will ensure that our clients sustain the highest levels of system performance and reliability," said Robert Konishi, managing partner of the firm. "T2 Tech Group is already an industry leader in providing responsive solutions to pressing IT and organizational needs. Jonathan's hands-on, inside knowledge of software and hardware systems will help us continue to deliver on that promise."
In another recent hire, T2 Tech's accounting department added Chelsey Ernstoff as an assistant controller. Says Konishi, "Chelsea brings impressive experience not only in financial accounting functions but also in collection and analysis of systems-project metrics. For example, she's already helped improve our profitability simply by paying close attention to our resources, their project scopes and timelines." Ernstoff will thus support project information reporting, along with cash management, accounts payable/receivable, cash disbursements, payroll and bank reconciliation functions. She brings years of experience in corporate accounting, including supervisory roles at Enterprise Rent-A-Car, where her responsibilities included data analyses and forensic examinations in branch audits, as well as responsibility for monthly and yearly statement closings.
For more information about T2 Tech Group and all open career opportunities and benefits, please visit their website at http://www.t2techgroup.com/careers.
About T2 Tech Group
T2 Tech Group is a leader in the practical application of technology for healthcare and a range of other industries. Since its founding in 2006, T2 Tech has consistently delivered high-quality consulting and management advisory services to executives and IT leaders. Unlike many consulting firms, T2 Tech has no financial interest in vendor selection, freeing the company to focus completely on realizing client goals. The company balances business and IT needs, uses a proven adaptable framework, can see projects from assessment to post-implementation, and practices transparency in everything they do. For more information about T2 Tech Group, visit t2techgroup.com and connect with them on Twitter @T2TechGroup.
Posted in: Computers & Software,Technology,U.S
Ambisafe Announces Partnership with Anchor, the World's First Stablecoin Indexed to the Global Economy
Ambisafe, a leading global capital markets and blockchain infrastructure provider announces partnership with Anchor, a stablecoin project indexed to the growth of the global economy. Ambisafe will be offering Anchor state-of-the-art technology services including token issuance and a wallet for storing Anchor's funds, prioritizing the highest standard of security as Anchor takes steps towards its private presale token launch in mid-May.
Having previously worked with Tether building out their wallet, Ambisafe focuses on security and building top-tier technology with leading companies and figures in the blockchain and crypto space. Ambisafe will be developing Anchor's stable token using the ERC-20 protocol and providing Anchor with a secure wallet solution for their assets.
"As we finalize our dual-token Anchor ecosystem and non-flationary financial index for our upcoming launch, we are committed to ensuring the highest standard of security for our token users," said Daniel Popa, CEO of Anchor. "After seeing the success Ambisafe has achieved with identifying vulnerabilities and bugs with other large-scale cryptocurrency projects, we feel confident our upcoming private token presale will be executed with the utmost safety and security."
CEO of Ambisafe, Andrey Zamovskiy said: "Anchor brings real financial innovation and a stronger peg of value based on real world economic growth to the crypto and blockchain markets. We're excited to be backing the technology side of the Anchor stablecoin project."
Focusing on security, Ambisafe has previous experience working with top projects like Tether, Polybius and Propy helping ensure the quality of their code and security of assets. Ambisafe has demonstrated their technical capabilities and dedication to security by rescuing millions of dollars worth of funds during the Parity Wallet back and identifying vulnerabilities across top exchanges that were prone to manipulation of their Ethereum account balances.
This partnership is another major milestone Anchor achieves in preparation for its upcoming launch planned for New York Blockchain Week. In the midst of the project's global roadshow, the Anchor team is connecting and engaging with potential partners and the greater crypto community at private events attended by some of the most reputable accredited investors and funds in the industry. Previously in Hong Kong and Singapore during Asia Crypto Week and most recently in Los Angeles on the sidelines of Crypto Invest Summit (CIS), Anchor together with SMC Capital, a venture capital and advisory firm, hosted influential funds, exchanges, and media including Bitcoin Foundation; SPiCE VC; DNA Fund; 8 Decimal Capital; among many others.
The Anchor team looks forward to spending time in London where they will be holding a private event to discuss the future of stablecoins and the token economy during London Blockchain Expo week. To access Anchor's public testnet, interested parties can request credentials by following The Anchor Project on Telegram.
For media inquiries, please contact:
Olya Moskalenko
Anchor Chief Communications Officer
olya.moskalenko(at)theanchor.io
+1 (917) 355-1647
Sarah Cohen
Melrose PR Account Executive
Sarah(at)melrosepr.com
+1 (310) 260-7901
About ?Anchor
Anchor's dual-token stability mechanism and non-flationary financial index is designed to provide investors and crypto traders with a reliable hedging instrument and global stablecoin standard. CEO Daniel Popa, a serial telecom entrepreneur ?with over 20 years of experience running successful companies in the USA, Canada, Australia, Romania, and Ukraine, led a team of PhD economists to develop Anchor's? revolutionary ?proprietary Monetary Measurement Unit (MMU), a scientific algorithm that is indexed to global real GDP via official financial data from twenty of the world's largest economies. Anchor's blockchain developers have built solutions for several large blockchain firms, including Celsius Network.
About Ambisafe
The Ambisafe team is renowned for their technical and financial prowess. They have saved money during the Parity wallet hack and have identified issues in some of the top exchanges. Combined their business leaders have over 40 years of blockchain experience and 50 years of financial expertise in US markets. Their services include building complex infrastructure on the blockchain, conducting code reviews and providing end-to-end token sale infrastructure. Most recently, their trading platform Orderbook has launched a project to offer economic interest in Pre-IPO companies such as SpaceX.
Posted in: Technology,U.S
Cortical.io Contract Intelligence Highlighted by Ovum
Ovum, one of UK's top analyst firms, has just released a report about Cortical.io Contract Intelligence, recognizing its benefits applying Artificial Intelligence (AI) technology in the legal domain.
Based on patented technology, Cortical.io Contract Intelligence extracts key information from complex contracts and populates existing contract management software with that information. The difference with other solutions in the market results from the neuroscience-based algorithm used to process text, which solves the problems of language ambiguity, is quickly trained and enables a fast and transparent implementation process.
"One of the challenges in the legal world is that the vocabulary used in legal documents is rather narrow, and small differences in how these words are expressed can lead to significant contextual or semantic differences", describes Michael Azoff, distinguished analyst at Ovum. "With their original approach that combines Numenta's memory model and unsupervised machine learning algorithms, Cortical.io has created a powerful technology to process unstructured text data and extract meaning. At Ovum, we believe that Cortical.io Contract Intelligence deserves evaluation."
Cortical.io Contract Intelligence processes all types of legal documents, including lease agreements, ISDA master agreements, bond indentures, and certificates. The solution analyzes the meaning, not just of keywords, but of whole sentences, paragraphs, and long text so that the problems of language ambiguity and vocabulary mismatch within and across documents are overcome. For example, "done deal" and "signed contracts" are recognized as very similar by Cortical.io Contract Intelligence, although they do not have any term in common.
Cortical.io Contract Intelligence is accessed via a simple user interface and does not require any specific training. It is designed for business users and does not require any AI experts or knowledge. The solution is already used by Fortune 100 companies to reduce manual review and data extraction time, as well as contract processing costs.
More information about Cortical.io Contract Intelligence
About Cortical.io:
Cortical.io provides natural language understanding (NLU) solutions that enable large enterprises to automate the extraction, monitoring, and analysis of key information from any kind of text data. By understanding the meaning of text, Cortical.io Retina software reduces the time and effort it takes to complete business-critical data search and review processes. Many repetitive and error-prone manual steps are eliminated, freeing up valuable resources to focus on higher-value tasks. Our solutions can be quickly trained without supervision in the specialized vocabulary of any business domain and in multiple languages. Our enterprise-grade technology is implemented at multiple Fortune 100 businesses, covering a wide spectrum of use cases. Our unique approach has been featured in The Economist, Harvard Business Review, Bloomberg, and Gartner. Cortical.io has offices in Europe (HQ in Vienna) and in the US (New York and San Francisco).
Posted in: Law & Legal,Technology,U.S
Gilbane-Hunt Named Construction Manager for Worcester's Canal District Ballpark
Gilbane-Hunt, a Joint Venture, has been named construction manager for the Canal District Ballpark, new home of the Red Sox Triple-A affiliate in Worcester, Massachusetts. This multi-purpose, publicly owned Triple-A ballpark, located in Worcester's Canal District, will accommodate approximately 10,000 fans upon completion in 2021.
Gilbane has considerable ballpark experience having completed numerous projects at the iconic Fenway Park. In addition, Gilbane maintains a long-standing relationship with the city of Worcester, having delivered over 20 projects including the Sports and Recreation Center at Worcester Polytechnic Institute, the Worcester Trial Court Complex, Worcester Recovery Center and Hospital, and the North High School. Nationally, LA-based AECOM Hunt, has completed nine Triple-A facilities across the country and 30+ Major League ballparks. Worcester City Manager, Edward Augustus, commented, "The Gilbane-Hunt team's impressive resume of work both nationally, and locally here in Worcester, really speaks for itself."
"We're thrilled to be selected as the builder of this new ballpark that will mark the next phase in the storied history of the Red Sox Triple-A team and bring significant change to the face of downtown Worcester," said Steve Duvel, vice president and principal-in-charge for Gilbane. "We're looking forward to breaking ground in July and having the ballpark open for the 2021 baseball season."
The planning, design and construction process for the Canal District Ballpark is a mutual endeavor between the Worcester Redevelopment Authority (WRA), the City of Worcester and the Worcester Red Sox. The WRA has engaged D'Agostino Izzo Quirk Architects to provide design services and Skanska USA Building, Inc. to provide owner's project management services.
About Gilbane Building Company
Gilbane provides a full slate of construction and facilities-related services – from pre-construction planning and integrated consulting capabilities to comprehensive construction management, general contracting, design-build and facility management services – for clients across various markets. Founded in 1873 and still a privately held, family-owned company, Gilbane has 48 office locations worldwide. For more information, visit http://www.gilbaneco.com.
Gilbane has served as a leading construction manager in Massachusetts since 1946 serving private and public clients throughout the Commonwealth including PTC, Reebok, Wentworth Institute of Technology, Babson College, Google, and Northeastern University to name a few. For more information, visit Gilbane's website at http://www.gilbaneco.com/boston.
Posted in: Building & Construction,Technology
Introhive to Debut Data Enrichment Marketing Technology at LMA
As marketing modernization picks up steam in the legal industry, Introhive, the leader in relationship intelligence and sales automation technology, plans to share its newest solution, Introhive Cleanse™, at the Legal Marketing Association (LMA) annual conference April 8-10 at the Hyatt Regency in Atlanta.
The largest continuing education event for legal marketing and business development professionals, LMA 2019 will host more than 1,500 legal marketers of all levels, 150 speakers, and dozens of preeminent solution providers, including Introhive.
"[LMA 2019] is a great annual opportunity for us to engage our legal customers," said Introhive's Marketing Director, Daniel Dowling. "It's also a chance to talk to other firms that are looking for innovative technology to solve some hard problems, like lagging [customer relationship management (CRM)] software adoption, data quality issues and disparate marketing lists. There are a lot of firms looking to push their marketing and business development efforts to the next level."
Dowling describes Introhive as a business-automation and artificial intelligence tool that gives its more than 140,000 global users a "bird's eye view" of all their organization's business-relationships, while automating previously manual data entry into CRM systems.
He added that Introhive is excited to debut their newest solution, Introhive Cleanse™, at this year's show. Cleanse will support integrations with popular CRM tools, including Salesforce, OnePlace and Tier1.
Introhive Cleanse™: Beyond traditional Enterprise Relationship Management (ERM)
"Introhive customers are already pioneering the way the industry uses ERM technology to reduce administrative CRM data entry, thanks to features like signature scraping and pre-meeting digest reports," Dowling said. "However, Cleanse takes their abilities to the next level."
The latest complement to Introhive's platform, Cleanse is a data enrichment tool that gives users increased data-update power.
"With Cleanse, partners, attorneys and data stewards have the ability to update all of a firm's contact data in bulk and on-demand," Dowling said.
"Now firms don't need to worry about the hassle of time-consuming, expensive annual data-clean-up projects," he continued. "Cleanse takes that hard work off their plate. So the professionals who rely on that database for business development and marketing campaigns can always count on accurate and up-to-date information."
"We think it's going to revolutionize the way the legal industry markets and builds new business," Dowling added.
Introhive currently serves Global 100 and AmLaw 200 legal firm clients across the United States, Canada, and the United Kingdom.
"No matter their size or focus, any legal firm that wants to succeed needs to have a strong understanding of its relationship network first, and the ability to derive insights from that. And that's exactly what Introhive does," added Introhive's Head of North American Sales, Adam Draper.
"It's been gratifying to watch the firms we partner with become empowered by Introhive's automation of their manual processes—like syncing contacts and activities," Draper continued. "They're using the platform not just to save time entering marketing contact info, but also to prep for meetings, cross-sell their services and keep an eye on engagement. Overall, it's just a much more modern approach, which a lot of today's innovative firms are hungry for."
Dowling added that Introhive is also a silver sponsor for this year's event, and will host a speaker panel, "How to Turn Your CRM into an Insights Engine." Representatives from Osler, Reed Smith and Smart & Biggar/Fetherstonhaugh will discuss how their strategies for successful CRM implementation and user adoption drove innovation across their firms.
Legal marketers from more than 500 law firms across North America attend the two-day LMA conference each year to network, learn, discuss industry trends and challenges, and explore solutions for their firms. Visit http://www.legalmarketing.org/annual_conference for more information about LMA 2019.
About Introhive
Introhive is the leading relationship intelligence and sales automation platform for enterprise. Customers across an array of roles and industries—from legal to accounting to commercial real estate and beyond—use Introhive's automated data collection and AI-powered relationship visualizations to grow business connections, while saving time and money. Introhive's platform integrates with most business technology (including CRM software, e-mail, and business intelligence) to reveal insights and eradicate manual data entry—boosting sales, revenue, technology adoption, productivity and data quality. Learn more at http://www.introhive.com
Posted in: Marketing & Sales,Technology
Accent Technologies and Strategy to Revenue Make It Official
Building on years of successful collaboration, Accent Technologiescan now officially offer European customers of their sales enablement platform local customer service managers from Strategy to Revenue, an award-winning sales enablement consultancy.
This global partnership provides sales organizations with a UK-based sales and services hub for customer support that includes:
Consultation on sales processes and strategies with a deep knowledge of Accent's technology and capabilities to optimize rollout effectiveness
Guaranteed operational and sales improvements within 120 days of deployment
Customizable sales onboarding, coaching and learning applications intrinsically linked to business goals
Accent is a recognized as a leading sales enablement platform and was listed in Gartner's Hype Cycle for CRM Sales, 2018. Its AI-driven sales enablement platform, CRM Supercharger, provides real-time insights to improve sales productivity and profitability. It ensures sales reps focus on high-value selling activities and automatically serves-up the right resources and tips for each stage of the buying cycle.
The Accent platform can now be supplemented with professional services from Strategy to Revenue. Professional services include working with customers to architect a standard sales model that aligns customers' business goals to Accent's CRM Supercharger AI engine. Ongoing evaluation of the standard model ensures that sales people get the correct training and insights to close the right types of deal for optimum performance gains. By intelligently re-calibrating the standard model and revising behavioral, content and learning recommendations professional services can optimize selling time and outcomes. Strategy to Revenue also offers a multi-award-winning continuous learning framework that delivers in-the-field sales coaching and training to improve information and skill retention and selling time. Strategy to Revenue's sales improvement programs are used by the likes of DHL, Motorola, HPE and SAP. Its sales improvement content is endorsed by the Association of Professional Sales.
"Strategy to Revenue's track record in delivering sales performance improvements to some of the world's best-known brands makes them an ideal partner to help set up our customers for quick-start success and ongoing optimal performance, with sales improvements aligned to business goals."- Gregory Kotovos, Marketing Director, Accent Technologies
"We're looking forward to helping Accent customers set in place strong foundations to build a constantly evolving sales improvement platform. I believe we can give our joint customers a genuine competitive edge in the incredibly competitive world of B2B sales." - Mark Savinson, Chief Operating Officer, Strategy to Revenue
About Accent Technologies
Accent has been a global technology leader in sales enablement software since 2003. The SaaS company helps sales teams sharpen execution and improve sales productivity by leveraging artificial intelligence to maximize sales performance and create unprecedented visibility and insights for marketing and sales leadership. Their sales enablement solution is one of the most comprehensive in the market offering sales content management, guided selling, performance management and deep analytics.
Headquartered in Melbourne, Florida, Accent's products are used by companies in over 100 countries. They are committed to understanding each client's unique business case and providing the best solution to meet their sales enablement goals. It supports integrations with: Salesforce, Microsoft Dynamics CRM, Microsoft SharePoint, Google Drive, Dropbox, Box, HubSpot, Marketo, Oracle (Eloqua, Sales Cloud), SAP CRM.
About Strategy to Revenue
Strategy to Revenue is an award-winning sales enablement consultancy with offices in Europe and the USA. It works with organizations to unleash the full potential of sales teams, significantly improving their commercial performance, transforming their businesses and accelerating the time it takes to turn their strategy to revenue. Clients include DHL, Refinitiv, Thomson Reuters, HPE, Motorola and SAP.
Posted in: Marketing & Sales,Services,Technology,U.S
Energy Marketing Conferences, LLC announced today the nominees for the "2018 Retail Energy Provider of the Year Award", the "2018 Most Innovative Marketer Award" and the "2018 Vendor of the Year Award
Energy Marketing Conferences, LLC announced today the nominees for the "2018 Retail Energy Provider of the Year Award", the "2018 Most Innovative Marketer Award" and the "2018 Vendor of the Year Award".
The three awards will be presented at its tenth semi-annual Retail Energy Marketing Conference being held at the Houston Hyatt Regency Downtown in Houston, Texas on April 2nd 2019.
The theme of the Energy Marketing Conference will be 'Relationships vs. Transactions' and it will feature 45 sponsors, a sold-out exhibit hall packed with 50 of the best exhibitors, more than 50 well-known industry professionals speaking on six interactive panels, 10 executive workshops, a networking breakfast, luncheon and reception with live music.
More than 600 attendees from all over the country are looking forward to hearing over 50 panelists and speakers. The conference will be the largest gathering of retail energy professionals in North America.
The panels include: "Successful Channel Partnerships"; "Show me the Money: How Distributed Resources make everyone more profitable", New Competitive Markets: Foreign and Domestic", Blockchain and Other Emerging Technologies in Retail Energy", and the CEO Round Table focusing on growth, expansion and overcoming obstacles that are in the way.
The breakfast, luncheon, breaks and cocktail reception have all been designed to allow participants to maximize their learning and networking opportunities.
Sponsored by LED Plus USA and TrustedTPV, the nominees for the 2018 Most Innovative Marketer Award are: Agway, Direct Energy, Eligo Energy, Engie, Griddy, Just Energy, and NRG.
"The nominees for the Most Innovative Marketer Award have all created new programs, differentiated products offerings, bundled services, and overall improved customer experience," said Larry Leikin, Co-Founder of EMC and CEO of TrustedTPV.
Sponsored by Arise Digital Marketing, the nominees for the 2018 REP of the Year Award are: Constellation, Eligo Energy, Engie, Just Energy, NRG, Shell and Tomorrow Energy.
"The nominees for the REP of the Year Award are seven companies who have exemplified real leadership in the retail energy industry," said Jack Doueck, Co-Founder of Advanced Energy Capital, LED Plus and Energy Marketing Conferences, LLC.
Sponsored by Crius Energy, the nominees for the 2018 Vendor of the Year Award are: EC Infosystems, energy Services Group, Feller Law Group, Powwr, the Retail Energy Supply Association, Shell Energy, TrustedTPV, and Znalytics.
"The nominees and winners of all three awards were voted on by the industry itself as EMC teamed up ERCG to produce a first-ever industry vote on the awards," said Doueck. "This was a democratic process and Larry and I wish congratulations to all the nominees on a great 2018".
This promises to be an event that can't be missed for professionals in the retail energy space.
To view the agenda - click here: https://energymarketingconferences.com/houston-2019/

To register for the Energy Marketing Conference visit: https://www.eventbrite.com/e/energy-marketing-conference-houston-tx-tickets-50833090141?aff=ebdssbdestsearch
To watch the video from a previous Energy Marketing Conference in New York click here: https://www.youtube.com/watch?v=fDQTi2lhXek
To watch the video from a previous Energy Marketing Conference in Houston, click here: https://www.youtube.com/watch?v=UaPRmzrpM3o
About Energy Marketing Conferences:
The mission of Energy Marketing Conferences is to provide the competitive energy industry with exciting conferences in premium locations at extremely affordable prices. The goal of the conferences is to bring together hundreds of energy companies, utilities, marketers, vendors and suppliers in the competitive energy industry to network and learn more about our industry. EMC is the largest gathering of retail energy executives in North America and it takes place twice a year: Houston Texas in the Spring and New York City in the Fall.
Posted in: Business,Energy & Environment,Finance Market,Real Estate,Technology
Come Visit Visikol at AACR in Atlanta at Booth #3252
The AACR annual conference pulls together a diverse group of clinical and laboratory researchers and is a great opportunity to see the most cutting-edge cancer research. The Visikol team will be at the show at booth #3252 and will be highlighting their work with 3D cell culture assays as well as their digital pathology services. "For AACR this year we are highlighting specifically our immuno-oncology focused services as this is an area in which we assisted many of our Clients this past year. The combination of our advanced imaging tools with our 3Screen™ image analysis software and 3D in vitro assay services has allowed us to address complex research questions in this space that are challenging to address with traditional techniques," explained Visikol CSO Dr. Thomas Villani.
In 2018, Visikol launched its immune cell infiltration assay which leverages 3D tumor spheroids as well as Visikol's proprietary imaging technologies to provide a medium-throughput in vitro assay to assess pharmacokinetics in highly relevant in vitro models. Additionally, Visikol has developed several digital pathology tools for quantifying cancer specific endpoints from H&E and IHC slides such as tumor area or T cell penetration depth. "We are working closely with our Clients to extract not only more data from tissues and 3D cell culture models, but also to transform this data into meaningful insights that can be used in clinical studies to stratify patients for treatment or in earlier studies to quantitatively assess efficacy," described Visikol Director of Imaging Dr. Graeme Gardner.
To discuss your next in vitro or pathology project with Visikol, stop by and connect with the team at booth 3252.
About Visikol
Visikol is a CRO focused on advanced drug discovery that is leading the field of bio-imaging, bioinformatics and image analysis. We conduct end-to-end drug discovery services that include both 2D and 3D in vitro models and assays, 3D whole mount tissue imaging, digital pathology and custom drug discovery projects. Visikol offers a portfolio of drug discovery services ranging from 2D and 3D cell culture model and assay development to in vitro screening, animal tissue histology and automated image processing. The focus of these services is to transform tissues into images and ultimately into quantitative data sets that can be mined for actionable insights that help our Clients make more informed decisions during the drug discovery process. Additionally, Visikol manufactures and sells a suite of tissue clearing reagents and 3D immuno-labeling kits. These products allow researchers to easily and rapidly image whole tissues and 3D cell culture models in 3D instead of traditional 2D sectioning. For more information about Visikol or its services, please visit our website at visikol.com.
Posted in: Services,Technology
A3Cube Elected as One of the 10 Best Companies of 2018 by Industry Era
A3Cube, a leader in AI & HPC solutions, has been recognized as One of the 10 Best Companies of 2018 by Industry Era.
Industry Era is a technology magazine focusing on innovative and unique enterprise solutions that can play a key part in redefining the business goals of organizations. The list of 10 Best Companies of the Year 2018 was shortlisted from all the US companies in the technology landscape.
"Thanks to its technology, A3Cube can build a system that perfectly fits the application needs maximizing the performance without needs for special application tuning." said Sarah Fernandez, Managing Director of Industry Era. "The result is that an ordinary server in combination with A3Cube composable infrastructure can achieve the maximum potential outperforming any other equivalent system in the market."
"To be featured in the top ten companies of the year list is a great honor for A3Cube. This recognition speaks to the timeliness of our technology which is enabling everybody without any specific experience to configure and build robust systems extremely optimized in minutes" commented Antonella Rubicco, Co-Founder & CEO of A3Cube.
About A3Cube
A3Cube is among the first companies that, years ago, understood the key role of data in transforming every aspect of modern society.
This vision has led A3cube to become the game-changing enterprise of today, pioneering the transition from high-performance computing systems to high-performance data systems.
The company is focused on developing holistic solutions for high-performance data-driven applications such as data mining, machine learning, and artificial intelligence.
A3Cube has redesigned from the ground up the distributed data access, proposing a new architectural approach aimed at achieving maximum system performance and efficiency. While others speak about Software Defined Infrastructures, A3Cube realizes Software Defined Hardware-accelerated Platforms where the flexibility of the Software approach is boosted in a transparent way by the fastest hardware technologies on the market.
Posted in: News & Current Affairs,Technology
Unimarket Appoints Courtney Allen to Lead Global Marketing Effort
Unimarket, a leading provider of eProcurement software and services, has appointed Courtney Allen as its global marketing director. Allen will join Unimarket's executive team and lead marketing efforts as the company gears up for significant growth.
"Courtney's extensive experience in the technology sector, broad skill-set and understanding of our market will bring immediate value to our business," said Unimarket CEO Peter Kane. "She is client-focused, results-driven and a natural collaborator, which makes her a great fit with the rest of the Unimarket team. We're delighted to have Courtney join our leadership team and look forward to utilizing her experience as we build our brand and enter our next phase of growth."
Allen comes to Unimarket with nearly two decades of experience in marketing, communications, and brand building for small and large technology companies, including IBM. She has wide-ranging experience across the marketing and communications sector with proven success as both a leader and hands-on marketing practitioner.
For Allen, the opportunity to join Unimarket is hugely exciting. "The company is poised for strong growth, and I'm thrilled to work alongside Peter and the rest of the leadership team to deliver on these growth objectives," Allen said. "We not only offer a great platform with an exciting product roadmap, we are also a trusted brand with an experienced and committed team."
Allen holds a degree from Pomona College in California and a postgraduate qualification from Massey University in New Zealand. She is based in Unimarket's headquarters in Auckland, New Zealand.
About Unimarket
Unimarket is a leading provider of procurement software and services. Its powerful, easy-to-use cloud-based solution brings together procurement, invoicing, payments, contracts, sourcing, expenses, and an extensive supplier marketplace – all in one unified platform. Founded in 2005, Unimarket supports clients in the United States, Australia and New Zealand, spanning a range of industries including higher education, government, financial services, transport and logistics, and healthcare. For more information, visit unimarket.com or follow on Twitter @Unimarket
Posted in: Computers & Software,Marketing & Sales,Technology
Longxing Platform Gets listed on Exshell, Kicks Off A New Era of Mineral Digital Trading
Singapore 2019. Mar.1- Longxing Global Mining Assets Digital Trading Platform attended The Block Challenge Event held by Dubai World Trade Centre(DWTC) in Singapore. During the event, Longxing announced that Longxing is officially listed on ExShell (token: LXS). The Longxing platform is the first digitized trading platform for mining assets based on blockchain in the world. Relying on blockchain technology, the Longxing platform recognized the upgrade from the traditional local offline trading mode to global online trading mode.
Depending on the technical advantage of the Longxing platform, cross-border transactions can be realized, purchasing qualifications can not be relied on, transaction thresholds can be lowered, liquidity and transaction efficiency can be improved, and transaction cycles can be shortened. As digital money payment has formed a good ecological environment, online iron ore, digital assets trading and linking to global mining assets intermediaries can not rely on traditional currency. In the future, with the help of the Longxing trading platform, online trading of iron ore, coal mine, non-ferrous metals, rare technology and other resources, will all launch on the blockchain and trading can be completed only with digital money.
Combining the latest technologies such as blockchain, Internet of things and AI, Longxing has cooperated with taoken bitcoin company to develop the global blockchain mining digital trading platform system. Based on the characteristics of mining, generating sales business process and mining assets, two blockchain systems are developed respectively: the system of business chain and the system of assets chain. Among them, the business chain system mainly needs to display company information, financial data, business and technology, production data, etc., and at the same time, give senior investors a real-time view of production and operation data; Assets on the chain system mainly include the creation of equity, audit and issuance functions, as well as information bulletin functions. Distributed nodes are located in issuers, law firms, accounting firms and all private investors, etc., providing investors with a transparent and untamable platform for operating data and assets.
"ExShell is a global leading digital financial exchange founded by two ex-senior executives of Huobi. The listing on Exshell is a new milestone for Longxing, it marks that the company is entering into the capital market and a new stage of development. We will make persistent efforts to constantly climb the peak." Said by Oliver Ran, Chairman of TokenBit & Secretary General Director of Longxing.
For more information, you can follow us on Telegram at?https://t.me/lxtoken, or visit our business system? http://www.dysysep.com and our assets system?http://www.dysysgp.com .
Posted in: Business,Energy & Environment,Finance,Science,Technology
Visual Graphic Systems Inc. Prepares to Celebrate first anniversary of Its New 100% Employee Stock Ownership Program (ESOP)
Visual Graphic Systems Inc. (http://vgsonline.com) is approaching the one-year anniversary of its transition from a privately-held company to an employee-stock ownership plan (ESOP), an employee-owner program where employees hold 100% of the company's stock.
"We have always prided ourselves on the strength of our internal relationships," says Paul Theodore, CEO of Visual Graphic Systems. "Our average team member's tenure at VGS is 14 years, which is more than three times the national average. We wanted to take the next step in building a workplace that is genuinely rewarding and satisfying to our entire team."
To that end, Visual Graphic Systems created an employee-owned stock program so that workers could become owners. Per the National Center for Employee Ownership, ESOPs cover over 14 million participants across approximately 6,500 organizations nationwide. Multiple studies have found ESOPs can help generate increases in growth, productivity, revenues, wages, and retirement assets. For example, research from the National Center for Employee Ownership, analyzing data from the Bureau of Labor Statistics' National Longitudinal Survey of millennials, has found that employee-owners had 33% higher median wages compared to income overall and 53% longer tenure than average.
Visual Graphic Systems chose the ESOP as a vehicle to encourage employees to feel vested in the company's success and to offer employees access to an improved retirement benefits program.
"With an ESOP, everyone in the Visual Graphic Systems family can be more successful and prosperous through their work," says Theodore.
Further, by converting to a 100% employee-owned ESOP (versus the more common 30-40%), Visual Graphic Systems ensures that its employee-owners can derive the maximum benefit from the program.
The result of the implementation of the ESOP is a working environment in which managers and employee-owners are equally committed to facilitating shared success and empowering all workers at all levels of the organization. Everyone tangibly shares in the value they create through their work.
About
At Visual Graphic Systems, innovation meets value to produce extraordinary results. For over 35 years, our uniquely concurrent process, combined with real-world thinking, has allowed us to design (or utilize your own design), fabricate and roll-out incredible solutions, distinctly tailored to your brand. And with an in-house design studio (Studio D), 110,000 sq. ft. of manufacturing space, product development, value engineering with intention, and rapid prototyping – all under one roof – we have completely redefined the term "integrated."
Posted in: News & Current Affairs,Technology
Annual Construction Technology Report by JBKnowledge Gives Real-Time Visuals of Tech Adoption and Budgeting
The Annual Construction Technology Survey conducted by JBKnowledge wrapped in July 2018 to the tune of a record breaking 2,825 respondents – more than the report had ever garnered before. The ConTech Report is the result of months of data analysis. The data was painstakingly compiled into a comprehensive resource for readers to benchmark technology adoption within the construction industry. Contractors can use The ConTech Report to see the industries' top choices for construction software and apps, hiring and budgeting habits, trend forecasting and more.
The Annual ConTech Report is widely accepted as an expert source for news outlets within the construction industry such as Construction Executive, and ConstructionDive, and titans of mainstream media such as The Wall Street Journal. The latest ConTech Report, released in late 2018 features never-before-seen insights on where construction is headed. The report's new section on 'Innovations' discusses the technology trends other industries have adopted that are likely to impact the construction industry.
Forrest Huff, Virtual Design & Construction Manager of Seattle area commercial construction company, Korsmo Construction, describes how he's found the report valuable. "The 2018 ConTech Report really gave me an edge as far as understanding where we are as an industry. The report gives me a visual aid to present the executive leadership at my company to confirm we're on the right path. It's easy to sit at a desk, buried in projects, and feeling like the only 'construction geek' out there. The ConTech Report proves there's an army of us...and we WILL disrupt you. Thanks, JBKnowledge for carrying the torch!"
The ConTech Report provides a comprehensive glimpse into information on tech adoption and implementation. The data is presented with simple graphs as well as paragraphs of analysis explaining the results and speculating causality between trends for those interested in a deeper dive.
The 2018 Construction Technology Report is available at http://www.jbknowledge.com/reportand may be accessed at any time to learn more about IT hiring habits, technology adoption, budgeting and more! Watch an animated preview of the report's results here.
About JBKnowledge
JBKnowledge offers technology solutions for the construction and insurance industries. In addition to the Annual Construction Technology Report, JBKnowledge produces The ConTechCrew weekly podcast, and The ConTech Roadshow, a traveling construction technology education conference.
Follow JBKnowledge on social media or learn more at jbknowledge.com.
Posted in: Computers & Software,Technology
SWC Technology Partners, a BDO USA Company, Leverages Microsoft Security Solutions to Improve Customer Security Posture
SWC's SCORE Threat-Based Security Maturity Model was developed closely with Microsoft to perform a data-driven evaluation of over 160 points of security control and provide an organization with a baseline rating of their current environment. This data is then leveraged alongside business context to prioritize security initiatives from a holistic view of threats. This framework provides organizations with a data-driven framework to make security decisions based on their individual vulnerabilities and maximize return on security spend.
SWC's Managed Defense service, also developed with help from Microsoft, provides a high-impact, ongoing automated security service that leverages Microsoft advanced security capabilities including Microsoft Graph Security API, Windows Defender Advanced Threat Protection (ATP), Microsoft Azure Active Directory Identity Protection, and Microsoft Cloud App Security. Managed Defense will allow organizations to stay ahead of cyber threats by using artificial intelligence to identify suspicious behavior and allow organizations to quickly surface and remediate threats.
Together, these offerings provide organizations with a focused, customized strategy to improve their security posture supported by a team of experts to help them detect, analyze and respond to the pervasive threats that is the new reality of today's digital landscape.
"Cybersecurity investment decisions are often based on lists of generalized best practices or simply because it's what 'everyone else' is doing," said Bob Knott, President of SWC Technology Partners. "The problem with this approach is that it relies on a 'one-size-fits-all,' tool-based security strategy that doesn't take individual business environments, goals and context into consideration. We've developed security offerings like SCORE and Managed Defense on the foundation that customers should make security decisions in accordance with their business goals to maximize the effectiveness of their investments."
SWC is working with companies to strengthen their security posture with these solutions. Customers should also continually reassess their security maturity based on an ever-changing landscape to reduce their risk.
"SWC understands our commitment to helping customers protect, detect and respond to cyber threats," said Ann Johnson, Corporate Vice President Cybersecurity Solutions Group, Microsoft. "This relationship with SWC and BDO builds upon that commitment to bring innovative security solutions to market to help our customer remain competitive in today's ever evolving threat landscape."
To learn more about SWC's Security solutions, visit swc.com/services/secure-assets
Posted in: Technology
MDSL Announces Cloud Services Expense Manager, The Natural Extension of Technology Expense Management
MDSL, a global leader in Technology Expense Management ("TEM") solutions, has announced the general availability of their Cloud Services Expense Manager (CSEM) module as part of the MDSL TEM solution offering. The new module allows enterprise clients to manage spend for cloud services across Infrastructure as a Service (IaaS), Platform as a Service (PaaS), and Software as a Service (SaaS). According to Gartner, through 2020, 80% of organizations will overshoot their cloud IaaS budgets due to a lack of cost optimization approaches.*
"The cloud has become more ubiquitous and our enterprise clients continue to share their struggles managing the increasing costs, the sprawl of resources, and lack of management associated with it," said Charles Layne, Chief Executive Officer of MDSL. "Given our history of managing complex technology spend within the enterprise, we are in a unique position to manage all types of cloud spend through the MDSL platform. By creating a tailored offering, with specific nomenclature and reporting for those who manage cloud assets, we've simplified the experience for our users and provided actionable business intelligence."
CSEM is a cloud-based software solution that allows IT budget owners to manage the cost and usage of cloud resources across departments, projects, or individuals. Leveraging automated vendor API integrations to import detailed usage data (both billed and unbilled), users are able to configure business rules around the processing, allocation, and reporting of cloud expenses through a single, centralized expense management platform. Users can manage these cloud expenses alongside other complex technology spend categories within the MDSL solution to capture a total cost of ownership.
What separates the MDSL solution is the extensible technology that leverages a single, unified platform used for more than 20 years to manage enterprise technology and financial subscription services. The contract structure and instance billing of IaaS and PaaS mimic the structure and components of traditional fixed voice and data services. SaaS subscriptions behave similarly to traditional market data services like Bloomberg, Reuters, and FactSet, which MDSL manages for the largest financial institutions in the world.
Early adopters of the CSEM functionality experienced a large reduction in management overhead for administrative processes and valuable insight into the breadth of their cloud estate. One pilot customer, a B consumer products company, quickly discovered that while they had half the cloud accounts they originally expected, the spend on those accounts was more than twice what was budgeted. In addition, the CSEM uncovered a nearly M PaaS licensing fee which would have otherwise gone unnoticed.
Hyoun Park, CEO and Principal Analyst at Amalgam Insights, who regularly covers the technology expense management space, also made a prediction in a recent report on the growth of the market. Over the next five years, Amalgam estimates that about 20% of cloud infrastructure will be managed by third-parties, making cloud IaaS management roughly a 0 million market in 2022.
"Cloud expenses are simply another type of recurring technology spend that the enterprise needs to manage," said Simon Mendoza, Chief Technology Officer at MDSL. "Given the size of these growing expenses, enterprises should implement standard processes for capturing, reporting and allocating not just for cloud expenses, but for all spend categories and gather intelligence across their entire technology estate."
To learn more about the new MDSL CSEM features and functionality, including access to a client success story, visit https://www.mdsl.com/technology-expense-management/cloud-management.
*Gartner, How to Identify Solutions for Managing Costs in Public Cloud IaaS, 22 January 2018
About MDSL
MDSL are world leaders in Technology Expense Management Solutions and Market Data Management and partner with enterprises to provide clarity, control, compliance, and cost savings across their global technology estates. MDSL provides a unified expense management platform encompassing categories such as telecoms, cloud services, the Internet of Things, and Financial Market Data. By providing best practice procedures, unparalleled visibility of spend and automating time-consuming processes, MDSL helps ensure global digital transformations are smooth, secure, and cost-effective. For more information, visit http://www.mdsl.com.
Posted in: Technology
GoDataFeed Joins 3dcart New Certified App Program as a Preferred Partner
GoDataFeed, a leading provider of shopping feed automation announced today that they're the first feed management software to achieve the Certified Technology Partner status and Preferred Feed Management App for 3dcart, a leading eCommerce platform. GoDataFeed's technology helps merchants list their products on hundreds of sales channels. Amazon, Google Shopping, Facebook, Walmart, eBay, and NewEgg are only a few of the more than 200 channels and marketplaces that business owners can access with GoDataFeed.
"Seamless integrations are at the foundation of everything we do," said GoDataFeed CEO and co-founder, Kieron Zabow. "Our technology partnership with 3dcart has helped us build on that foundation. Being named 3dcart's Preferred Feed Management app is an honor — and a testament to both companies' collaborative efforts over the years."
"We've been partners with GoDataFeed since 2009 and are excited to have selected GoDataFeed as one of our preferred technology partners," said Gonzalo Gil, 3dcart CEO. "At 3dcart, we only want to team up with the best solutions because our customers want and expect nothing less, and we're honored that we could work so closely with another South Florida-based technology company."
Merchants who integrate GoDataFeed's software can also automatically update the product listings on these markets anytime they optimize or edit the listings in their own store. This means they do not have to manually change the information in every channel where they offer their products. Business owners can manage all this from a single dashboard, where they can also measure their sales performance for every product in every channel.
For more information about how 3dcart users can utilize GoDataFeed's multichannel management solution, visit https://apps.3dcart.com/godatafeed-shopping-feeds.html.
About GoDataFeed
GoDataFeed was founded in 2007 with a single goal: to help online merchants succeed. That goal has been the company's guiding principle. It has led to the ongoing pursuit of the perfect multichannel integration software. Over the years, GoDataFeed's evolution in usability, connectivity and scale is a testament to that goal -- and to the team of dedicated developers and ecommerce specialists who work tirelessly to pursue it.
GoDataFeed's core team is based in Plantation, FL, but it serves online retailers in 27 countries around the world.
The software works by simplifying how merchants connect their product catalogs to marketing channels like Amazon, Google, Facebook and more. It simplifies compliance, speeds up optimization and automates feed submissions and order retrieval, saving merchants time and removing common roadblocks. It is used by approximately 2,000 merchants to submit 50 million SKUs to more than 200 channels daily.
About 3dcart
3dcart (https://www.3dcart.com), located in Tamarac, Florida, is the most SEO-friendly eCommerce platform for retailers and internet marketers to grow their online stores' traffic and sales. 3dcart includes 24x7 Technical Support, 100+ Mobile-Ready Themes, order management software, built-in blog, email marketing tools and more. Since 1997, the company has been a leader in the eCommerce market, building online stores for businesses of all sizes. Today, 3dcart is Visa PCI Certified and a Google Partner.
Posted in: Computers & Software,Technology
PunchOut2Go Partners with BigCommerce to Provide PunchOut Catalog Integration and B2B eProcurement Order Automation
PunchOut2Go today announced a partnership with BigCommerce to help BigCommerce merchants around the world leverage their BigCommerce store to enable eProcurement customers to have the ability to integrate PunchOut Catalog and B2B order automation, reducing costs and errors while increasing procurement workflow efficiencies. As part of the BigCommerce Partner Program, the PunchOut2Go for BigCommerce app is now available to BigCommerce merchants, and provides the ability to easily transact electronically with eProcurement customers.
"We are excited to partner with BigCommerce to offer integrated solutions that automate B2B procurement and purchasing processes," said Brady Behrman, PunchOut2Go CEO and Co-Founder. "Since our inception, our core focus has been helping organizations leverage the best commerce solutions possible. Combining our strengths enables us to deliver a merchant experience that keeps us, BigCommerce and the merchant at the forefront of B2B technology."
"Our partnership with PunchOut2Go further illustrates our commitment to providing merchants access to the highest-caliber technology providers available in the industry," said Russell Klein, Chief Development Officer at BigCommerce. "PunchOut2Go shares our desire to help merchants sell more and grow faster to maximize success, and we look forward to working together to mutually support customer growth."
PunchOut2Go will bring a new level of integration, service, and support for its clients selling with BigCommerce. Companies of all sizes work with BigCommerce to launch, promote, manage, and scale successful online businesses through its platform. By selecting a flexible, cost-effective SaaS model, merchants are able to focus on managing their business, not the technology behind it.
About PunchOut2Go
PunchOut2Go is a global B2B technology integration and data translation company specializing in the integration of eCommerce applications, procurement platforms, and punchout catalog functionality. Helping simplify the B2B buying cycle by reducing integration complexities and rapidly deploying the right technology, PunchOut2Go's cloud-based adaptable gateway solution integrates and automates punchout catalogs, electronic purchase orders, eInvoicing, and other B2B order automation integrations with 100% compatibility. Learn more at https://www.punchout2go.com/.
Posted in: Business,Technology
Tantiv4 Inc's Smart ThingaOS™ Technology is Powering Sharp's BDR 2B-C10BT1 Series
Tantiv4 Inc. is bringing new capabilities to Sharps 2B-C10BT1 BDR series by complementing the physical remote with a voice-based navigation of the BDR system. Consumers can now communicate with Sharps 2B-C10BT1 BDR series using their existing voice input devices such as the Google Home/Mini in Japanese local language.
"ThingaOS™ provides a powerful AI based backend system allowing for a higher accuracy in interpreting the user intent through continuous machine learning algorithm," said Lokesh Johri, co-founder and CEO of Tantiv4 Inc. "Voice is increasingly becoming the predominant user interface and as more users start using the voice capabilities provided in the Sharp BDR, the system constantly learns and improves the accuracy and response time to respond to searches."
This system currently works with the Google Voice platform and can be easily extended to other leading industry standard smart speaker platforms. Consumers can easily and securely connect, manage, and search for their favorite content using ThingaOS™ on the cloud or stored locally on the BDR device using voice in real time providing an enhanced intuitive user experience.
"By integrating ThingaOS™ technology consumers can verbally issue commands that are used to control Sharps 2B-C10BT1 BDR series or to search for the desired content in the cloud or locally on the device," said Kishore Moturi, co-founder and VP Sales of Tantiv4 Inc. "Complex electronic program guide (EPG) searches by genre or title within a local cultural context use machine learning and AI to constantly adapt to provide the most accurate search results."
About Tantiv4 Inc.
Tantiv4 Inc., headquartered in Milpitas, CA, is powering the next generation IoT platform by providing uniquely architected solutions with a focus on simplifying technology for enterprises and everyday consumers to achieve AI and ML based automation and increased business efficiencies. ThingaOS™ operates on all popular cloud eco-systems, RF protocols and supports several control and voice interfaces.
For more information about this topic, please contact Kishore Moturi at +1 408 396-5962 or email at contact(at)tantiv4(dot)com.
ThingaOS, FetchitGO are trademarks of Tantiv4 Inc. All other trademarks used are the property of their respective owners.
Posted in: News & Current Affairs,Technology
ASEO Hosting Discusses The Impact Blockchain Could Have On Search Engine Optimization
ASEOHosting, a provider of SEO-friendly hosting, today examined the relationship between blockchain and SEO.
A distributed database that uses multiple systems to ensure security and data integrity, blockchain was originally created to serve as a public transaction ledger for bitcoin. The peer-to-peer was intended as a solution to the double-spending problem that could be implemented without requiring a central server. As cryptocurrency continues to grow in popularity, businesses have begun exploring other uses for blockchain beyond serving as a public ledger.
"At a glance, it may seem like blockchain has relatively little to do with search engine optimization," explains Daniel Page, Director of Business Development at ASEOHosting. "However, looking closer at the technology and its potential uses reveals that it has the potential to fundamentally change digital marketing and advertising. Moreover, it stands to upset the very core that defines SEO."
"It is no secret that digital advertising is in dire straits," he continues. "Malicious and fraudulent advertising has reached epidemic proportions and the usage of ad-blockers is at an all-time high. Blockchain offers a direct solution to this issue and blockchain-based identification systems provide a level of unmatched transparency and trust."
Many companies are already working to implement such systems, and not simply for advertising. Other areas of search engine marketing, such as product reviews, also stand to benefit. A company that validates all on-site advertisements, customer reviews, and product sales through blockchain is one that demonstrates care for its customers, says Daniel.
"Believe it or not, all the applications of blockchain within the advertising space are only the tip of the iceberg," he continues. "Through the use of distributed ledgers, we could see better keyword research, a higher premium placed on verified people and data, and an even greater crackdown on black hat SEO tactics like paid link building."
Beyond that, says Daniel Page, the larger impact of blockchain is as-yet uncertain. He does, however, estimate that the development of a blockchain-based search engine could completely change SEO as we know it. Such a search engine would, he said, serve results based on each person's identity; information available to and provided by them alone.
"I doubt we will be seeing any significant market upsets from blockchain in the immediate future," he says. "But it's still something to pay attention to - because eventually, we will see a change."
About ASEOHosting:
ASEOHosting is the leader in providing all types of SEO Hosting, including Shared SEO Hosting, Dedicated SEO Hosting, US Dedicated SEO Servers, and EU Dedicated SEO Servers, based in Orlando, FL, and Detroit, MI, owned and operated by Ahosting, Inc., supplying hosting services that are truly beyond imagination. Since 2002, ASEOHosting has established one of the web's premier solutions for reseller web hosting, multiple IP hosting, dedicated servers, and VPS hosting. For more information, visit https://www.aseohosting.com.
Posted in: News & Current Affairs,Professional Services,Technology
New Partnership Makes Farmland Rental & Management More Efficient
An online platform for renting farmland in the United States is announcing its partnership with a reliable payment integration. Tillable, the first online marketplace for farmland owners and growers to rent and manage farmland, is partnering with Dwolla, Inc., a financial technology software company, to enable payment functionality within its marketplace.
In one platform, the Tillable marketplace provides price discovery, unprecedented access to new land and information surrounding the management of the land to all parties. Tillable provides data transparency to the farmland market and makes it more efficient to rent farmland.
In need of a payment integration that could facilitate the movement of funds through its marketplace and affordably send funds, Tillable integrated with Dwolla's ACH API to access the Automated Clearing House (ACH) Network.
"The concept of digital payments for farm leases is new to our market, and it's a critical part of the Tillable solution for landowners," says Corbett Kull, CEO of Tillable. "It introduces an element of reliability, consistency and ease that was missing before. We needed a partner who could provide a payments solution that would work seamlessly as part of the total experience we provide to our users, and Dwolla was able to deliver."
Dwolla, Inc. is a financial technology company that offers businesses an onramp to the ACH Network, an electronic network of financial institutions that moves trillion dollars annually.
Partnering with Dwolla allows Tillable to keep its brand at the forefront of the payment integration, providing a better experience for its users while also streamlining user onboarding. Providing users a simple way to easily link their bank accounts and receive status updates around transaction activity is something Tillable believes will help them grow.
#DWOLLApowers Tillable
About Tillable
Tillable is the first true online marketplace for farmland rental. Through its robust digital platform, the company provides the process, technology and tools for landowners to determine if rent is in line with local market conditions. In addition, Tillable helps landowners connect with suitable farmers, track and share data around the farm's performance, and administer leases and payments. Tillable empowers landowners to make the best decisions to optimize their farmland investments and help farmers to find land to expand their operations. For more information, call 833.845.5225 or visit https://tillable.com.
About Dwolla
Dwolla, Inc. is a financial technology company that is changing the way businesses send and receive funds. The company offers a seamless, white label API platform to connect to the ACH Network to initiate payments.
Since 2008, when Dwolla began creating the ideal platform to move money, the company has helped move billions of dollars for millions of end-users annually for businesses of all shapes and sizes; in addition, Dwolla has been mentioned in Inc., Forbes and the Wall Street Journal. Businesses that need to efficiently send or receive money and are ready for the future either use Dwolla—or they should. Learn more at http://www.dwolla.com/.
Posted in: Computers & Software,News & Current Affairs,Technology
MedaDoc Launches mMJSuite™, a Medical Marijuana Patient Management and Intake System Easily Integrated With Any EHR and Any State's Medical Marijuana Registry
MedaDoc, a rising technology company involved in conversion and integration of EHR system data announces the launch of mMJSuite™, a medical marijuana patient management and intake system that takes advantage of the company's proprietary data moving technology.
Successfully undertaking the most challenging EHR conversions, integrations and interoperability bottlenecks in the medical industry over the last five years, MedaDoc has developed a proprietary technology that allows it to extract, import and move data between any EHR systems. "We've done a lot of typical EHR conversions over the years, but one of our biggest strengths lies in our ability to extract, move and integrate clinical and administrative data in the most challenging environments," says CEO Ilya Aronovich. "And that is our value add in the Medical Marijuana industry," He continues, "Whereas there are a number MMJ patient management systems on the market, what distinguishes us is our ability to integrate our mMJSuite™ with both the provider's EHR and a particular state's Medical Marijuana Registry Database."
MedaDoc explains that there are a great deal of physicians with existing practices that are entering the medical marijuana space, but their EHRs are not designed to manage medical Marijuana-based patient encounters, and, most importantly, the EHRs don't have the ability to share or integrate data with a particular state's Medical Marijuana registry. "As a result, medical practices must engage in double entry of patient information -- once in the state's MMJ Registry and once again in the practice's EHR," says CTO Dov Davidovics. "Our mMJSuite™ obviates the need for double entry by lettings medical providers enter MMJ patient data once in either system, and have it appear in all systems -- that is, in mMJSuite™, the Medical Marijuana Registry and the EHR -- in real time," he continues.
MedaDoc has piloted mMJSuite™ with several practices, and is now making it available to any practice interested in recommending its patients for Medical Marijuana use as per their state's permissible guidelines.
About MedaDoc
MedaDoc in a NY and FL-based medical technology company focused on the successful and HIPAA-compliant migration and integration of EHR records using its proprietary technology.
Posted in: Health & Medicine,Pharmaceuticals & Biotech,Technology
The Wall Street Technology Association (WSTA) to Hold "Workplace of the Future: Driving Hyper Productivity" Panel Discussion in NYC for the Financial Industry
The Wall Street Technology Association (WSTA®), a not-for-profit organization that provides financial IT professionals a forum to learn from and connect with each other, will host a panel discussion on "Workplace of the Future: Driving Hyper Productivity" on February 20, 2019 in NYC. Panel Sponsors include: MediaPlatform, Slack, and Zoom Video Communications and Breakfast Sponsor: LoopUp. Johna Till Johnson, CEO & Founder, Nemertes Research will provide industry perspectives and moderate the discussion. For more information, please visit: https://www.wsta.org/events/event/workplace-of-the-future-driving-hyper-productivity/
"Both the nature of work, and the tools we're using to do it, are changing dramatically," says Johna Till Johnson, CEO of Nemertes Research and WSTA content committee chair. "Next-generation collaboration tools are removing the barrier of distance, and cloud-based collaboration is an if, not a when, for most financial services firms. But to leverage these tools effectively, enterprise technologists need to think strategically."
Panel Discussion Overview
Next-generation messaging. Videoconferencing. Application and information-sharing. Office spaces designed to be as smart and virtual as your increasingly millennial workforce. This panel session features industry experts focusing on the way we work today, and tomorrow.
We'll cover emerging technologies in communications and collaboration. We'll take a look at processes for supporting remote employees and smart buildings. And we'll discuss the "softer" aspects as well: How financial firms can recruit, retain, and grow an increasingly virtual, multitalented workforce. How education and training need to evolve to help employees cope with increasing demands for technical expertise and business acumen.
You'll walk away with actionable next steps for energizing and enabling your workforce of the future.
About the Wall Street Technology Association
The WSTA facilitates educational and networking events where members meet and exchange ideas and best practices that assist them in effectively capitalizing on technology advances in areas such as Cybersecurity, Analytics, Internet of Things (IoT), Artificial Intelligence (AI), Machine Learning (ML), Data Management, Cloud, Blockchain, Digital, Architecture, etc. and dealing with financial industry business challenges. Founded in 1967, the WSTA is a not-for-profit association with a long history of evolving to meet the needs of its members.
The WSTA hosts seminars, roundtables, panel discussions, and social events. These events offer many opportunities to stay on top of leading technologies, as well as network and share information with industry colleagues. The WSTA's educational Digital News provides additional content and information about the WSTA and industry-related activities. The website is a dynamic resource for keeping on top of the latest information and offers access to additional resources including webinars, white papers, blogs, videos, and information about other industry events.
Nemertes Research is a global research-based advisory and consulting firm that analyzes the business value of emerging technologies. Since 2002, we have provided strategic recommendations based on data-driven operational and business metrics to help organizations deliver successful technology transformation to employees and customers. Simply put: Nemertes' better data helps clients make better decisions. http://www.nemertes.com
Posted in: Business,Professional Services,Technology
L-com Introduces New RJ45 Termination Block for Field Termination and Repair Applications
L-com, a preferred manufacturer of wired and wireless connectivity products, announced today that it has launched a new RJ45 termination board.
The RJ45FTJ is a slim, low profile breakout board that features an RJ45 (8x8) jack and screw terminals. The breakout board brings out all eight signal pins and the shield to screw down terminal blocks for easy termination or field wiring. This allows for quick and easy connections for prototypes, field wiring or even permanent installations.
Angled brackets provide an easy way to panel mount the block if desired, and holes drilled into the PCB provide a convenient way to anchor the unit and/or tie-wrap wires to the edge of the PCB. The block's compact design takes up minimal space, allowing for multiple connections in a small area.
"Our new RJ45 termination block is a very versatile solution to address many different connectivity applications. It can be used for field repair, prototyping new designs, or it can be used as a standard component in new product designs," said Dustin Guttadauro, Product Manager.
L-com's new RJ45 termination block is in stock and available for immediate shipment.
About L-com:
L-com, a leading manufacturer of wired and wireless connectivity products, offers a wide range of solutions and unrivaled customer service for the electronics and data communications industries. The company's product portfolio includes cable assemblies, connectors, adapters, antennas, enclosures, surge protectors and more. L-com is headquartered in North Andover, Mass., is ISO 9001: 2008 certified and many of its products are UL® recognized. L-com is an Infinite Electronics brand.
About Infinite Electronics:
Infinite Electronics is a leading global supplier of electronic components serving the urgent needs of engineers through a family of highly recognized and trusted brands. Our portfolio brands are specialists within their respective product set, offering broad inventories of engineering-grade product, paired with expert technical support and same day shipping. Over 100,000 customers across a diverse set of markets rely upon Infinite Electronics to stock and reliably ship urgently needed products every day.
Posted in: Electronics & Semiconductors,Manufacturing & Industry,Technology
Employee Channel Joins Rochester Data Science Consortium
EmployeeChannel, Inc., today, announced the company has joined the Rochester Data Science Consortium as part of its continuing commitment to leverage the latest in technology innovations in its leadership communications solutions. EmployeeChannel's participation in the Rochester Data Science Consortium follows the company's opening of a software development center in Rochester, NY in May 2018.
"We are delighted to welcome EmployeeChannel to the Rochester Data Science Consortium," said Walt Johnson, executive director of the Rochester Data Science Consortium.
"EmployeeChannel's decision to open an office in Rochester is recognition of the data science and artificial intelligence (AI) talent we have in the region. We look forward to collaborating with them on many innovative and exciting projects that will help continue to grow their business here in Greater Rochester."
"As noted when we launched our development center, the ability to attract talented folks from the Rochester talent pool is key to our growth strategy," stated Steve L. Adams, CEO of EmployeeChannel. "Joining the Rochester Data Science Consortium is another strategic opportunity for us to partner locally with the University of Rochester and Rochester Institute of Technology."
"With the Consortium's world-class research capacity and leading technology innovators, such as the Harris Corporation, we can work jointly to bring the practical application of data science to real-world business problems. Specifically, the communication challenges faced by leadership and managers who are tasked with engaging a modern workforce."
EmployeeChannel's leadership communications platform currently uses AI and Data Science technologies to provide:
-Digital coaching for the development of compelling content by leaders and managers at all skill levels.
-Continuous listening for employee feedback, providing insights into organizational health and employee sentiment.
-Communication impact and effectiveness, including the performance of communication programs and campaigns, individual publications, publishers, and digital touch points.
About EmployeeChannel
EmployeeChannel is a leading provider of leadership communication solutions. Our platform enables leaders and managers to deepen employees' connection to business purpose, to boost the impact and effectiveness of their communications, and to transform the communication experience for employees. Communication strategy and planning software make it easy to plan, execute, and measure communications. Communication coaching and publishing software make it easy for leaders and managers to develop relevant and compelling information and to reach the right audience with the right message. EmployeeChannel's mobile app makes it easy to keep employees engaged and to make them feel part of achieving the organization's goals. To learn more about EmployeeChannel's end-to-end solution for employer-to-employee communications, please visit http://www.employeechannelinc.com.
About Rochester Data Science Consortium
The Rochester Data Science Consortium was founded in 2017 by the University of Rochester and Harris Corporation, with funding from New York State and Governor Andrew M. Cuomo. Its membership now includes the some of the largest employers in the Finger Lakes region, such as Wegmans and RIT, in addition to new and growing startup companies. Located at NextCorps in the heart of the Rochester Downtown Innovation Zone, the Rochester Data Science Consortium gives businesses and organizations a competitive edge with access to the data science expertise, partners and technologies needed for rapid development and deployment of data-driven solutions. To learn more, please visit http://www.rocdatascience.com.
Posted in: Computers & Software,News & Current Affairs,Technology
Share your Cybersecurity Innovations with National CyberWatch Center
Innovators are encouraged to share their advancements and unique ideas in the National CyberWatch Center's third annual Innovations in Cybersecurity Education Awards and Recognition Program.
Educators who work in cybersecurity are able to share how their innovations help teach or expand cybersecurity, accelerate the adoption of new ideas throughout the academic community and receive recognition for their work. Select submissions will be included in the Cybersecurity Skills Journal: Practice and Research.
Last year, National CyberWatch received over 60 submissions. The five winners were Community Initiative Center of Excellence for Secure Software- Employer-led Secure Software Development Dual Model Apprenticeship Partnering with Community Colleges; Industrial Control Systems Security Curriculum Resource Kit; Have My Smart Lightbulbs Been Weaponized: Introducing Computer Security Issues Related to IoT Devices; Guiding Girl Scouts Through a Computer Science Journey; and Comic-Bee: Branching, Interactive Web Comics for Cybersecurity Education and Assessment for Learners of All Ages and Levels.
This year, the top selections will be awarded in the following categories: Evidence-based Strategies, Instruction, Practice, and Program Development.
"This is the third year for our Innovations in Cybersecurity Education program. Building on the solid expansion of the program and strong participation by all National CyberWatch stakeholders, we are creating one, new significant bridge to two other successful National CyberWatch programs this year. We have made slight adjustments to the category titles and are now aligned to the thematic categories of both the Cybersecurity Skills: Practice and Research as well as the popular Community College Cyber Summit (3CS). This will allow Innovations submissions to flow seamlessly into the editorial calendar of the Journal, as well as the 3CS presentation tracks," said Casey W. O'Brien, executive director of National CyberWatch Center. "I encourage all our member institutions and supporting stakeholders to participate again this year and broaden the knowledge pool of innovations that can be shared across the National CyberWatch Center programs while continuing the march toward a stronger cybersecurity workforce."
Award winners will be acknowledged at the Community College Cyber Summit at Bossier Parrish Community College in Louisiana, July 30-Aug. 1. Submissions should be currently in use or have been used in cybersecurity education. They will be accepted through May 3. For more information, visit nationalcyberwatch.org/innovations/
Posted in: News & Current Affairs,Technology
Mobile Technologies Inc. (MTI) and GBS Corp. Deliver Tablet Mobility Solutions That Increase Patient Engagement
Mobile Technologies Inc. (MTI), a global leader in tablet mobility solutions for healthcare, and GBS Corp., a leading information solutions provider, today announced a partnership that offers a simplified technology approach for collecting patient signatures, photos, and scanned ID cards. By utilizing MTI's Enterprise Tablet Pro™ Tablet Kiosk and GBS's EasySIGN software, healthcare providers can quickly process patients and ensure that forms and consents are electronically signed and stored in the EHR for safekeeping. "Companies like GBS are changing the way information is captured, tracked, and stored," said Matt Haroldson, VP International Sales and Marketing for MTI. "Healthcare providers and facilities are moving fast to adopt tablet mobility technologies in areas of patient registration, consent form tracking, and post care instructions. MTI is on the leading edge for tablet kiosk innovations that helps bring all the technologies together."
In today's world of hospital - patient relationships, there is much to track, report, and validate for even just a single appointment or visit. With each engagement comes the opportunity to delight or disappoint a patient as well as expose the hospital to increased liability and low satisfaction or compliance scores. "Traditional methods of lengthy forms, confusing pre-visit consent and sign offs result in increased errors, rescheduled appointments, increased costs, and a poor experience for patients," said Enoch Seward, Senior Account Executive for GBS. "For the best news, our results are impressive and immediate! As an example, a hospital in Tennessee saw an increase in Compliance Scores to 100% within the first 30 days of using the GBS Corp. EasySIGN® solution, which was deployed on the ArmorActive Enterprise Tablet Pro™ Kiosk and RapidDoc™ Kiosk hardware. These hardware devices withstand the rugged healthcare environment by providing a high level of security, tablet detachability, and multiple accessory integration points, including payment processing."
Attending HIMSS 2019 February 12-14th in Orlando, FL?
Visit MTI / ArmorActive Booth # 4375
https://himss19.mapyourshow.com/7_0/exhibitor/exhibitor-details.cfm?ExhID=22544
About MTI / ArmorActive
Mobile Technologies Inc. (MTI) / ArmorActive, specializes in multi-purpose hardware solutions that allow tablet deployments for business. They manufacture equipment that increases the security, accessibility, mobility, and engagement level of tablets for every major business application.
For more information, please visit: https://mtigs.com/tablet-mobility/
Follow MTI / ArmorActive on LinkedIn: https://www.linkedin.com/company/mti_2
About GBS Corp.
Since 1971, GBS Corp. has specialized in providing healthcare organizations maximum practice efficiency by integrating and automating all phases of clinical, financial, and administrative operations both in the Acute and Ambulatory locations. GBS currently services over 30,000 healthcare professionals nationwide through more than 2,500 software installations. GBS offers numerous solutions, some of which include the following core offerings:
Revenue Cycle Management
Patient ID with Electronic Signature
Patient Experience – Smartphone Surveys
Patient Engagement/Reporting
Consumables (labels and wristbands)
Electronic Health Records
Population Health
Consulting Services
Hardware, Infrastructure
Security Risk Assessments
For more information, please visit:
Posted in: Health & Medicine,Lifestyle,Technology
Bonomi's New Remote Valve Timer Switch Provides Easy Control Of Valve Operations in Hard-To-Reach Places
The new VT Series valve timer from Bonomi gives users advanced multi-function control of critical valve operations and solves potentially dangerous, time-consuming access problems. For example, automated valves 20 feet up a feeder assembly or near the floor behind a boiler can be quickly, easily and accurately controlled without risk of injury.
Available in AC or DC models, the VT timer switch can be installed in virtually any convenient location and connected directly to an electrically actuated valve, or a solenoid on a pneumatic actuated valve. Wired remote operations are secure and easy to set up.
The VT Series has capabilities beyond those of built-in actuator timers, with up to 18 functions to support a wide range of applications, including:
Irrigation system
Filtration systems
Boiler blowdown
Industrial plant operations
Features include a wide time setting range, from 0.1 seconds to 999 hours, with a 3-digit LCD display for Set Time and Run Time. A 24-hour clock function is also available.
VT Series valve timers are CE approved and UL Listed for use in the US and Canada. The polycarbonate enclosure is constructed for NEMA 4X - IP65 level protection. Dependability is built in with an extended cycle life. The operating temperature range is -10?C ~ +55?C (+14?F ~ +131?F).
For more information on Bonomi VT Series valve timers or other Bonomi products, contact Bonomi North America at (704) 412-9031 or visit online at http://www.bonominorthamerica.com.
About Bonomi
Bonomi North America has served the U.S. and Canada since 2003 and is part of the Bonomi Group of Lumezzane, Italy. Bonomi Group brands include Rubinetterie Bresciane Bonomi (RB) brass ball valves and check valves; Valpres carbon and stainless steel ball valves; and Valbia pneumatic and electric industrial actuators. Bonomi North America maintains an extensive distribution network for these products from its headquarters in Charlotte, N.C. and a facility in Oakville, Ontario, Canada.
Posted in: Electronics & Semiconductors,News & Current Affairs,Technology
L-com Releases New Cat5e Double-Shielded Outdoor High-Flex PoE Industrial Ethernet Cables
L-com, a preferred manufacturer of wired and wireless connectivity products, announced today that it has launched a new series of double-shielded, Cat5e, outdoor, high-flex, PoE, industrial Ethernet cables that are ideal for PoE 802.3af or 802.3at, industrial, automation, manufacturing and outdoor use applications.
L-com's new line of Cat5e, high-flex, PoE, industrial Ethernet cables consists of 20 models that are made with an outdoor-rated, flame-retardant thermoplastic elastomer (FR-TPE) jacket that is resistant to oil, UV, cut and weld-splatter while maintaining a UL-CMX flame rating. These cables have a flex rating of 1 million cycles at 3.01" and 10 million cycles at 6.02" without performance loss. They also feature a foil + braid shield (SF/UTP) along with fully shielded RJ45 connectors that reduce and eliminate EMI/RFI interference. These unique 24 AWG stranded 600V cables can be run with power cables without the concern of voltage jumps.
"These new ultra-flexible, Cat5e cables are designed for outdoor environments where ordinary patch cables fail. They are double-shielded and PoE 802.3af compliant to 80 meters, allowing them to provide full PoE power over distance and making them an excellent alternative to rigid, stiff, standard PoE cables," said Dustin Guttadauro, Product Manager.
These new 600V PoE industrial Ethernet cables are available in teal and black colors, and in 1, 3, 5, 10, 15, 25, 50, 75, 100, 150, 175, 200 and 250-foot lengths. Custom lengths and labels are also available upon request.
L-com's new Cat5e, high-flex, PoE, industrial Ethernet cables are in stock and available for immediate shipment.
About L-com:
L-com, a leading manufacturer of wired and wireless connectivity products, offers a wide range of solutions and unrivaled customer service for the electronics and data communications industries. The company's product portfolio includes cable assemblies, connectors, adapters, antennas, enclosures, surge protectors and more. L-com is headquartered in North Andover, Mass., is ISO 9001: 2008 certified and many of its products are UL® recognized. L-com is an Infinite Electronics brand.
About Infinite Electronics:
Infinite Electronics is a leading global supplier of electronic components serving the urgent needs of engineers through a family of highly recognized and trusted brands. Our portfolio brands are specialists within their respective product set, offering broad inventories of engineering-grade product, paired with expert technical support and same day shipping. Over 100,000 customers across a diverse set of markets rely upon Infinite Electronics to stock and reliably ship urgently needed products every day.
Posted in: Media & Communications,Technology
Lindberg/MPH Ships Treet-All Box Furnace to the Technology Industry
Lindberg/MPH announced the shipment of one (1) Treet-All™ Box Furnace to the technology industry. The Treet-All™ Light Industrial Box Furnace is suited for multiple applications, including annealing, ashing, austempering, brazing, preheating, and solution treating.
The maximum temperature rating of this light industrial box furnace is 2050°F and has work chamber dimensions of 12" wide x 24" deep x 12" high. The Treet-All™ box furnace is a part of Lindberg's modular, stackable, and space-saving line of box furnaces. The furnace meets and exceeds industry standards for heat-up rates and outer shell temperatures. The ideal use for the Treet-All™ box furnace is for tool room, plant maintenance, and production applications that require maximum heat-treating, hardening, and tempering capabilities in a minimum amount of space.
"Lindberg/MPH's light industrial box furnaces are designed to minimize heat loss and save space, making them the ideal for any workspace." - Kelley Shreve, Applications Engineer
The Treet-All™ box furnace also offers quick, consistent heat up rates, full access to the work chamber, minimum heating of the outer skin, product load protection, and precise control with a long life and reliability.
More unique features of this Treet-All™ box furnace include:
Lightweight Moldatherm insulation
Side-mounted controls
Alloy retort
Manually adjustable nitrogen flowmeter
Double shell
Side-mounted double-hinged plug door
Digital temperature controller
Separate excess temperature control system
Power circuit breakers
SSR power module
About Lindberg/MPH
Lindberg/MPH is a leading manufacturer of standard and custom industrial heat treat furnaces, including pit, box, IQ, and belt type for the ferrous and non-ferrous markets. Lindberg/MPH customers cover a wide range of industries including aerospace/military, automotive, commercial heat treating, energy/oil, electronics and the forging markets. Founded in 1912, the company has more than 75,000 industrial furnace installations worldwide and their equipment is backed by a full range of customer support services and the most extensive replacement parts inventory in the industry. Lindberg/MPH is a proven leader in the thermal processing industry, with a long track record of proven policies and management practices.
Lindberg/MPH is owned by Thermal Product Solutions ("TPS"), a leading American manufacturer of custom industrial ovens used for heat treating, finishing, drying, curing, manufacturing automation and process control. TPS is a global leader in thermal processing products and test solutions with brands including Baker Furnace, Blue M, Gruenberg, Lindberg, Lunaire, MPH, Tenney, and Wisconsin Oven. For more information on equipment solutions from TPS visit the website at http://www.thermalproductsolutions.com.
Posted in: Manufacturing & Industry,Technology
Don't Miss These Special Events at SAE International's Hybrid and Electric Vehicle Technologies Symposium
SAE International's SAE 2019 Hybrid and Electric Vehicle Technologies Symposium has some exciting special events planned at Delta Hotels by Marriott Anaheim Garden Grove in California on Feb. 19-21, 2019. In addition to a robust technical program and packed exhibit floor, there are plenty of professional development and opportunities for attendees.
SAE recognizes the importance of person-to-person networking and has built in several networking breaks into each day's programming to compliment networking on the exhibit floor. These networking breaks allow attendees to chat and exchange information, as well as ask questions or begin discussions based on the earlier sessions that day.
On Tuesday, Feb. 19, - the opening night of the event – Toyota will sponsor a Casino Networking Reception at 6:15 p.m. held on the Santa Rosa patio. Join us for drinks, appetizers and casino games.
On Wednesday, Feb. 20, - Participate in a panel discussion featuring experts from GM, Nissan, Ford, Toyota, and Honda at 5:00 p.m.
On Thursday, Feb. 21, - the morning of the last day of the event – Ford will sponsor Breakfast Roundtable Chats at 7:00 a.m. in the Catalina Ballroom. Join us to chat with experts in an intimate setting on a variety of topics. Advanced signup required.
Now in its 16th consecutive year, this event provides vehicle design engineers and management with a forum to share and discuss the latest technology, applications, and overall development challenges for electric and hybrid-electric vehicles through lively discussions and ample networking opportunities. To learn more about the SAE Hybrid and Electric Vehicle Technologies Symposium or to register, visit https://www.sae.org/attend/hybrid.
For information on exhibit or sponsorship opportunities, please contact Linda Wagner at linda.wagner@sae.org or 1-724-772.4062.
To request media credentials, email pr@sae.org or call 1-724-772-8522.
SAE International is a global association committed to being the ultimate knowledge source for the engineering profession. By uniting over 127,000 engineers and technical experts, we drive knowledge and expertise across a broad spectrum of industries. We act on two priorities: encouraging a lifetime of learning for mobility engineering professionals and setting the standards for industry engineering. We strive for a better world through the work of our charitable arm, the SAE Foundation, which helps fund programs like A World in Motion® and the Collegiate Design Series™.
Posted in: News & Current Affairs,Technology
L-com Releases Aerial and Outdoor Bulk Cable for use in Demanding OSP Networks
L-com Global Connectivity, a preferred manufacturer of wired and wireless connectivity products, announced today that it has unveiled a new series of outdoor-rated direct burial and aerial messenger bulk cable designed for use in outside plant (OSP) applications.
L-com's new Cat5e direct burial cable features outdoor-rated jackets which protect against moisture and UV (sunlight) damage. Additionally, the cable is EIA568 color-coded for compatibility with standard installations and features solid conductors for termination into standard IDC connectors and for use with PoE applications.
The new outdoor aerial messenger bulk cable is offered in Cat5e and Cat6 ratings and features a figure 8 design to ensure maximum stability even under high wind load. Both UTP and F/UTP shielded and unshielded cable types are offered in 1,000 foot lengths.
"Our new direct burial and aerial messenger cable addresses our customers' needs for OSP applications that require high performance, rugged cable runs that will stand up to environmental extremes. This new bulk cable line can be used in a wide variety of applications across myriad industries," said Dustin Guttadauro, Product Manager.
L-com's new direct burial and aerial messenger bulk cable is in stock and available for immediate shipment.
About L-com Global Connectivity:
L-com Global Connectivity, a leading manufacturer of wired and wireless connectivity products, offers a wide range of solutions and unrivaled customer service for the electronics and data communications industries. The company's product portfolio includes cable assemblies, connectors, adapters, antennas, enclosures, surge protectors and more. L-com is headquartered in North Andover, Mass., is ISO 9001: 2008 certified and many of its products are UL® recognized. L-com is an Infinite Electronics brand.
About Infinite Electronics:
Infinite Electronics is a leading global supplier of electronic components serving the urgent needs of engineers through a family of highly recognized and trusted brands. Our portfolio brands are specialists within their respective product set, offering broad inventories of engineering-grade product, paired with expert technical support and same day shipping. Over 100,000 customers across a diverse set of markets rely upon Infinite Electronics to stock and reliably ship urgently needed products every day.
Posted in: Electronics & Semiconductors,Manufacturing & Industry,Technology
After Delivering Numerous Tableau Training Classes Exist Management LLC (ExistBI), Prestigious Aerospace Client Returns for Tableau Consulting Project
An award winning avionic and information technology service company contracted ExistBI to train teams on Tableau Desktop capabilities. One of ExistBIs certified Tableau trainers delivered their popular three-day Tableau Desktop Bootcamp on-site, on-time and within budget. This unique three-day Tableau Bootcamp combines the Tableau Fundamentals and Intermediate curriculum. The custom training program provides materials and extensive hands-on exercises to re-enforce the skills and knowledge attained.

The trainer then returned to the company with more custom training and workshops to develop Tableau dashboards for the senior management team to help with their current merger. These additional training days were requested by the company's directors and were designed to be fit for purpose to meet the client's needs. The customer was so pleased with the quality of the training received that they appointed ExistBI for their complex Tableau consultancy project that followed. The Tableau consulting services was delivered remotely, as and when the management team required further development and support.

'We pride ourselves on providing experience, skilled and professional trainers and consultants. We frequently have returning customers, as clients like to continue the relationship they have built with our data specialists.' Max Russ, Senior Director, ExistBI

Alongside this recent training and consulting project, ExistBI have recently provided enterprise reporting and business intelligence training to a variety of industry sectors. From finance, government, technology, healthcare, wholesale, academia, media and much more. Some recent ExistBI clients include: Barclays, US Bank, Justice Department, US Veteran Affairs, DOJ, Dropbox, Cox Communication, Costco, HealthNet, Integra, USC just to name a few. This is an indicator of how all industry sectors highly value the need for self-service analytics and data consulting services. To find out more about ExistBI's Tableau training schedules, visit their website.

About ExistBI
ExistBI solves our client's toughest challenges by providing unmatched solutions and services in data strategy, big data consulting, business intelligence implementation, technical support and training. With offices in the US, UK and Europe, they partner with fast growing start-ups, medium to large Companies and government organizations, driving innovation through intelligent data led initiatives. They have experience across most industries and all business functions to deliver transformational outcomes for a demanding new digital world.

Learn more at ExistBI http://www.existbi.com
Posted in: Business,Computers & Software,Technology
Ambrose Solar Is Selling and Installing Sun Power Panels in Solano County
The overarching objective at Ambrose Solar is to help generate clean and consistent power hassle-freely and cost-effectively. The Vacaville based solar company sells, designs, and installs solar systems for residential and commercial setups across Solano County and environs. The client's unique needs and budget are factored in and solar systems are accordingly tailored for amps, volts, weights, frame sizes, and wattage. Ambrose Solar maintains a vast inventory of solar panels sourced from the top brands, including Sun Power for maximum efficiency, long term value, and project suitability. The installation part is well catered to through trained workforce.

The spokesperson at Ambrose Solar recently stated, "With depleting ecology and escalating power costs, it makes perfect sense to go solar. At Ambrose Solar, we have the resources to make the transition seamless and rewarding for Solano County, Dixon, Fairfield, Napa, and beyond. To this end, we provide end-to-end solutions, free estimates upfront, competitive prices across the board, and convenient finance options. Each project is handled by professionals from start to finish, allowing the client to breathe easy. Our professional team custom designs the system for maximum power generation and does all the paperwork entailed."

Ambrose Solar's end to end solutions entail main processes, such as Computer Aided Design (CAD) Plans, and local building, electrical & zoning permits, along with utility interconnection. The solar company is there to handle HOA review and approval, and state and local rebate applications for a trouble-free transition. No part of the job is outsourced, as is the norm, to ensure the highest quality standards throughout. Ambrose Solar is known to bring timeliness into the solar installation with each project completed within 2 to 3 days depending on the system size.

On Sun Power panels, the spokesperson further stated, "Sun Power is the leading solar panel brand currently on the market revered for its efficient, reliable and durable products. The products can endure rain, hail, snow, and heat, and feature a state-of-the-art monitoring system to track the system's performance. The brand is particular about its dealerships, choosing each dealer only after detailed trials and testing. At Ambrose Solar, we take pride in being an Elite Sun Power dealer with a pedigree and adequate skills. Being a dealer helps us back each Sun Power panel purchase with genuine prices and comprehensive product warranties."

As the leading name in the solar power business, Ambrose Solar can build photovoltaic systems through CAD at considerably low Sunpower panel cost. The solar company keeps ex-stock a variety of popular Sun Power models for swift supplies. It also has installations down to a science, handling everything from small rooftop installation to huge ground mounts with efficiency and commitment. The crews have commendable experience in roofing and electric, which serves as a guarantee for the best solar installation possible.

About Ambrose Solar
Ambrose Solar is a top-rated solar company serving Solano County and surrounding environs since the year 2013. The solar company makes the most of its resources to provide customized standalone systems, partial installation, on-grid solutions, and off-the-grid systems at low costs to homes and offices. Recently, Ambrose Solar has emerged as the leading Solar Napa company.
Posted in: Electronics & Semiconductors,Manufacturing & Industry,Technology
MicaSense Closes Profitable 2018, Eyes Global Expansion in 2019
Founded in 2014, MicaSense is an American sensor company made up of engineering, optics, and agricultural experts who are passionate about precision farming and eager to contribute to its worldwide adoption. Today, the company reports its third consecutive year of 70% RedEdge sales growth and announces plans to increase its presence overseas and continue high levels of investment in research and development.
Successful Products, Strong Partnerships
Designed to be highly adaptable for integration with a variety of drones, MicaSense sensors are used by researchers, drone service providers and growers in the agriculture industry. As a member of the Parrot Group, a leading European drone group comprised of industry leaders (Pix4D, senseFly, etc.), MicaSense is positioned well as a major player in the agricultural drone sensor market. RedEdge, the company's leading sensor, is in its fourth iteration (RedEdge-MX) with thousands of units sold. In addition to providing growers and service providers with valuable insights into their crops, data from RedEdge cameras has also been featured in over 100 research publications, establishing RedEdge as a trusted name in the industry.
MicaSense has also seen success with its newest sensor, Altum, released this past October. Benefiting from four years of ongoing development, Altum is the first of its kind in the industry. Among other patented technology, it features revolutionary synchronized capture of thermal and high-resolution multispectral imagery. This enables analytics that seamlessly combine multispectral and thermal data, enabling customers to monitor chlorophyll content and crop health while simultaneously providing insights into irrigation and water stress. In November and December, Altum sales accounted for over 35% of MicaSense sales revenue, pointing towards a strong adoption of this next-generation sensor.
"Altum was created specifically to solve pain points for our customers and to empower them to push the envelope of what already exists in agriculture. Whether it is a researcher devising a new way to monitor drought or a grower spotting pests before they've spread to an entire field, our vision is to build tools that offer unlimited opportunities for innovation."
Justin McAllister, CTO and Co-Founder
Since its founding, MicaSense has committed to ensuring its products stand up to use in the field, allocating increased budget to research and development each year. All MicaSense's products are manufactured in Seattle, Washington, allowing for high levels of quality control. This commitment to quality has helped MicaSense forge partnerships with leading drone integrators and manufacturers, such as Wingtra, Delair-Tech, PrecisionHawk, and BirdsEyeView Aerobotics, providing growers and drone service providers a wide variety of compatible drone platform options. Recently, the company announced its participation in the DJI Payload SDK program, a program allowing for seamless integration between DJI aircraft and sensors. Both RedEdge-MX and Altum are now fully integrated with the DJI M200, DJI's leading professional drone, completing a fleet of professional multi-rotor and fixed wing drones for precision farming.
Increased International Distribution and Investment in R&D
Building on another year of strong growth, the company plans to expand international sales channels and dedicate additional sales and marketing resources to Asia and Europe in an effort to better serve a rapidly expanding customer base.
"Growth in Asia-Pacific and Europe exceeded our expectations last year and we anticipate even higher demand in 2019. Customers there appreciate the usability and accuracy of RedEdge and have responded incredibly well to our new sensor designs. We've placed a high priority on getting more of our sensors to these areas this upcoming year.
Eric Waters, General Manager
MicaSense also plans on continuing high levels of investment in research and development. Making use of partnerships with prominent agricultural research institutions, the company intends to focus on data driven tools that support growers and bring the future of analytics to agriculture. For example, vineyard producers with access to analytics from thermal and multispectral imagery could identify not only which vines need water, but at what time during the day they need it the most. For growers in drought prone areas, this information may become vital as water becomes more scarce.
"Our research and development does not begin or end with sensor hardware. We are constantly looking at ways to streamline the data collection, processing and analytics workflow so better operational decisions can be made at the field's edge, by growers themselves."
Justin McAllister, CTO and Co-Founder
About MicaSense
MicaSense is at the forefront of drone sensor development for precision agriculture. Passionate about producing the right tools for their customers, MicaSense solutions enable growers, agronomists and researchers to make the right calls at the right time. All MicaSense products are designed and manufactured in the USA.
Posted in: Manufacturing & Industry,Technology
By 2021, Cyber Security Market to Reach USD 180.77 Billion, Globally: Zion Market Research
According to the research report published by Zion Market Research, global cyber security market was valued at USD 105.45 billion in 2015, is expected to reach USD 181.77 billion by 2021 and is anticipated to grow at a CAGR of 9.5% between 2016 and 2021.
Cyber crime is not new but it seems it is getting worse with the rapid advances in the use of information technology. Higher the rate of cyber attacks, higher is the cost of damage control and security for businesses. Here comes the cyber security in picture. Nowadays, the online world is more active as compared to the offline one, which also means that the information is online and available to everyone. The misuse of the facilities results in abrasion of public confidence and major financial loss. Cyber security is the protection of information systems from theft or damage to the hardware, the software, and to the information on them, as well as from disruption or misdirection of the services they provide. Earlier, office automation was the focussed area and was of the most concern. Presently, this definition has changed to enhancing the customer experience, obtaining a competitive advantage, and providing customers a completely new dimension in which they can experience the product or service.
The cyber security market is one of the highest growing markets in the information technology domain and it yields large economic opportunities. Growing risks such as computer hacking, software piracy, and virus deployment are increasing the demand for cyber securities services. The governments of various countries are increasing their investment in cyber security owing to development in computer interconnectivity and remarkable growth in computing power of government networks.
Request a Free Sample Report: https://www.zionmarketresearch.com/sample/cyber-security-market
The data from security firm BTB Security show that there is a drastic and considerable change in the number of breaches and identity thefts in 2015 as compared to 2005. Such security breaches cause serious financial damage. However, as there is no standard model for estimating the cost of an incident, the only data available are that which are made public by the organizations involved.
Some of the key players involved in global cyber security market include Symantec, IBM, McAfee, Northrop Grumman, and Booz Allen Hamilton, CSC among others.
The vulnerability of enterprises on information technology and stored sensitive digitally data have provided ample opportunities to cyber-attackers with financial gain being the primary motive. Solution providers' major focus is in research and development to develop next-generation security solutions to provide higher security. For example, The Department of Homeland Security is publicizing eight new cyber security technologies developed under federal grants that are looking for private businesses to turn them into commercial products. Science Applications International Corporation (SAIC) developed an innovative cyber security technology which helps the government to protect critical data, mitigate risks, and establish a comprehensive defence against cyber-attacks.
Download for Free Report PDF Brochure: https://www.zionmarketresearch.com/requestbrochure/cyber-security-market
There is also a greater focus on the intelligence-led security as conventional security technologies including web, content management and network security are unable to deliver the tracking of security incidents. The cyber security market is anticipated to witness high demand for cloud-based applications as government organizations are going for the cloud platform for data sharing.
The cyber security market is segmented based on security types, solution, and vertical and by regions. On the basic of security types market is divided into network security, cloud security, wireless security and others. Cyber solution segment includes identity and access management (IAM), encryption, risk and compliance management, data loss prevention, antivirus and antimalware, firewall and others. By vertical, market is segmented into aerospace, government, financial services, telecommunication, healthcare, and others.
In 2015, North America dominated the cyber security market owing to the increasing cyber crime and strict government rules against it. Asia Pacific is a fastest growing regional market for cyber security market due to increasing number of internet users in China and India.
More Information: https://www.zionmarketresearch.com/report/cyber-security-market
About Us:
Zion Market Research is an obligated company. We create futuristic, cutting edge, informative reports ranging from industry reports, company reports to country reports. We provide our clients not only with market statistics unveiled by avowed private publishers and public organizations but also with vogue and newest industry reports along with pre-eminent and niche company profiles. Our database of market research reports comprises a wide variety of reports from cardinal industries. Our database is been updated constantly in order to fulfill our clients with prompt and direct online access to our database. Keeping in mind the client's needs, we have included expert insights on global industries, products, and market trends in this database. Last but not the least, we make it our duty to ensure the success of clients connected to us—after all—if you do well, a little of the light shines on us.
Posted in: Business,News & Current Affairs,Technology
Million Dollar Resumes
Million Dollar Resumes (www.milliondollarresumes.com) is the new source of resumes, cover letters, and other job search documents for Senior Executives
Jan 2019, USA: Million Dollar Resumes provides top-level executive resumes and cover letters services with proven and assured results. Million Dollar Resumes is one of the prominent resume writing services in the industry.
Million Dollar Resumes' cover letter and resume writing services empowers executives and corporate officers around the world with winning career-changing interviews. Their resumes and cover letters consistently produce superior results for their clients.
At Million Dollar Resumes, Greg Faherty, a top 10 certified professional resume writer (CPRW) with more than 19 years of experience, writes your executive resume, cover letter, CV, federal resume, and any other documents you need for your job search.
Million Dollar Resumes helps executives achieve success by facilitating more interviews and decreasing the employment search process by providing superior, professionally written resumes and cover letters that stand out from the competition. Owner and writer Greg Faherty is among the top certified professional resume writers in the country, with more than 9,000 resumes to his credit. He specializes in creating top-performing job search documents that propel his clients to the next level of their careers.
In addition to resumes and cover letters, Million Dollar Resumes also offers LinkedIn profiles, executive biographies, and any other job search document today's discerning executives need to outdo the competition.
For more information, a free resume analysis, or to see executive resume samples, visit https://milliondollarresumes.com/. You can also call them at 845-942-1198 or email them at info@milliondollarresumes.com
About the company
Million Dollar Resumes is dedicated to providing exceptional results for executives and corporate officers around the world. Greg Faherty, owner and Certified Professional Resume Writer, has extensive experience writing resumes for executives and corporate officers in various industries, including the technology, security, sales, operations, finance, non-profit, and academic sectors. At Million Dollar Resumes, all your resumes, cover letters, CVs, federal resumes, and any other documents you need for your job search are individually prepared.
Contact Details:
City – Garnerville
State – NY
Country – USA
Zip code – 10923
Phone Number – 845-942-1198
Website: https://www.milliondollarresumes.com/
Company Email ID – info@milliondollarresumes.com
Posted in: Employment,Finance Market,Marketing & Sales,Technology,Telecom
Metrofuser Adds HP M607, M608 M609 Printer Fusers and Maintenance Kits to Lineup
Laser printer parts manufacturer Metrofuser (http://www.metrofuser.com) has introduced printer fusers and maintenance kits for HP LaserJet Enterprise M607, M608 M609 printers. The availability of these fusers will help reduce costs and increase profitability for the company's nationwide customer base.
Metrofuser provides two options to acquire these printer fusers - by economical repair and return or by convenient advance exchange service. Metrofuser stocks the M607 series printer fusers, part number RM1-1256, L0H24A L0H24-67901. They are ready for same day shipping.
Metrofuser's fusers and maintenance kits for HP Printers offer brilliant crisp black and white output and guaranteed against all image defects.
"Reliable parts solutions are in high demand with the advent of more feature-rich printers in the marketplace," stated Eric Katz, Co-President, "Our customers require the most precise imaging technology in this demanding market and our R&D team has devised a solution for the M607 series fuser," adding that, "Our printer fusers hold up to the most demanding conditions offering unequaled durability - these fusers work flawlessly with OEM and compatible toners."
The introduction of these HP fusers to Metrofuser's product line represents a continued commitment to invest in R&D. Katz reiterates "Metrofuser's priority is to develop best-in-class repair and remanufacturing procedures along with rigid performance testing that enables us to deliver replacement parts that are unequaled in reliability and quality."
Metrofuser is a leading global innovator, manufacturer of printer parts, equipment, diagnostics, repair information and systems solutions for professional users performing critical tasks. Products and services include HP printer parts, printers and printer repair training. Parts include HP printer parts such as printer fusers, printer maintenance kits and other printer replacement parts. The company's, customers include office equipment dealerships, online retailers, repair centers and MPS service providers nationwide. Metrofuser has been named to Inc. Magazine's fastest growing companies five consecutive years.
Posted in: Manufacturing & Industry,Services,Technology
NASA CLASS Announced Collaboration with Actress Sheyene Gerardi to Address Technological Literacy
Sheyene Gerardi, a well-known Venezuelan soap opera star and model, has been appointed a member of NASA's Center for Lunar and Asteroid Surface Science (CLASS) as the Lead for Robotics Outreach. This world-class institution of planetary scientists and space technologists invited Sheyene to join them because of her visionary work fusing space robotics technology development with humanitarian development on Earth.
Sheyene's program addresses technological literacy in under-developed regions, creation of jobs in robotics, and advancement of technologies needed off-Earth. The program addresses a much larger concern, too, one that few have even considered: robotic industry on the Moon and Mars has such great potential for rapid scale-up that it could widen the gap between privileged and under-privileged to the point of causing great harm. Sheyene's team is working to broaden the ownership of in-space industry as it develops, which will help solve all these problems.
Sheyene founded and operates a school to serve at-risk youth in an under-developed region of Venezuela. There, she has found systemic problems due to inadequate community support for education. Sheyene realized innovative methods are needed to motivate her students when she found out most of the children have very little hope for advancement in jobs or careers, and they do not see how education will change that.
In 2017, she met with the University of Central Florida. Sheyene recognized the space industry has great potential to improve life on Earth, but there is a strong chance the plight of people in underdeveloped regions will grow worse instead of better.
The concern is that once a supply chain is established through robots mining and manufacturing on the Moon or asteroids, it is outside the social and economic controls we have evolved for civilization on Earth. Within a few decades, advances in machine intelligence will make the robotics more autonomous, reducing the cost of labor to control the robots from Earth. According to a 2012 NASA study, it takes about this same amount of time for industry on the Moon or Mars to become an adequately self-sufficient supply chain to enable affordable scale-up, reducing the mass of materials that must be launched from Earth. The marginalization of labor from economic production is already a concern for terrestrial industry, but in space the isolation from normal economic and social restraints makes it much worse. Robotic space industry has potential to grow according to its "metabolism", its throughput of matter and energy, without the usual economic and social controls. This can rapidly widen the gap between capital and labor, or between privileged and under-privileged following the lines of those who can participate in space and those cannot. Studies suggest this can occur as early as the middle of the century.
"As the economic revolution proceeds and production begins shifting first to robots on Earth and then to robots off-Earth, workers who don't share ownership of the robots will be reduced to political powerlessness far worse than their conditions today. We have the opportunity to solve this problem during the bootstrapping period while human labor is still needed for space industry," Sheyene says. Sheyene has added to this vision the theme of entertainment, to connect the creative community with scientists and thus educate the public to support science. "I also came to believe I can have the greatest impact for change by focusing on my area of expertise: what entertainment contributes to solving these problems: a lot, as it turns out, we have the ability to show people what they can do to address these problems widely and efficiently. I have been working with my production and marketing team to develop an 'educational entertainment production for social change.' My team sees fantastic opportunities to produce content in and around the program we have started," she added.
Sheyene's concern for the plight of the economically disadvantaged grew out of her unique life story. She started as an actress and became internationally-known for her roles in Spanish telenovelas until she was struck by serious personal tragedy. A year after losing her family in an automobile crash, she was diagnosed with a Stage 4 lymphoma that had spread to 85% of her body. She survived after three years of difficult chemotherapy to become the only know survivor of a rare form of the disease. These experiences convinced her to focus the rest of her life on helping people in need. She founded and now operates two non-profit philanthropic foundations including Sheyene School, which began in Venezuela and has now expanded into multiple countries to expand technological literacy and to create a pipeline to jobs and economic participation in underdeveloped regions. Sheyene recently started a socially-conscious business to broaden the ownership of space industry as one of its major goals. The business plans to accelerate human expansion into space by advancing the robotic technologies, doing so in a way that conveys equity to all the participants.
Shashi Jain, from TiE young entrepreneurs, said of Sheyene's work, "As a Senior Technical Marketing Engineer for over 18 years, I am deeply impressed by the value of the work that Sheyene is doing through her non-profit. She understands how to inspire people to not just love the subject matter, but to see the possibility of contributing to it in themselves through a few simple steps. This is a rare skill; you often get two of these at the same time, not all three."
Sheyene's work advancing robotics education globally resulted in her invitation to join the planetary scientists of NASA's CLASS. The CLASS team consists of leading planetary scientists, geologists, geochemists, dynamicists, engineers, physicists and other researchers from across the world, and is headed by Prof. Daniel T. Britt at the University of Central Florida. The CLASS network incorporates domestic institutions across the USA and international partner institutions in different countries. An integral part of the CLASS mission is to give back to the wider community.
"I have been following with great interest Sheyene's activities in organizing world-wide robotics competitions. Her vision for expanding the scope and the impact of space science and engineering outreach dovetails strongly with the objectives of the Center for Lunar and Asteroid Surface Science. We are looking forward to working with Sheyene and are excited about the possibilities of the robotic competitions," Prof. Daniel Britt said.
"People, in general, are unaware of the danger they are in, that with no way to personally go into space, no need for their labor in the face of robotic artificial intelligence, and no way to gain an ownership share in the industry, they will be left behind both economically and politically, creating a vastly deeper rift between the 'Haves' and the 'Have-nots'. While the rift is already big today, it is seriously nothing compared to what it will be when industry is started in space and grows to massive proportions, unless steps are taken during the startup period," Sheyene says. "Many solutions require an understanding of local pain points to solve economic and standard of living challenges every country is trying to solve to provide a better quality of life. I am glad and appreciative that with this synergy we can turn this initiative into a win for everyone. I feel the time is right," she added.
Sheyene is advancing her plan to support both technological literacy and direct participation in space, through a robotics curriculum, which will be made freely available through her non-profit school. The team is also creating a series of robotics competitions, including secondary, college, and post-college events, with the goal of replicating it on a global scale. The technological progress achieved through the robotics competitions will be funneled back to NASA missions through her position in CLASS. Her participation with the SSERVI/CLASS network will facilitate her access to its cutting-edge scientific advances, enhancing the existing partnership she has with the Florida Space Institute, enabling her program to reach more people with the excitement of NASA space exploration to make a tangible difference their lives.
Posted in: Science,Technology
Mako Medical Sets a Blistering Growth Pace and Tops the Fast 50 Three Years in a Row
Business Journal recognized the fastest growing private companies in the region. The Research Triangle is a highly competitive market for Life Science and Technology companies. The Triangle is also home to many investment funds and incubators for start-ups. This competitive environment makes it hard to stand out when so many companies are performing well. The Fast 50 winners were selected and ranked based on a formula that counts revenue and profitability in the preceding three years. The numbers are crunched and analyzed by PricewaterhouseCoopers. "Beyond bolstering the top-line performance and a nose for profitability, this list of companies represents the dynamic economic fabric of the Triangle," says Jason Christie, publisher of the TBJ. "We have a mixture of private firms that have made this list for years, and we have companies m?aking this list for the first time. Collectively, they reflect the best of the best."
History was made again -- when it was announced that Mako Medical had won the top spot for the 3rd year in a row. A feat that has never happened anywhere in the country before. This is the second time Mako Medical has broken the record by being ranked #1 -- making them the only company in America to achieve this in the history of the awards. Mako Medical Laboratories has experienced explosive growth in the last few years and has quickly become a national favorite for over 50,000 medical providers around the country. Last year, Mako Medical became the first company ever to win Life Science Awards two years in a row. That same year, Mako Medical was also ranked as a Best Place to Work and announced a massive expansion with a new testing facility.
When asked about how Mako was achieving such growth Chad Price, President of Mako Medical answered with one word, "impact." Chad went on to explain that the entire purpose behind the creation of Mako Medical was to create funding for local nonprofits/charities, to employ military veterans, and to support Christan missionaries around the world. "It is why we do what we do. Some companies are focused on shareholder value. Others are focused on returns for their investors. We are focused on making an impact in others peoples' lives. The more we grow, the more people we can help. The more revenue we have -- the more funding we have to work with," says Chad. Today, Mako Medical supports over 472 different charities around the country, employs hundreds of military veterans, and supports over 80 Christian missionaries from Syria to Nigeria.
Mako Medical Laboratories is an award-winning laboratory with operations in over 12 states. Mako utilizes automation and robotics to complete some of the most difficult and rare diagnostic tests. Mako is known for its extensive community service, supporting over 400 local nonprofits and charities, hiring hundreds of military veterans and supporting over 80 international missionaries.
Posted in: Business,Computers & Software,Technology
Ultimate Call Blocker - The Next Generation of Call Blocking Just Arrived!
Protecting your landline is a real necessity nowadays. According to the Federal Trade Commission's (www.ftc.gov) published stats, there has been a 650% increase in consumer complaints in the last 6 years. In 2016, 8.4 million complaints were filed by consumers. This means that at least six per cent (6%) of the households in the US or 1 in 20 households are victims of some scam every year in the United States alone. This is why it is important to protect your phone line (at home or business) with a call blocking device. The Ultimate Call blocker (UBlocker) is a new product/service that contains several unique features among the other call blockers in the market: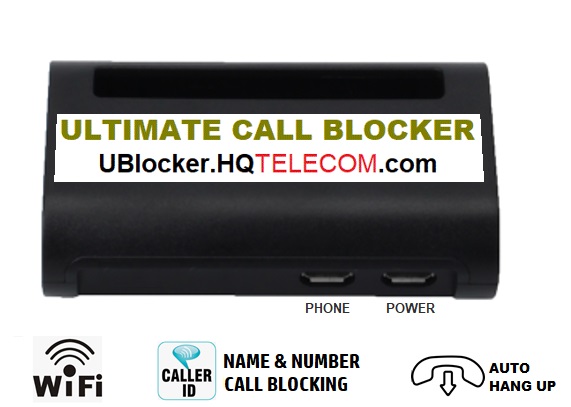 Dual Blacklists - The UBlocker features 2 blacklists; a global blacklist and a user blacklist. The global blacklist is fully automated (e.g. calls from these numbers are automatically blocked without having to answer calls or press any buttons), and actively managed by HQTelecom (currently with 162,000 blocked numbers worldwide). The user's Blacklist has an UNLIMITED capacity to block calls using phone numbers, names, or area codes via a user-friendly website. Another new feature is the WHITELIST MODE – When turned ON, it blocks all calls except those in your WHITELIST. The Whitelist-Mode feature can offer users complete privacy.
"We receive several requests daily from homeowners (mostly the elderly) seeking for a way to stop the annoying phone calls they receive constantly," says Alfredo Purrinos, former NASA scientist and creator of the UBlocker. "Some complain about getting robbed by scam artists impersonating government agencies and/or relatives in distress", even though they registered their phone numbers with the government-sponsored "Do Not Call' list".
Illegal telemarketing operations and scam artists (which represent more than 90% of the calls people get) use automated dialling services (e.g.robocalls) to detect humans. These services use several phone numbers, including a common something referred as 'neighborhood spoofing' which consist in using the same area code and prefix of the numbers being called. This is why it's important to have fought back with an intelligent and capable call blocking system that helps reduce the number of these calls. The key difference among the UBlocker and other call blockers in the market is the ability to help consumers in a proactive way. With the UBlocker, there is little or no need for detective work since most of the unsolicited calls will be blocked BEFORE the users answer the calls.
The Ultimate Call Blocker is manufactured in the US by Hi Q Telecom Inc. (https://www.hqtelecom.com/), and can also be available in online stores such as Amazon, and soon in eBay, Walmart, and NewEgg.The UBlocker requires the caller id service to be active on the phone line in order to work properly. It also uses the Internet to check the global blacklist in real-time and block numbers automatically.
About the Company:
Hi Q Telecom Inc. (HQTelecom.com) is a BBB A+ rated corporation specializing in telephone security and speciality products. Our main office is located in Miami Lakes, Florida. For more information about incoming call blocker devices or the company visit hqtelecom.com or contact us.
Posted in: Business,Media & Communications,Technology,Telecom
InnerVoice Receives AI for Accessibility Grant from Microsoft
InnerVoice has been awarded an AI for Accessibility grant from Microsoft to help further our efforts in improving the quality of life for people who struggle with communication challenges by utilizing the familiar technology of mobile devices in combination with power of artificial intelligence (AI).
This new grant will provide InnerVoice with powerful tools, such as, Cognitive Services, Vision, Speech, Language, Knowledge and Machine Learning to create unique features to accelerate our work on providing a complete communication system for people with autism, and most anyone else. InnerVoice will use AI for Accessibility grant to implement powerful technology that will alleviate three major struggles for anyone who relies on augmentative communication software; increase fluency of computer generated speech, support cognition and stimulate expressive spoken language.
"InnerVoice started as a futuristic far-fetched idea that Lois and I had a few years back. This AI for Accessibility grant will give us wings to ensure effective communication for all, worldwide." Matthew Guggemos, speech pathologist, co-creator of InnerVoice
AI for Accessibility is Microsoft's million 5-year program aimed at harnessing the power of AI to amplify human capability for the more than one billion people around the world with disabilities. It's a call to action for developers, NGO's, academics, researchers and inventors to accelerate their work for people with disabilities, focusing on three challenges: Employment, Daily Life and Communication and Connection. Through grants, technology, and AI expertise, the program aims to accelerate the development of accessible and intelligent AI solutions and build on recent advancements in Microsoft Cognitive Services to help developers create intelligent apps that can see, hear, speak, understand and interpret people's needs.
Please visit the AI for Accessibility website and InnerVoice for more information.
Posted in: Technology
Award-Winning Software/App Closing Commander™ Now Compatible With All Major Email Providers
HarkinsHill, LLC., the developer behind the automated sales closing app/system, Closing Commander™, has expanded the app's email compatibility to include Gsuite, Gmail, Outlook, Yahoo, and other major email providers. That's good news for service business owners and their teams, who rely on, not just a new system's effectiveness and time-saving abilities, but also its ability to seamlessly fit with their current business systems.
The app/system is designed to save service business owners and their teams time and effort by automatically sending follow-up emails to customers once an initial bid, quote, or estimate is provided. The app relies on tested timing and the marketing Rule of Seven to ensure effectiveness, although timing between emails and email body content can be customized to fit the company's needs and brand. Some companies using the app have seen six-figure revenue increases within just a few short months.
Caleb Martinez, a contractor in the Chicago area describes his experience using the app/system, "Closing Commander has been an excellent tool for our company. It's a big time-saver, and customers appreciate the communication. We are winning a lot of jobs after three or four emails have been sent, and the stats in the app definitely prove its value every month."
Closing Commander won the "Best New Product Innovation Award" from The Pete Luter Foundation in 2018 and the "Top Four Innovation Showcase Award" at this year's Service World Expo in Las Vegas. Business owners interested in learning more about the app, scheduling a demo, or signing up for a free trial are encouraged to visit closingcommander.com.
HarkinsHill,LLC is the parent company of Closing Commander and Spark Marketer, a Nashville-based digital marketing company that primarily serves blue collar businesses. While the Closing Commander app certainly has uses in other industries, the company's passion and mission remains to strengthen blue collar businesses around the globe.
Posted in: Computers & Software,Professional Services,Services,Technology
Remcom Announces 5G Antenna Array Design Features In XFdtd Electromagnetic Simulation Software
Remcom announces 5G antenna array design features in the latest release of XFdtd® 3D EM Simulation Software, including workflow enhancements for modeling complex devices at millimeter wave frequencies.
The advanced antenna systems in modern devices leverage beam steering and multiple data stream transmission to meet 5G throughput requirements. XFdtd provides performance metrics for 5G beam steering applications by simulating the radiation pattern for different array or subarray phasing conditions that are used to steer a beam. By considering the optimal gain levels of the various beam steering scenarios, XFdtd plots the cumulative distribution function (CDF) of the effective isotropic radiated power (EIRP) of the array as a whole. The EIRP is an important indicator of the array's quality of coverage and is particularly valuable for analyzing 5G-capable devices that support multi-user MIMO (MU-MIMO) use cases.
Rodney Korte, product manager for XFdtd, said, "The CDF of EIRP metric is growing in importance as carriers require devices to meet strict quality thresholds. Our customers designing mobile devices need to measure the gain of many signals propagating in different directions, and Remcom is at the forefront of this emerging technology. The new CDF of EIRP plot is a way to help design engineers prepare their devices for the challenging demands of 5G networks."
The matching network design workflow has also been enhanced via XFdtd's integration with Optenni Lab™ matching circuit optimization software. Optenni's optimized matching topology data can now be imported directly into XFdtd, providing users with immediate feedback on how the circuit will behave and eliminating the need to run another simulation. Results such as S-parameters, efficiency, and dissipated power are readily available for analysis of system performance, greatly simplifying the matching process for intricate devices with many frequency bands.
The release also introduces modeling options that improve simulation accuracy for the higher frequencies typical of the antennas in modern devices, including a new feed specifically designed for exciting microstrips, surface current measurement, and a user-defined input for surface roughness of conductors.
For more information on the latest release of XFdtd, please visit Remcom's website. XFdtd users without an active Remcom Professional Support contract can upgrade to the latest version by contacting sales.
About Remcom: Remcom provides innovative electromagnetic simulation and wireless propagation software for users in the commercial wireless industry and government sectors. Remcom's products are designed to work together to provide complete and accurate results when modeling propagation with real-world devices in real-world scenarios. Remcom is committed to its customers' unique needs, offering flexible licensing options for installations of all sizes as well as custom engineered solutions.
Posted in: Computers & Software,Technology
Ascert Releases Visa-Confirmed Driver
For companies that want to do pre-certification testing for Visa transactions, Ascert has released the latest version of its Visa Test Driver.
The VersaTest Visa Driver is now listed by Visa as a validated ADVT Online Host simulator and has been tested to ensure that it conforms to the most recent set of Visa specifications. This can be an extreme time saver in pre-certification or ongoing system testing.
"We are very pleased that Visa has officially confirmed the capabilities of our latest Visa driver," said Mike Wainwright, Business Development Director, Ascert UK. "This provides additional certainty for our customers when simulating and testing Visa transactions that their systems are operating accurately."
Companies using the Visa Driver have their choice of an on-premise solution, or a subscription to the popular cloud-based testing system, Ascertified (http://www.Ascertified.com). A growing number of companies have created a hybrid of both test options, thereby increasing flexibility for both internal users and external partners.
Ascert's VersaTest family of testing and certification products?can assist any organization looking to add increased value to their operations. All of Ascert's test drivers work with industry standard tools such as Jenkins, Quality Center, Docker and others. To find out more about Ascert products and standard test interfaces visit the Ascert web site or contact a local Ascert office.
About Ascert:?
Ascert is recognized as a leading provider of premier testing software solutions. Ascert was founded in 1992 to provide automated software testing solutions that help companies measure the performance, reliability and scalability of their mission-critical back-end servers and applications. With over 100 clients worldwide, Ascert's products and services are used at some of the world's most successful companies.
Off-the-shelf simulators for Ascert's VersaTest product include solutions for EFT testing, POS testing, stress testing, ATM testing, Fraud testing, IFX testing, EMV/chip card testing, ISO8583 testing and 3270 & 6530 terminal testing. Ascert's custom simulators have been used for testing air traffic control systems and biometric payment systems. Ascert delivers flexible solutions that are either customer site installed or accessed via Ascert's Remote Testing Services. Ascert's products assist testing professionals across industry segments to better manage their testing processes and environments through an end-to-end tool set.
Posted in: Business,Finance Market,Services,Technology
SameDay Security Created Virtual Caregiver Enters Clinical Trials With G60 Trauma
Virtual Caregiving is set to enter both the healthcare industry and patient home settings. In January 2019, G60 Trauma (G60Trauma.org) will begin testing Addison Care, the world's first, comprehensive virtual caregiving system to provide real time, 24/7 patient monitoring and care.
Addison Care provides exciting new components to an interactive voice platform to demonstrate an interactive, augmented reality feature tied to visual sensing and connected home devices. Now, not only can you have a two-way conversation with an Electronic Caregiver, but the technology comes alive with an expertly designed augmented reality character named Addison, developed on AWS Sumerian. Addison provides a breakthrough user interface.
What can Addison do? In a clinical setting, Addison can greet a patient, recognized through facial recognition, conduct a verbal health examination, collect vitals, and even direct a comprehensive gait and balance session to determine the probability of a ground level fall in a particular patient. In the residential environment, Addison provides medication reminders, verifies medication consumption, provides medical test reminders, monitors vitals, demonstrates rehabilitation exercises, assesses a patient's progress, mood, fall risk and responses to escalating conditions and emergencies including contacting responders or caregivers in time of patient need.
How does Addison work? A network of wireless visual sensors, local AI (artificial intelligence)-based processors, interactive tablets, Bluetooth biometric devices and emergency monitoring devices will be setup in a residence. Addison Care will be marketed and supported by a network of nationwide private duty home care providers that will serve as both live caregivers and Addison Care representatives. CEO of SDS, Anthony Dohrmann said, "Our goal is to expand affordable population health care to the masses, while lightening the burden on providers and payers. We are delivering an exciting new form of technology to patients and the active aging to improve their quality of life and health outcomes." Addison will be making its debut at the Las Vegas Consumer Electronics Show January 8-11, 2019, Booth: Sands Convention Center Halls A-D – 42142.
Why partner with G60 Trauma Organization? Dr. Alicia Mangram, founder of G60 Trauma in Phoenix, Arizona, is a surgeon and acclaimed trauma specialist who has devoted her career to improving trauma care through advocacy, surgical and critical care research, education and community services. G60 Trauma is a specialized care program designed for trauma patients over the age of 60, with the goal of optimizing their recovery and safely discharging them back to their homes. This partnership will allow us to study hundreds of patients who have had a ground level fall and provide us with the data and information we need to continue producing products and services geared toward prevention and superior outcomes.
With an expert research team of professionals behind hundreds of successful research publications and processes, G60 Trauma team will be conducting an expansive study involving over 500 patients to document the effectiveness of Addison Care and Electronic Caregiver on improving patient outcomes, increasing patient and family satisfaction, reducing hospital readmission and reducing mortalities. Also, improving treatment adherence with the hope of validating a more effective, outcome based, continuum of care capable of reducing the long-term pressures and costs associated with long-term care and chronic disease management.
"The costs of treatment non-adherence have been reported to be as high as 0B annually and is noted as being responsible for 50% of all treatment failures. In a period of nursing and physician shortages, where home care is inadequate in frequency partly due to high cost, our hope is that Addison Care and Electronic Caregiver can fill the gap in patient care and bring better outcomes to the masses," Dr. Alicia Mangram stated.
About SameDay Security, Inc. and Electronic Caregiver
SameDay Security (SDS) is one of the fastest growing monitored technology providers in the U.S. and one of only a handful of nationwide service providers. Known as the Electronic Caregiver CompanyTM and founded in 2009, SDS currently provides automated home care solutions and safety devices nationwide to thousands of clients. SDS has invested over ,000,000 in patient screenings, research and development. SDS will disclose a new capital offering after CES to fuel new product launches and expansion. SDS has developing contracts with hundreds of home care partners across America who will participate in Addison Care marketing to their clients. New clinical trials are scheduled with G60 Trauma of Phoenix, Arizona, involving 500 patients over 3 years to determine the impact on patient outcomes, cost reduction, lower hospitalization, chronic disease management and long-term care. Electronic Caregiver employs over 70 employees and is headquartered in Las Cruces, New Mexico. http://www.electroniccaregiver.com
About G60Trauma.org
G60 is a specialized trauma care program developed by Dr. Alicia Mangram. Since 2009, Dr. Mangram has devoted her career to improving trauma care through advocacy, surgical and critical care research, education and community services. In the beginning of her career, she quickly realized that a traumatic injury in patients 60 years and older could occur from a simple fall resulting in a hip fracture. The traditional approach was to admit them to a medical facility and await medical clearance for pre-existing conditions such as diabetes, heart disease, etc. prior to any surgery.
While patients waited for medical clearance, other medical related complications could develop. Recognizing the cause of these complications lead to a paradigm shift and implementing an aggressive care approach for our G60 population. Through evidence-based research, Dr. Mangram and her team developed a care plan to address the needs of G60 trauma patients. These care plans achieved several goals, such as: Expedited early identification in the ER, admission to trauma service, alternative pain management modalities, for example, hip block, multidisciplinary care rounds with integration of the Biopsychosocial Model, evaluation of care approach through research and data analysis, achievement of optimal level of functioning and independence upon discharge.
Posted in: Health & Medicine,Technology
A2 Hosting Announces Proprietary Plugin Compatible with WordPress 5
A2 Hosting, a committed provider of high-performance shared hosting, WordPress Hosting, and more, today announced that its A2 Optimized Plugin will be compatible with WordPress 5.
WordPress 5 first entered beta in October, and is slated for a full release in the very near future, WordPress 5 features a complete redesign and reimagining of the WordPress Editor. The update also includes improvements to the WordPress Rest API, enhancements to the custom theme and page building experience, and an overall more intuitive experience.
With an eye on simplicity, A2 Hosting provides a hosting environment that meets WordPress requirements by default. In other words, there's no tinkering required on your end to get your site up and running smoothly (and with greater security).
The A2 Optimized plugin is designed to help users easily optimize their WordPress sites for speed, security, and performance. To that end, it's designed to automatically configure W3 Total Cache, optimizing your website with minimal effort on your part. These tools and utilities will assist A2's clients in building the best website possible, allowing them to focus on content and branding rather than optimization.
The plugin is offered free of charge, with additional features available to A2 Hosting customers.
"At A2 Hosting, we always strive to offer the best experience imaginable for our clients," explains Brad Litwin, Marketing Manager at A2 Hosting. "To that end, our shared environmentmeets WordPress's recommended hosting environment by default, and we offer a comprehensive set of Managed WordPress hosting solutions. Our experts are also constantly testing the ideal WordPress configuration, tweaking it to offer the fastest page loads, best performance, and highest security possible."
"Providing webmasters with a seamless upgrade to the most game-changing version of WordPress yet is one more aspect of our commitment to excellence, and one more way our plugin can enhance our clients' WordPress experience," he continues. "Clients are free to enjoy all the versatility WordPress has to offer, without the technical challenges it can present - to focus on building their site, writing content, and promoting their brand while we manage the rest."
A2 Hosting, Inc. is a high-performance hosting company located in Ann Arbor, MI. A2 Hosting provides their customers with ultra-reliable solutions and 24/7/365 US-based support from their Guru Crew team. Since 2003, A2 Hosting has offered innovative, affordable and developer friendly website hosting for personal homepages up to full-service solutions for businesses of all sizes, based in all locations. Each A2 Hosting service is hosted on their fine-tuned SwiftServer Hosting platform. Customers seeking an additional speed boost can host on A2 Hosting's Turbo Servers featuring page load speeds up to 20X faster compared to competing hosts.
To learn more about A2 Hosting, visit https://www.a2hosting.com
About WordPress
WordPress started in 2003 with a single bit of code to enhance the typography of everyday writing and with fewer users than you can count on your fingers and toes. Since then it has grown to be the largest self-hosted blogging tool in the world, used on millions of sites and seen by tens of millions of people every day. WordPress started as just a blogging system, but has evolved to be used as a full content management system and so much more through the use of thousands of plugins, widgets, and themes. WordPress is limited only by your imagination.
To learn more about WordPress, visit https://wordpress.org
Posted in: Computers & Software,Services,Technology
Recosoft Releases ID2Office 2019 – Export InDesign CC Files to Word, PowerPoint & Keynote Formats
ID2Office 2019 adds support for Adobe InDesign CC 2019, the latest release of InDesign CC for macOS and Windows. Additionally, ID2Office 2019 recognizes the split/span property, resulting in enhanced layout preservation. Finally, ID2Office 2019 now allows converting images to JPEG type, significantly reducing the file size of image-centric documents.
ID2Office converts InDesign files to editable Microsoft Word, PowerPoint and Apple Keynoteformats; converting the text, associated styles, paragraph structure, corresponding property information, frames linking, tables, graphics and other objects while matching and maintaining the layout fidelity, resulting in enhanced workflow automation for Creative Professionals.
Key New Features
Support for InDesign Creative Cloud 2019
ID2Office 2019 now supports and integrates with InDesign CC 2019. InDesign CC through CC 2018 are supported as well.
You can now specify JPEG as the image type and specify the compression quality of the JPEG images; resulting in smaller file sizes.
Split/Span property recognition
ID2Office 2019 includes layout enhancements where span/split column property are recognized, and the layout is preserved as accurately as possible when converting to any of the supported formats.
Additional InDesign property support
Tab markers are now processed and replicated accurately. Additionally, grouped objects with text/tables are now editable in the resulting Word, PowerPoint and Keynote file.
ID2Office 2019 is available immediately in the following configurations from the Recosoft web store (per license):
ID2Office Standard 2019 Annual subscription (macOS/Windows) US9.00
ID2Office Professional 2019 Annual subscription (macOS only) US9.00
System Requirements
Mac OS: macOS 10.10.x or higher
Hardware: Intel based Mac
Application: InDesign CC, CC 2014, CC 2015, CC 2017, CC 2018 or CC 2019
Windows: Windows 7, Windows 8 or Windows 10
Hardware: Minimum Pentium III computer
Application: InDesign CC, CC 2014, CC 2015, CC 2017, CC 2018 or CC 2019
Recosoft Corporation has pioneered PDF2Office®, the de-facto PDF-to-Excel, PDF-to-Word, PDF-to-PowerPoint, PDF-to-OmniGraffle conversion utility; PDF2Office® for iWork, the PDF-to-Keynote, PDF-to-Numbers and PDF-to-Pages conversion application; IR2Office, the only Adobe Illustrator to PowerPoint and Apple Keynote tool; ID2Office, the InDesign-to-Word, InDesign-to-PowerPoint converter; and PDF2ID® the de-facto PDF-to-InDesign conversion tool. The company is a leader in designing and delivering PDF converters, InDesign and Illustrator software solutions enhancing workflow automation and productivity. For more information on Recosoft PDF converters and InDesign or Illustrator related solutions, visit http://www.recosoft.com
IR2Office, ID2Office, PDF2Office, PDF2ID, PDFtoID are trademarks or registered trademarks of Recosoft Corporation in the US and/or other countries. Microsoft, Excel, PowerPoint, Word and the Office logo are trademarks or registered trademarks of Microsoft Corporation in the US and/or other countries. Adobe, InDesign, Illustrator and Creative Cloud are either registered trademarks or trademarks of Adobe System Incorporated in the US and/or other countries. Apple, Macintosh, macOS, Mac, Numbers, Keynote, Pages, iWork, iPod, iPhone, iOS, iPAD are either trademarks or registered trademarks of Apple, Inc. in the US and or other countries. All other trademarks are recognized and are the property of their respective owners.
Posted in: Computers & Software,Technology
American IRA Discusses How to Avoid Getting a Self-Directed IRA Disqualified by the IRS
A Self-Directed IRA can be a powerful tax tool—provided that it is approved by the IRS. But failure to comply with certain IRS rules can result in a Self-Directed IRA becoming disqualified, which in turn can trigger a series of "bad things" under IRC Section 4975, according to a recent post at the American IRA blog.
One of the most important things for investors to watch for, according to the post, is a prohibited transaction. In IRC Section 4975, a 15 percent tax can be levied on the amount involved in the prohibited transaction—on the prohibited person involved with this transaction. For instance, if someone were to sell a house from the Self-Directed IRA directly to a family member's IRA, that family member would then see a potential tax bill of 15% of the transaction. That's because certain family members would be "disqualified persons" related to an investor's IRA.
Additionally, the IRS would then levy a 15% tax on the transaction on the selling party—which in this case would be the original selling Self-Directed IRA.
These penalties are heavy, but they are not the only penalties that those with a disqualified Self-Directed IRA could see as a result of doing bad business. That is why the article highlighted how important it is for investors to maintain best practices with their Self-Directed IRAs.
"People understand that a Self-Directed IRA gives them a lot of freedom," said Jim Hitt, CEO of American IRA. "But that is not all it gives them. It also gives them a wide range of responsibilities. Self-Directed IRA administration firms like American IRA can help in making sure that people understand the paperwork involved. But we do not hold the power capable of stopping people from making bad decisions. That is why it is so important that investors understand what goes into a valid transaction under a Self-Directed IRA."
For more information on keeping a Self-Directed IRA in good standing with the IRS, interested parties may visit American IRA at http://www.AmericanIRA.com or call 866-7500-IRA.
Posted in: Services,Technology
Gingkoo Shares Its Vision to Empower Economy by Using Blockchain at the UN GA
(Oct 30, 2018 New York) Gingkoo Technology of Shanghai presented its vision on being a leading blockchain company in China during the Cryptocurrencies & Blockchains Forum at the 73th UN General Assembly. Gingkoo's founder and CEO William Zuo gave a speech on how blockchain has been applied to the economy at the global conference in New York.
Gingkoo founder William Zuo speaks at UN
Representing Georgia, France and Germany, the Leading Group on Innovative Financing for Development invited experts from government and private sectors to provide insight into blockchain technologies and the potential impact on development. Blockchain technologies are critical to finance the 2030 Agenda and the Sustainable Development Goals.
Gingkoo's founder, William Zuo shared his vision on blockchain with government officials, experts and entrepreneurs. He pointed out that blockchain technology should serve society from five tiers of the economy: government, financial institutions, large corporations, small and medium size enterprise (SME) and individuals.
Zuo says, "Blockchain should have two core values: one is the trust machine, with trust by coding and programming. The other is to build the next generation value internet."
Gingkoo, the Shanghai based fintech company has successfully applied blockchain technology to serve government and financial institutions clients worldwide.
In Guangzhou, Gingkoo has guided local government in adopting a blockchain solution to improve government affairs and transparency, which has been awarded as the top 10 Blockchain Application by China Ministry of Information and Industry. They also created a garbage classification solution by using blockchain+IOT technology for the local governments. The company deployed a food traceability project from northern china to address the problem of food safety concerns in China.
In the financial services arena, Gingkoo's cases include payment and tax solutions, supply chain finance and Regtech solutions. Gingkoo's clients include major commercial and central banks such as HSBC, Citibank, Morgan Stanley, Deutsche Bank and UBS etc.
As the biggest solution provider for CIPS, China cross border payment system of China central bank, Gingkoo has been a key player to support the country's one Belt one Road Initiatives and to develop blockchain-enabled cross-border, cross-currency and cross-asset payments and logistics solutions, which could revolutionize the supply chain finance sector worldwide.
Meanwhile, David Ritter, CEO of Penta and co-founder of Gingkoo, Florie Zheng joined the meeting and shared Penta's work progress on blockchain. Penta, a public chain, is leading the solution of identity issues for the homeless population in US west coast cities. In July 2018, Penta was the first blockchain crypto startup to complete acquisition of shares of AXS listed Australian IOT tech Company, CCP Technologies, using Penta's PNT Cryptocurrency.
(L-R) Florie Zheng, David Ritter of Penta at UN
Zuo pointed out the other advantage of blockchain is to resolve the trust issue among SME. Gingkoo has used blockchain technology in Xiamen City to help SME financing and individual credit information sharing. This case was one of the first successful attempts in its field and was shared by Zuo at the Berlin World Bank SME Financing Summit in Nov. 2017.
As Gingkoo aims to be the first blockchain application solution provider in China, Zuo shared his vision on the future of blockchain, "I think blockchain should be green, inclusive and productive. I think everyone in the future will deserve opportunity of the blockchain." His speech has been applauded by hundreds of attendants at the UN event.
On September 4 and 5, Wiliam Zuo gave a speech as an honored guest at the Organization for Economic Co-operation and Development (OECD)'s first ever Blockchain Policy Forum in Paris, which was considered one of the high-level discussions with a range of public officials and private leaders from all over the world.
William Zuo Gingkoo CEO speaks at OECD Blockchain Policy Forum in Paris
OECD Picture
About Gingkoo and Penta
Gingkoo Technology (www.gingkoo.com) is a Shanghai based leading Blockchain technology company established in 2014. It helps build complete blockchain solutions in banking, financing and government. Gingkoo has raised about 23 million dollars or 160 million RMB led by Zhongnan Investment Group (SZ.000961).
As a member of China's Ministry of industry and information and the National Standardization Management Committee, Gingkoo Technology participates in the formulation and compilation of several national standards of blockchain, and several district chain experts have been selected as members of the ISO/TC307 international standard specialist group. Gingkoo is the first company to receive the prestigious Million RMB Award for Blockchain from the Shanghai municipal government, recognizing Gingkoo's outstanding contributions to blockchain development. In explaining their decision for the award, the government cited Gingkoo's credit chain as a groundbreaking project that enables SMEs to gain access to credit.
Penta (www.penta.global) is a joint project of permissionless chain by Gingkoo and an American team. The goal of Penta is to achieve a fast-decentralized infrastructure compared to ETH and EOS. Penta has raised 30 million dollars in private funding, invested by crypto funds including Draper Dragon, Node Capital, Block VC and LD Capital.
Video http://webtv.un.org/search/cryptocurrencies-blockchains-%E2%80%93-a-new-boost-for-sdg-financing/5841823227001/?term=BLOCKCHAIN&lan=english&sort=date
Image courtesy of UN and OECD
Contact
Florie.zheng@Gingkoo.com
Posted in: Business,Finance,Finance Market,Technology,World
Checkit Real-Time Operations Management to boost US Foodservice Business
Santa Fe Springs, CA. October 2018. Checkit, the leading provider of Real-Time Operations Management and Food Safety solutions, today announces the launch of its US operations.
Checkit's technology provides a proven way to address the needs of organizations to ensure that the work of staff is performed consistently, easily and to a high standard. It achieves this by creating intuitive, easy to use mobile applications to replace traditional pen and paper checklists, and by using Internet of Things sensors to replace routine monitoring.
Checkit allows businesses to build solutions rapidly, with no software coding or complex IT projects. It gives managers unprecedented insights out of the box, using operational KPIs and analytics derived from the millions of data points it continually gathers.
Checkit has established a base of clients with global businesses including Compass, Sodexo and the Merlin Group, as well as working with leading UK businesses such as John Lewis Partnership and Center Parcs. With its US operation up and running, its aim will be to bring this experience to food service chains, hotels and contract catering and soft FM, with a focus on helping them to improve
Revenue– by more consistently delivering intended service experience & freeing up time to focus on customers
Productivity – by automating repetitive checks and the streamlining of front-line work & improving management efficiency
Risk – from improved compliance, enforcement and visibility
Checkit USA will operate out of a sales and service base in Santa Fe Springs, California, and will have access to the infrastructure and resources of its corporate parent, Elektron Technology plc, which has a well-established US operation.
According to German Casillas, Vice President of Americas: "We see great potential in the United States market. There is a clear need, with many operations still poorly served by unsuitable or paper-based operational systems. We estimate that US food service market alone has the potential to develop to be worth over billion annually as technology adoption grows."
To find out more get in touch on 1-833-44-CHECK (833-442-4325)
Posted in: Computers & Software,Food & Beverage,Hospitality,Technology,U.S
Mobility innovators select cloudyBoss as technology partner
The mobility sector is undergoing a massive change, with both vehicle manufacturers and mobility tech innovators, taking up the challenge to revolutionise personal and commercial transportation.
In the vehicle-sharing sector, one of the upcoming innovators is a European company, WeGo, which provides a digital marketplace for people to rent out their own vehicle to individuals or organisations that require one on an occasional basis.
At the core of its architecture is a platform that incorporates Blockchain, Big Data and AI and WeGo selected award-winning cloudyBoss as the platform on which to base its innovation.
cloudyBoss NEXT+ platform has Blockchain DLT (Distributed Ledger Technology) and Artificial Intelligence built into its core, making it the only platform in the world currently to provide a code-less DLT solution called SKYE.
"For clients, such as WeGo, who work in a rapidly evolving industry, our ERP-X platform with its built-in blockchain technology allows for fast-track development of highly-scalable solutions," stated cloudyBoss CEO, Lou Schillaci.
CTO, Giovanni Di Noto added, "As WeGo has partners across the insurance and transportation industries, the use of Blockchain is essential to ensure that all information collected and exchanged is at all times secure, valid and immutable."
cloudyBoss is gaining considerable traction across the entire Mobility sector, with interest coming from major vehicle manufacturers, logistics and supply chain businesses who require access to similar technology
WeGo CEO, Marco Filippi stated, "Selecting cloudyBoss as our technical partner means choosing a worldwide acknowledged company, that is recognized for its expertise and the solid background of its management team.
cloudyBoss is the right partner for developing our project as we need innovative and advanced solutions, such as SKYE, which will provide a deep ability to handle disruptive technologies. cloudyBoss is a disruptor itself and visionary and this is the added value that makes it different from its counterparts."
Posted in: Computers & Software,Technology,Transportation & Logistics,U.S,World
KryptoGraphe is proud to be the first Cryptocurrency Portfolio Manager to be GDPR compliant!!
Dallas, TX: KryptoGraphe is pleased to announce that its cryptocurrency portfolio manager is compliant with the GDPR regulations. The EU General Data Protection Regulation (GDPR) is the most comprehensive EU data privacy law in decades. Besides strengthening and standardizing user data privacy across the EU nations, it will require additional obligations for all organizations that handle EU citizens' personal data, regardless of where the organizations themselves are located.
The new regulations are designed to better reflect the interconnected nature of our world regarding consumer's right to privacy, protection of personal data, and business usage of personal data across the European Union.
The team at KryptoGraphe has updated the app to implement the data protection and privacy policies.
An updated Terms of Access and Privacy Policy to ensure transparency.
The personal data of the user is anonymized.
There is a provision to update the personal data
The users are now able to export their personal information.
The personal data will be deleted from the app's records should the user choose to close their account.
In case of a breach of security, all users will be notified within 72 hours.
Download the app for free at:
Our partner and compliance administrator from Hummingwave, Amit Singh says: "KryptoGraphe has been trusted by thousands of its users with their cryptocurrency portfolio information due to its security, privacy, and transparency. Implementing GDPR makes these features so much more visible to users. Recent enhancements let users export their data in a machine-readable format to be used in any other system and to delete their account should they choose to."
KryptoGraphe encourages safe investing and aims to provide a secure platform to track all cryptocurrency investments.
Posted in: Finance,Finance Market,Personal Finance,Technology,U.S
Insuranks looking for big name investors to join and disrupt the insurance market
Insuranks.com, the international startup technology company and marketplace platform is looking forward towards complete disruption of the insurance industry by continuously improving the insurance experience of all sides of the industry. Insuranks is aiming towards creating as many simple, transparent, accessible, fast, reliable, secure and friendly user experiences for insurance consumers, agents, brokers and carriers. It currently has over 70 listed insurance companies and over 12,000 insurance agents on board.
The new Israeli technology startup is allowing consumers (also named Insurankers on the friendly platform) to request and compare quotes and purchase their insurance online with over 230 supported insurance types, manage it and later rank the level of service that they received from their chosen insurers. Insurankers rank anything from customer service and claims experience to emotional intelligence, listening skills, trustworthiness, dedication and more in depth factors that are important to look for in an insurance service provider. Those rankings aggregate in to what is called Insuranks Score, an average ranking of all user rankings submitted for each insurance service deliverer. This ranking is displayed all around the platform for the benefit of the users, so when they get quotes they can find all the information they need about the insurance provider and make a wiser and more educated decision. Or when they simply browse through insuance companies and agents or look for the top 10 insurance companies and agents for over 230 insurance categories that the platform supports. It becomes the insurers reputation all around the platform.
On the other hand, it also provides full information on companies and agents and allows agents and brokers to deliver quotes online through the carriers they work with via the easy to use marketplace platform. The agents insurance marketplace is fast, reliable and user friendly and contains a stream of insurankers that are waiting for agents to give them bids and quotes for their insurance needs. Agents can also manage their sold policies and clients online via desktop, tablets and mobile phones.
With a mission to create maximum remarkable insurance experiences worldwide while making insurance simple and accessible to anyone regardless of levels of income, education or location, Insuranks is now looking for big name investors and sponsors to support their efforts and become the ultimate one-stop shop for all insurance needs while offering consumers, agents and carriers the best insurance experience that they can possibly receive online.
Posted in: Business,Finance,Finance Market,Technology,U.S
Powersolv, Inc. Successfully Meets All the Statutory Demands For its ISO 9001:2015 & 27001:2013 Certifications
Powersolv Inc., the premier Information Technology Services Company and a reputed name in providing technologysolutions to various clients at Federal, State, County level as well as to Quasi Federal, Not-for-profit, and Local Agencies, has announced that they have successfully completed their Surveillance Audit 2 for ISO 9001:2015 & ISO 27001:2013 certifications.
Surveillance Audit is an audit conducted within specific time frames on organizations that have been awarded ISO certificationsto ensure that they continue to maintain the standard and statutory requirements. The audit is conducted every year by an external auditor.
"We are happy to announce that we have successfully completedthe Surveillance Audit 2 for our ISO 9001:2015 & ISO 27001:2013 certifications," says the President and CEO, Rahul Dhawan."These audits are a part of the ongoing periodic review of the quality management system as well as information security management system of theorganization. These audits are conducted to highlight Powersolv's ongoing and unwavering commitment to our clients at various levels to continually provide them with thebest-of-breed solutions and latest technologies"
The successful completion of the Surveillance Audit 2 has allowed Powersolvto proudly claim to bean ISO 9001:2015 and ISO 27001:2013 certified company. It also reflects their high level of commitment to providing the best quality IT services and solutions to their clients. For certifications to be allocated and remain valid, organizations are required to demonstrate their adherence to the stringent quality and security measures, customer service processes, and statutory requirements.
About Powersolv, Inc.:
Established in 1995, Powersolv is a CMMI Level 3 and a Microsoft Gold Partner Certified Information Technology Services provider with its headquarters in the Washington DC Metro region. Powersolv specializes in offeringsoftware development and systems integration, and business process improvementservices to address the growing information technology demands in the public sector.They supply the best breed of technology services with a proven commitment toexcellence delivered with superior customer service.They areone of the leading players in Enterprise Technology, Business Process, Infrastructure,Management& Cloud Services. The company also offers a wide range of other key services underthe IT domain such as Database Management, Legacy Systems Migration, Technical Support, Staff Augmentation, Network Infrastructure, and Enterprises Mobile Solutions.
Posted in: Computers & Software,Professional Services,Services,Technology,U.S
Global Food Processing Equipment Market to Surpass USD 74 Billion in Next Five Years, Says Meticulous Research
The global food processing equipment market will grow at a CAGR of 6.1% from 2017 to 2022 to reach USD 74.019 billion by 2022, according to the latest publication from Meticulous Research®. The global food processing equipment market is driven by the increasing consumer demand for processed food, focus on food safety and safety of workers, growing need to increase productivity, increasing focus of food manufacturers to reduce production cost, and government support to promote food processing sector. In addition, emerging economies such as Latin America, South East Asia, and Africa provides significant opportunity for the manufacturers in the global food processing equipment market. However, high cost of equipment and increasing inclination towards consumption of minimal processed food restrict the growth of this market to some extent.
Key Market Segments to Watch
The global food processing equipment market is mainly segmented by type into meat, poultry, and seafood processing equipment (cutters and grinders; smokers, massagers, and tumblers; mixers; tenderizers; killing and defeathering equipment; slicers; evisceration equipment; cookers, roasters, and grillers; deheading and gutting equipment; filleting equipment; and others), bakery processing equipment (ovens and proofers; dough mixers; moulders and sheeters; dividers and rounders; depositors; and others), beverage processing equipment (brewery equipment; filtration equipment; carbonation equipment; blenders and mixers; and others), dairy processing equipment (pasteurizers; homogenizers; separators; evaporators and drying equipment; membrane filtration equipment; and others), chocolate and confectionary processing equipment (depositors; formers; coating and spraying systems; mixers; coolers; and others), fruit and vegetable processing equipment (juice extractors; peelers, cutters, and pulpers; dryers; evaporators; and others), and other food processing equipment (cereal & grains processing equipment, fat & oil processing equipment, snacks food processing equipment, and others).
Browse in-depth Report on https://www.meticulousresearch.com/product/food-processing-equipment-market-forecast-2022/
Meat, poultry, and seafood processing equipment to dominate the food processing equipment in 2018
The large share of meat, poultry, and seafood processing equipment is mainly attributed to increasing demand of processed meat products due to growing global population, urbanization, and consumer preference for protein-rich food products. However, chocolate and confectionary processing equipment market is expected to witness fastest growth during the forecast period. The rapid growth of this market is attributed to increasing focus of manufacturers on quality products manufacturing, integration of innovative processes, product innovation, building & maintaining strong brand of products, and optimization of traditional processes in this field. Also, once considered luxury products in some developing nations, chocolate and other sweets have become more attainable and attractive as living standards in these countries increase, ultimately driving demand for chocolate and confectionery processing equipment.
Regional Market Growth Trends
Geographically, the global food processing equipment market is segmented into North America (U.S. and Canada), Europe (Germany, France, Italy, U.K., Spain, The Netherlands, and RoE), Asia Pacific (China, India, Japan, Australia, and RoAPAC), Latin America (Brazil, Mexico, Argentina, and RoLATAM), and Middle East & Africa.
Asia-Pacific region is expected to hold the largest share in the global food processing equipment market in 2018, followed by Europe, and North America. The major share of this region is mainly attributed to increasing demand of processed food products in emerging and developing countries including India, China, Indonesia, and Thailand; and increasing investments from major food processors. This region is witnessing tremendous growth for food and beverages industry, primarily due to the increasing urbanization, health awareness, and disposable income; as a result, numerous food and beverage firms in this region are transitioning from manual to mechanical food processing in order to increase output and develop new products, which ultimately drives the food processing equipment market.
Speak to Analyst @ https://www.meticulousresearch.com/speak-to-analyst/?cp_id=3588
Top Companies in the Food Processing Equipment Market
The key players operating in the global food processing equipment market are Bühler AG (Switzerland), Marel HF (Iceland), GEA Group Aktiengesellschaft (Germany), Bucher Industries AG (Switzerland), John Bean Technologies Corporation (U.S.), The Middleby Corp (U.S.), Heat and Control Inc. (U.S.), SPX Flow Inc. (U.S.), Alfa Laval AB (Sweden), Nichimo International Inc. (Japan), Krones AG (Germany), Paul Mueller Company (U.S.), Key Technology Inc. (U.S.), and Tetra Pak International S.A. (Switzerland).
These vendors employed various strategies to expand their product and application offerings, global footprint, and augment their market share. The key strategies followed by most companies in the global food processing equipment market were acquisitions and expansions.
Key questions answered in the report-
Which are the high growth market segments in terms of equipment type and regions/countries?
What is the historical market for food processing equipment across the globe?
What are the market forecasts and estimates from the period 2015-2022?
What are the major drivers, restrains, and opportunities in the global food processing equipment market?
Who are the major players in the global food processing equipment market and what share of the market do they hold?
Who are the major players in various countries and what share of the market do they hold?
What are the competitive landscapes and who are the market leaders by sub-region in the global food processing equipment market?
What are the recent developments in the global food processing equipment market?
What are the different strategies adopted by the major players in the global food processing equipment market?
What are the geographical trends and high growth regions/ countries?
What are the local emerging players in the global food processing equipment market and how do they compete with the global players?
Download Sample Report @ https://www.meticulousresearch.com/download-sample-report/?cp_id=3588
About Meticulous Research®
Meticulous Research® is founded in 2010 and incorporated as Meticulous Market Research Pvt. Ltd. in 2013 as a private limited company under the Companies Act, 1956. Since its incorporation, the company has become the leading provider of premium market intelligence in North America, Europe, Asia-Pacific, Latin America, and Middle East & Africa.
Contact Us:
Meticulous Research®
Email- sales@meticulousresearch.com
Contact Sales- +1-646-781-8004
Connect with us on LinkedIn- https://www.linkedin.com/company/meticulous-research
Connect with us on Twitter- https://twitter.com/MeticulousR123
Posted in: Agriculture & Farming,Business,Food & Beverage,Manufacturing & Industry,Technology
Espire Infolabs to host a breakfast meet for the higher education in Sydney, powered by Sitecore
Sydney, Australia - 7th June 2018 - Espire Infolabs, a global technology services company, has today announced that they will be a hosting a power-packed breakfast meet for the higher education sector. The breakfast session will be hosted in collaboration with their partner, Sitecore, the global leader in customer experience management. It will be held at the Shangri-La Hotel Sydney, Australia on June 22nd, 2018.
The digital enablement breakfast meet will focus on assembling customer experience, digital marketing and technology leaders from the higher education industry to discuss a clear digital strategy that education houses need to implement to provide seamless experiences to students. The morning session will look at starting a conversation on other key aspects like the student engagement strategy, holistic view into student journey powering student, research and community along with maintaining a credible university reputation and much more.
Espire, as a Sitecore solution partner, will be drawing on their industry experience to discuss latest trends and best practices on delivering highly personalised and contextual digital experiences that are essential for education houses to build a strong competitive edge with Sitecore's experience platform. This will include engaging presentations and insightful sessions by Matt Scolari, Digital Strategist, Technologist and Consultant and Ex Chief Digital Officer & Director - IT Solution Delivery, The University of New South Wales (UNSW), Rebecca Mangan, Digital Experience Specialist at Sitecore, and Ram Bali, Regional Head, Espire Infolabs, Australia and New Zealand. This will be complimented by Australian Catholic University's (ACU) guest speaker who will expand on their digital transformation journey so far.
Adding to this, Matt Scolari, Digital Strategist, Technologist and Consultant and Ex Chief Digital Officer and Director - IT Solution Delivery at UNSW said, "As we see the shift to an increasingly digital culture, a strategic approach to student engagement can only drive business growth for institutes. At the breakfast meet, I am excited to join Espire who is working towards helping education institutes to stay relevant and effective by personalising a student's experience whenever and however they interact with your university or institute."
Espire is a Sitecore solution partner in countries like Australia, United Kingdom, United States, Singapore, India and others. They have expertise in designing and deploying an extensive portfolio of web content management solutions for its customers by leveraging the latest Sitecore capabilities. Espire enables business transformation by designing actionable customer journeys with a cross enterprise approach. This is powered by Espire's Customer Engagement Hub (CEH) framework driven by student journey mapping combined with student journey analytics to fuel their complete spectrum of digital experience solutions spanning marketing automation which includes web content management and campaign management, multi-channel customer communication management, enterprise applications, cloud computing, integration and analytics.
To gather insights on how Espire's digital experience solutions can strengthen your digital strategies and increase revenue opportunities, participate in the digital enablement breakfast meet by writing to us at enquiries@espire.com.
About Espire Infolabs
Espire Infolabs is a global IT services company empowering global businesses to drive growth and customer engagement with exceptional digital experience solutions through digital content management, multi-channel customer communication management, and enterprise applications, cloud computing, integration and analytics. It is a SEI CMMI Level 5 Ver 1.3 (Dev + SVC) Appraised, ISO 27001:2013, ISO 9001:2015, and ISO 20000-1:2011 and ISO 22301:2012 Certified Company. Espire Infolabs has offices in UK, USA, Canada, Australia, New Zealand, Singapore and Development Centers in India (Gurgaon, Delhi and Navi Mumbai). For more information, please visit website.
About Sitecore
Sitecore is the global leader in customer experience management. The company delivers highly relevant content and personalised digital experiences that delight audiences, build loyalty and drive revenue. With the Sitecore Experience Platform, marketers can own the experience of every customer that engages with their brand, across every channel. More than 4,400 of the world's leading brands – including American Express, Carnival Cruise Lines, EasyJet and L'Oréal trust Sitecore to help them deliver the meaningful interactions that win customers for life. For more information, visit website.
Contact Information
Anuradha Bose
Espire Infolabs
anuradha.bose@espire.com
+91-124-7173000
www.espire.com
Posted in: Australia,Europe,Technology
Stankevicius MGM joins Congress-Realty as Leading PR and Advertising Partner
Congress the Real Estate 2018 together with Stankevicius MGM has prepared an exciting investment event with presents and new business opportunities for participants worldwide.
About the event
The organizers of Congress the Real Estate 2018 are preparing a worthy event to attend for investors. The event will cover crypto-assets, overseas properties, museum pieces, different investment projects, possibility to purchase gold bullion, possibility to deal with stock exchanges, IT-technology projects, developer's programs. Event's participants will as well include insurance companies, tax consultants, and lawyers. Representatives and delegations from over 20 countries will come to the Congress.
Each year the congress offers innovative technologies and conveniences for guests and participants. Among the offers, you can find the matching opportunity of the first online exhibition of the Congress on the platform by Online Expo. The exhibition makes direct contact between the visitor from around the world and participating company on the platform, Online Expo.
About Stankevicius MGM
Stankevicius MGM is the leader in PR and advertising field. The firm has consulted Fortune 500 companies and international small and medium-size enterprises. Stankevicius MGM has provided successful PR campaigns for ICO clients in result of raising over 300 million dollars for blockchain projects
Posted in: Business,Finance,Finance Market,Public Affairs,Technology
Excelerat - A Google Connect Event on Digital Marketing
An estate agent's website is their most important office. The footfall there is far higher than for any high street branch and with the market slowing, it is this reality that is pushing the most innovative traditional estate agents to embrace digital marketing and find ways to grow.
At an event hosted at Google's central London headquarters on Tuesday 15th May, global award-winning agency Fountain Partnership and the leading UK live chat conversion experts Yomdel explored best practice digital marketing strategies employed by some of the fastest growing UK estate agents.
Attendees, who included senior executives from Knight Frank, Hunters, Carter Jones, SDL Group, Miles & Barr, Arun Estates and many more, heard presentations from the two companies -- as well as a terrific insight from Google itself – to paint a picture of low cost, high impact digital marketing strategies for estate agents.
"Yomdel and Fountain began working together on EweMove in 2014, and since then we have developed unique approaches to generating quality traffic and then turning that traffic into high-converting new business opportunities," said Yomdel Founder, Andy Soloman. "It's a complete no-brainer for any business – invest in getting the right clicks as well as ensuring you also put in place the ability to maximise conversion."
The programme for the evening heard key note sessions from Andy Soloman, Fountain's Head of Digital Alice Rose, and Roxanne Brownlee from Google.
The event was exclusive invite-only, and attendees besides being able to visit the impressive Google HQ, went away with ideas on how to carve out competitive advantage and maximise ROI through digital investment.
Alice Rose, the Head of Digital at Fountain spoke of proven digital marketing strategies for estate agents and outlined the best way to drive new business in a short space of time. She also took the audience through the most effective strategies for growth, prioritising the lowest cost with the highest return on investment.
"The Estate Agency Industry has faced a lot of disruption over recent years with the rise of online and hybrid agents, Brexit and now GDPR. Today we've shared our proven roadmap for success, discussing the one thing all Estate Agents should invest in now, as well as 4 top tips for rapid growth in 2018."
Andy Soloman spoke of how to transform distracted website visitors into loyal customers through bringing human interaction online and then delivering an exceptional digital customer experience.
"We live in an age of distraction where people expect immediate answers to questions and if we are not there to help at exactly the time they need it, they will go elsewhere", he said. Andy explained how intelligently targeted managed live chat can significantly multiply results achieved via digital marketing channels. "Conversion can increase 50% or more," he said.
Yomdel can be used on any website for online sales, lead generation or customer service and support. As well as live chat, Yomdel sets itself apart from competitors by offering extra services such as taking visitors direct from chat into phone calls, SMS engagements, integrations into CRM platforms and Google Analytics. "There are other live chat providers out there, but Yomdel is unique in the way we partner with clients to deliver the very best results," says Andy. "Our technical platforms are built based on my experience as a former Reuters foreign correspondent and editor, and speed and accuracy are essential. We are continuing to innovate and invest in our services to help clients grow faster."
Google was represented by Roxanne Brownley who works with Google's high-performance clients on their growth ambitions discussed how to future proof your business in a changing landscape. She also stressed the importance of getting the Brilliant Basics right to stay ahead of the competition. The event was introduced by event compere Rachel Murray from Fountain.
For more information about how the Yomdel can benefit your organisation, contact our team on 01403 616 000 or email info@yomdel.com
NOTES TO EDITORS:
Yomdel is based in Billingshurst, West Sussex. It was the first company in the UK to offer intelligent 24/7 managed live chat operator services. The service is used by over 2,000 UK estate agents, including Fine & Country, Chestertons and Belvoir, as well as many businesses in other sectors spanning finance, legal, automotive, construction, events and many more. Yomdel services can be used on any website for online sales, lead generation or customer service and support.
Fountain Partnership
Fountain Partnership is a globally recognised digital marketing agency with offices in London and Norwich. The Partnership founded almost nine years ago has developed a unique, numbers-based methodology which takes the risk out of digital marketing for its clients. This approach led to Fountain winning the Google Premier Partner Award for Best Search Performance last year, beating thousands of marketing agencies from across Europe, the Middle East and Africa.
Contacts:
Andy Soloman, Yomdel Founder & CEO, is available for interviews on +44 (0)7928 542917 or andy.soloman@yomdel.com
Dan Bell
Marketing & Events Manager at Fountain Partnership
E: dan.bell@fountainpartnership.co.uk
T: 020 3325 6681 M: 07843 692738

Ambrose Harcourt
Yomdel PR
ambrose.harcourt@yomdel.com
Tel: 01403 616000

For more on how Yomdel helps businesses grow and generates leads please visit https://yomdel.com or call on 01403 616000
Related links:
www.yomdel.com
https://www.facebook.com/Yomdel/
www.twitter.com/yomdel
Posted in: Automotive,Business,Real Estate,Technology,World
Cummins Selects Agility Warehouse Park in Ghana for Regional DC
Cummins Selects Agility Warehouse Park in Ghana for Regional DC Agility facility to stock parts for Cummins regional operations in West Africa ACCRA, Ghana – May 22, 2018 – Agility, a leading global logistics provider, has leased warehouse space in the Agility Warehouse Park in Ghana to Cummins for a new West African Distribution Center.
Cummins, one of the world's leading manufacturers of diesel engines, generators, filtration and associated engine components, will use the facility to stock and distribute a range of over 10,000 spare parts for Cummins operations across West Africa.
Cummins joins other multinationals and small and medium-sized Ghanaian companies that have chosen the Agility Warehouse Park at Tema because its secure, convenient location provides international standard warehousing and services for their West African operations.
Location was a significant factor in Cummins' selection. The Agility park is eight kilometers from Ghana's main seaport and is adjacent to the Aflao highway connecting Ghana to Ivory Coast, Togo, Benin, and Nigeria.
Felix Bani, Cummins Operations Manager – Central Supply Chain Operations (CSCO), said: "Product distribution can be fast-tracked, either by road, sea or air. By choosing the Agility Warehouse Park, Cummins has addressed one of the biggest constraints to companies doing business in West Africa – the lack of quality infrastructure."
Bani said Cummins was also attracted to the facility because it meets international environmental standards and features eco-friendly construction materials. Agility used energy efficient roof and side insulated panels; wind-driven roof fans; skylights for natural lighting; LED and energy-saving bulbs; and solar-powered streetlights. The site will recycle paper, plastic, metal, and carton waste. It provides eco-friendly waste management services and carbon footprint reporting.
The Agility Warehouse Park in Ghana is part of a network of international standard warehouse parks that Agility is funding and developing across key markets in Africa to support the development of domestic and regional trade.
Geoffrey White, CEO Agility Africa, said, "We believe that the provision of international standard warehouses in Africa for storage, distribution and light manufacturing is one of the fundamental building blocks necessary for economic growth. The Agility Warehouse Parks enable companies, whether multinationals such as Cummins, or small and medium enterprises, to access quality infrastructure easily, quickly and cost effectively."
About Agility
Agility is one of the world's leading providers of integrated logistics. It is a publicly traded company with more than .6 billion in revenue and more than 22,000 employees in over 500 offices across 100 countries. Agility Global Integrated Logistics (GIL) provides supply chain solutions to meet traditional and complex customer needs. GIL offers air, ocean and road freight forwarding, warehousing, distribution, and specialized services in project logistics, fairs and events, and chemicals. Agility's Infrastructure group of companies manages industrial real estate and offers logistics-related services, including customs digitization, waste management and recycling, aviation and ground-handling services, support to governments and ministries of defense, remote infrastructure and life support.
For more information about Agility, visit us @ www.agility.com
Twitter: twitter.com/agility & twitter.com/agilityafrica
LinkedIn: linkedin.com/company/agility & linkedin.com/company/agilityafrica
YouTube: youtube.com/user/agilitycorp
About Cummins Inc.
Cummins Inc., a global power leader, is a corporation of complementary business segments that design, manufacture, distribute and service a broad portfolio of power solutions. The company's products range from diesel and natural gas engines to hybrid and electric platforms, as well as related technologies, including battery systems, fuel systems, controls, air handling, filtration, emission solutions and electrical power generation systems. Headquartered in Columbus, Indiana (U.S.A.), since its founding in 1919, Cummins currently employs approximately 58,600 people committed to powering a more prosperous world. Cummins serves customers in about 190 countries and territories through a network of some 500 company-owned and independent distributor locations and approximately 7,500 dealer locations. Cummins earned billion on sales of .4 billion in 2017. Press releases can be found on the Web at www.cummins.com.
Follow Cummins on Twitter at www.twitter.com/cummins and on YouTube at www.youtube.com/cumminsinc.
Posted in: Business,Manufacturing & Industry,Real Estate,Retail,Technology
UK Cards and Payments Market Share and Growth Forecast to 2022
MarketDataForecast's 'UK Cards and Payments Market' report provides the insight into various payment cards market trends and growth opportunities in the UK along with the complete information about different types cards in the market. It also offers an epitomized assessment about the competitors in the market, influential marketing strategies, customer purchase patterns, adopted payment methods in the e-commerce industry and significant government regulations associated with the UK cards and payments market. Our report unfolds many existing opportunities with reliable information about the different types of cash transactions, volumes of cardholders, market share, current accounts, growth in the number of cards, credit cards outstanding balances, transactional values, details of the issuers along with available banking schemes and futuristic analysis of overall cards and payment market in the UK.
Mobile payments inhibit the cards and payments industry in the UK
The banking industry in the United Kingdom is undergoing a rapid shift from regular branch services to digital services in the recent times. According to British Banker's Association, the mobile payments accounted around 340 million in 2015, which is a 55% increase compared to 120 million in 2014. Likewise, the internet payments have witnessed tremendous growth in the same year.
Debit cards dominate the payment card market in the UK
The number of debit cards is estimated to cross 104 million by 2021 from the current value close to 100 million. Many basic bank accounts were opened in the previous years with the aid of prominent banks like Barclays, Lloyds Banking Group, Nationwide, Royal Bank of Scotland, Clydesdale and Yorkshire Bank, Co-operative Bank, HSBC, TSB, and Santander, offering a free charge accounts.
Prepaid Cards Market is growing steadily
The UK prepaid market is growing steadily and estimated to cross GBP 40 billion by 2020 with a compound annual growth rate more than 5%. The main factors driving the market are the incorporation of these cards by both the government and corporate organizations.
Gift card market is predicted to grow rapidly by 2020 as they are used in many business organizations to reward their employees. The UK government also encourages the use of prepaid cards to distribute pensions, child benefits, job seekers' allowances and so on.
Visa and MasterCard focus on contactless technology in the UK
Card providers like Visa and MasterCard are also concentrating more on the technology of contactless card payments. Visa, however, is also extending this technology to the mobile devices and wearables. On the other hand, MasterCard is completely focusing on the contactless debit cards to enhance its market presence. Retailers in the UK are gradually shifting to contactless POS terminals. According to the United Kingdom Cards Association, as of February 2017, there were more than 478,000 bank-owned contactless POS terminals in the market. The growth rate was comparatively higher than the earlier year by around 44% and predicted to occupy entire POS terminals market in the UK by 2020.
Moreover, the investments in the card setup and the increasing adoption of contactless payments are expected to propel the card payments market in the US amid tough competition. Some of the dominating companies in the market: Lloyds Bank, HSBC, Royal Bank of Scotland, Halifax, Ulster Bank, Barclays, First Direct, Santander UK, Bank of Scotland, M & S Bank
The Scope of the Report:
• The functioning of the UK cards and payments market and complete analysis of the market drivers
• It provides conventional and contemporary information about payment cards of the UK and market predictions till 2022
• It details the emerging payment solutions and their economic, regional and business impact on the cards and payments industry of UK
• Detailed information about existing market leaders, their strategies and government policies driving the payment cards market
Key Questions Answered by the Report:
• What is the adoption rate of UK Cards and Payments market and different types of cards in circulation?
• Who are the leading card issuers, scheme providers, and third-party providers influencing the US payment cards market?
• What are the growth opportunities provided by the alternative payment options in the UK market?
• How are the emerging technologies and new product launches affecting the local cards and payments market of the country?
Reasons to Purchase the Report:
• Enhance the decision-making with the comprehensive information about trends, conventional statistics, and forecast for next five years
• Understand the competitive landscape in the UK cards and payments industry and their marketing strategies
• Unfold hidden growth opportunities with the use of data about emerging transitions in the market and customer transactional behaviors
• Broaden the insight about regulatory policies and frameworks that impact UK cards and payments market
Inquire before buying @ https://www.marketdataforecast.com/market-reports/UK-Cards-and-Payments-Market-6847/inquire
About Market Data Forecast:
Market Data Forecast is a firm working in the areas of market research, business intelligence and consulting. We have rich experience in research and consulting for various business domains to cater to the needs of both individual and corporate clients. A few key business areas that we handle with excellence include business process improvement, corporate financing and decision making based on market research, assisting in developing appropriate strategy and providing consultancy based on extensive research.
Contact Us:
Abhishek Shukla
Sales Manager Market
Data Forecast Direct Line: +1-888-702-9626
Mobile: +91 998 555 0206
Mail: abhishek@marketdataforecast.com
Posted in: Europe,Finance,Finance Market,Technology,Telecom
METRUMCOIN - THE NEW WAY TO DO REAL ESTATE.
Real Estate Blockchain Platform METRUMCOIN Announces Pre-sale
METRUMCOIN — is a new generation digital Real Estate market platform that unites B2B, C2C and B2C into a single worldwide net designed for simplicity of use.
About the platform
METRUMCOIN — a multifunctioning, multilevel platform based on the Blockchain technology with the use of iDeals (the next generation of smart contracts). The platform is capable of bringing any participants' business processes to life. The main purpose of the platform is to remove geographical, bureaucratic and transactional barriers, while uniting all participants within a single digital space for the international RE market. It substantially simplifies the activities of buyers, brokers, investors, developers, construction companies, and all those who consider the RE business their lifestyle. We are making the market available in just a few clicks. Transparency, speed and safety are in METRUMCOIN's DNA.
About the project
The idea of METRUMCOIN project belongs to Mr. Telman Abbasov, a specialist with more than 25 years of real estate experience, and the President of the World Council of Developers and Investors FIABCI 2015-2017. The project was presented to the public at significant industry events such as "MIPIM-2017" in Cannes and "BlokTex-2017" in Kuala Lumpur. It has sparked great interest among RE specialists, as well experts from the IT industry. A team of highly qualified RE specialists determines company strategy. In addition, leading international experts assist METRUMCOIN. In 2017, we obtained a patent, which protects our methodology for attracting investments in real estate objects with the help of crypto-instruments.
Why to participate?
Real Estate allows quick and safe capital investment. Unlike other assets, RE assets do not devalue. We are offering unprecedented opportunities for conducting business both online and offline. Never before has conducting deals and transactions in the RE market been so easy! But that's not all. Early participants of the project are guaranteed a 20% discount for purchase of METRUMS token.
Every single investment you make is your personal contribution towards the evolution of the RE market in the 21st century, as well as contributing to the project that will forever change the way business is conducted.
For further information about our project and technical details of the platform we recommend looking at the Roadmap and White paper.
Join METRUMCOIN's pre-sale, and become the key to global RE market transformation
Posted in: Building & Construction,Finance,Professional Services,Real Estate,Technology