Ultimate Call Blocker - The Next Generation of Call Blocking Just Arrived!
Protecting your landline is a real necessity nowadays. According to the Federal Trade Commission's (www.ftc.gov) published stats, there has been a 650% increase in consumer complaints in the last 6 years. In 2016, 8.4 million complaints were filed by consumers. This means that at least six per cent (6%) of the households in the US or 1 in 20 households are victims of some scam every year in the United States alone. This is why it is important to protect your phone line (at home or business) with a call blocking device. The Ultimate Call blocker (UBlocker) is a new product/service that contains several unique features among the other call blockers in the market: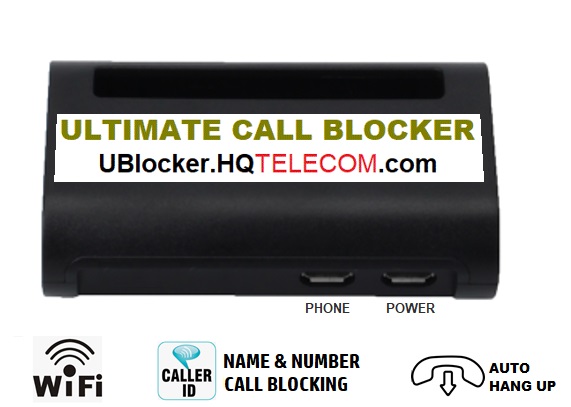 Dual Blacklists - The UBlocker features 2 blacklists; a global blacklist and a user blacklist. The global blacklist is fully automated (e.g. calls from these numbers are automatically blocked without having to answer calls or press any buttons), and actively managed by HQTelecom (currently with 162,000 blocked numbers worldwide). The user's Blacklist has an UNLIMITED capacity to block calls using phone numbers, names, or area codes via a user-friendly website. Another new feature is the WHITELIST MODE – When turned ON, it blocks all calls except those in your WHITELIST. The Whitelist-Mode feature can offer users complete privacy.
"We receive several requests daily from homeowners (mostly the elderly) seeking for a way to stop the annoying phone calls they receive constantly," says Alfredo Purrinos, former NASA scientist and creator of the UBlocker. "Some complain about getting robbed by scam artists impersonating government agencies and/or relatives in distress", even though they registered their phone numbers with the government-sponsored "Do Not Call' list".
Illegal telemarketing operations and scam artists (which represent more than 90% of the calls people get) use automated dialling services (e.g.robocalls) to detect humans. These services use several phone numbers, including a common something referred as 'neighborhood spoofing' which consist in using the same area code and prefix of the numbers being called. This is why it's important to have fought back with an intelligent and capable call blocking system that helps reduce the number of these calls. The key difference among the UBlocker and other call blockers in the market is the ability to help consumers in a proactive way. With the UBlocker, there is little or no need for detective work since most of the unsolicited calls will be blocked BEFORE the users answer the calls.
The Ultimate Call Blocker is manufactured in the US by Hi Q Telecom Inc. (https://www.hqtelecom.com/), and can also be available in online stores such as Amazon, and soon in eBay, Walmart, and NewEgg.The UBlocker requires the caller id service to be active on the phone line in order to work properly. It also uses the Internet to check the global blacklist in real-time and block numbers automatically.
About the Company:
Hi Q Telecom Inc. (HQTelecom.com) is a BBB A+ rated corporation specializing in telephone security and speciality products. Our main office is located in Miami Lakes, Florida. For more information about incoming call blocker devices or the company visit hqtelecom.com or contact us.
Posted in: Business,Media & Communications,Technology,Telecom
InnerVoice Receives AI for Accessibility Grant from Microsoft
InnerVoice has been awarded an AI for Accessibility grant from Microsoft to help further our efforts in improving the quality of life for people who struggle with communication challenges by utilizing the familiar technology of mobile devices in combination with power of artificial intelligence (AI).
This new grant will provide InnerVoice with powerful tools, such as, Cognitive Services, Vision, Speech, Language, Knowledge and Machine Learning to create unique features to accelerate our work on providing a complete communication system for people with autism, and most anyone else. InnerVoice will use AI for Accessibility grant to implement powerful technology that will alleviate three major struggles for anyone who relies on augmentative communication software; increase fluency of computer generated speech, support cognition and stimulate expressive spoken language.
"InnerVoice started as a futuristic far-fetched idea that Lois and I had a few years back. This AI for Accessibility grant will give us wings to ensure effective communication for all, worldwide." Matthew Guggemos, speech pathologist, co-creator of InnerVoice
AI for Accessibility is Microsoft's million 5-year program aimed at harnessing the power of AI to amplify human capability for the more than one billion people around the world with disabilities. It's a call to action for developers, NGO's, academics, researchers and inventors to accelerate their work for people with disabilities, focusing on three challenges: Employment, Daily Life and Communication and Connection. Through grants, technology, and AI expertise, the program aims to accelerate the development of accessible and intelligent AI solutions and build on recent advancements in Microsoft Cognitive Services to help developers create intelligent apps that can see, hear, speak, understand and interpret people's needs.
Please visit the AI for Accessibility website and InnerVoice for more information.
Posted in: Technology
Award-Winning Software/App Closing Commander™ Now Compatible With All Major Email Providers
HarkinsHill, LLC., the developer behind the automated sales closing app/system, Closing Commander™, has expanded the app's email compatibility to include Gsuite, Gmail, Outlook, Yahoo, and other major email providers. That's good news for service business owners and their teams, who rely on, not just a new system's effectiveness and time-saving abilities, but also its ability to seamlessly fit with their current business systems.
The app/system is designed to save service business owners and their teams time and effort by automatically sending follow-up emails to customers once an initial bid, quote, or estimate is provided. The app relies on tested timing and the marketing Rule of Seven to ensure effectiveness, although timing between emails and email body content can be customized to fit the company's needs and brand. Some companies using the app have seen six-figure revenue increases within just a few short months.
Caleb Martinez, a contractor in the Chicago area describes his experience using the app/system, "Closing Commander has been an excellent tool for our company. It's a big time-saver, and customers appreciate the communication. We are winning a lot of jobs after three or four emails have been sent, and the stats in the app definitely prove its value every month."
Closing Commander won the "Best New Product Innovation Award" from The Pete Luter Foundation in 2018 and the "Top Four Innovation Showcase Award" at this year's Service World Expo in Las Vegas. Business owners interested in learning more about the app, scheduling a demo, or signing up for a free trial are encouraged to visit closingcommander.com.
HarkinsHill,LLC is the parent company of Closing Commander and Spark Marketer, a Nashville-based digital marketing company that primarily serves blue collar businesses. While the Closing Commander app certainly has uses in other industries, the company's passion and mission remains to strengthen blue collar businesses around the globe.
Posted in: Computers & Software,Professional Services,Services,Technology
Remcom Announces 5G Antenna Array Design Features In XFdtd Electromagnetic Simulation Software
Remcom announces 5G antenna array design features in the latest release of XFdtd® 3D EM Simulation Software, including workflow enhancements for modeling complex devices at millimeter wave frequencies.
The advanced antenna systems in modern devices leverage beam steering and multiple data stream transmission to meet 5G throughput requirements. XFdtd provides performance metrics for 5G beam steering applications by simulating the radiation pattern for different array or subarray phasing conditions that are used to steer a beam. By considering the optimal gain levels of the various beam steering scenarios, XFdtd plots the cumulative distribution function (CDF) of the effective isotropic radiated power (EIRP) of the array as a whole. The EIRP is an important indicator of the array's quality of coverage and is particularly valuable for analyzing 5G-capable devices that support multi-user MIMO (MU-MIMO) use cases.
Rodney Korte, product manager for XFdtd, said, "The CDF of EIRP metric is growing in importance as carriers require devices to meet strict quality thresholds. Our customers designing mobile devices need to measure the gain of many signals propagating in different directions, and Remcom is at the forefront of this emerging technology. The new CDF of EIRP plot is a way to help design engineers prepare their devices for the challenging demands of 5G networks."
The matching network design workflow has also been enhanced via XFdtd's integration with Optenni Lab™ matching circuit optimization software. Optenni's optimized matching topology data can now be imported directly into XFdtd, providing users with immediate feedback on how the circuit will behave and eliminating the need to run another simulation. Results such as S-parameters, efficiency, and dissipated power are readily available for analysis of system performance, greatly simplifying the matching process for intricate devices with many frequency bands.
The release also introduces modeling options that improve simulation accuracy for the higher frequencies typical of the antennas in modern devices, including a new feed specifically designed for exciting microstrips, surface current measurement, and a user-defined input for surface roughness of conductors.
For more information on the latest release of XFdtd, please visit Remcom's website. XFdtd users without an active Remcom Professional Support contract can upgrade to the latest version by contacting sales.
About Remcom: Remcom provides innovative electromagnetic simulation and wireless propagation software for users in the commercial wireless industry and government sectors. Remcom's products are designed to work together to provide complete and accurate results when modeling propagation with real-world devices in real-world scenarios. Remcom is committed to its customers' unique needs, offering flexible licensing options for installations of all sizes as well as custom engineered solutions.
Posted in: Computers & Software,Technology
Ascert Releases Visa-Confirmed Driver
For companies that want to do pre-certification testing for Visa transactions, Ascert has released the latest version of its Visa Test Driver.
The VersaTest Visa Driver is now listed by Visa as a validated ADVT Online Host simulator and has been tested to ensure that it conforms to the most recent set of Visa specifications. This can be an extreme time saver in pre-certification or ongoing system testing.
"We are very pleased that Visa has officially confirmed the capabilities of our latest Visa driver," said Mike Wainwright, Business Development Director, Ascert UK. "This provides additional certainty for our customers when simulating and testing Visa transactions that their systems are operating accurately."
Companies using the Visa Driver have their choice of an on-premise solution, or a subscription to the popular cloud-based testing system, Ascertified (http://www.Ascertified.com). A growing number of companies have created a hybrid of both test options, thereby increasing flexibility for both internal users and external partners.
Ascert's VersaTest family of testing and certification products?can assist any organization looking to add increased value to their operations. All of Ascert's test drivers work with industry standard tools such as Jenkins, Quality Center, Docker and others. To find out more about Ascert products and standard test interfaces visit the Ascert web site or contact a local Ascert office.
About Ascert:?
Ascert is recognized as a leading provider of premier testing software solutions. Ascert was founded in 1992 to provide automated software testing solutions that help companies measure the performance, reliability and scalability of their mission-critical back-end servers and applications. With over 100 clients worldwide, Ascert's products and services are used at some of the world's most successful companies.
Off-the-shelf simulators for Ascert's VersaTest product include solutions for EFT testing, POS testing, stress testing, ATM testing, Fraud testing, IFX testing, EMV/chip card testing, ISO8583 testing and 3270 & 6530 terminal testing. Ascert's custom simulators have been used for testing air traffic control systems and biometric payment systems. Ascert delivers flexible solutions that are either customer site installed or accessed via Ascert's Remote Testing Services. Ascert's products assist testing professionals across industry segments to better manage their testing processes and environments through an end-to-end tool set.
Posted in: Business,Finance Market,Services,Technology
SameDay Security Created Virtual Caregiver Enters Clinical Trials With G60 Trauma
Virtual Caregiving is set to enter both the healthcare industry and patient home settings. In January 2019, G60 Trauma (G60Trauma.org) will begin testing Addison Care, the world's first, comprehensive virtual caregiving system to provide real time, 24/7 patient monitoring and care.
Addison Care provides exciting new components to an interactive voice platform to demonstrate an interactive, augmented reality feature tied to visual sensing and connected home devices. Now, not only can you have a two-way conversation with an Electronic Caregiver, but the technology comes alive with an expertly designed augmented reality character named Addison, developed on AWS Sumerian. Addison provides a breakthrough user interface.
What can Addison do? In a clinical setting, Addison can greet a patient, recognized through facial recognition, conduct a verbal health examination, collect vitals, and even direct a comprehensive gait and balance session to determine the probability of a ground level fall in a particular patient. In the residential environment, Addison provides medication reminders, verifies medication consumption, provides medical test reminders, monitors vitals, demonstrates rehabilitation exercises, assesses a patient's progress, mood, fall risk and responses to escalating conditions and emergencies including contacting responders or caregivers in time of patient need.
How does Addison work? A network of wireless visual sensors, local AI (artificial intelligence)-based processors, interactive tablets, Bluetooth biometric devices and emergency monitoring devices will be setup in a residence. Addison Care will be marketed and supported by a network of nationwide private duty home care providers that will serve as both live caregivers and Addison Care representatives. CEO of SDS, Anthony Dohrmann said, "Our goal is to expand affordable population health care to the masses, while lightening the burden on providers and payers. We are delivering an exciting new form of technology to patients and the active aging to improve their quality of life and health outcomes." Addison will be making its debut at the Las Vegas Consumer Electronics Show January 8-11, 2019, Booth: Sands Convention Center Halls A-D – 42142.
Why partner with G60 Trauma Organization? Dr. Alicia Mangram, founder of G60 Trauma in Phoenix, Arizona, is a surgeon and acclaimed trauma specialist who has devoted her career to improving trauma care through advocacy, surgical and critical care research, education and community services. G60 Trauma is a specialized care program designed for trauma patients over the age of 60, with the goal of optimizing their recovery and safely discharging them back to their homes. This partnership will allow us to study hundreds of patients who have had a ground level fall and provide us with the data and information we need to continue producing products and services geared toward prevention and superior outcomes.
With an expert research team of professionals behind hundreds of successful research publications and processes, G60 Trauma team will be conducting an expansive study involving over 500 patients to document the effectiveness of Addison Care and Electronic Caregiver on improving patient outcomes, increasing patient and family satisfaction, reducing hospital readmission and reducing mortalities. Also, improving treatment adherence with the hope of validating a more effective, outcome based, continuum of care capable of reducing the long-term pressures and costs associated with long-term care and chronic disease management.
"The costs of treatment non-adherence have been reported to be as high as 0B annually and is noted as being responsible for 50% of all treatment failures. In a period of nursing and physician shortages, where home care is inadequate in frequency partly due to high cost, our hope is that Addison Care and Electronic Caregiver can fill the gap in patient care and bring better outcomes to the masses," Dr. Alicia Mangram stated.
About SameDay Security, Inc. and Electronic Caregiver
SameDay Security (SDS) is one of the fastest growing monitored technology providers in the U.S. and one of only a handful of nationwide service providers. Known as the Electronic Caregiver CompanyTM and founded in 2009, SDS currently provides automated home care solutions and safety devices nationwide to thousands of clients. SDS has invested over ,000,000 in patient screenings, research and development. SDS will disclose a new capital offering after CES to fuel new product launches and expansion. SDS has developing contracts with hundreds of home care partners across America who will participate in Addison Care marketing to their clients. New clinical trials are scheduled with G60 Trauma of Phoenix, Arizona, involving 500 patients over 3 years to determine the impact on patient outcomes, cost reduction, lower hospitalization, chronic disease management and long-term care. Electronic Caregiver employs over 70 employees and is headquartered in Las Cruces, New Mexico. http://www.electroniccaregiver.com
About G60Trauma.org
G60 is a specialized trauma care program developed by Dr. Alicia Mangram. Since 2009, Dr. Mangram has devoted her career to improving trauma care through advocacy, surgical and critical care research, education and community services. In the beginning of her career, she quickly realized that a traumatic injury in patients 60 years and older could occur from a simple fall resulting in a hip fracture. The traditional approach was to admit them to a medical facility and await medical clearance for pre-existing conditions such as diabetes, heart disease, etc. prior to any surgery.
While patients waited for medical clearance, other medical related complications could develop. Recognizing the cause of these complications lead to a paradigm shift and implementing an aggressive care approach for our G60 population. Through evidence-based research, Dr. Mangram and her team developed a care plan to address the needs of G60 trauma patients. These care plans achieved several goals, such as: Expedited early identification in the ER, admission to trauma service, alternative pain management modalities, for example, hip block, multidisciplinary care rounds with integration of the Biopsychosocial Model, evaluation of care approach through research and data analysis, achievement of optimal level of functioning and independence upon discharge.
Posted in: Health & Medicine,Technology
A2 Hosting Announces Proprietary Plugin Compatible with WordPress 5
A2 Hosting, a committed provider of high-performance shared hosting, WordPress Hosting, and more, today announced that its A2 Optimized Plugin will be compatible with WordPress 5.
WordPress 5 first entered beta in October, and is slated for a full release in the very near future, WordPress 5 features a complete redesign and reimagining of the WordPress Editor. The update also includes improvements to the WordPress Rest API, enhancements to the custom theme and page building experience, and an overall more intuitive experience.
With an eye on simplicity, A2 Hosting provides a hosting environment that meets WordPress requirements by default. In other words, there's no tinkering required on your end to get your site up and running smoothly (and with greater security).
The A2 Optimized plugin is designed to help users easily optimize their WordPress sites for speed, security, and performance. To that end, it's designed to automatically configure W3 Total Cache, optimizing your website with minimal effort on your part. These tools and utilities will assist A2's clients in building the best website possible, allowing them to focus on content and branding rather than optimization.
The plugin is offered free of charge, with additional features available to A2 Hosting customers.
"At A2 Hosting, we always strive to offer the best experience imaginable for our clients," explains Brad Litwin, Marketing Manager at A2 Hosting. "To that end, our shared environmentmeets WordPress's recommended hosting environment by default, and we offer a comprehensive set of Managed WordPress hosting solutions. Our experts are also constantly testing the ideal WordPress configuration, tweaking it to offer the fastest page loads, best performance, and highest security possible."
"Providing webmasters with a seamless upgrade to the most game-changing version of WordPress yet is one more aspect of our commitment to excellence, and one more way our plugin can enhance our clients' WordPress experience," he continues. "Clients are free to enjoy all the versatility WordPress has to offer, without the technical challenges it can present - to focus on building their site, writing content, and promoting their brand while we manage the rest."
A2 Hosting, Inc. is a high-performance hosting company located in Ann Arbor, MI. A2 Hosting provides their customers with ultra-reliable solutions and 24/7/365 US-based support from their Guru Crew team. Since 2003, A2 Hosting has offered innovative, affordable and developer friendly website hosting for personal homepages up to full-service solutions for businesses of all sizes, based in all locations. Each A2 Hosting service is hosted on their fine-tuned SwiftServer Hosting platform. Customers seeking an additional speed boost can host on A2 Hosting's Turbo Servers featuring page load speeds up to 20X faster compared to competing hosts.
To learn more about A2 Hosting, visit https://www.a2hosting.com
About WordPress
WordPress started in 2003 with a single bit of code to enhance the typography of everyday writing and with fewer users than you can count on your fingers and toes. Since then it has grown to be the largest self-hosted blogging tool in the world, used on millions of sites and seen by tens of millions of people every day. WordPress started as just a blogging system, but has evolved to be used as a full content management system and so much more through the use of thousands of plugins, widgets, and themes. WordPress is limited only by your imagination.
To learn more about WordPress, visit https://wordpress.org
Posted in: Computers & Software,Services,Technology
Recosoft Releases ID2Office 2019 – Export InDesign CC Files to Word, PowerPoint & Keynote Formats
ID2Office 2019 adds support for Adobe InDesign CC 2019, the latest release of InDesign CC for macOS and Windows. Additionally, ID2Office 2019 recognizes the split/span property, resulting in enhanced layout preservation. Finally, ID2Office 2019 now allows converting images to JPEG type, significantly reducing the file size of image-centric documents.
ID2Office converts InDesign files to editable Microsoft Word, PowerPoint and Apple Keynoteformats; converting the text, associated styles, paragraph structure, corresponding property information, frames linking, tables, graphics and other objects while matching and maintaining the layout fidelity, resulting in enhanced workflow automation for Creative Professionals.
Key New Features
Support for InDesign Creative Cloud 2019
ID2Office 2019 now supports and integrates with InDesign CC 2019. InDesign CC through CC 2018 are supported as well.
You can now specify JPEG as the image type and specify the compression quality of the JPEG images; resulting in smaller file sizes.
Split/Span property recognition
ID2Office 2019 includes layout enhancements where span/split column property are recognized, and the layout is preserved as accurately as possible when converting to any of the supported formats.
Additional InDesign property support
Tab markers are now processed and replicated accurately. Additionally, grouped objects with text/tables are now editable in the resulting Word, PowerPoint and Keynote file.
ID2Office 2019 is available immediately in the following configurations from the Recosoft web store (per license):
ID2Office Standard 2019 Annual subscription (macOS/Windows) US9.00
ID2Office Professional 2019 Annual subscription (macOS only) US9.00
System Requirements
Mac OS: macOS 10.10.x or higher
Hardware: Intel based Mac
Application: InDesign CC, CC 2014, CC 2015, CC 2017, CC 2018 or CC 2019
Windows: Windows 7, Windows 8 or Windows 10
Hardware: Minimum Pentium III computer
Application: InDesign CC, CC 2014, CC 2015, CC 2017, CC 2018 or CC 2019
Recosoft Corporation has pioneered PDF2Office®, the de-facto PDF-to-Excel, PDF-to-Word, PDF-to-PowerPoint, PDF-to-OmniGraffle conversion utility; PDF2Office® for iWork, the PDF-to-Keynote, PDF-to-Numbers and PDF-to-Pages conversion application; IR2Office, the only Adobe Illustrator to PowerPoint and Apple Keynote tool; ID2Office, the InDesign-to-Word, InDesign-to-PowerPoint converter; and PDF2ID® the de-facto PDF-to-InDesign conversion tool. The company is a leader in designing and delivering PDF converters, InDesign and Illustrator software solutions enhancing workflow automation and productivity. For more information on Recosoft PDF converters and InDesign or Illustrator related solutions, visit http://www.recosoft.com
IR2Office, ID2Office, PDF2Office, PDF2ID, PDFtoID are trademarks or registered trademarks of Recosoft Corporation in the US and/or other countries. Microsoft, Excel, PowerPoint, Word and the Office logo are trademarks or registered trademarks of Microsoft Corporation in the US and/or other countries. Adobe, InDesign, Illustrator and Creative Cloud are either registered trademarks or trademarks of Adobe System Incorporated in the US and/or other countries. Apple, Macintosh, macOS, Mac, Numbers, Keynote, Pages, iWork, iPod, iPhone, iOS, iPAD are either trademarks or registered trademarks of Apple, Inc. in the US and or other countries. All other trademarks are recognized and are the property of their respective owners.
Posted in: Computers & Software,Technology
American IRA Discusses How to Avoid Getting a Self-Directed IRA Disqualified by the IRS
A Self-Directed IRA can be a powerful tax tool—provided that it is approved by the IRS. But failure to comply with certain IRS rules can result in a Self-Directed IRA becoming disqualified, which in turn can trigger a series of "bad things" under IRC Section 4975, according to a recent post at the American IRA blog.
One of the most important things for investors to watch for, according to the post, is a prohibited transaction. In IRC Section 4975, a 15 percent tax can be levied on the amount involved in the prohibited transaction—on the prohibited person involved with this transaction. For instance, if someone were to sell a house from the Self-Directed IRA directly to a family member's IRA, that family member would then see a potential tax bill of 15% of the transaction. That's because certain family members would be "disqualified persons" related to an investor's IRA.
Additionally, the IRS would then levy a 15% tax on the transaction on the selling party—which in this case would be the original selling Self-Directed IRA.
These penalties are heavy, but they are not the only penalties that those with a disqualified Self-Directed IRA could see as a result of doing bad business. That is why the article highlighted how important it is for investors to maintain best practices with their Self-Directed IRAs.
"People understand that a Self-Directed IRA gives them a lot of freedom," said Jim Hitt, CEO of American IRA. "But that is not all it gives them. It also gives them a wide range of responsibilities. Self-Directed IRA administration firms like American IRA can help in making sure that people understand the paperwork involved. But we do not hold the power capable of stopping people from making bad decisions. That is why it is so important that investors understand what goes into a valid transaction under a Self-Directed IRA."
For more information on keeping a Self-Directed IRA in good standing with the IRS, interested parties may visit American IRA at http://www.AmericanIRA.com or call 866-7500-IRA.
Posted in: Services,Technology
Gingkoo Shares Its Vision to Empower Economy by Using Blockchain at the UN GA
(Oct 30, 2018 New York) Gingkoo Technology of Shanghai presented its vision on being a leading blockchain company in China during the Cryptocurrencies & Blockchains Forum at the 73th UN General Assembly. Gingkoo's founder and CEO William Zuo gave a speech on how blockchain has been applied to the economy at the global conference in New York.
Gingkoo founder William Zuo speaks at UN
Representing Georgia, France and Germany, the Leading Group on Innovative Financing for Development invited experts from government and private sectors to provide insight into blockchain technologies and the potential impact on development. Blockchain technologies are critical to finance the 2030 Agenda and the Sustainable Development Goals.
Gingkoo's founder, William Zuo shared his vision on blockchain with government officials, experts and entrepreneurs. He pointed out that blockchain technology should serve society from five tiers of the economy: government, financial institutions, large corporations, small and medium size enterprise (SME) and individuals.
Zuo says, "Blockchain should have two core values: one is the trust machine, with trust by coding and programming. The other is to build the next generation value internet."
Gingkoo, the Shanghai based fintech company has successfully applied blockchain technology to serve government and financial institutions clients worldwide.
In Guangzhou, Gingkoo has guided local government in adopting a blockchain solution to improve government affairs and transparency, which has been awarded as the top 10 Blockchain Application by China Ministry of Information and Industry. They also created a garbage classification solution by using blockchain+IOT technology for the local governments. The company deployed a food traceability project from northern china to address the problem of food safety concerns in China.
In the financial services arena, Gingkoo's cases include payment and tax solutions, supply chain finance and Regtech solutions. Gingkoo's clients include major commercial and central banks such as HSBC, Citibank, Morgan Stanley, Deutsche Bank and UBS etc.
As the biggest solution provider for CIPS, China cross border payment system of China central bank, Gingkoo has been a key player to support the country's one Belt one Road Initiatives and to develop blockchain-enabled cross-border, cross-currency and cross-asset payments and logistics solutions, which could revolutionize the supply chain finance sector worldwide.
Meanwhile, David Ritter, CEO of Penta and co-founder of Gingkoo, Florie Zheng joined the meeting and shared Penta's work progress on blockchain. Penta, a public chain, is leading the solution of identity issues for the homeless population in US west coast cities. In July 2018, Penta was the first blockchain crypto startup to complete acquisition of shares of AXS listed Australian IOT tech Company, CCP Technologies, using Penta's PNT Cryptocurrency.
(L-R) Florie Zheng, David Ritter of Penta at UN
Zuo pointed out the other advantage of blockchain is to resolve the trust issue among SME. Gingkoo has used blockchain technology in Xiamen City to help SME financing and individual credit information sharing. This case was one of the first successful attempts in its field and was shared by Zuo at the Berlin World Bank SME Financing Summit in Nov. 2017.
As Gingkoo aims to be the first blockchain application solution provider in China, Zuo shared his vision on the future of blockchain, "I think blockchain should be green, inclusive and productive. I think everyone in the future will deserve opportunity of the blockchain." His speech has been applauded by hundreds of attendants at the UN event.
On September 4 and 5, Wiliam Zuo gave a speech as an honored guest at the Organization for Economic Co-operation and Development (OECD)'s first ever Blockchain Policy Forum in Paris, which was considered one of the high-level discussions with a range of public officials and private leaders from all over the world.
William Zuo Gingkoo CEO speaks at OECD Blockchain Policy Forum in Paris
OECD Picture
About Gingkoo and Penta
Gingkoo Technology (www.gingkoo.com) is a Shanghai based leading Blockchain technology company established in 2014. It helps build complete blockchain solutions in banking, financing and government. Gingkoo has raised about 23 million dollars or 160 million RMB led by Zhongnan Investment Group (SZ.000961).
As a member of China's Ministry of industry and information and the National Standardization Management Committee, Gingkoo Technology participates in the formulation and compilation of several national standards of blockchain, and several district chain experts have been selected as members of the ISO/TC307 international standard specialist group. Gingkoo is the first company to receive the prestigious Million RMB Award for Blockchain from the Shanghai municipal government, recognizing Gingkoo's outstanding contributions to blockchain development. In explaining their decision for the award, the government cited Gingkoo's credit chain as a groundbreaking project that enables SMEs to gain access to credit.
Penta (www.penta.global) is a joint project of permissionless chain by Gingkoo and an American team. The goal of Penta is to achieve a fast-decentralized infrastructure compared to ETH and EOS. Penta has raised 30 million dollars in private funding, invested by crypto funds including Draper Dragon, Node Capital, Block VC and LD Capital.
Video http://webtv.un.org/search/cryptocurrencies-blockchains-%E2%80%93-a-new-boost-for-sdg-financing/5841823227001/?term=BLOCKCHAIN&lan=english&sort=date
Image courtesy of UN and OECD
Contact
Florie.zheng@Gingkoo.com
Posted in: Business,Finance,Finance Market,Technology,World
Checkit Real-Time Operations Management to boost US Foodservice Business
Santa Fe Springs, CA. October 2018. Checkit, the leading provider of Real-Time Operations Management and Food Safety solutions, today announces the launch of its US operations.
Checkit's technology provides a proven way to address the needs of organizations to ensure that the work of staff is performed consistently, easily and to a high standard. It achieves this by creating intuitive, easy to use mobile applications to replace traditional pen and paper checklists, and by using Internet of Things sensors to replace routine monitoring.
Checkit allows businesses to build solutions rapidly, with no software coding or complex IT projects. It gives managers unprecedented insights out of the box, using operational KPIs and analytics derived from the millions of data points it continually gathers.
Checkit has established a base of clients with global businesses including Compass, Sodexo and the Merlin Group, as well as working with leading UK businesses such as John Lewis Partnership and Center Parcs. With its US operation up and running, its aim will be to bring this experience to food service chains, hotels and contract catering and soft FM, with a focus on helping them to improve
Revenue– by more consistently delivering intended service experience & freeing up time to focus on customers
Productivity – by automating repetitive checks and the streamlining of front-line work & improving management efficiency
Risk – from improved compliance, enforcement and visibility
Checkit USA will operate out of a sales and service base in Santa Fe Springs, California, and will have access to the infrastructure and resources of its corporate parent, Elektron Technology plc, which has a well-established US operation.
According to German Casillas, Vice President of Americas: "We see great potential in the United States market. There is a clear need, with many operations still poorly served by unsuitable or paper-based operational systems. We estimate that US food service market alone has the potential to develop to be worth over billion annually as technology adoption grows."
To find out more get in touch on 1-833-44-CHECK (833-442-4325)
Posted in: Computers & Software,Food & Beverage,Hospitality,Technology,U.S
Mobility innovators select cloudyBoss as technology partner
The mobility sector is undergoing a massive change, with both vehicle manufacturers and mobility tech innovators, taking up the challenge to revolutionise personal and commercial transportation.
In the vehicle-sharing sector, one of the upcoming innovators is a European company, WeGo, which provides a digital marketplace for people to rent out their own vehicle to individuals or organisations that require one on an occasional basis.
At the core of its architecture is a platform that incorporates Blockchain, Big Data and AI and WeGo selected award-winning cloudyBoss as the platform on which to base its innovation.
cloudyBoss NEXT+ platform has Blockchain DLT (Distributed Ledger Technology) and Artificial Intelligence built into its core, making it the only platform in the world currently to provide a code-less DLT solution called SKYE.
"For clients, such as WeGo, who work in a rapidly evolving industry, our ERP-X platform with its built-in blockchain technology allows for fast-track development of highly-scalable solutions," stated cloudyBoss CEO, Lou Schillaci.
CTO, Giovanni Di Noto added, "As WeGo has partners across the insurance and transportation industries, the use of Blockchain is essential to ensure that all information collected and exchanged is at all times secure, valid and immutable."
cloudyBoss is gaining considerable traction across the entire Mobility sector, with interest coming from major vehicle manufacturers, logistics and supply chain businesses who require access to similar technology
WeGo CEO, Marco Filippi stated, "Selecting cloudyBoss as our technical partner means choosing a worldwide acknowledged company, that is recognized for its expertise and the solid background of its management team.
cloudyBoss is the right partner for developing our project as we need innovative and advanced solutions, such as SKYE, which will provide a deep ability to handle disruptive technologies. cloudyBoss is a disruptor itself and visionary and this is the added value that makes it different from its counterparts."
Posted in: Computers & Software,Technology,Transportation & Logistics,U.S,World
KryptoGraphe is proud to be the first Cryptocurrency Portfolio Manager to be GDPR compliant!!
Dallas, TX: KryptoGraphe is pleased to announce that its cryptocurrency portfolio manager is compliant with the GDPR regulations. The EU General Data Protection Regulation (GDPR) is the most comprehensive EU data privacy law in decades. Besides strengthening and standardizing user data privacy across the EU nations, it will require additional obligations for all organizations that handle EU citizens' personal data, regardless of where the organizations themselves are located.
The new regulations are designed to better reflect the interconnected nature of our world regarding consumer's right to privacy, protection of personal data, and business usage of personal data across the European Union.
The team at KryptoGraphe has updated the app to implement the data protection and privacy policies.
An updated Terms of Access and Privacy Policy to ensure transparency.
The personal data of the user is anonymized.
There is a provision to update the personal data
The users are now able to export their personal information.
The personal data will be deleted from the app's records should the user choose to close their account.
In case of a breach of security, all users will be notified within 72 hours.
Download the app for free at:
Our partner and compliance administrator from Hummingwave, Amit Singh says: "KryptoGraphe has been trusted by thousands of its users with their cryptocurrency portfolio information due to its security, privacy, and transparency. Implementing GDPR makes these features so much more visible to users. Recent enhancements let users export their data in a machine-readable format to be used in any other system and to delete their account should they choose to."
KryptoGraphe encourages safe investing and aims to provide a secure platform to track all cryptocurrency investments.
Posted in: Finance,Finance Market,Personal Finance,Technology,U.S
Insuranks looking for big name investors to join and disrupt the insurance market
Insuranks.com, the international startup technology company and marketplace platform is looking forward towards complete disruption of the insurance industry by continuously improving the insurance experience of all sides of the industry. Insuranks is aiming towards creating as many simple, transparent, accessible, fast, reliable, secure and friendly user experiences for insurance consumers, agents, brokers and carriers. It currently has over 70 listed insurance companies and over 12,000 insurance agents on board.
The new Israeli technology startup is allowing consumers (also named Insurankers on the friendly platform) to request and compare quotes and purchase their insurance online with over 230 supported insurance types, manage it and later rank the level of service that they received from their chosen insurers. Insurankers rank anything from customer service and claims experience to emotional intelligence, listening skills, trustworthiness, dedication and more in depth factors that are important to look for in an insurance service provider. Those rankings aggregate in to what is called Insuranks Score, an average ranking of all user rankings submitted for each insurance service deliverer. This ranking is displayed all around the platform for the benefit of the users, so when they get quotes they can find all the information they need about the insurance provider and make a wiser and more educated decision. Or when they simply browse through insuance companies and agents or look for the top 10 insurance companies and agents for over 230 insurance categories that the platform supports. It becomes the insurers reputation all around the platform.
On the other hand, it also provides full information on companies and agents and allows agents and brokers to deliver quotes online through the carriers they work with via the easy to use marketplace platform. The agents insurance marketplace is fast, reliable and user friendly and contains a stream of insurankers that are waiting for agents to give them bids and quotes for their insurance needs. Agents can also manage their sold policies and clients online via desktop, tablets and mobile phones.
With a mission to create maximum remarkable insurance experiences worldwide while making insurance simple and accessible to anyone regardless of levels of income, education or location, Insuranks is now looking for big name investors and sponsors to support their efforts and become the ultimate one-stop shop for all insurance needs while offering consumers, agents and carriers the best insurance experience that they can possibly receive online.
Posted in: Business,Finance,Finance Market,Technology,U.S
Powersolv, Inc. Successfully Meets All the Statutory Demands For its ISO 9001:2015 & 27001:2013 Certifications
Powersolv Inc., the premier Information Technology Services Company and a reputed name in providing technologysolutions to various clients at Federal, State, County level as well as to Quasi Federal, Not-for-profit, and Local Agencies, has announced that they have successfully completed their Surveillance Audit 2 for ISO 9001:2015 & ISO 27001:2013 certifications.
Surveillance Audit is an audit conducted within specific time frames on organizations that have been awarded ISO certificationsto ensure that they continue to maintain the standard and statutory requirements. The audit is conducted every year by an external auditor.
"We are happy to announce that we have successfully completedthe Surveillance Audit 2 for our ISO 9001:2015 & ISO 27001:2013 certifications," says the President and CEO, Rahul Dhawan."These audits are a part of the ongoing periodic review of the quality management system as well as information security management system of theorganization. These audits are conducted to highlight Powersolv's ongoing and unwavering commitment to our clients at various levels to continually provide them with thebest-of-breed solutions and latest technologies"
The successful completion of the Surveillance Audit 2 has allowed Powersolvto proudly claim to bean ISO 9001:2015 and ISO 27001:2013 certified company. It also reflects their high level of commitment to providing the best quality IT services and solutions to their clients. For certifications to be allocated and remain valid, organizations are required to demonstrate their adherence to the stringent quality and security measures, customer service processes, and statutory requirements.
About Powersolv, Inc.:
Established in 1995, Powersolv is a CMMI Level 3 and a Microsoft Gold Partner Certified Information Technology Services provider with its headquarters in the Washington DC Metro region. Powersolv specializes in offeringsoftware development and systems integration, and business process improvementservices to address the growing information technology demands in the public sector.They supply the best breed of technology services with a proven commitment toexcellence delivered with superior customer service.They areone of the leading players in Enterprise Technology, Business Process, Infrastructure,Management& Cloud Services. The company also offers a wide range of other key services underthe IT domain such as Database Management, Legacy Systems Migration, Technical Support, Staff Augmentation, Network Infrastructure, and Enterprises Mobile Solutions.
Posted in: Computers & Software,Professional Services,Services,Technology,U.S
Global Food Processing Equipment Market to Surpass USD 74 Billion in Next Five Years, Says Meticulous Research
The global food processing equipment market will grow at a CAGR of 6.1% from 2017 to 2022 to reach USD 74.019 billion by 2022, according to the latest publication from Meticulous Research®. The global food processing equipment market is driven by the increasing consumer demand for processed food, focus on food safety and safety of workers, growing need to increase productivity, increasing focus of food manufacturers to reduce production cost, and government support to promote food processing sector. In addition, emerging economies such as Latin America, South East Asia, and Africa provides significant opportunity for the manufacturers in the global food processing equipment market. However, high cost of equipment and increasing inclination towards consumption of minimal processed food restrict the growth of this market to some extent.
Key Market Segments to Watch
The global food processing equipment market is mainly segmented by type into meat, poultry, and seafood processing equipment (cutters and grinders; smokers, massagers, and tumblers; mixers; tenderizers; killing and defeathering equipment; slicers; evisceration equipment; cookers, roasters, and grillers; deheading and gutting equipment; filleting equipment; and others), bakery processing equipment (ovens and proofers; dough mixers; moulders and sheeters; dividers and rounders; depositors; and others), beverage processing equipment (brewery equipment; filtration equipment; carbonation equipment; blenders and mixers; and others), dairy processing equipment (pasteurizers; homogenizers; separators; evaporators and drying equipment; membrane filtration equipment; and others), chocolate and confectionary processing equipment (depositors; formers; coating and spraying systems; mixers; coolers; and others), fruit and vegetable processing equipment (juice extractors; peelers, cutters, and pulpers; dryers; evaporators; and others), and other food processing equipment (cereal & grains processing equipment, fat & oil processing equipment, snacks food processing equipment, and others).
Browse in-depth Report on https://www.meticulousresearch.com/product/food-processing-equipment-market-forecast-2022/
Meat, poultry, and seafood processing equipment to dominate the food processing equipment in 2018
The large share of meat, poultry, and seafood processing equipment is mainly attributed to increasing demand of processed meat products due to growing global population, urbanization, and consumer preference for protein-rich food products. However, chocolate and confectionary processing equipment market is expected to witness fastest growth during the forecast period. The rapid growth of this market is attributed to increasing focus of manufacturers on quality products manufacturing, integration of innovative processes, product innovation, building & maintaining strong brand of products, and optimization of traditional processes in this field. Also, once considered luxury products in some developing nations, chocolate and other sweets have become more attainable and attractive as living standards in these countries increase, ultimately driving demand for chocolate and confectionery processing equipment.
Regional Market Growth Trends
Geographically, the global food processing equipment market is segmented into North America (U.S. and Canada), Europe (Germany, France, Italy, U.K., Spain, The Netherlands, and RoE), Asia Pacific (China, India, Japan, Australia, and RoAPAC), Latin America (Brazil, Mexico, Argentina, and RoLATAM), and Middle East & Africa.
Asia-Pacific region is expected to hold the largest share in the global food processing equipment market in 2018, followed by Europe, and North America. The major share of this region is mainly attributed to increasing demand of processed food products in emerging and developing countries including India, China, Indonesia, and Thailand; and increasing investments from major food processors. This region is witnessing tremendous growth for food and beverages industry, primarily due to the increasing urbanization, health awareness, and disposable income; as a result, numerous food and beverage firms in this region are transitioning from manual to mechanical food processing in order to increase output and develop new products, which ultimately drives the food processing equipment market.
Speak to Analyst @ https://www.meticulousresearch.com/speak-to-analyst/?cp_id=3588
Top Companies in the Food Processing Equipment Market
The key players operating in the global food processing equipment market are Bühler AG (Switzerland), Marel HF (Iceland), GEA Group Aktiengesellschaft (Germany), Bucher Industries AG (Switzerland), John Bean Technologies Corporation (U.S.), The Middleby Corp (U.S.), Heat and Control Inc. (U.S.), SPX Flow Inc. (U.S.), Alfa Laval AB (Sweden), Nichimo International Inc. (Japan), Krones AG (Germany), Paul Mueller Company (U.S.), Key Technology Inc. (U.S.), and Tetra Pak International S.A. (Switzerland).
These vendors employed various strategies to expand their product and application offerings, global footprint, and augment their market share. The key strategies followed by most companies in the global food processing equipment market were acquisitions and expansions.
Key questions answered in the report-
Which are the high growth market segments in terms of equipment type and regions/countries?
What is the historical market for food processing equipment across the globe?
What are the market forecasts and estimates from the period 2015-2022?
What are the major drivers, restrains, and opportunities in the global food processing equipment market?
Who are the major players in the global food processing equipment market and what share of the market do they hold?
Who are the major players in various countries and what share of the market do they hold?
What are the competitive landscapes and who are the market leaders by sub-region in the global food processing equipment market?
What are the recent developments in the global food processing equipment market?
What are the different strategies adopted by the major players in the global food processing equipment market?
What are the geographical trends and high growth regions/ countries?
What are the local emerging players in the global food processing equipment market and how do they compete with the global players?
Download Sample Report @ https://www.meticulousresearch.com/download-sample-report/?cp_id=3588
About Meticulous Research®
Meticulous Research® is founded in 2010 and incorporated as Meticulous Market Research Pvt. Ltd. in 2013 as a private limited company under the Companies Act, 1956. Since its incorporation, the company has become the leading provider of premium market intelligence in North America, Europe, Asia-Pacific, Latin America, and Middle East & Africa.
Contact Us:
Meticulous Research®
Email- sales@meticulousresearch.com
Contact Sales- +1-646-781-8004
Connect with us on LinkedIn- https://www.linkedin.com/company/meticulous-research
Connect with us on Twitter- https://twitter.com/MeticulousR123
Posted in: Agriculture & Farming,Business,Food & Beverage,Manufacturing & Industry,Technology
Espire Infolabs to host a breakfast meet for the higher education in Sydney, powered by Sitecore
Sydney, Australia - 7th June 2018 - Espire Infolabs, a global technology services company, has today announced that they will be a hosting a power-packed breakfast meet for the higher education sector. The breakfast session will be hosted in collaboration with their partner, Sitecore, the global leader in customer experience management. It will be held at the Shangri-La Hotel Sydney, Australia on June 22nd, 2018.
The digital enablement breakfast meet will focus on assembling customer experience, digital marketing and technology leaders from the higher education industry to discuss a clear digital strategy that education houses need to implement to provide seamless experiences to students. The morning session will look at starting a conversation on other key aspects like the student engagement strategy, holistic view into student journey powering student, research and community along with maintaining a credible university reputation and much more.
Espire, as a Sitecore solution partner, will be drawing on their industry experience to discuss latest trends and best practices on delivering highly personalised and contextual digital experiences that are essential for education houses to build a strong competitive edge with Sitecore's experience platform. This will include engaging presentations and insightful sessions by Matt Scolari, Digital Strategist, Technologist and Consultant and Ex Chief Digital Officer & Director - IT Solution Delivery, The University of New South Wales (UNSW), Rebecca Mangan, Digital Experience Specialist at Sitecore, and Ram Bali, Regional Head, Espire Infolabs, Australia and New Zealand. This will be complimented by Australian Catholic University's (ACU) guest speaker who will expand on their digital transformation journey so far.
Adding to this, Matt Scolari, Digital Strategist, Technologist and Consultant and Ex Chief Digital Officer and Director - IT Solution Delivery at UNSW said, "As we see the shift to an increasingly digital culture, a strategic approach to student engagement can only drive business growth for institutes. At the breakfast meet, I am excited to join Espire who is working towards helping education institutes to stay relevant and effective by personalising a student's experience whenever and however they interact with your university or institute."
Espire is a Sitecore solution partner in countries like Australia, United Kingdom, United States, Singapore, India and others. They have expertise in designing and deploying an extensive portfolio of web content management solutions for its customers by leveraging the latest Sitecore capabilities. Espire enables business transformation by designing actionable customer journeys with a cross enterprise approach. This is powered by Espire's Customer Engagement Hub (CEH) framework driven by student journey mapping combined with student journey analytics to fuel their complete spectrum of digital experience solutions spanning marketing automation which includes web content management and campaign management, multi-channel customer communication management, enterprise applications, cloud computing, integration and analytics.
To gather insights on how Espire's digital experience solutions can strengthen your digital strategies and increase revenue opportunities, participate in the digital enablement breakfast meet by writing to us at enquiries@espire.com.
About Espire Infolabs
Espire Infolabs is a global IT services company empowering global businesses to drive growth and customer engagement with exceptional digital experience solutions through digital content management, multi-channel customer communication management, and enterprise applications, cloud computing, integration and analytics. It is a SEI CMMI Level 5 Ver 1.3 (Dev + SVC) Appraised, ISO 27001:2013, ISO 9001:2015, and ISO 20000-1:2011 and ISO 22301:2012 Certified Company. Espire Infolabs has offices in UK, USA, Canada, Australia, New Zealand, Singapore and Development Centers in India (Gurgaon, Delhi and Navi Mumbai). For more information, please visit website.
About Sitecore
Sitecore is the global leader in customer experience management. The company delivers highly relevant content and personalised digital experiences that delight audiences, build loyalty and drive revenue. With the Sitecore Experience Platform, marketers can own the experience of every customer that engages with their brand, across every channel. More than 4,400 of the world's leading brands – including American Express, Carnival Cruise Lines, EasyJet and L'Oréal trust Sitecore to help them deliver the meaningful interactions that win customers for life. For more information, visit website.
Contact Information
Anuradha Bose
Espire Infolabs
anuradha.bose@espire.com
+91-124-7173000
www.espire.com
Posted in: Australia,Europe,Technology
Stankevicius MGM joins Congress-Realty as Leading PR and Advertising Partner
Congress the Real Estate 2018 together with Stankevicius MGM has prepared an exciting investment event with presents and new business opportunities for participants worldwide.
About the event
The organizers of Congress the Real Estate 2018 are preparing a worthy event to attend for investors. The event will cover crypto-assets, overseas properties, museum pieces, different investment projects, possibility to purchase gold bullion, possibility to deal with stock exchanges, IT-technology projects, developer's programs. Event's participants will as well include insurance companies, tax consultants, and lawyers. Representatives and delegations from over 20 countries will come to the Congress.
Each year the congress offers innovative technologies and conveniences for guests and participants. Among the offers, you can find the matching opportunity of the first online exhibition of the Congress on the platform by Online Expo. The exhibition makes direct contact between the visitor from around the world and participating company on the platform, Online Expo.
About Stankevicius MGM
Stankevicius MGM is the leader in PR and advertising field. The firm has consulted Fortune 500 companies and international small and medium-size enterprises. Stankevicius MGM has provided successful PR campaigns for ICO clients in result of raising over 300 million dollars for blockchain projects
Posted in: Business,Finance,Finance Market,Public Affairs,Technology
Excelerat - A Google Connect Event on Digital Marketing
An estate agent's website is their most important office. The footfall there is far higher than for any high street branch and with the market slowing, it is this reality that is pushing the most innovative traditional estate agents to embrace digital marketing and find ways to grow.
At an event hosted at Google's central London headquarters on Tuesday 15th May, global award-winning agency Fountain Partnership and the leading UK live chat conversion experts Yomdel explored best practice digital marketing strategies employed by some of the fastest growing UK estate agents.
Attendees, who included senior executives from Knight Frank, Hunters, Carter Jones, SDL Group, Miles & Barr, Arun Estates and many more, heard presentations from the two companies -- as well as a terrific insight from Google itself – to paint a picture of low cost, high impact digital marketing strategies for estate agents.
"Yomdel and Fountain began working together on EweMove in 2014, and since then we have developed unique approaches to generating quality traffic and then turning that traffic into high-converting new business opportunities," said Yomdel Founder, Andy Soloman. "It's a complete no-brainer for any business – invest in getting the right clicks as well as ensuring you also put in place the ability to maximise conversion."
The programme for the evening heard key note sessions from Andy Soloman, Fountain's Head of Digital Alice Rose, and Roxanne Brownlee from Google.
The event was exclusive invite-only, and attendees besides being able to visit the impressive Google HQ, went away with ideas on how to carve out competitive advantage and maximise ROI through digital investment.
Alice Rose, the Head of Digital at Fountain spoke of proven digital marketing strategies for estate agents and outlined the best way to drive new business in a short space of time. She also took the audience through the most effective strategies for growth, prioritising the lowest cost with the highest return on investment.
"The Estate Agency Industry has faced a lot of disruption over recent years with the rise of online and hybrid agents, Brexit and now GDPR. Today we've shared our proven roadmap for success, discussing the one thing all Estate Agents should invest in now, as well as 4 top tips for rapid growth in 2018."
Andy Soloman spoke of how to transform distracted website visitors into loyal customers through bringing human interaction online and then delivering an exceptional digital customer experience.
"We live in an age of distraction where people expect immediate answers to questions and if we are not there to help at exactly the time they need it, they will go elsewhere", he said. Andy explained how intelligently targeted managed live chat can significantly multiply results achieved via digital marketing channels. "Conversion can increase 50% or more," he said.
Yomdel can be used on any website for online sales, lead generation or customer service and support. As well as live chat, Yomdel sets itself apart from competitors by offering extra services such as taking visitors direct from chat into phone calls, SMS engagements, integrations into CRM platforms and Google Analytics. "There are other live chat providers out there, but Yomdel is unique in the way we partner with clients to deliver the very best results," says Andy. "Our technical platforms are built based on my experience as a former Reuters foreign correspondent and editor, and speed and accuracy are essential. We are continuing to innovate and invest in our services to help clients grow faster."
Google was represented by Roxanne Brownley who works with Google's high-performance clients on their growth ambitions discussed how to future proof your business in a changing landscape. She also stressed the importance of getting the Brilliant Basics right to stay ahead of the competition. The event was introduced by event compere Rachel Murray from Fountain.
For more information about how the Yomdel can benefit your organisation, contact our team on 01403 616 000 or email info@yomdel.com
NOTES TO EDITORS:
Yomdel is based in Billingshurst, West Sussex. It was the first company in the UK to offer intelligent 24/7 managed live chat operator services. The service is used by over 2,000 UK estate agents, including Fine & Country, Chestertons and Belvoir, as well as many businesses in other sectors spanning finance, legal, automotive, construction, events and many more. Yomdel services can be used on any website for online sales, lead generation or customer service and support.
Fountain Partnership
Fountain Partnership is a globally recognised digital marketing agency with offices in London and Norwich. The Partnership founded almost nine years ago has developed a unique, numbers-based methodology which takes the risk out of digital marketing for its clients. This approach led to Fountain winning the Google Premier Partner Award for Best Search Performance last year, beating thousands of marketing agencies from across Europe, the Middle East and Africa.
Contacts:
Andy Soloman, Yomdel Founder & CEO, is available for interviews on +44 (0)7928 542917 or andy.soloman@yomdel.com
Dan Bell
Marketing & Events Manager at Fountain Partnership
E: dan.bell@fountainpartnership.co.uk
T: 020 3325 6681 M: 07843 692738

Ambrose Harcourt
Yomdel PR
ambrose.harcourt@yomdel.com
Tel: 01403 616000

For more on how Yomdel helps businesses grow and generates leads please visit https://yomdel.com or call on 01403 616000
Related links:
www.yomdel.com
https://www.facebook.com/Yomdel/
www.twitter.com/yomdel
Posted in: Automotive,Business,Real Estate,Technology,World
Cummins Selects Agility Warehouse Park in Ghana for Regional DC
Cummins Selects Agility Warehouse Park in Ghana for Regional DC Agility facility to stock parts for Cummins regional operations in West Africa ACCRA, Ghana – May 22, 2018 – Agility, a leading global logistics provider, has leased warehouse space in the Agility Warehouse Park in Ghana to Cummins for a new West African Distribution Center.
Cummins, one of the world's leading manufacturers of diesel engines, generators, filtration and associated engine components, will use the facility to stock and distribute a range of over 10,000 spare parts for Cummins operations across West Africa.
Cummins joins other multinationals and small and medium-sized Ghanaian companies that have chosen the Agility Warehouse Park at Tema because its secure, convenient location provides international standard warehousing and services for their West African operations.
Location was a significant factor in Cummins' selection. The Agility park is eight kilometers from Ghana's main seaport and is adjacent to the Aflao highway connecting Ghana to Ivory Coast, Togo, Benin, and Nigeria.
Felix Bani, Cummins Operations Manager – Central Supply Chain Operations (CSCO), said: "Product distribution can be fast-tracked, either by road, sea or air. By choosing the Agility Warehouse Park, Cummins has addressed one of the biggest constraints to companies doing business in West Africa – the lack of quality infrastructure."
Bani said Cummins was also attracted to the facility because it meets international environmental standards and features eco-friendly construction materials. Agility used energy efficient roof and side insulated panels; wind-driven roof fans; skylights for natural lighting; LED and energy-saving bulbs; and solar-powered streetlights. The site will recycle paper, plastic, metal, and carton waste. It provides eco-friendly waste management services and carbon footprint reporting.
The Agility Warehouse Park in Ghana is part of a network of international standard warehouse parks that Agility is funding and developing across key markets in Africa to support the development of domestic and regional trade.
Geoffrey White, CEO Agility Africa, said, "We believe that the provision of international standard warehouses in Africa for storage, distribution and light manufacturing is one of the fundamental building blocks necessary for economic growth. The Agility Warehouse Parks enable companies, whether multinationals such as Cummins, or small and medium enterprises, to access quality infrastructure easily, quickly and cost effectively."
About Agility
Agility is one of the world's leading providers of integrated logistics. It is a publicly traded company with more than .6 billion in revenue and more than 22,000 employees in over 500 offices across 100 countries. Agility Global Integrated Logistics (GIL) provides supply chain solutions to meet traditional and complex customer needs. GIL offers air, ocean and road freight forwarding, warehousing, distribution, and specialized services in project logistics, fairs and events, and chemicals. Agility's Infrastructure group of companies manages industrial real estate and offers logistics-related services, including customs digitization, waste management and recycling, aviation and ground-handling services, support to governments and ministries of defense, remote infrastructure and life support.
For more information about Agility, visit us @ www.agility.com
Twitter: twitter.com/agility & twitter.com/agilityafrica
LinkedIn: linkedin.com/company/agility & linkedin.com/company/agilityafrica
YouTube: youtube.com/user/agilitycorp
About Cummins Inc.
Cummins Inc., a global power leader, is a corporation of complementary business segments that design, manufacture, distribute and service a broad portfolio of power solutions. The company's products range from diesel and natural gas engines to hybrid and electric platforms, as well as related technologies, including battery systems, fuel systems, controls, air handling, filtration, emission solutions and electrical power generation systems. Headquartered in Columbus, Indiana (U.S.A.), since its founding in 1919, Cummins currently employs approximately 58,600 people committed to powering a more prosperous world. Cummins serves customers in about 190 countries and territories through a network of some 500 company-owned and independent distributor locations and approximately 7,500 dealer locations. Cummins earned billion on sales of .4 billion in 2017. Press releases can be found on the Web at www.cummins.com.
Follow Cummins on Twitter at www.twitter.com/cummins and on YouTube at www.youtube.com/cumminsinc.
Posted in: Business,Manufacturing & Industry,Real Estate,Retail,Technology
UK Cards and Payments Market Share and Growth Forecast to 2022
MarketDataForecast's 'UK Cards and Payments Market' report provides the insight into various payment cards market trends and growth opportunities in the UK along with the complete information about different types cards in the market. It also offers an epitomized assessment about the competitors in the market, influential marketing strategies, customer purchase patterns, adopted payment methods in the e-commerce industry and significant government regulations associated with the UK cards and payments market. Our report unfolds many existing opportunities with reliable information about the different types of cash transactions, volumes of cardholders, market share, current accounts, growth in the number of cards, credit cards outstanding balances, transactional values, details of the issuers along with available banking schemes and futuristic analysis of overall cards and payment market in the UK.
Mobile payments inhibit the cards and payments industry in the UK
The banking industry in the United Kingdom is undergoing a rapid shift from regular branch services to digital services in the recent times. According to British Banker's Association, the mobile payments accounted around 340 million in 2015, which is a 55% increase compared to 120 million in 2014. Likewise, the internet payments have witnessed tremendous growth in the same year.
Debit cards dominate the payment card market in the UK
The number of debit cards is estimated to cross 104 million by 2021 from the current value close to 100 million. Many basic bank accounts were opened in the previous years with the aid of prominent banks like Barclays, Lloyds Banking Group, Nationwide, Royal Bank of Scotland, Clydesdale and Yorkshire Bank, Co-operative Bank, HSBC, TSB, and Santander, offering a free charge accounts.
Prepaid Cards Market is growing steadily
The UK prepaid market is growing steadily and estimated to cross GBP 40 billion by 2020 with a compound annual growth rate more than 5%. The main factors driving the market are the incorporation of these cards by both the government and corporate organizations.
Gift card market is predicted to grow rapidly by 2020 as they are used in many business organizations to reward their employees. The UK government also encourages the use of prepaid cards to distribute pensions, child benefits, job seekers' allowances and so on.
Visa and MasterCard focus on contactless technology in the UK
Card providers like Visa and MasterCard are also concentrating more on the technology of contactless card payments. Visa, however, is also extending this technology to the mobile devices and wearables. On the other hand, MasterCard is completely focusing on the contactless debit cards to enhance its market presence. Retailers in the UK are gradually shifting to contactless POS terminals. According to the United Kingdom Cards Association, as of February 2017, there were more than 478,000 bank-owned contactless POS terminals in the market. The growth rate was comparatively higher than the earlier year by around 44% and predicted to occupy entire POS terminals market in the UK by 2020.
Moreover, the investments in the card setup and the increasing adoption of contactless payments are expected to propel the card payments market in the US amid tough competition. Some of the dominating companies in the market: Lloyds Bank, HSBC, Royal Bank of Scotland, Halifax, Ulster Bank, Barclays, First Direct, Santander UK, Bank of Scotland, M & S Bank
The Scope of the Report:
• The functioning of the UK cards and payments market and complete analysis of the market drivers
• It provides conventional and contemporary information about payment cards of the UK and market predictions till 2022
• It details the emerging payment solutions and their economic, regional and business impact on the cards and payments industry of UK
• Detailed information about existing market leaders, their strategies and government policies driving the payment cards market
Key Questions Answered by the Report:
• What is the adoption rate of UK Cards and Payments market and different types of cards in circulation?
• Who are the leading card issuers, scheme providers, and third-party providers influencing the US payment cards market?
• What are the growth opportunities provided by the alternative payment options in the UK market?
• How are the emerging technologies and new product launches affecting the local cards and payments market of the country?
Reasons to Purchase the Report:
• Enhance the decision-making with the comprehensive information about trends, conventional statistics, and forecast for next five years
• Understand the competitive landscape in the UK cards and payments industry and their marketing strategies
• Unfold hidden growth opportunities with the use of data about emerging transitions in the market and customer transactional behaviors
• Broaden the insight about regulatory policies and frameworks that impact UK cards and payments market
Inquire before buying @ https://www.marketdataforecast.com/market-reports/UK-Cards-and-Payments-Market-6847/inquire
About Market Data Forecast:
Market Data Forecast is a firm working in the areas of market research, business intelligence and consulting. We have rich experience in research and consulting for various business domains to cater to the needs of both individual and corporate clients. A few key business areas that we handle with excellence include business process improvement, corporate financing and decision making based on market research, assisting in developing appropriate strategy and providing consultancy based on extensive research.
Contact Us:
Abhishek Shukla
Sales Manager Market
Data Forecast Direct Line: +1-888-702-9626
Mobile: +91 998 555 0206
Mail: abhishek@marketdataforecast.com
Posted in: Europe,Finance,Finance Market,Technology,Telecom
METRUMCOIN - THE NEW WAY TO DO REAL ESTATE.
Real Estate Blockchain Platform METRUMCOIN Announces Pre-sale
METRUMCOIN — is a new generation digital Real Estate market platform that unites B2B, C2C and B2C into a single worldwide net designed for simplicity of use.
About the platform
METRUMCOIN — a multifunctioning, multilevel platform based on the Blockchain technology with the use of iDeals (the next generation of smart contracts). The platform is capable of bringing any participants' business processes to life. The main purpose of the platform is to remove geographical, bureaucratic and transactional barriers, while uniting all participants within a single digital space for the international RE market. It substantially simplifies the activities of buyers, brokers, investors, developers, construction companies, and all those who consider the RE business their lifestyle. We are making the market available in just a few clicks. Transparency, speed and safety are in METRUMCOIN's DNA.
About the project
The idea of METRUMCOIN project belongs to Mr. Telman Abbasov, a specialist with more than 25 years of real estate experience, and the President of the World Council of Developers and Investors FIABCI 2015-2017. The project was presented to the public at significant industry events such as "MIPIM-2017" in Cannes and "BlokTex-2017" in Kuala Lumpur. It has sparked great interest among RE specialists, as well experts from the IT industry. A team of highly qualified RE specialists determines company strategy. In addition, leading international experts assist METRUMCOIN. In 2017, we obtained a patent, which protects our methodology for attracting investments in real estate objects with the help of crypto-instruments.
Why to participate?
Real Estate allows quick and safe capital investment. Unlike other assets, RE assets do not devalue. We are offering unprecedented opportunities for conducting business both online and offline. Never before has conducting deals and transactions in the RE market been so easy! But that's not all. Early participants of the project are guaranteed a 20% discount for purchase of METRUMS token.
Every single investment you make is your personal contribution towards the evolution of the RE market in the 21st century, as well as contributing to the project that will forever change the way business is conducted.
For further information about our project and technical details of the platform we recommend looking at the Roadmap and White paper.
Join METRUMCOIN's pre-sale, and become the key to global RE market transformation
Posted in: Building & Construction,Finance,Professional Services,Real Estate,Technology